Quite another milestone! June 14th was my 6th Blogiversary. Every year I am so grateful and surprised to see how my passion for food and desire to share my discoveries only gets stronger and stronger. I am so proud to be part of this great community of friends and food lovers. And I enjoy discovering what others are concocting in their kitchen just as much…it is an endless source of inspiration. You are all amazing. And thank you for every visit to my blog and all the amazing comments you leave.
This year the celebration will be low key. No elaborate dish, no giveaway, no major fanfare.  I have been fighting a bronchitis (again) for the past 2 weeks so I have not spent a lot of time in the kitchen. But what I would like to share with you is something possibly new to you. After all I think that is what I do best: try to get people to step outside of their safe food box.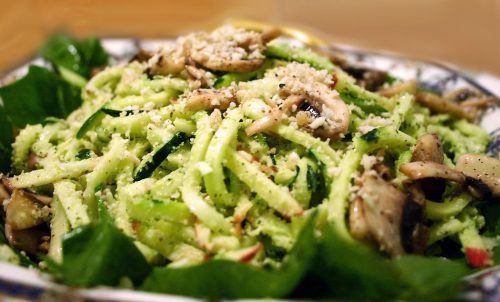 I have taken you all on many ethnic and adventurous epicurean journeys, serving up recipes that are unusual like the Butsi with Ube Halaya, a Filipino sesame ball made with a purple yam filling ; my weird beverages such as the Spruce Liqueur; my ventures in cured meats such as my homemade Duck Prosciutto; my exploration of the rarer fruits and vegetables such as the Salsify or Dragon fruit, my large selection off unexpected ice creams such as the Lavender ice cream; all my homemade cheeses; my odd combinations of food like the Strawberry Avocado Salsa; my recipe with ingredients you would never think of cooking with like my Aloe Candy; and even beauty recipes such as the Henna paste recipe.
So what new concept do I have to offer you today? How about a look at the raw food diet with a raw Pesto Spaghetti. The idea is that you can only truly benefit from the nutritional value of foods when they are not cooked or processed. Some heating is permitted as long as the food remains below 115 degrees F, an example is dehydration. We would assume that only vegans can be true raw food followers but that is not the case. You can be a raw food carnivore with sashimi, ceviche, tartars and raw dairy products. But the base of this this diet mostly consist of fruits, vegetables, nuts and seeds. The raw food diet is also big on fermentation such as sprouting seeds and whole grains. So that is the raw food diet in a nut shell…pun intended!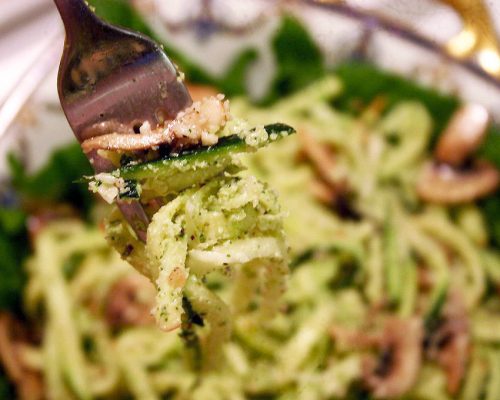 I eat everything: I am not a vegetarian or vegan, nor do I have any food intolerance. So I am not here to push a diet on you. But I have to admit I am curious  about preparing a healthy balanced raw meal that will not leave me feeling hungry. I was convinced I would need a steak on the side after. But you know what, after eating 2/3 of my salad I has so full and satisfied. I could not eat another bite and I was not hungry later on the the evening. This experiment was a success…to be repeated!
I do not have permission to reprint the exact Pesto Spaghetti recipe so I recommend you get your hands on the fabulous Raw Essence cookbook which is published by www.robertrose.ca. I will give you a brief description however of each component. You will truly be amazed by the recipes in this cookbook. One of my favorites is the 'cheese' cake. If you did not know any better you would swear it is a real decadent cheesecake. I'll talk more about this book soon as I tried my hand at making Kombucha from scratch. But for now here is the gist of the raw Pesto Spaghetti…
Marinated Mushrooms
mushrooms, olive oil, salt and pepper marinated for a short while and drained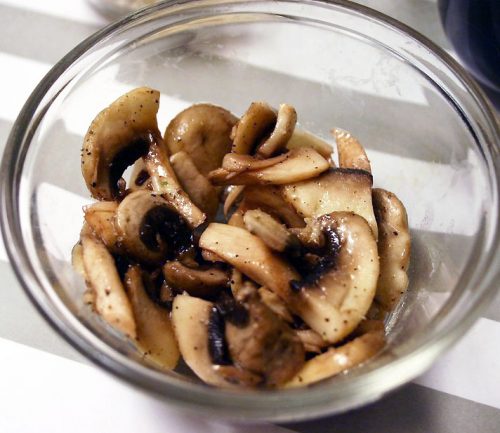 Pistachio Basil Pesto
pistachio and cashew nuts ground in a food processor with basil, garlic, olive oil and salt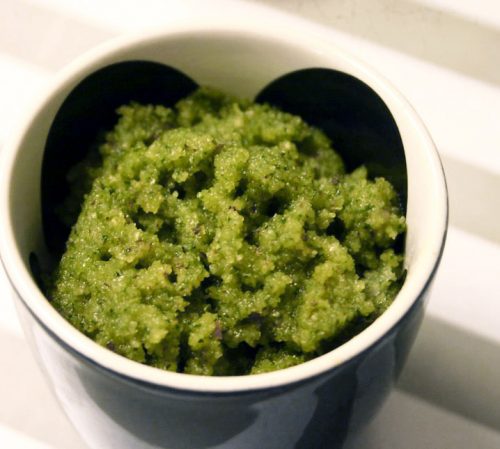 Crumesan
a raw Parmesan made of ground Brazil nuts, garlic, salt and pepper
Pesto Spaghetti
mandolined apple and zucchini tossed with the pesto, lemon juice and olive oil. Bed of spinach and sprinkle with mushrooms and Crumesan