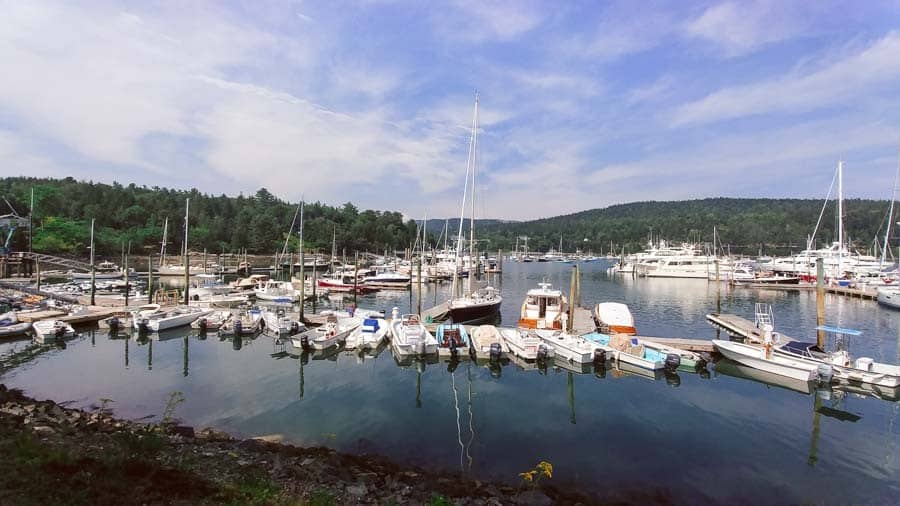 Do you enjoy exploring rugged coastlines, pristine lakes, and lush green forests? If so, visiting Acadia National Park Maine must top your National Parks bucket list.
Have you ever heard of the Acadia National Park Maine? I had not until I planned my summer vacation this year. My mom and I went on a 5-day road trip to Maine and our first full day was spent exploring Bar Harbor and this beautiful national park in Maine. In this travel guide, I will tell you about what to do and see in the Maine Acadia national park.
Where is Acadia National Park
Located along the rugged, rocky Atlantic coast, the Acadia park is a 47,000-acre recreation area situated in the state of Maine in the United States. The Mount Desert Island alone covers 30,300 acres and another big section, Schoodic Peninsula, can be found on the mainland. The park is best reached by car.
The bigger city of Portland Maine is a 2h45 drive away but the closest airport is in Bangor, about a 1-hour drive from the park. If you drive from Portland to Acadia, take your time and enjoy the sites along Midcoast Maine.
Need a flight? Click here to find the cheapest flight on BookingBuddy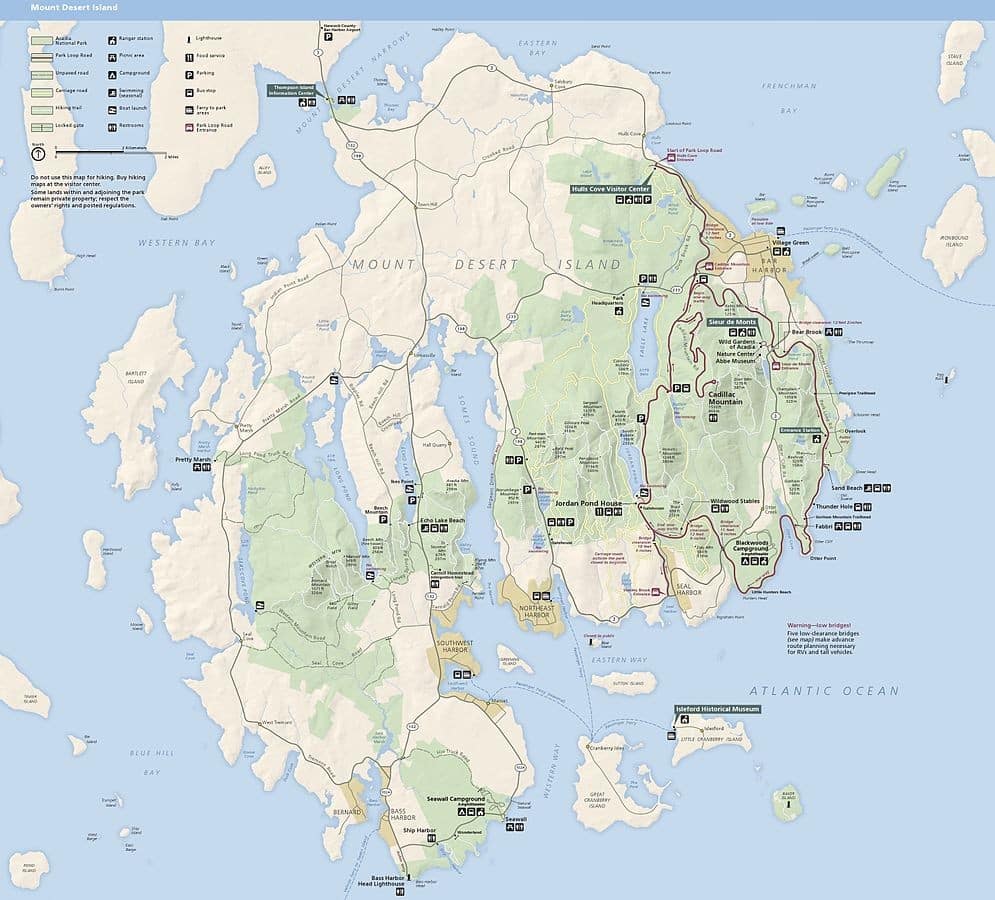 Visiting Acadia National Park
Once you get to Acadia national park, your first stop should be the Acadia national park visitor center. To drive the Park Loop Road you will need to purchase a vehicle entrance fee that is valid for 7 days. At the time that we visited in 2018, the fees where 30$ with a car or 15$ if you do not have a vehicle. There are a few other places where the pass can be purchased.
You can then either drive around the park yourself or explore the park on one of the many bus routes offered by the free Island Explorer shuttle service. I highly recommend you go with your own car so you can explore more of the island. You will find parking in the park at the main attractions stops.
Book here now to get unbeatable prices on Rental Cars
9 Amazing Things To Do in Acadia National Park Maine
Drive the Park Loop Road
The Park Loop Road is a 27-mile scenic road that loops around the most popular sites found in the Acadia Maine. It covers mostly the eastern part of Mount Desert Island. The loop is a clockwise one-way road so you are always on the right side of the road. From the loop, you will be able to stop and visit Sand Beach, Thunder Hole, Otter Cliffs, Jordan Pond, and Cadillac Mountain.
You can see everything in one day if you do not stop too much but I would suggest giving the loop a good 2 to 3 days if you want to explore all the sites and go on hikes. There are numerous Acadia national park hiking trails.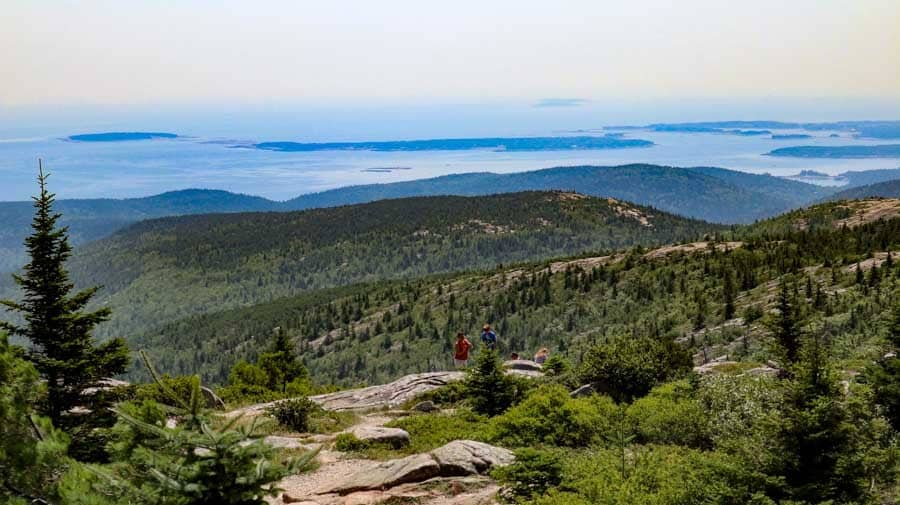 Take in the view at Cadillac Mountain
I recommend that you make Cadillac Mountain your first stop of the day. At 1,530 feet (466 meters), Cadillac Mountain is the highest point along the North Atlantic seaboard. From the trail, you can see Bar Harbor, Eagle Lake, and Frenchman Bay. And it is pretty safe to explore the smooth rock formations around on foot as well. The rocks reminded me of the rocks at Peggy's Cove a lot. This is a great spot for sunsets as well.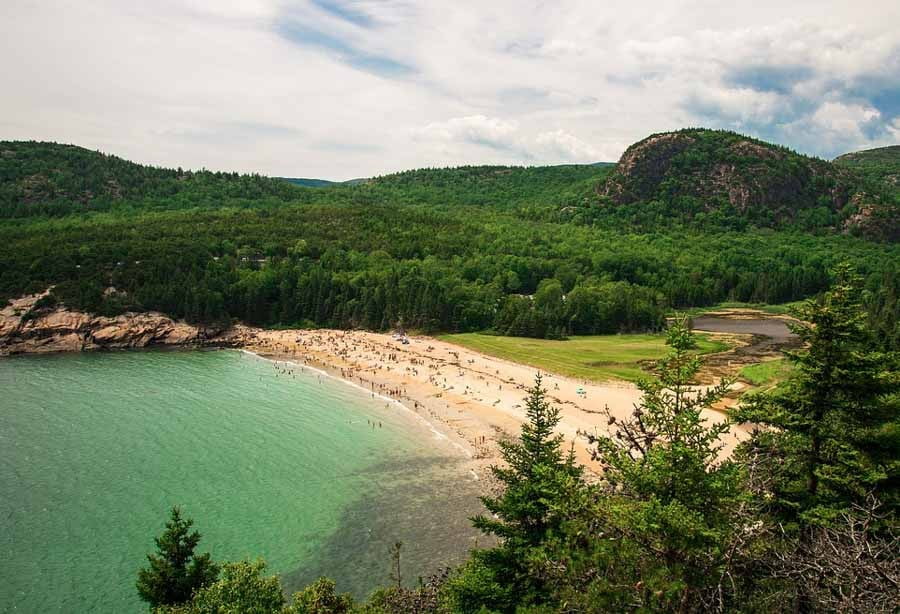 Soak in the sun at Sand Beach
Sand Beach is your best bet for a real beach experience in this Maine national park and one of the few safe places for a swim. I can't think of another beach that offers a dip in the ocean and some of the best hikes in Acadia national park, all at the same place. Did I mention the stunning rock cliff views too?
Be struck by Thunder Hole
This is a hit or miss attraction, but one you will regret not checking out. If you are lucky, the waves will be crashing inside a water-carved rock formation, and as the air and water are forced out, there can be a booming noise similar to distant thunder. Alas, we were not meant to witness this.
Did you get your FREE PRINTABLE yet?
Surprise! Never know what to pack when getting ready for a trip. I got you covered with my Ulitmate Packing Checklist. Click here to get your FREE Ulitmate Packing Checklist right now!


Stroll or Hike along Otter cliffs
If you have time for only one walk along to coast, Otter Cliffs your spot. The Ocean walk promenade is perched 110 feet atop the steep cliffs. You can see Sand beach from here and admire the rugged coastline, as well as the ocean. There are smaller trails off-shooting but be careful as they are rocky, rugged and have no railing.
Picture yourself walking here holding your sweetheart's hand. It is one of many romantic getaways in New England.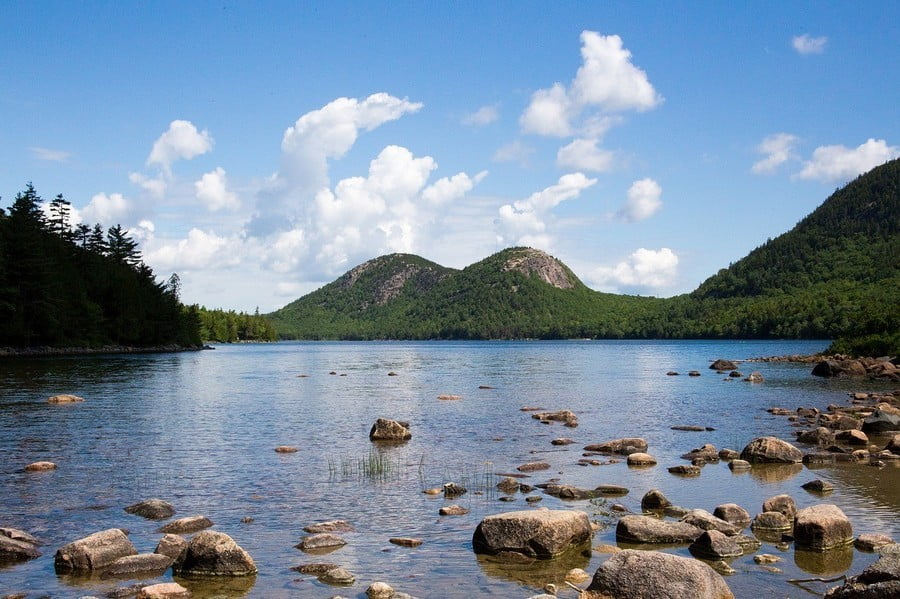 Enjoy the view and have a bite to eat at Jordan Pond
Besides the beautiful view of the mountains and enjoying a stroll on the loop trail around the lake, this spot is best known for the Jordan Pond House restaurant and their famous flaky popovers served with butter and strawberry jam. Enjoy them with tea and your meal at a table set up on the grassy lawn. It is the only restaurant in the park.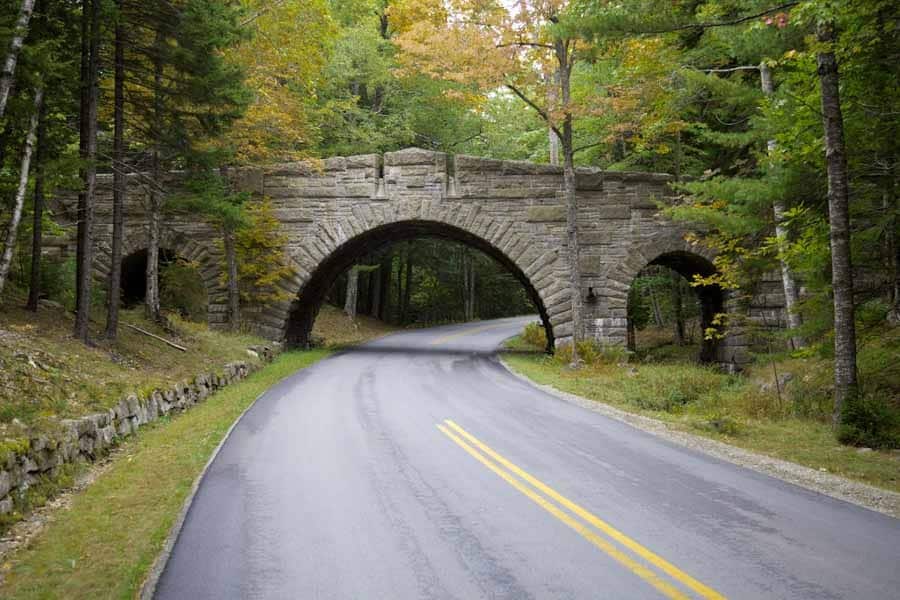 Explore the Carriage Roads on foot or bike
If you travel with your bicycle, then biking the 45 miles of Carriage roads in Acadia national park is a must. They can be also enjoyed on foot from Eagle Lake and Jordan Pond, but not motorized vehicles are permitted in these roads. These roads were specifically built for hikers, bikers, horseback riders and carriages back in the early 20th century. Driving through the park you will occasionally drive under one of the many bridges that make up the roads.
If you are powering through Acadia in one day as we did, you will want to drive through Northeast Harbor for a quick peek at how the rich people live. Apparently, there are more than a few rich and famous people with own summer properties here.
It's a good drive back up to Somes Sound and down again to explore the western part of Acadia. In contrast to the last town, Southwest Harbor gives a glimpse into the working class population of Acadia. Even smaller villages can be explored, where you will find small ports filled with fishing boats and lobster cages.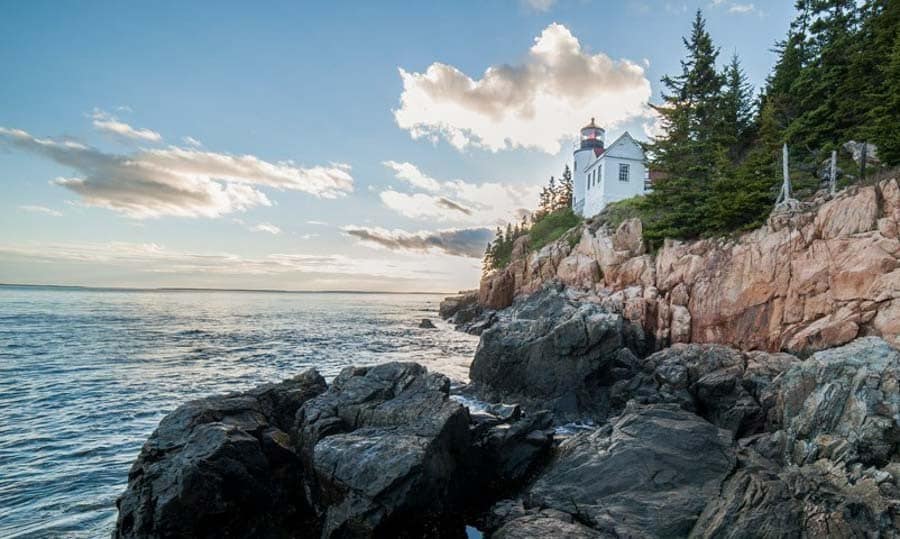 Bass Harbor Head Lighthouse
Boats can navigate safely the natural seawall thanks to the Bass Harbor Head Lighthouse, off the southwestern tip of Mount Desert Island. Skip the concrete path to the lighthouse, and go down the steep wooden stairway for the best view.
If it's around 5 pm I strongly suggest you drive to nearby Trenton for a lobster dinner at Thurston's Lobster Pound. We were there around 7 pm and there was a super long line to get in. Instead, we headed to the bright lights and big city of Bar Habor for dinner.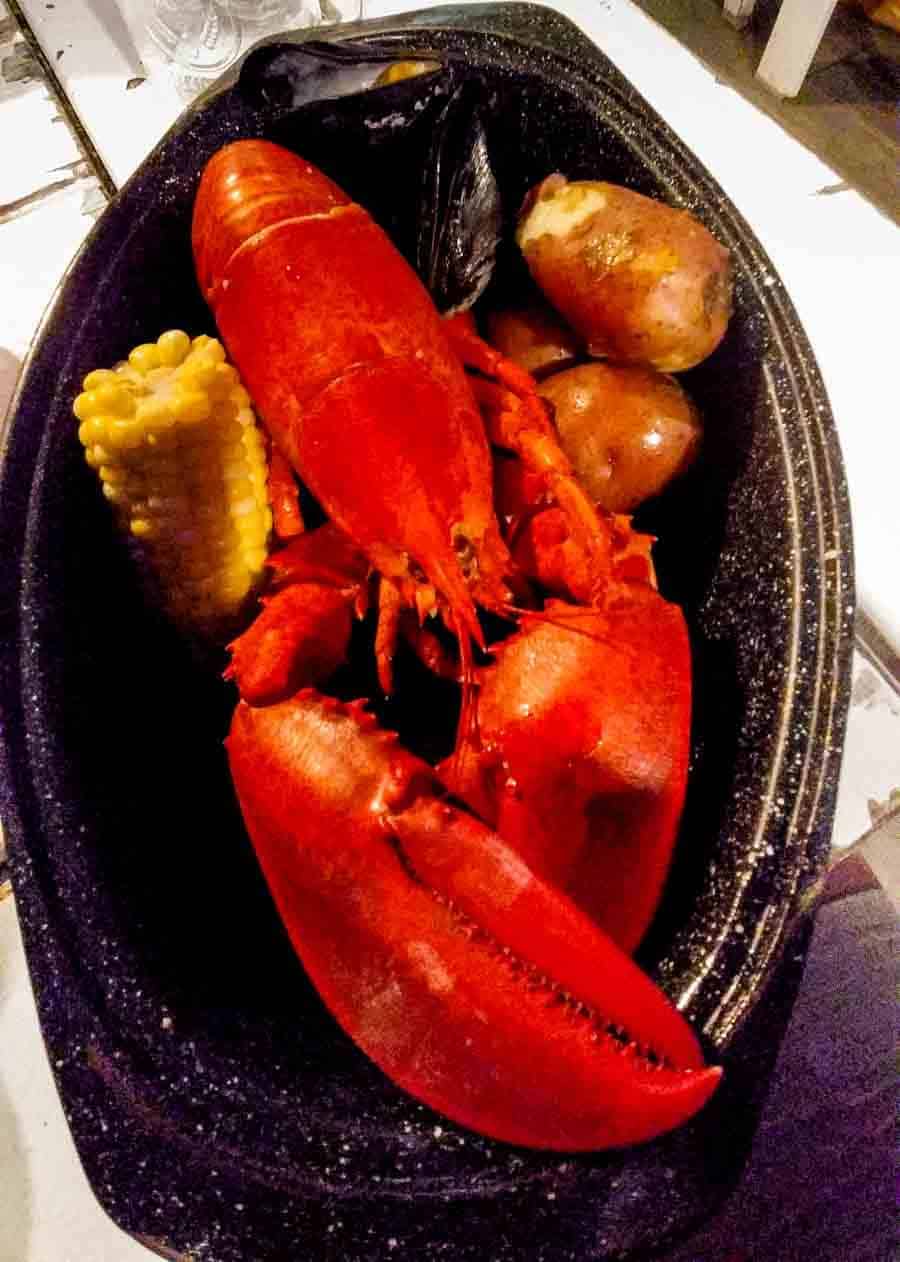 .
Bar Harbor Bah-Hah-Bah
I must admit that after a day of grandiose nature, Bar Harbor was a funny tourist eyesore. Imagine Old Orchard or Niagara Village. It's the civilized door to the national park and it is a great big tourist trap. But hey, maybe that will rock your boat. There are a gazillion shops, restaurants, and hotels. There are a few lovely parks that are perfect for people watching. We stopped just long enough for a very late dinner, our first lobster dinner of the holiday.
This post is a short list of all the beautiful attractions that one can visit in Acadia. To plan your trip properly and find out what to do in Acadia national park, make sure to…
Click here to get Frommer's Complete Guide to the Maine Coast
Where to stay in Acadia National Park
There is no lodging within the national park itself. When you arrive on Mount Desert Island, there is a long stretch of motels on the main road heading towards the park. The best places to stay near Acadia national park are in the towns around the park. Bar Harbor is the number one town as far as accommodation options go. Northeast Harbor and Southwest Harbor offer a selection of hotels and cottages.
Click here to Find Your Best Accommodation Deals Today- Book Now!
There are quite a few Airbnb places listed for Bar Harbor but they are not cheap. If you are looking for a deal you will need to look at places on the mainland and plan to drive a bit to get to the park.  This was our option and we stayed in Lamoine.
Want to see more of my road trip through the park? Check out the video below!
On Mount Desert Island there are two campgrounds you can stay at. They are the Seawall and Blackwoods campgrounds.  Two off island places for camping near Acadia national park are available also: Schoodic Woods Campground on the mainland and the remote Duck Harbor Campground on Isle au Haut.
Best time to visit Acadia National Park
June through August is the peak summer time to visit with the pleasant weather but you will be sharing it with all the other tourists. The best time to go is in September and early October to be in awe of the picturesque fall foliage. It will be cooler but also much quieter. Winter is very cold and lots of sections of the park shut down but if you are a fan of cross-country skiing this could be an ideal winter destination.
PIN IT LATER! https://www.pinterest.ca/pin/266275396704139529