Don't shy away from tasting this lovely Black Fungus Salad called  Liángbàn Mù'ěr. This mushroom salad is slightly crunchy, refreshing, and perfectly paired with a spicy soy sauce and rice vinegar dressing.
Beijing is like the Liángbàn Mù'ěr, or Black Fungus Salad. It looks scary and intimidating at first sight, but if you get over your fear and peel away the layers, you will be rewarded with enchanting and beautiful flavors. Right now everyone is asking me how my trip to Beijing China was. The problem is I cannot respond with a short answer. I just can't. You better be ready to pull up a chair and listen to me go on for a few minutes.
Yes, I loved my trip but it was a shock to the system at first. Your social and cultural compass gets completely off track and it takes about three days for your brain to stop having a 'deer in headlights' reaction, only then can you start going with the flow. And you don't even really realize you are in a culture shock at first, you only realize it later…
By the way, I found my plane ticket for 507$ CAD, so cheap! Check out my article on how to find cheap flights here.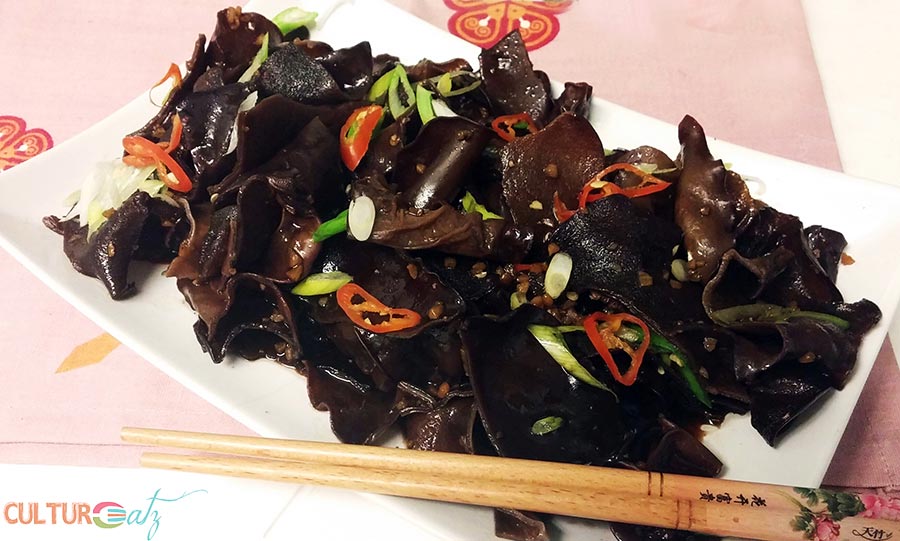 My mind could recognize that I was in a massive urban landscape, but everything else was different. Everything! The food, the social structure, the architecture, the acceptable social behavior, the scrutiny of security in various forms, being observed all the time as a foreigner, the gray clean beauty. I think only people who have been there will get that last part.
Beijing is the embodiment of a clash between the very old and the ultra-new. All the last modern inventions battle with the still very present rigid communist conformity. The mystical blends constantly with state-of-the-art science. Coming from a very individualistic Western society, my core was shaken as I was absorbed into the hard communal mentality.
Me vs Us
That is a really hard concept to grasp for us. Personal space is non-existent and what happens to you affects everybody. It is not as bad as you imagine but you see it and feel it. I will make a video discussing this topic more in-depth but here is an example: I made 4 Chinese friends before I went on holiday and spent time with them in Beijing. When we walked down the street they did not walk side by side with me but rather pushed up right up against me. All 4 of them, man or woman, you literally walk together!
One final thing I want to discuss: you will get stared at all the time. We, foreigners, are still a new thing and a novelty in China. Even in urban Beijing, many locals will look at you all the time because you look different. It is only curiosity and it is not intimidating at all.
After a few days, I always made a point of making contact with people who started at me by staring back with a huge radiant smile, by waving or saying Nĭ hăo (hello). That always startled them but created lovely minute exchanges. And a few times I was approached by more provincial Chinese travelers with complete curiosity who asked if they could take a picture of me with them. I loved that!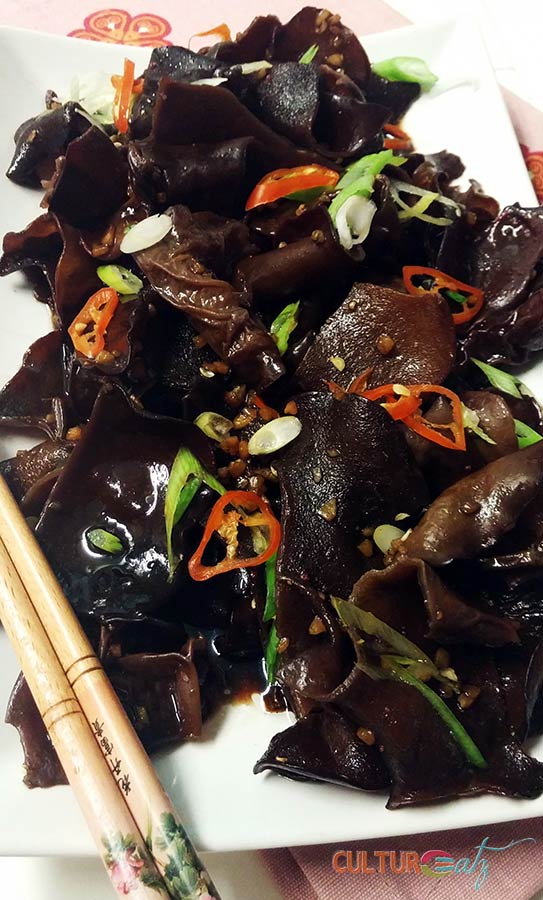 Beijing Travel Advice
Give Beijing at least 2 weeks if you really want to see the city properly.
It is a MASSIVE city. It takes a long time to get from point A to point B. Even the tourist sites are gigantic.
Stick to the subway and walk. It is really easy to take the subway and everything is also in English.
Wear excellent shoes. You will walk a lot, like a  lot!
Try as many weird street foods and snack foods as possible! It's everywhere. Just make sure meats are well cooked and pick stands with a high turnaround so the food is fresh. Check out my Beijing Foodporn Diary here.
Explore the various hutongs (I'll tell you about them further) around the city as much as possible, and get lost in them. It is amazing how much local life you will see here.
Facebook, Twitter, and many other Western websites are blocked in China.  You will need a Virtual Private Network (VPN) in order to access these sites and browse safely.  Personally, I used ExpressVPN during my trip there and it worked great!
Beijing is the best city for people-watching I have ever experienced. Go to parks and the lakes and watch the Beijingers swim (in winter), play ping pong, dance, do Tai Chi, and play cards or chess.
Most Chinese people do not speak English, at all. But most people are super friendly, very warm and very generous, they will do their best to help you. You just have to break their 'shy bubble'.
Depending on your fitness, see any section of the Great Wall other than crowded Badaling. I went to Mutianyu.
Check out my growing 6 days in Beijing China YouTube Series. I am posting videos weekly with clips from my trip and lots of advice videos will be posted.
A Beijing Photo Tour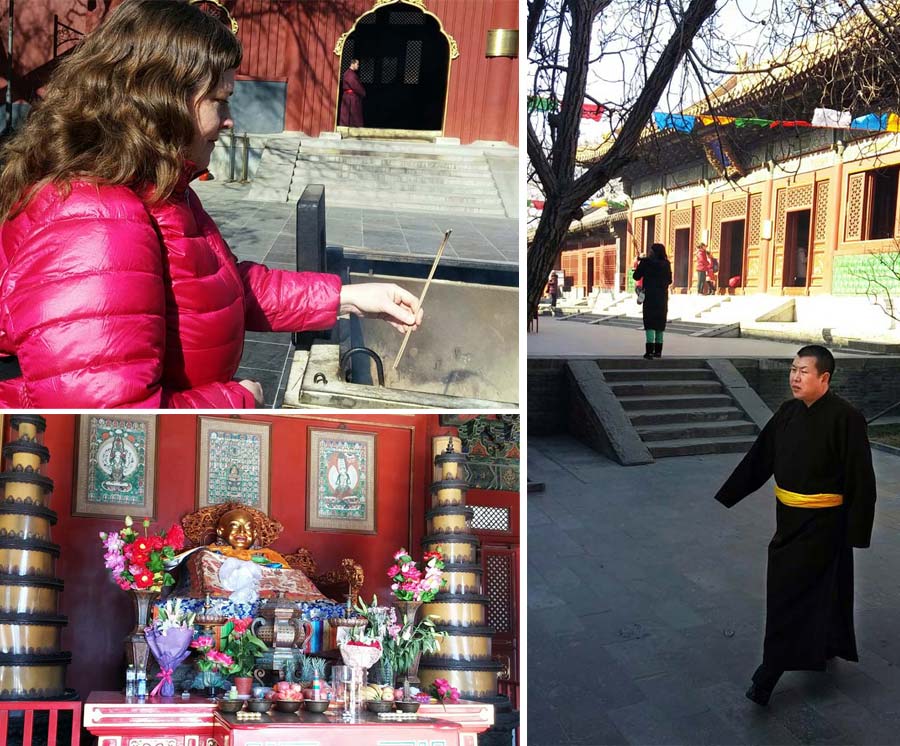 The Yonghe Temple has been here since 1694. This  Tibetan Buddhism temple is both a functioning temple and a tourist attraction. I loved the Buddhist temples best because you can see constantly people coming to pray. The temple gives out free incense so you can pay your respect at each building.

The ongoing influence of Mao Zedong is still present, from his iconic portrait at one end of Tiananmen Square to the old men all over the city still adhering to the communist fashion.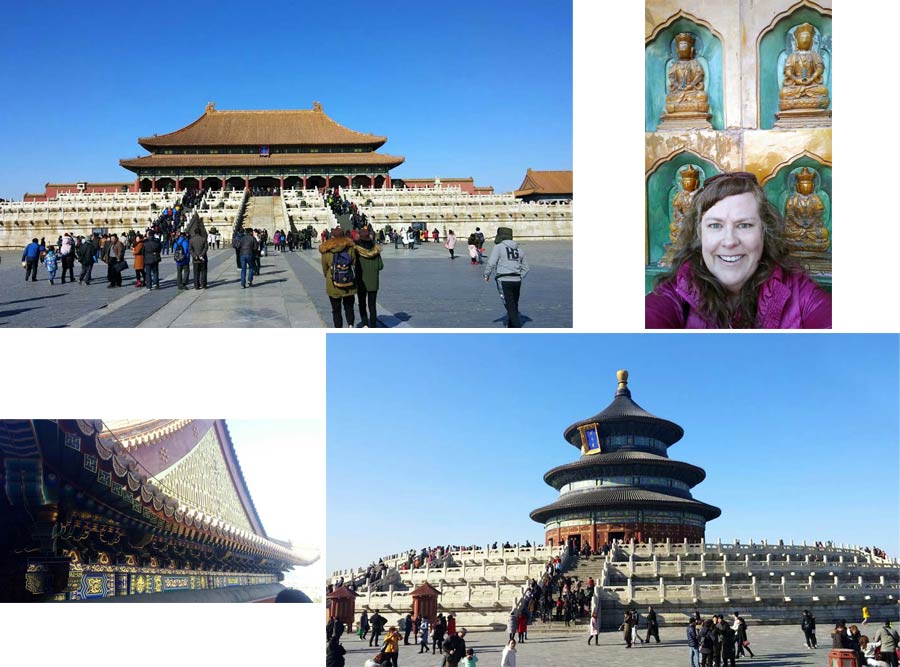 A taste of Beijing architecture!
Top left: the Gate of Supreme Harmony in The Forbidden City.
Top right: a wall close-up with me of The Temple of Buddhist Virtue at The Summer Palace.
Bottom left: an example of the ornate woodwork involved in the roof structure of the Hall of Buddhist Tenets at The Summer Palace.
Bottom right: the Hall of Prayer for Good Harvests in the Temple of Heaven Park.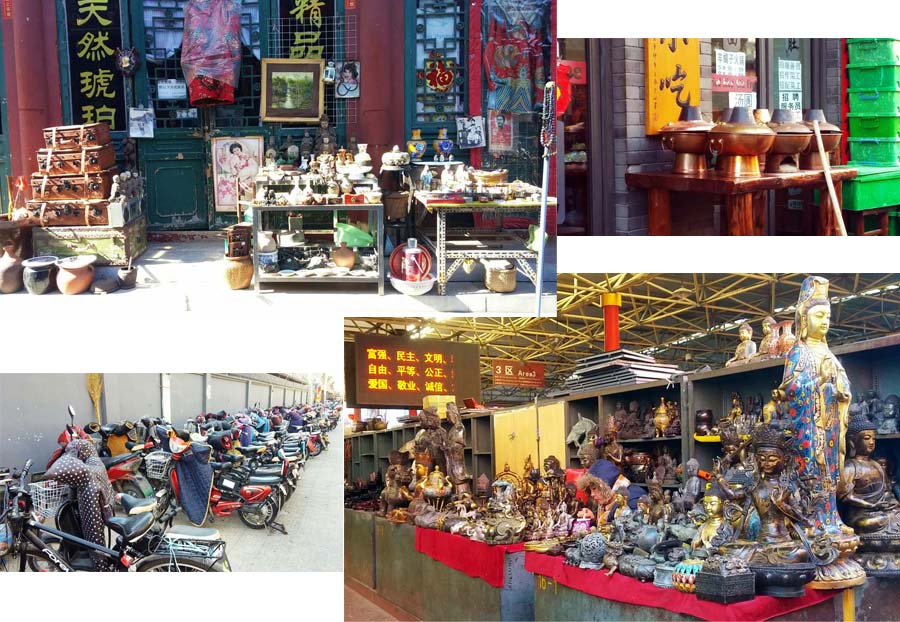 Top left and bottom right: scenes from the Panjiayuan Antique and Flea Market – I just posted here a video of my visit to the market!
Top right: just outside of a hot pot restaurant, no idea why they pile them out there
Bottom left: an example of mopped biking, they are everywhere!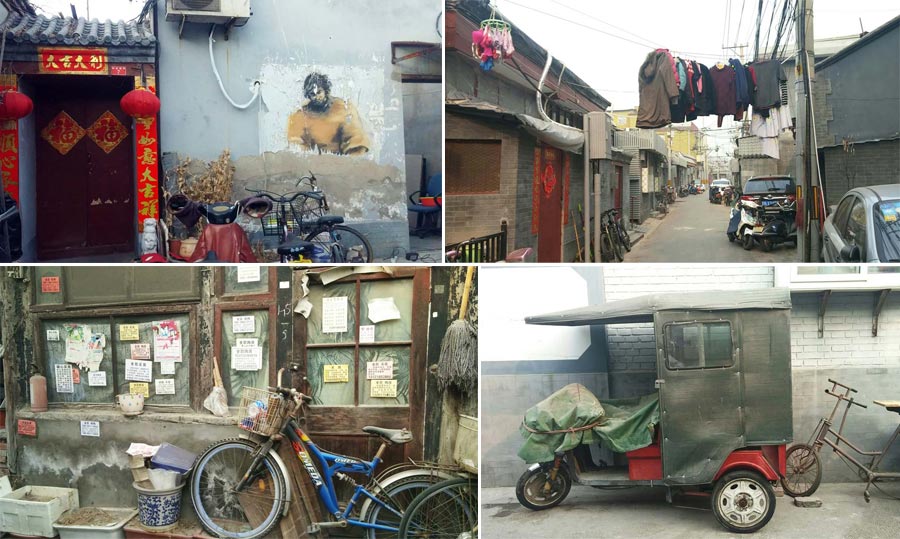 Four varied scenes from residential hutongs called The Eight Hutongs. Hutongs are alleys formed by lines of traditional courtyard residences. Each entrance leads down a labyrinth-like corridor where 4 to 9 families can live. This is the real China, the old Beijing untouched where you can see daily life.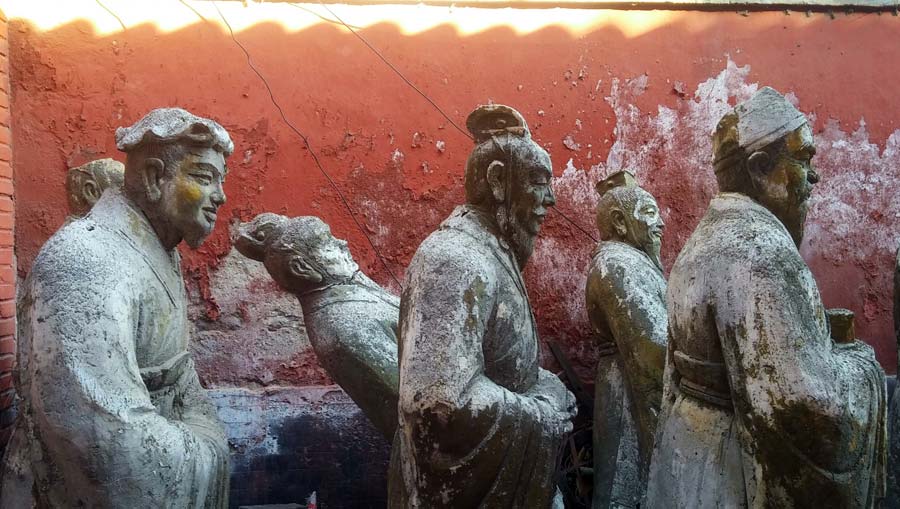 One of my favorite pictures of the entire trip, these guys were out of commission hidden in a dead-end corridor at the Temple of Confucius. They were not on display, there was about 30 of them just placed in storage facing a wall. We were not supposed to be there and take pictures technically.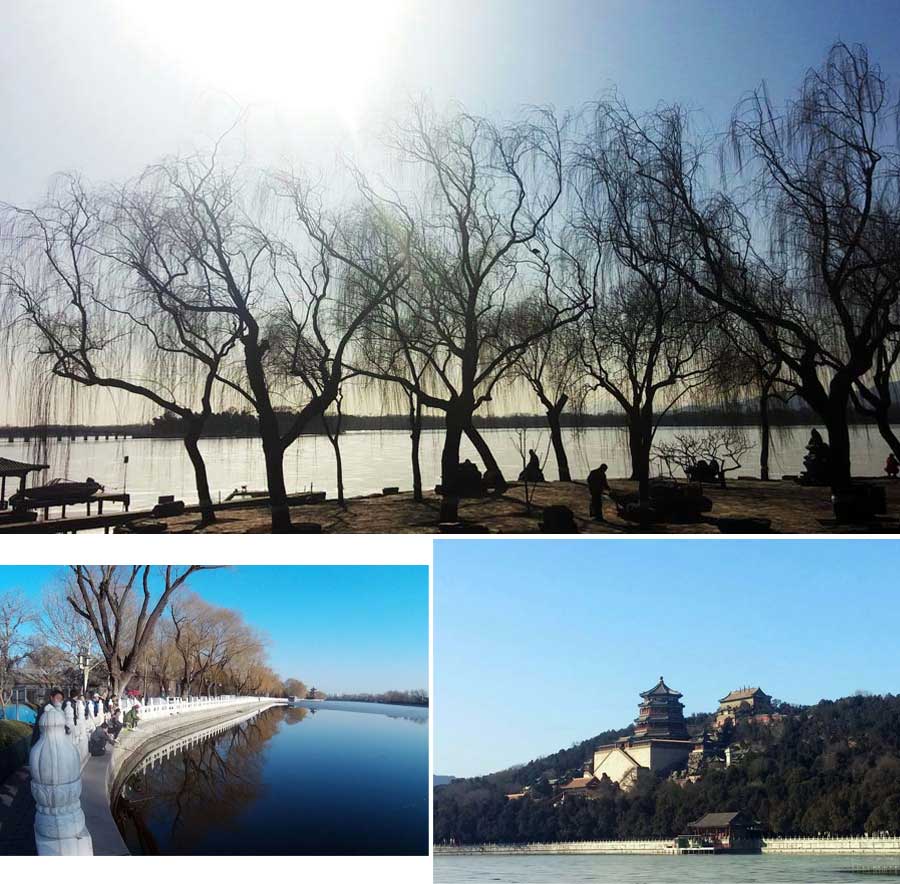 Top: a stunning winter scene at the Zhichun Perceiving the Spring Pavilion at the Summer Palace.
Bottom left: men fishing in the Houhai, the largest of the three lakes in the city.
Bottom right: view of the Wànshòu Shān (Longevity Hill) from the Zhichun Pavilion at the Summer Palace.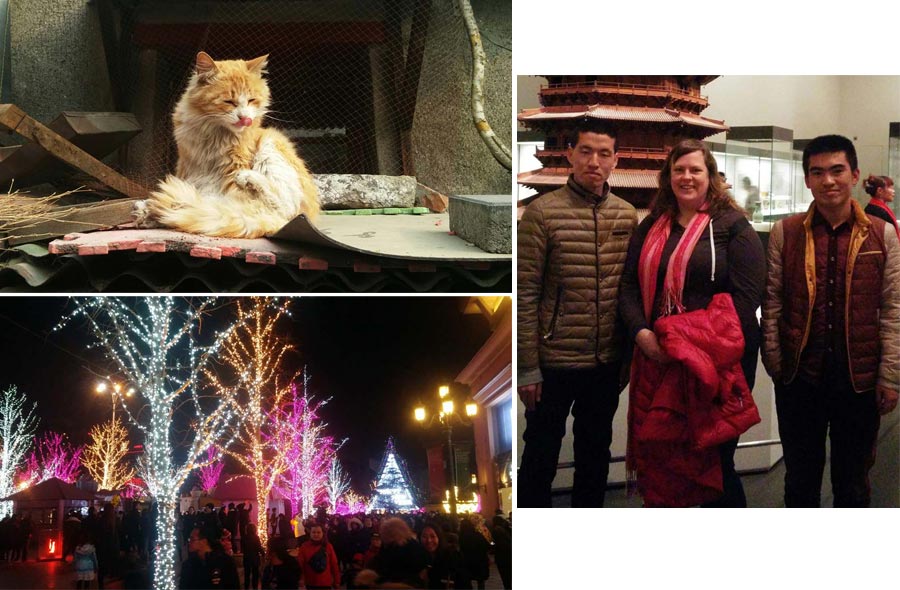 A few fun random pics!
Top left: a street cat grooming on a roof in the hutongs
Bottom left: a light festival on the last day of the Spring Festival
Right: these two came up to me and asked to take a picture of me with them, small town Chinese tourists are very curious about foreigners!!!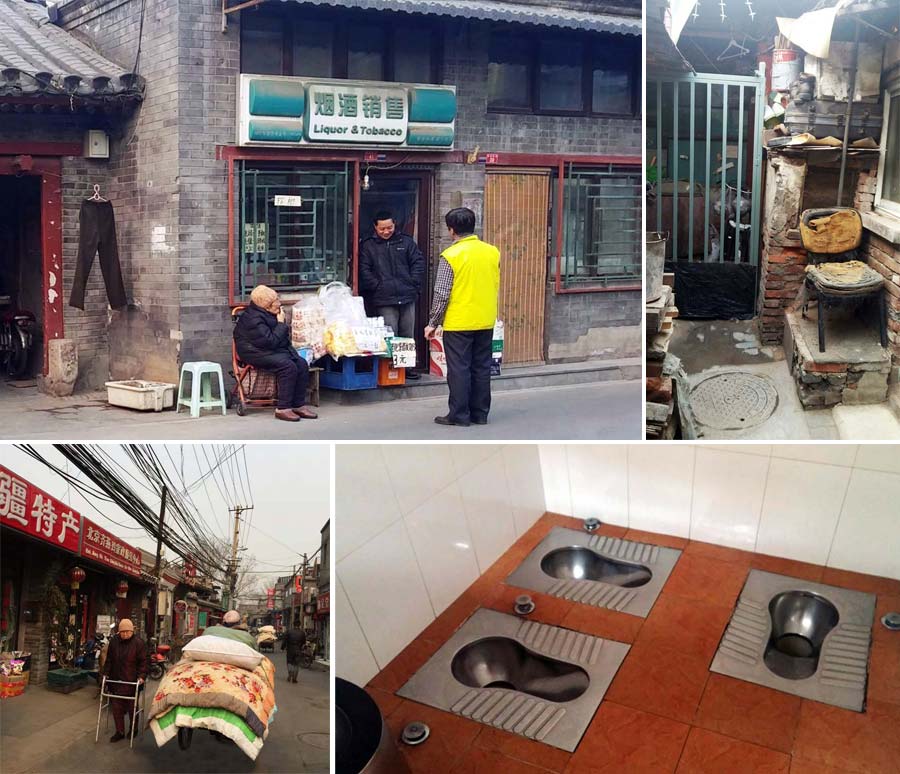 More hutong life and scenes. Oh yeah, did I mention there is no plumbing in the hutongs and everyone goes to these public bathrooms? Except for hotels and modern buildings, you will find squat toilets like these. In the hutongs, there is zero privacy as there is no stall separation. It's all part of the no-personal space attitude you find there.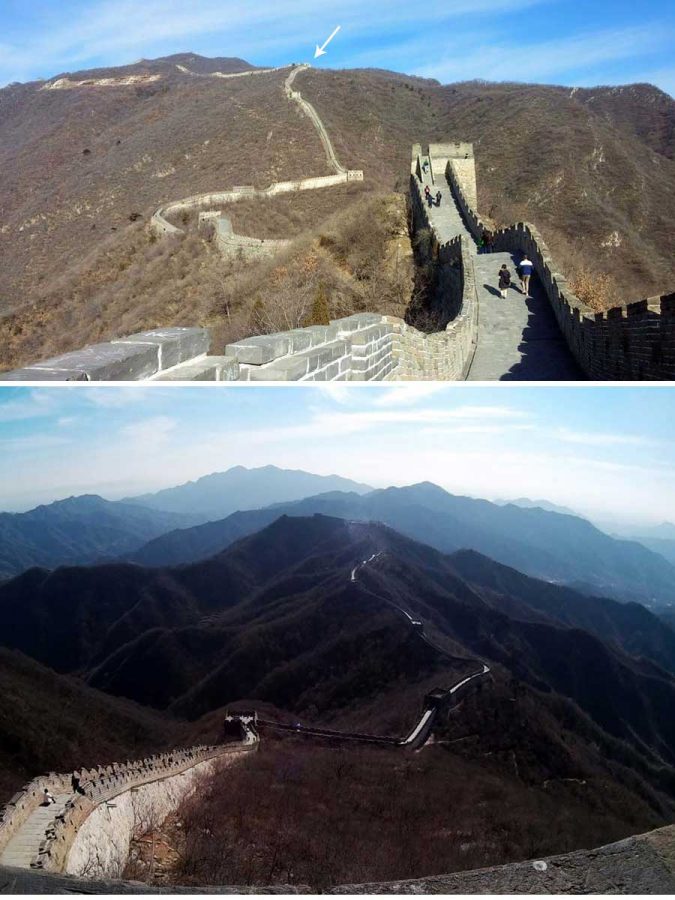 No trip to Beijing is complete without a day trip to the Great Wall of China. I went to the Mutianyu section. It is restored but not as crowded as closer sections to Beijing. I was there at the best time: low season so no crowds. I hiked from tower 14 to 20 (see arrow in top pic!).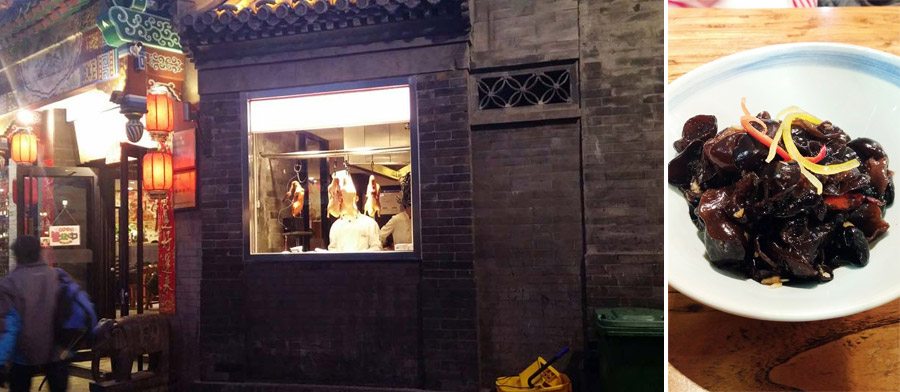 And finally, I just love the outside facade of the restaurant where we went for Pekin Duck. I have no idea what the name was but I can tell you the address is 17 Meishi Street by Qianmen.
Pass the Black Fungus Salad, please!
One food item on my bucket list to try in China was the black fungus (Mù'ěr), an edible jelly fungus that grows on trees in mountainous regions. Don't freak about because of the word fungus. A fungus is a mushroom!!!! Seen in the photo above the Liángbàn Mù'ěr dish, or Black Fungus Salad, we had that night.
Here is a quick 1 minute Black Fungus Salad recipe video

This Black Fungus Salad was on the top of my list as well of recipes to try when I got back home. Just about any Asian grocery store will have dried black fungus in stock. It could also be listed under the names wood ear or cloud ear fungus. For the Black Fungus Salad the smaller the fungus the better. To hydrate just place them in a big bowl of water and leave them for a while. They will absorb a lot, and I mean a lot, of water and get a whole lot bigger.
The fungus is more or less tasteless but has a great slightly crunchy texture. They are deliciously served with rice vinegar and soy sauce with a  little bit of a spicy kick. Time to take out your Sichuan peppers if you got 'em'!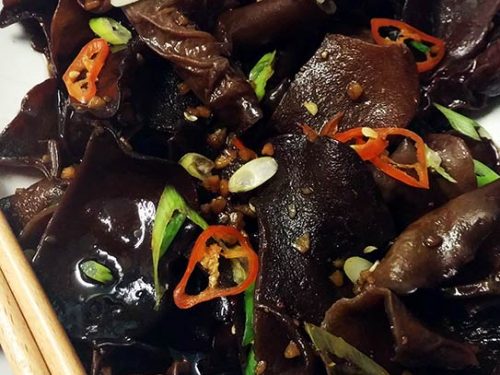 Black Fungus Salad | Liangban Mu'er
Ingredients  
1.5

cups

dried black fungus

also know as wood ear or cloud ear

4

cloves

garlic

grated

2

tablespoon

soy sauce

2

teaspoon

black or brown rice vinegar

1

teaspoon

sugar

1/4

teaspoon

salt

1

tablespoon

vegetable oil

1/4

teaspoon

ground Sichuan pepper

1

Thai chili

sliced, optional

spring onions

optional
Instructions 
Place the black fungus in a big bowl and fill with about 5-6 cups of very hot tap water. Leave for 20 to 30 minutes, or until the mushrooms are rehydrated.

Drain the mushrooms and cut off the hard stem part. Tear or cut the mushrooms into bite-sized pieces.

Bring water to a boil in a big saucepan. Add the mushrooms and boil gently for 3 minutes. Drain the mushrooms and set aside to cool.

In a bowl mix the garlic, soy sauce, rice vinegar, sugar, salt, oil and Sichuan pepper.

Toss the mushrooms with the sauce, and slice Thai chili if using.

Place in a serving dish and top with spring oinions.
Here are a few more authentic Chinese recipes for you to try: