I have always idolized exotic and historic Malta as a perfect Paradise destination. So it was a real treat to prepare one of it's most popular snack foods, Pastizzi.
It's time for the MENA (Middle Eastern & North African) Cooking Group. This monthly group has for goal to help us discover the culture and cuisine of the countries found in these parts of the world. The host of the month will choose a savory and a sweet dish from the country and the members pick one dish to make. Get your luggage ready as we are exploring Malta this month.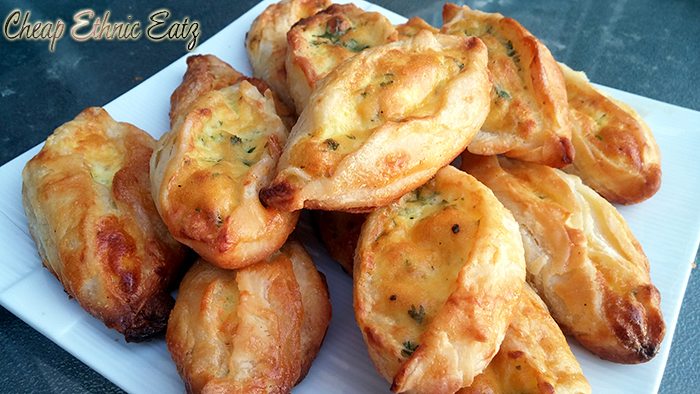 Malta is a small, island country in the Mediterranean Sea that lies south of the island of Sicily, Italy. Malta is an archipelago, but only the three largest islands of Malta, Gozo and Kemmuna are inhabited. It's rocky, flat to dissected plains, with a coastline that has many coastal cliffs and numerous bays.
The country has some of the world's most ancient standing buildings (the Neolithic temples), and its strategic location and good harbours in the middle of the Mediterranean have attracted Phoenicians, Greeks, Romans, Arabs, Normans, Crusaders, the French and finally the British. Visit the many cultural sites, museums, temples and explore the ongoing festivals. And then rest on the beach or go diving or snorkeling!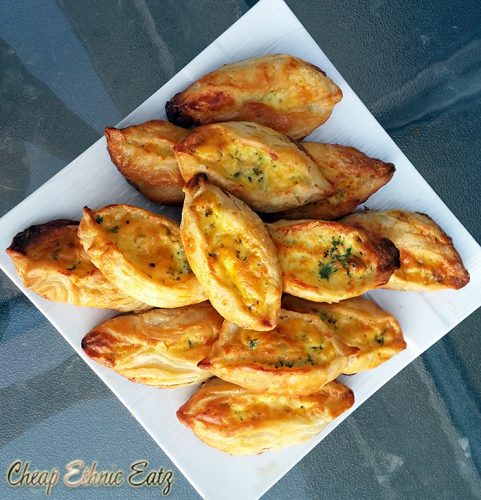 Maltese cuisine draws its influences from Sicilian and English influences as well as Spanish, French, Maghrebin and Provençal. It is quite modest, based mostly on fish and vegetable. The Maltese celebratory meal is fenkata, a feast of rabbit, marinated overnight in wine and bay leaves. The first course is usually spaghetti in rabbit sauce, followed by the rabbit meat stewed or fried. Maltese sausage – made of salted and spicy minced pork, coriander seeds, garlic and parsley – can be eaten raw, dried, or roasted. Wonderful sweets are abundant.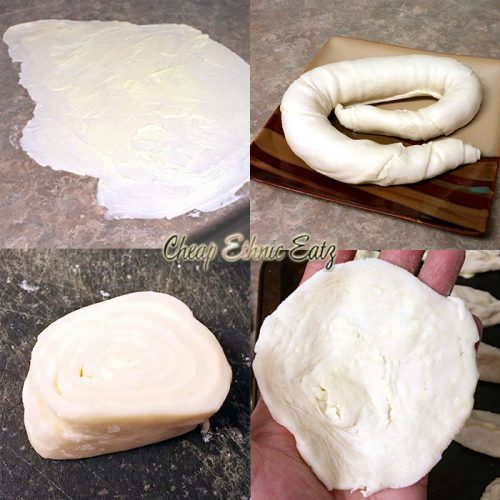 Today we are making savory pastries known as pastizzi, which are made with a filo or puff pastry and usually have a filling of either ricotta or curried peas.  My pastizzi recipe is adapted from Nunna's Kitchen.
Our MENA Cooking Club host this month is Yasmin from Wandering Spice.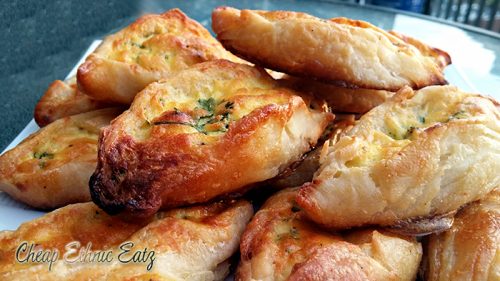 Although they turned out pretty good, I am sure they are nowhere near as good as a real pastizzi. I could have taken the easy way out and use prepared filo or puff pastry, but I gave it a shot to make my own.  But you see, such recipes are my Waterloo in the kitchen. I have tried twice in the past to make puff pastry, both time were failures. I have to say this new method was a bit more successful but the results were not light and flaky. So great snack to eat but I need to work on it.
Have you got a recipe which is consistently a challenge for you to make?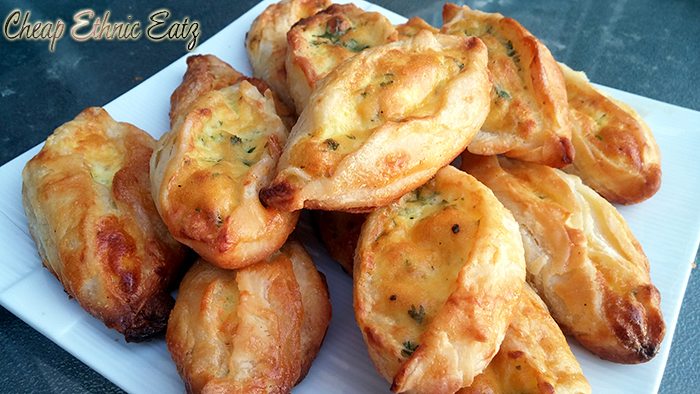 Pastizzi a treat from Malta
Ingredients  
For the dough
500

grams

of flour

1

tsp

of salt

180

grams

of softened butter

Chilled Water
For the filling
300

grams

of Ricotta

3

Eggs

Handful of chopped parsley

Generous amount of salt and pepper to taste
Instructions 
Sift flour and salt together in a bowl and make a well in the center. Add small amounts of the chilled water and mix until the dough is soft but not sticky. Turn out on a lightly floured surface and knead until it all comes together consistently.

Lightly oil your surface and roll out your dough as thin as possible . You also want to roll it out long as you can and not too wide. Smear the softened butter evenly over the dough.

Starting from the end closest to you, stretch and roll the dough upwards. Continue to stretch and roll the dough. If the dough gets long and thin at the sides, just fold it into the middle and keep rolling. This will just end up creating more layers in the pastry. Once you have finished rolling it, place it on a plate, cover it with glad wrap and leave it in the fridge for 24 hours.

Mash all the filling ingredients together until really well mixed. After 24 hours, place dough on a lightly floured surface and cut into thick slices about 2 cm wide. Stretch the outer edges of each section until you have an oval shape. Try not to press down on the dough as it inhibits it becoming flaky.

Place dough in the palm of your hand and fill with your chosen filling. Stretch the sides out. Press sides together all the way around. Pinch the ends flat and gently push inwards to shape the Pastizzi. Bake on a baking paper lined tray at 220 until golden brown for about 20 minutes.
Check out more savory pastry recipes here: