Yes, you can make the iconic smaller, sweeter and denser real Montreal bagel with a larger hole at home. A bagel made any other way is just not a real bagel!
Baking bread is so perfect. I keep saying I need to bake more bread and I am always intimidated at the though so I keep putting off. No more as I will be popping one out of the oven every month from now on. Each month there is a chosen ingredient or theme. For July we were asked to make a Jewish bread and there was not even a doubt in my mind what I would make: a Montreal Bagel!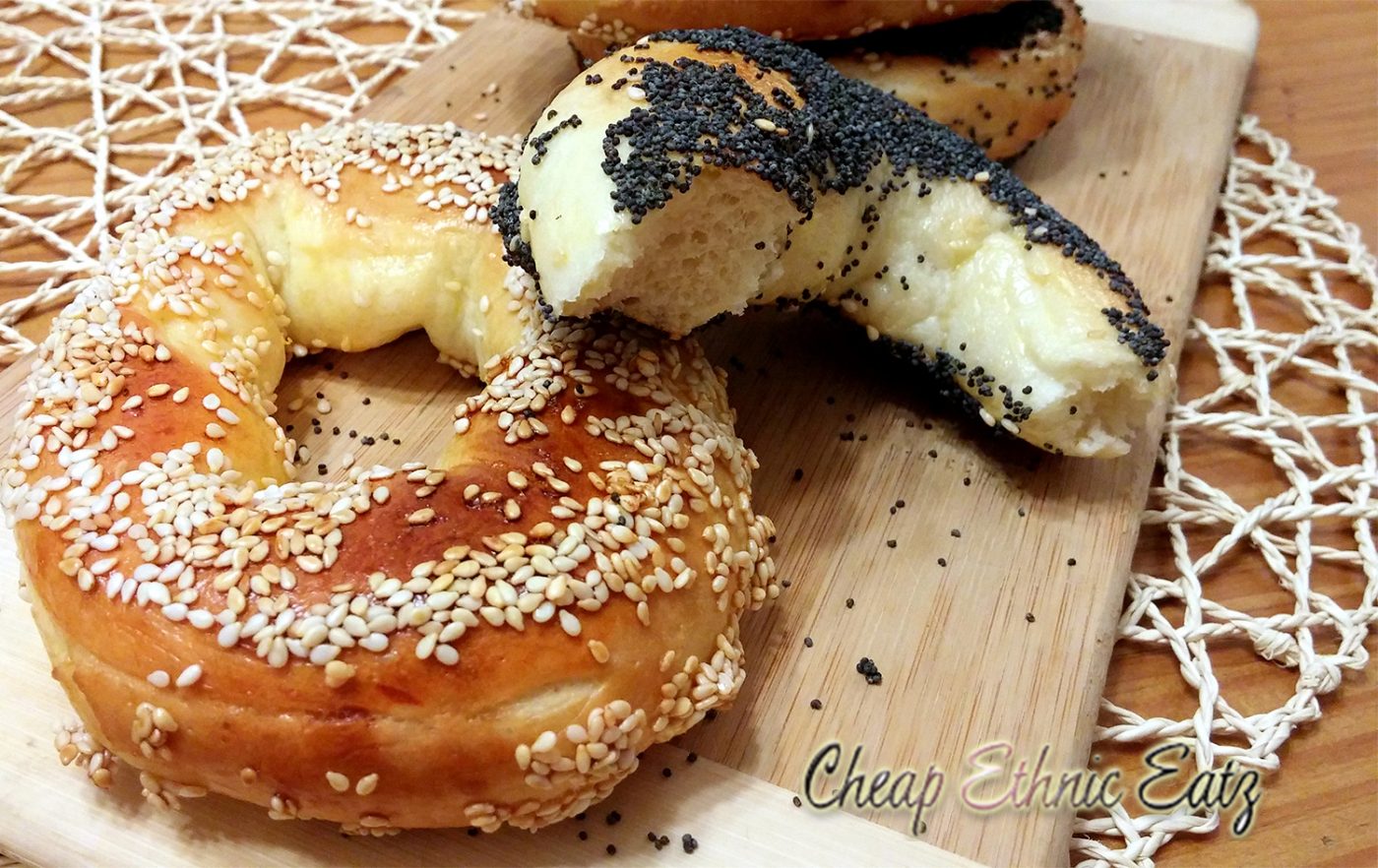 If it's not from Montreal, your bagel is a fake!
So not only is it my first month but I get to be controversial too! OK so everyone knows a bagel is a bread baked in the shape of a ring. Now show any Montrealer a commercial bagel or a bagel anywhere not from Montreal and you will witness eyes rolling and perhaps a sigh. We Montrealers believe the world has been led astray and you have no idea what a REAL bagel should be. What you eat is regular bread with a hole in the middle, we eat real bagels (please pick up on the humour in my tone lol). Just like smoked meat, you can only eat a real smoked meat sandwich when in Montreal!
The difference: the Montreal bagel is handmade, smaller, sweeter and denser, with a larger hole, and is always baked in a wood-fired oven. It contains malt (maple syrup will work), egg, and (usually) no salt and is boiled in honey-sweetened water before being baked. Bagels were brought to North America by Jewish immigrants from Poland and other Eastern European countries.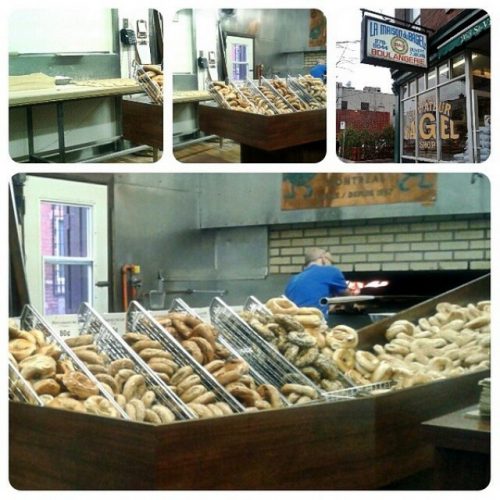 St. Viateur vs Fairmount bagel
Minor controversy surrounds the question of who first brought the bagel to Montreal. They were (reportedly) first baked in Montreal by Chaim (Hyman) Seligman. Seligman would string his bagels into dozens and patrol the Jewish Main (Boulevard St. Laurent) purveying his wares, originally with a pushcart, then a horse and wagon and still later from a converted taxi.
Seligman went into partnership with Myer Lewkowicz and with Jack Shlafman but fell out with both of them. Seligman and Lewkowicz founded the St. Viateur Bagel Shop in 1957 and Shlafman established Fairmount Bagel in 1919, which both still exist in the present day. Thank you wiki.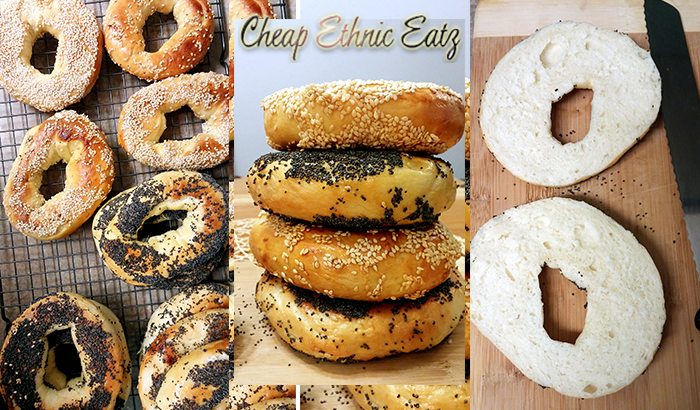 To this day it is totally normal for one Montrealer to ask another: are you the Fairmount or St-Viateur type? Some restaurants will give you the option to choose when you order a dish with a bagel from a menu. This is serious business folks!
I luckily work close to both main shops. I love going to the shop and getting my dozen piping hot right out of the oven. You have to eat one still hot as soon as you leave the shop, it's the law! And if you are curious, I am a St-Viateur gal all the way!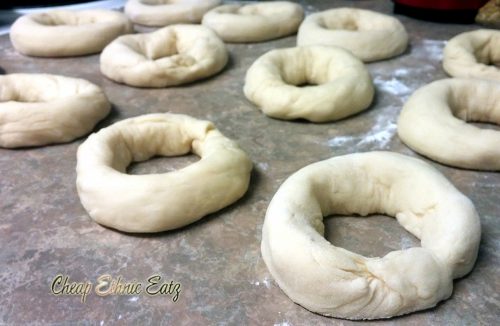 It can be made at home!
Making a Montreal bagel at home has been on my bucket list for a very long time but I was really terrified. Could I pull it off? Can I really make a close reproduction at home without a wood-fired oven? Would I be a shlimazel as I would potshki in the kitchen?
Well, I am happy to say the results of the recipe at My Second Breakfast were gants gut (quite well)! And the two friends who tasted them each gave two thumbs up. Enjoy fresh or toasted with cream cheese, smoked salmon, onions, tomatoes and or/capers. I even used one as a bun for a regular burger.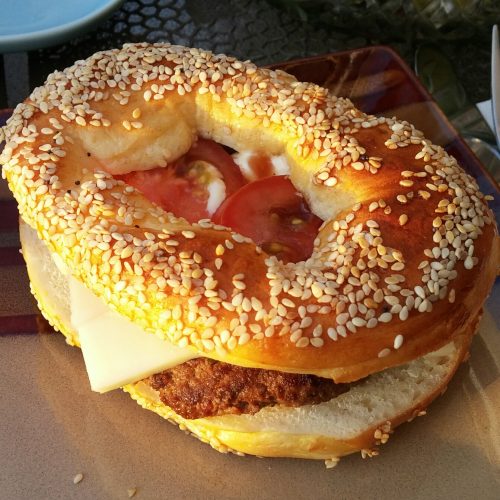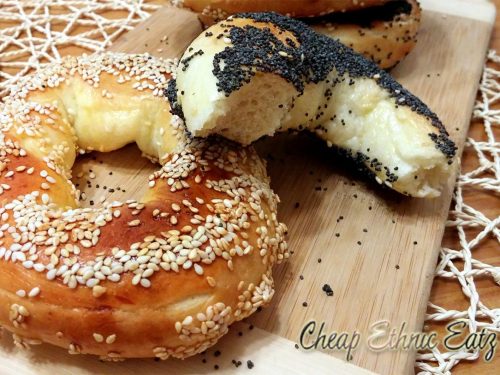 Montreal Bagels
Ingredients  
1 1/2

cups

warm water

65

g

granulated sugar

3

tablespoons

canola oil

8

grams

active dry yeast

2

large eggs

divided (one is for the dough and one is for an egg wash)

1

tablespoon

maple syrup

4 to 5

cups

all purpose

unbleached flour

1

teaspoon

salt

3/4

cup

poppy seeds or sesame seeds

16

cups

of water

1/3

cup

honey
Instructions 
In a large bowl whisk together the warm water, sugar, canola oil, yeast, egg and maple syrup. Combine until the yeast dissolves.

Stir in salt and one cup of the flour.

Add enough flour to make a loose, soft dough, about 3 cups.

Knead your dough for about 12 minutes, adding flour as needed as you go 1/2 cup at a time.

Once your dough is firm and smooth, cover with inverted bowl and let the dough rest 10 minutes.

Divide the dough into 12 equal parts for big bagels or 15 for regular ones. Roll each piece into a 8-10 inch rope, then curve each one pressing together the ends to make a bagel shape. Make sure that the ends are ell kneaded together. You want deformed circles with big holes. Let the dough rise for 30 minutes.

5 minutes before your dough is finished rising, fill a large pot with water (16 cups of water) and stir in the honey. Bring to a boil.

Preheat oven to 425F and line two baking sheets with parchment paper.

Put 3-4 bagels at a time in the pot and boil for 45 seconds on each side (90 seconds total). Remove and let the water drain off onto a clean towel or paper towel.

In a small bowl whisk your egg and pour your seeds on a small plate. Dip your bagel in the egg wash and then coat both sides in the seeds. The bagels tend to get very dark in areas where they are not covered with seeds.

Bake for 8-10 minutes or they start to get golden brown on the side touching the baking tray). Flip and bake another 6-8 minutes or until completely light, golden brown.

Cool the bagels on a cooling rack. Freeze uneaten bagels immediately after they are done cooling to preserve their texture.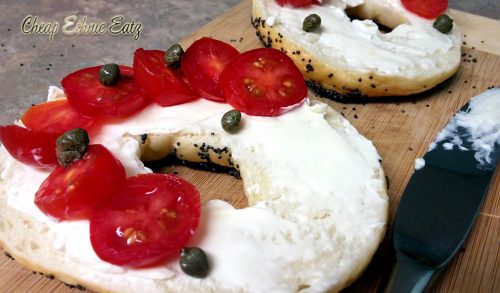 Twelve Loaves
#TwelveLoaves is a monthly bread baking party created by Lora from Cake Duchess and runs smoothly with the help of Heather of girlichef, and the rest of our fabulous bakers.
Our host this month is Karen from Karen's Kitchen Stories, and our theme is Jewish Breads. For more bread recipes, visit the #TwelveLoaves Pinterest board, or check out last month's mouthwatering selection of #TwelveLoaves enter last month's "A Little Something Sweet" Breads!
If you'd like to bake along with us this month, share your Jewish bread using hashtag #TwelveLoaves!
Check out more bread recipes from around the world here: