Eating your way through Portland Maine is not the only way to savor the city. There are boozy delights best enjoyed with an excursion on The Maine Brew Bus tour.
For the second time in 9 months, I had the pleasure of visiting Portland Maine. Portland was one of many stops on my road trip vacation with my mom last summer, and I was back this May for a travel influencer conference. The Women in Travel Summit was a blast and I loved the spirit(ual) tastings we savored on the Maine Brew Bus tour.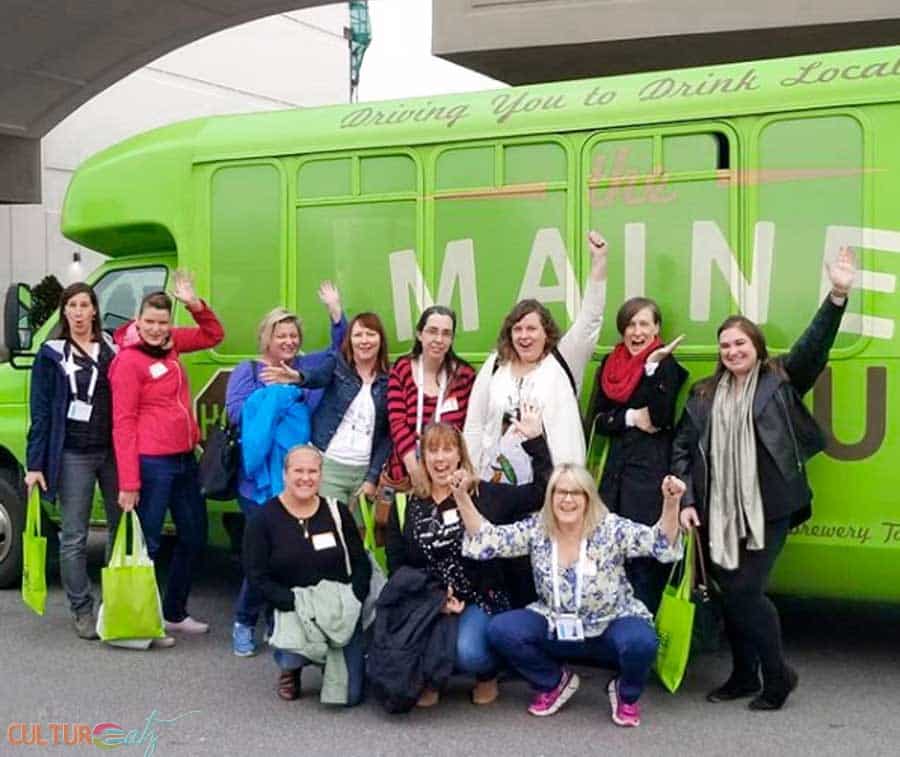 My weekend schedule was pretty packed with conference events and seminars, but I got to explore a few places with my travel friend Marie-Pierre over at Nomad Tours Quebec, including a revisit of a few top attractions – like the Portland Head Lighthouse – for a secret YouTube project to come (will keep you posted on that and make sure to subscribe to my channel here).
What to do in Portland Maine
We enjoyed a few tasty meals on our own too – emphasize lobster meals – and there was just enough time to squeeze in one local tour, a booze-filled excursion organized by The Maine Brew Bus.
Going to Portland or Maine soon? Check out my other travel guide articles:
and check out my Best of Portland video below…
The Maine Brew Bus Tour
I would never have guessed that Portland Maine has such a blossoming brewery and distillery scene, even a handful of wineries. Now, visiting one brewery is great but visiting a few in a day is way more fun. But not very cool if you need to drive between places while drinking. Enter The Maine Brew Bus.
This excursion tour company organizes several brew tours at the many local brew spots. Like, they have a lot of options! Brunch with booze, check! Cruise and booze, check! Bike and booze, check! Birding and booze, yep check that too! By the way, you can also find them in Boston and Providence, RI.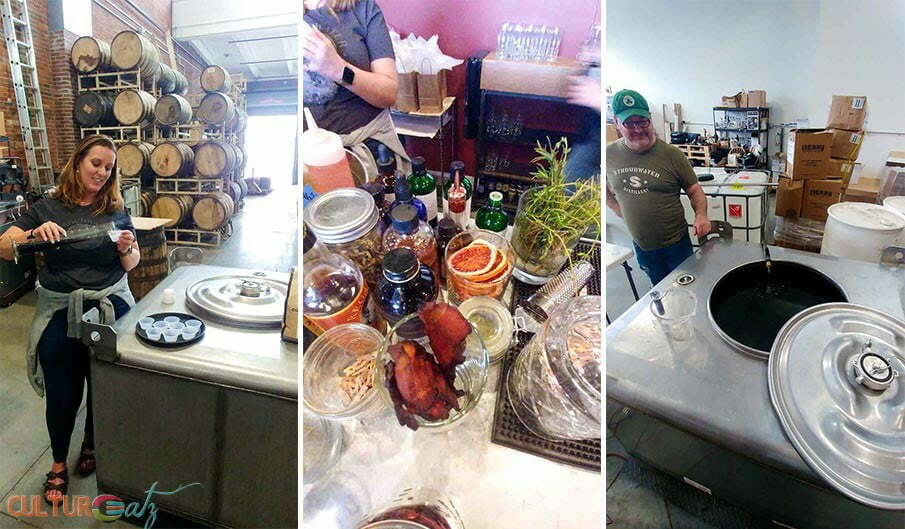 Did you get your FREE PRINTABLE yet?
Surprise! Never know what to pack when getting ready for a trip. I got you covered with my Ulitmate Packing Checklist. Click here to get your FREE Ulitmate Packing Checklist right now!

They also offer a few corporate and private tour itineraries. The one included with the conference is not on the regular itinerary so it was probably one of those…but they offer similar ones….because it was really special and SO MUCH FUN!
We visited a little bit of everything: a brewery, a winery, and a distillery. We traveled from one place to the other on Tipsy, our brew bus for the tour, and we were thoroughly entertained the whole time by our guide Don (also the GM) and driver Ryan.
Our Maine Brew Bus tour was called The Spirit of Portland, and here are the three places we visited.
My top beverage choice for each place can be identified by the asterisks ***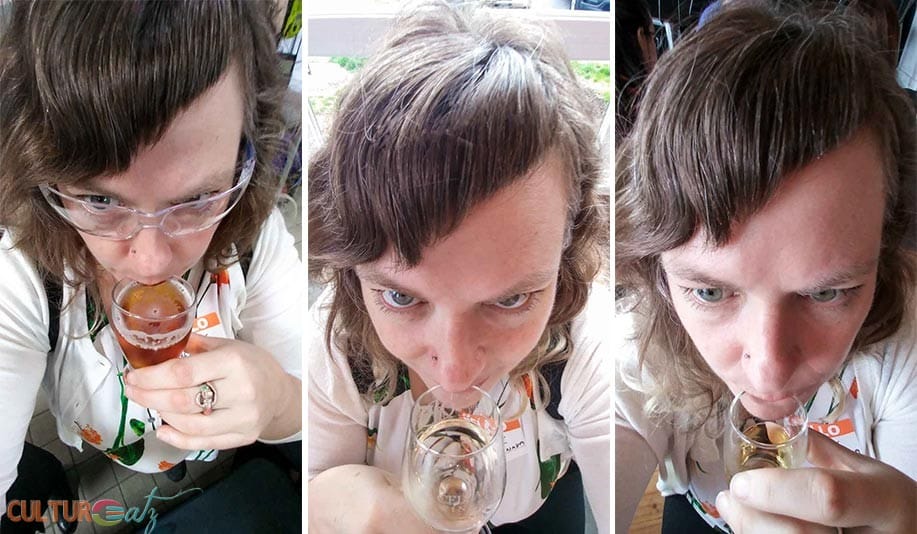 Rising Tide Brewery
This brewery was started by a couple, Nathan and Heather Sanborn. He takes care of the beer, she handles the business. Heather was actually our brewery guide and she also just so happens to be a Senator. My first time meeting one, kinda cool. Here are the beers we tasted…
Ismael – a copper ale, like amber beer, it has a clean, malty flavor.
Mita, or Maine Island Trail Ale – an American session ale, is a bright beer with bold notes of citrus and pine.
Spinnaker – a Hefeweizen, is the perfect summer beer with sweet yeast esters and spicy aromatics.
***Pisces – a Gose, this beer is brewed with lactobacillus, coriander, and local seawater. Loved it so much, loved the salty finishing taste.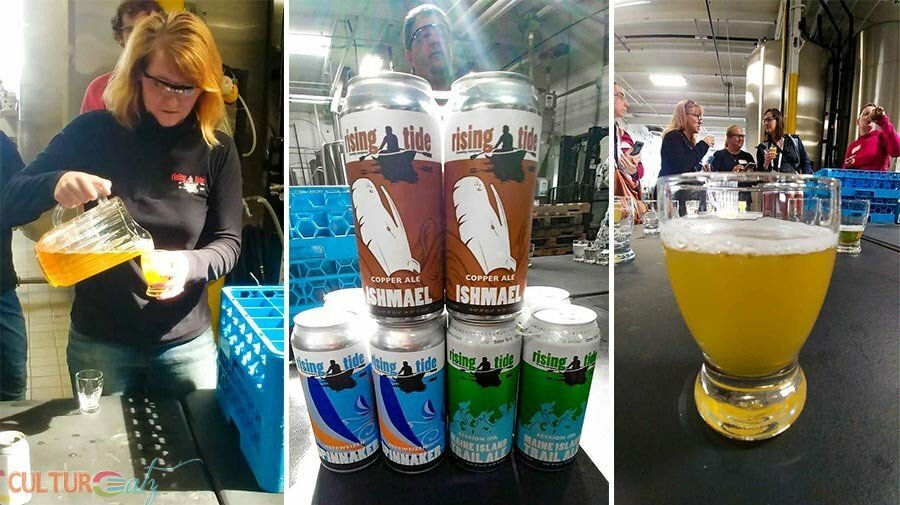 The MITA Touch
It was not everyone's favorite but for me, it was the winner. My fellow conference attendee and friend Erin, over at The Epicurean Traveler (no surprise as to why we get along so well), went head over hops for the Mita. Let's see what she has to say…
"Sporting chic safety glasses as we gathered around a table in the Rising Tide Brewing Company's production area, our Maine Brew Bus group tasted a variety of the brewery's craft beers. Though I rated all of Rising Tide's beers pretty highly, a favorite emerged — the Maine Island Trail Ale.
Giving the beer a rare 4.75 out of 5 stars, I particularly enjoyed this session pale ale for its subtle hoppiness. With only 4.3% ABV, the beer was light, refreshing, and an easy sipper. Just a bit hoppy, this pale ale showcased notes of pine and citrus. Imagining I were to kayak along Maine's coast this summer, Rising Tide's Maine Island Trail Ale is the beer I'd want resting in my cup holder.
Best of all, a portion of the proceeds from this beer benefits the Maine Island Trail Association, which aims to protect the 200 wild islands along Maine's coast for all boaters to discover and enjoy. If anything feels better than a crisp, cool beer on a sunny Maine day, it's knowing the beer in my hand is supporting the coastline I plan to explore on a future trip back to Portland."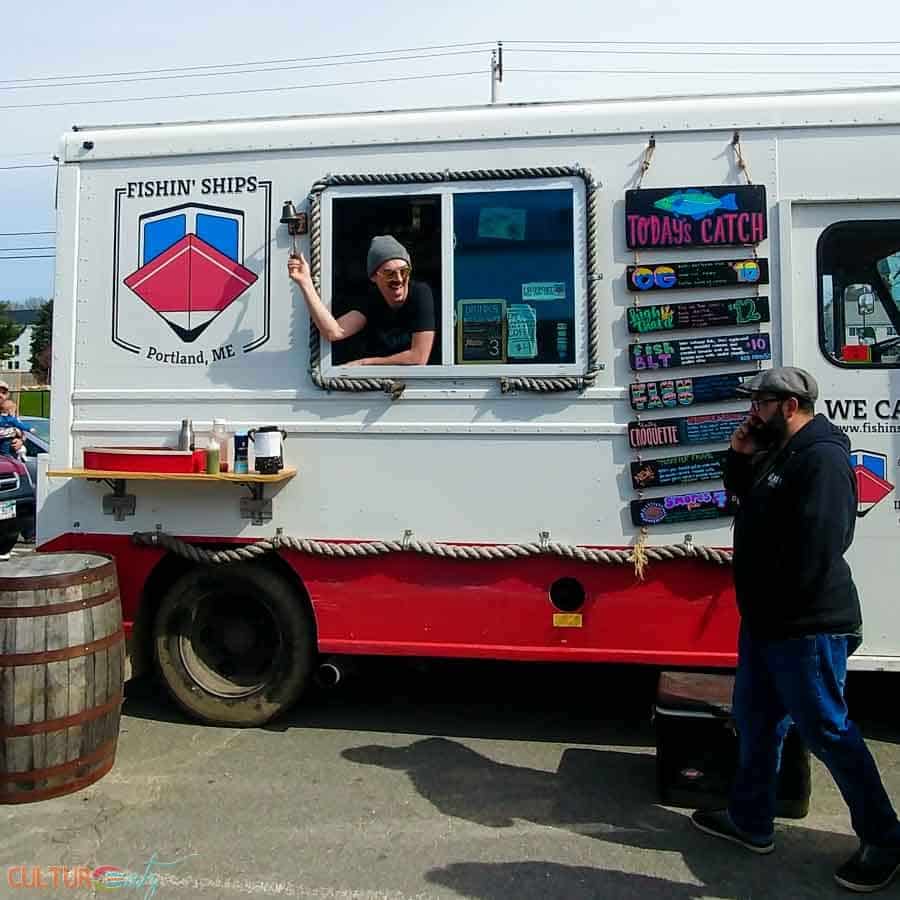 The Gastro-gogo event
We happen to be there while there was a food truck event going on called Gastro-gogo. Although I did not purchase anything from the food trucks, it was really great to soak up the atmosphere with lots of locals around and listening to a local band.
I got lots of cool shots from that event.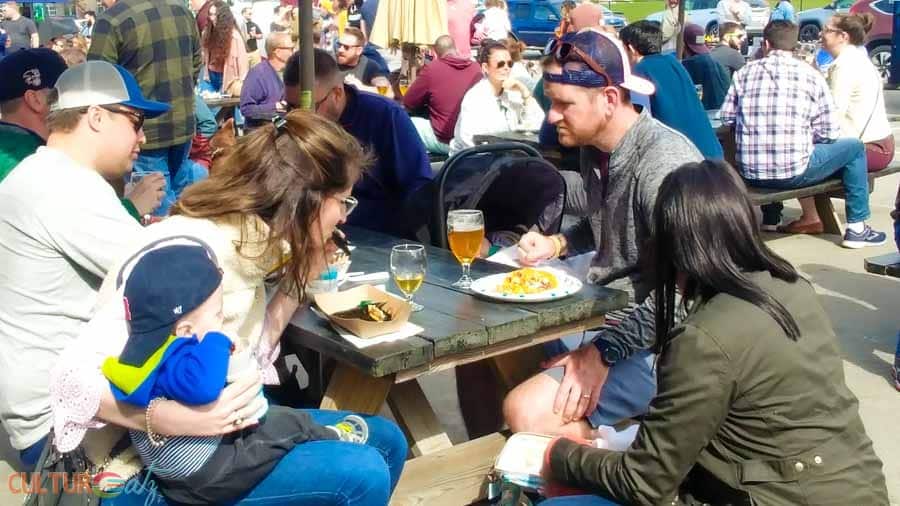 Cellardoor Winery
There are actually two Cellardoor locations: the vineyard and the tasting room at Thompson's Point. We went to the tasting room, with its very cool space for tasting and events.
And there is a really awesome story behind the company's logo. The symbol was found carved on a door on the farm that was used by hobos (and possibly people on the underground railroad) to indicate the place was welcoming.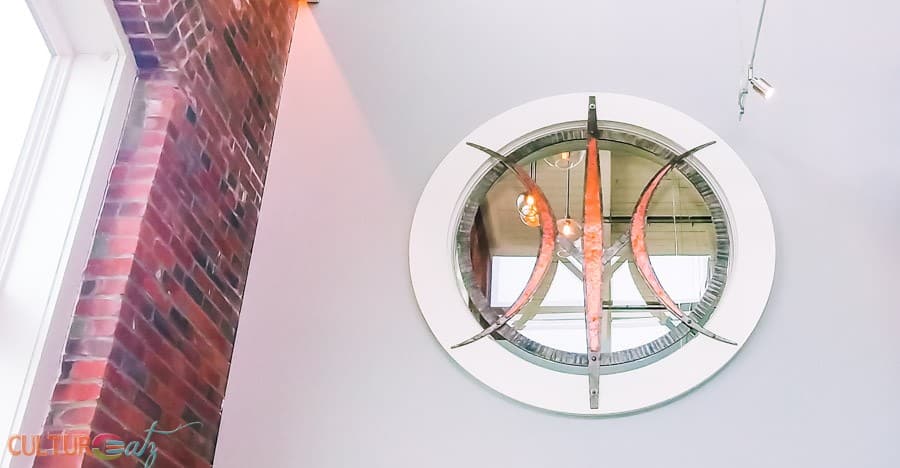 And tasting their wines was very welcomed…
Pinot Gris Reserve 2016, a soft and balanced glass of wine with notes of lush apple, orange blossom, and pear.
***Bulles Rosé 2015, I just loved the lively flavors of strawberry jam and pomegranate, with orange zest on the finish. it was like drinking dancing pearls in my mouth.
Artist Series Iron Gate 2015, a lovely red with notes of black currant, cordial cherries, and age-worthy tannins.
C'est de l'Or 2014, a dessert wine with spiced fig, rum raisin. Very nice but being from Quebec, home of ice wine, it was OK.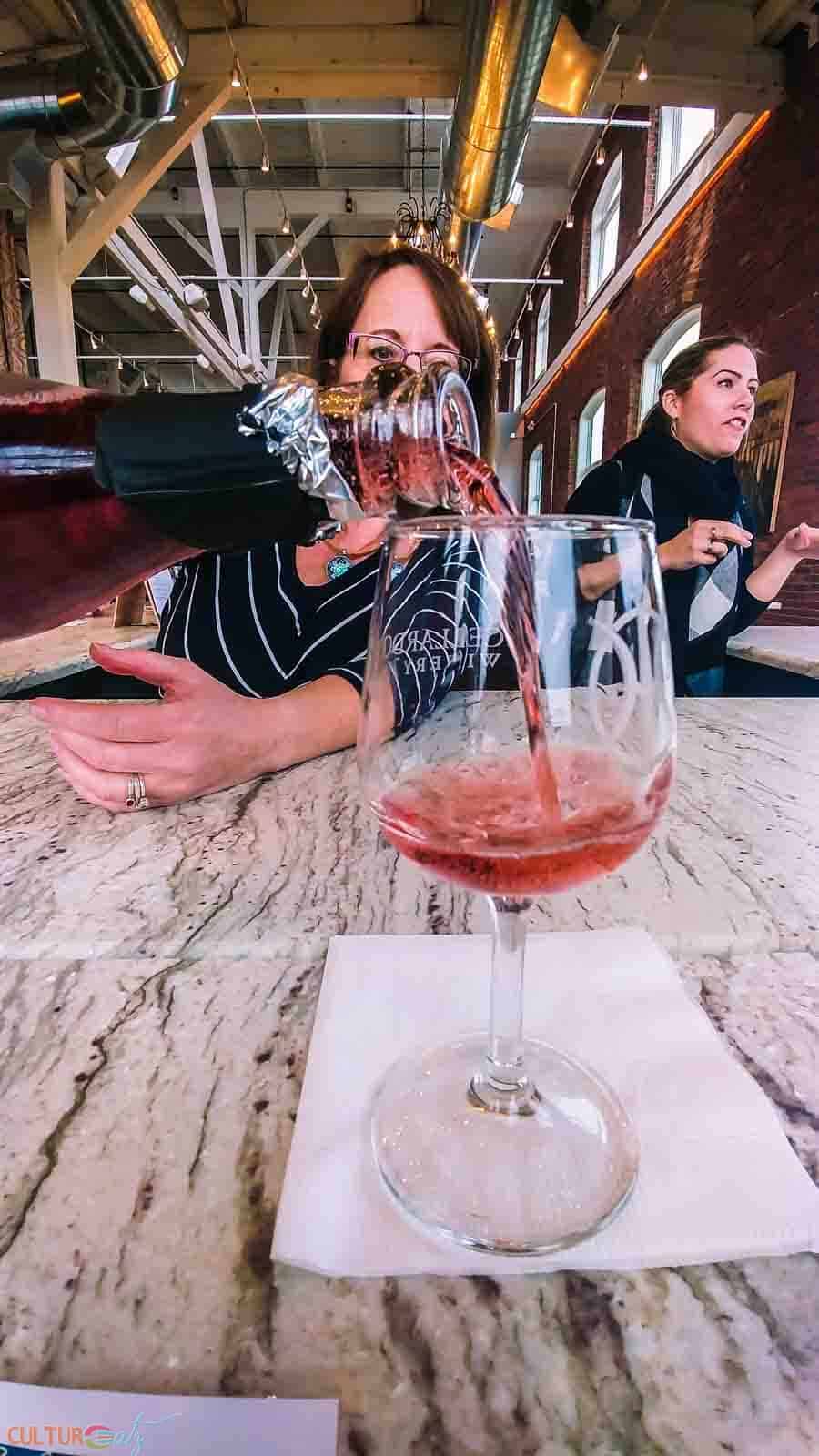 Stroudwater Distillery
Located in a cool brick building by Thompson's Point, the local train yard, Stroudwater distills top-notch spirits such as bourbon, rye, vodka, and gin. Basically, all the must-haves of a good home bar. The official tasting included…
They were good indeed but I can't say they blew my mind. But what came next did…
***They were in the process diluting a high proof coffee liqueur. We got to have a tase of it full strength (at around 170 proof) but it is sold at 60 proof. I can tell you I did bring back a bottle of Griffin's Wharf 1773 Coffee Liqueur home.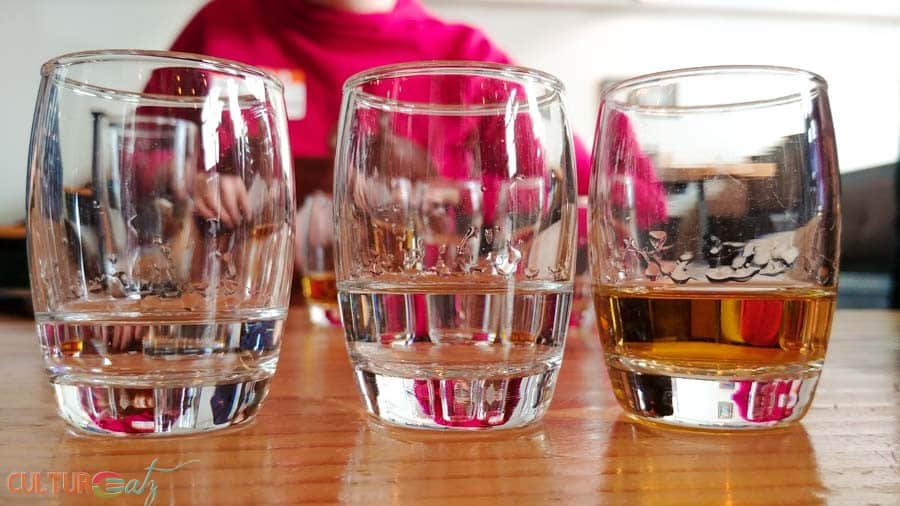 This is but a small sampling of all the breweries, wineries and distilleries you can find in Portland Maine. And it is another reason why Portland is such a great long weekend destination with old world charm kissed by a touch of a sea breeze!
If you are not into drinking, check out the many organized tours in Portland Maine offered here.
Where to stay in Portland Maine
Portland has something for every budget. Here is a selection of highly rated hotels that are in walking distance from the port and local attractions:
Luxury
The Danforth
Portland Harbor Hotel
Mid-range
Courtyard Portland Downtown/Waterfront
Hyatt Place Portland – Old Port
Budget
Black Elephant Hostel
PIN IT HERE for later!