Finally my long promised post with clicks, stories, and foods from my trip to New Orleans, Louisiana back in March 2014. Wow does life ever get in the way of goals. My friend Karen and I set off for on a 7-day vacation and a visit to our friend Raquel, who moved to New Orleans from Montreal this past summer.
This was my second time actually in the Big Easy but a good 10 years had elapsed since my first trip. I was really looking forward to my trip as the first one was a short blitz. I knew what foods I wanted to eat again…and try the ones I missed out the first time around. Still, in 7 days on location I did not cover the whole list. So when is trip three going to be? Oh well, not right away but let me reminisce a bit, this is but a sliver of all we did, ate, saw and experienced.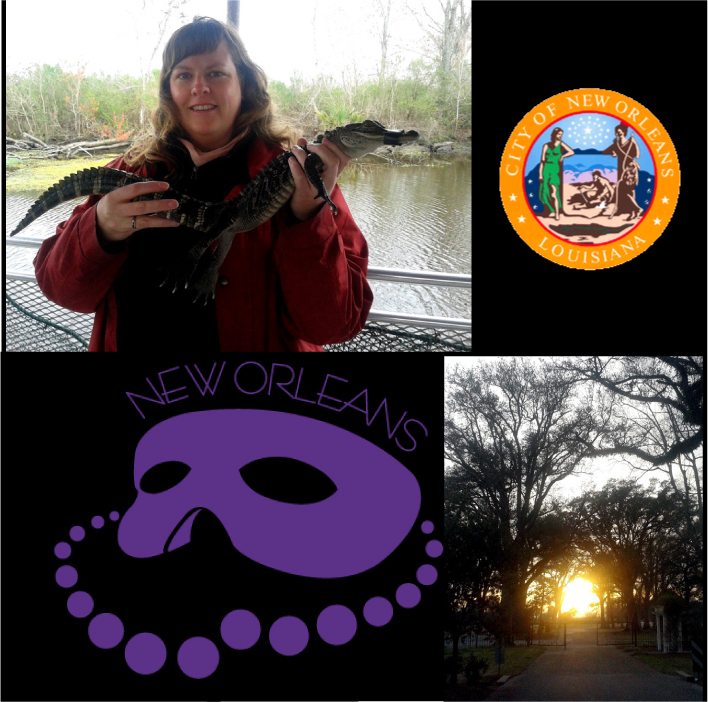 No trip to New Orleans is complete without a road trip as well. Yeah, the top pics have nothing to do with the actual city, but they are too cool. We rented a car for 2 days and drove West. First stop was the swamp tour and gator spotting where I got to hold my little friend above, a bay alligator. No worries his mouth was taped shut! Second stop was plantation tours. We visited the Laura Plantation which was Cajun but we also stopped after hours at the Oak Alley Plantation where I got this most wonderful sunset shot. Day 2 of the side trip will be discussed further down.
.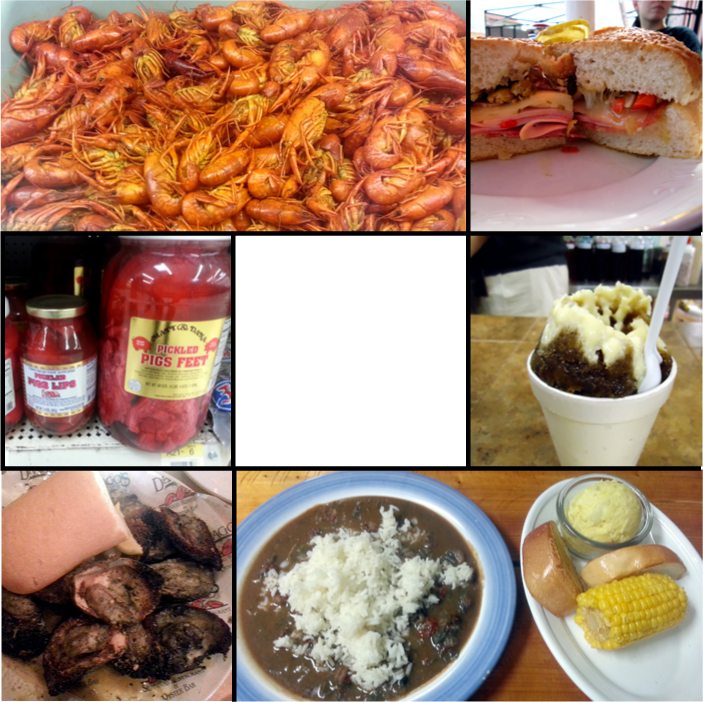 Top-left: Cooked crawfish by the pound
Top-right: Muffuletta sandwich at Frank's Restaurant
Middle-left: Pickled what? Pigs lips and feet?
Middle-right: a Snowball treat
Bottom-left: Char-broiled oysters at Drago's
Bottom-right: Crawfish stew with sides at B&C Seafood Market & Cajun Restaurant, next to the Laura Plantation
Did you get your FREE PRINTABLE yet?
Surprise! Never know what to pack when getting ready for a trip. I got you covered with my Ulitmate Packing Checklist. Click here to get your FREE Ulitmate Packing Checklist right now!

Here are a few local specialties to the state and city. The Muffuletta was good but not the best. The stuffing was awesome but I wish we could combine it with the bread one used at Central Grocery. The pickled pigs lips and feet? Not a specialty but more a Walmart sighting…we do not have these back home! Ah my Praline and Cream Snowball, not to be confused with an snow cone at all, from the unexpected Mom's Minimart. Super friendly mart. Char-broiled oysters just rule, so good.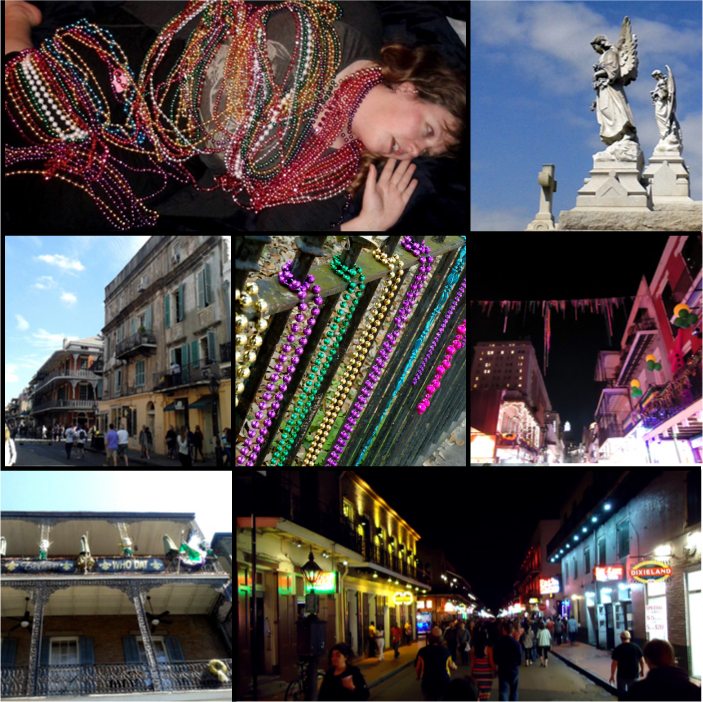 Top-left: Bead overdosed!
Top-right: St-Louis Cemetery no. 3 statues
Middle-left: French Quarter
Middle-center: Beads everywhere
Middle-right: Beads on electrical wire on Bourbon Street
Bottom-left: French Quarter colonial balcony ramps
Bottom-right:Bourbon Street at night
We got there the day AFTER Mardi Gras and trust me we did it on purpose. We are not fans of crowds. But we did witness the after-math: beads everywhere all over the city, tourist and residential alike. Kind of a pollutant but so pretty and colorful. I covered myself with Raquel's stash at home hi hi. The French Quarter is so gorgeous and Bourbon is crazy at night.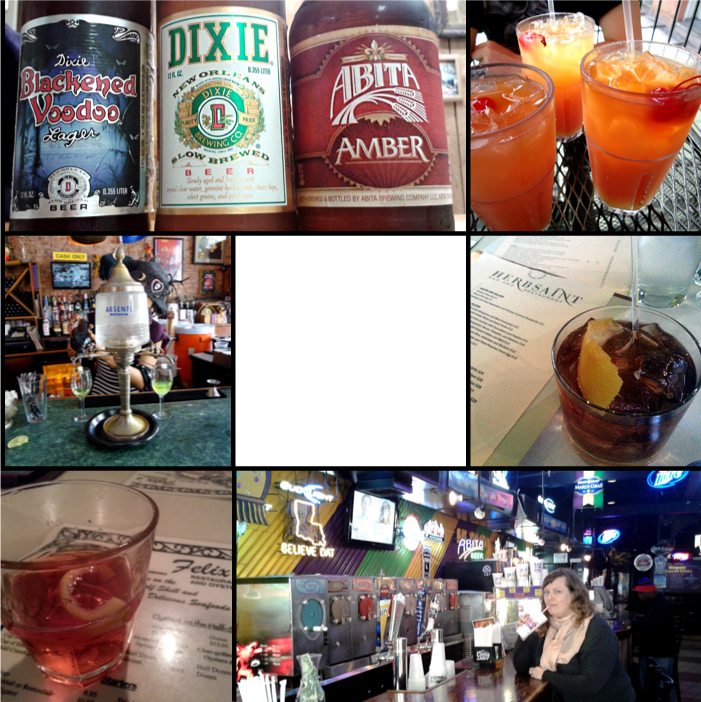 Top-left: Local beer brews
Top-right: Hurricane cocktail
Middle-left: Preparing the Absinthe at the Pirate Alley Cafe
Middle-right: Vieux-Carré cocktail
Bottom-left: Sazerac cocktail, the official cocktail of New Orleans
Bottom-right: Daiquiri bar on Bourbon
Yeah, New Orleans is a lush's paradise! Every meal was accompanied by a cocktail. They have some great ones here. Lots of fun local beers too and the fake but must-try frozen Daiquiris that come in slush machines. They even have drive-thru places?!?!? Done sitting at the bar but still have your drink? No problem just put it in a plastic cup and drink it on the street. I even went into several shops with my plastic cup of Absinthe. The Big Easy indeed!
Here is a little tip if you want to buy top shelf Bourbon or the such. Do not give up after only seeing stuff in food marts, corner stores and Walmart. I had already bought my limit to bring back to Canada when we came across Bin 428 in the Garden District. A nice place with a great top selection of alcohol.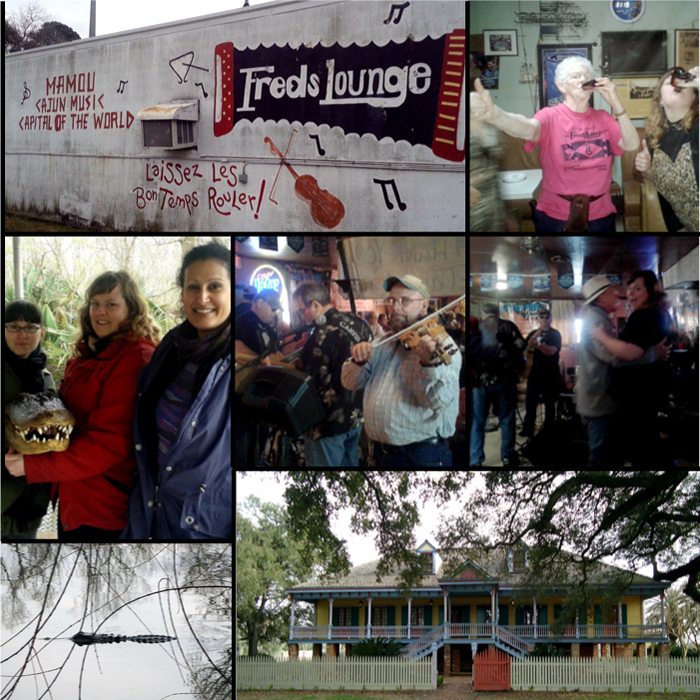 Top-left: Fred's Lounge in Mamou
Top-right: Tante Sue at Fred's Lounge
Middle-left: Raquel, myself and Karen with a big alligator head
Middle-center: Cajun jam session at 9 AM
Middle-right: 2-stepping (apparently) at Fred's Lounge
Bottom-left: Alligator in a pond
Bottom-right: The Laura Plantation
Fred's Lounge in Mamou was truly one of the highlights of the trip on Day 2 of the road trip. So every Saturday morning at 9 am there is a live Cajun ban session. Tante Sue – with whom I am seeing taking a swig of booze – has been there 67 years! A little booze and a lot of 2-stepping with the locals was an absolute blast. And the jam session is broadcasted live on a local radio station. The one regret of my first trip was not meeting someone who spoke Cajun French. I was thrilled to remedy this situation in Cajun country. Did not understand all they said but got the gist of a sentence, very different accent. A great find in Cajun Country was fun find I purchased: Virgin Pecan Oil. You can buy it in NOLA too but it was so much cheaper here.
Mamou is about 3 hours west of NOLA by car so get some lodging nearby on the Friday night. We slept in Eunice, a town which is mentioned in the new series True Detectives. Have you seen the show? Highly recommended. And since it was shot in this area I recognized a lot of names and landscapes which was very cool. Very close to the Laura Plantation was the filming location for both Django Unchained and 8 Years a Salve. We even came across the same filming teem for NCSI twice during the trip: in the French Quarter and at the swamp tour. No celebrity spotting though, even if Mark Harmon was around.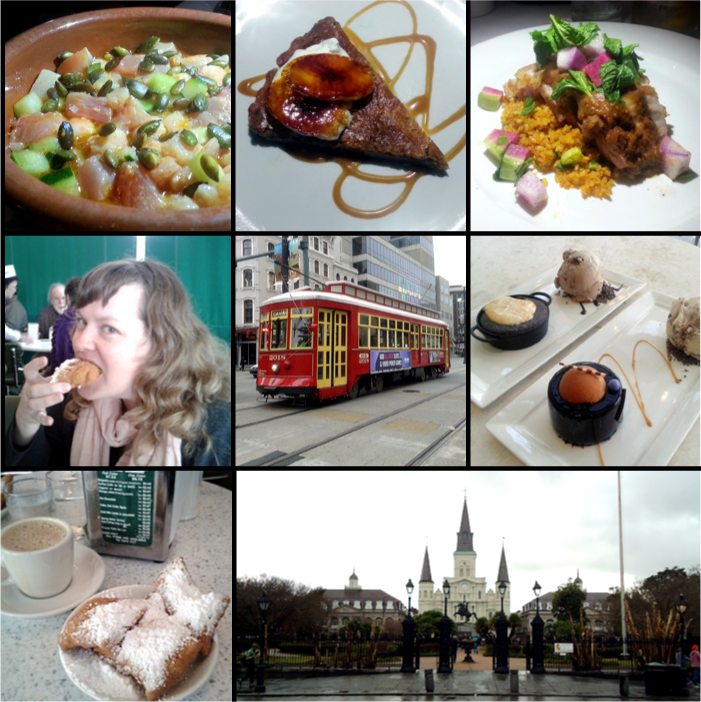 Top-left: Dinner at Herbsaint: Louisiana Shrimp and Fish Ceviche with Cucumbers and Pepitas
Top-center: Dinner at Herbsaint: Banana Brown Butter Tart with Fleur de Sel Caramel
Top-right: Dinner at Herbsaint: Roasted Pork Belly with Red Curry Rice, Radish, and Date Barbeque
Middle-left: Sampling a beignet
Middle-center: New Orleans street car
Middle-right: desserts and ice cream at Sucré
Bottom-left: Beignets at Café du Monde
Bottom-right: St-Louis Cathedral in the French Quarter
Our big treat dinner took place at Herbsaint, with its "acclaimed menu with French and Italian-inspired, yet distinctive Southern dishes". Not the best pics but my 3 delectable dishes are above. Fun Fact: the word "Herbsaint" is actually an acronym of "Absinthe" plus an 'r'. This anise-flavored liquor, currently produced by the local Sazerac Company, was invented in 1934 as a substitute for French import only Absinthe.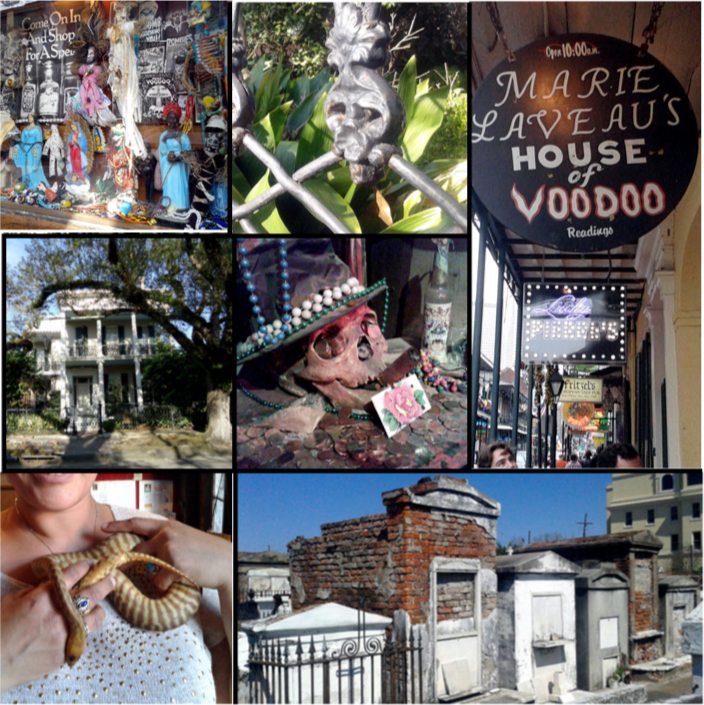 Top-left: store front of the Zombie Voodoo Shop
Top-center: Rose gate of Anne Rice's (old) house
Top-right: Marie Laveau's House of Voodoo shop
Middle-left:  Anne Rice's (old) house
Middle-center: at the Voodoo Museum
Bottom-left: snake to play with at the Voodoo Museum
Bottom-right: St-Louis Cemetery no. 1
No food here but the mystical and bizarre sine of New Orleans. All the voodoo shops sell junk but they are fun to visit. If you want a more realistic experience go to the Historic Voodoo Museum. It's small, old and dusty but it's the most authentic experience for sure. The owner usually has one of his pet snakes with him at reception to play with. We got to hold his yellow Python.
No trip to this city is complete either without a walking excursion in the Garden District where you can see a few of Anne Rice's old homes. We did not cross vampire Lestat on our walk. And finally a must-see is at least one of the unusual and gorgeous above round cemeteries. We visited Saint-Louis Cemetery no. 1 and no. 3.
I hope you enjoyed a tour of our adventures in New Orleans!
Want to check out more awesome USA travel guides: