It's been a while. How are you all? Sorry for my disappearance but I was sick with a very bad cold for over a week and I am still coughing now. I just finished a bronchitis a couple of weeks ago too. So I have not been commenting or anything lately but I am trying to get back to visiting everyone. To good health with the soon coming new year!
I am way overdue for a Vacation Eatz post, where I like to show you pictures from my photo albums (yes the printed kind) of past trips I have taken. And of course we'll explore a dish local to that destination.
About 12 years ago I had one of the most wonderful trips of my life. Picture three ladies and rental mini van on a long road trip from Montreal to New Orleans and back. Now the trip was very focused on the journey, not just the destination. We had planned daily stops in Cleveland, Nashville, Memphis, the Smoky Mountains and New York City. But most of the trip was spent in the amazing city of New Orleans.
This road trip was definitely planned around food, even on our meager budget. Thankfully when in NOLA you will eat very well even if it is not fancy. We tried all the usual suspects: Gumbos, Jambalayas, Crocodile meat, Po Boys, Shrimp Etouffe and many other dishes. But a very special sandwich is one of my fondest epicurean moments: the Muffeletta.
Ah! the Muffeletta sandwich. I would never have thought a trip would have been so defined by a simple meal as a sandwich. We decided to give it a try after reading about the Muffeletta in our guidebook but we were not expecting much from the experience. When we saw the size…made from an entire round bread about 10 inches across…we were convinced we would be stuck with leftovers. The Muffeletta was served into 4 sliced portions. We had our quarter each and at the end we had a long discussion as to how we would divide the remaining piece equally in 3 and the next day we got another one for the road for our bayou and plantation expedition.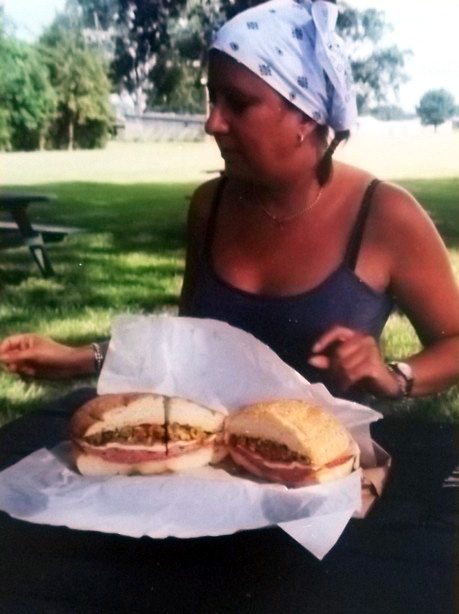 The muffeletta consists of a focaccia like bread sandwiching layers of marinated olive salad, capicola, mortadella, salami, pepperoni, ham, Swiss cheese and provolone. Often it is slightly heated to soften the cheese. The sandwich was created by the local Italian immigrants as a quick lunch while working in the market. The real signature element is the Olive Salad.  I was so taken by surprise by the intense flavors of this olive salad that it has embedded itself deeply in my memory. I actually found a photo with my friend Marie of the actual Muffeletta we ate.
As I was flipping through the pages of a copy the Taste of Treme cookbook, I came across an Olive Salad recipe and the memories came rushing back in. This fabulous cookbook is filled really fun stories, history notes, pictures and of course recipes from NOLA. The cookbook focuses on the gritty and racially mixed neighborhood of Treme, now famous from the television series of the same name which takes place in three months after Hurricane Katrina as the residents of New Orleans try to rebuild their lives and their homes. In Treme you will find the heart and soul of true Soul Food.
I am really a fan of NOLA Soul Food so I was thrilled to be sent a copy of this cookbook for review from Ulysses Press. All the classic NOLA dishes are here and many unexpected more. You will learn how to prepare Crawfish, Roux, Andouille sausage stews, exotic drinks like the Hurricane, and fabulous sweets like the Beignets from Cafe du Monde.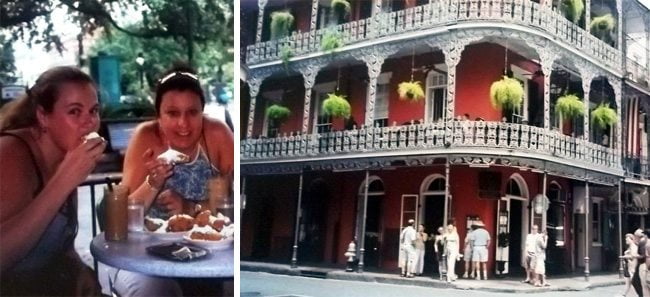 Above is a picture of Marie and I enjoying these beignets. Again when we each ordered a plate at first we thought the portion was to big and we would not finish or plates. Wrong! We devoured our dessert greedily. And we went back every day for more. Next to us a lovely building from the French Quarter.
I am sure this is not the last recipe you will read here about from this cookbook but choosing to make the Myesha's Muffuletta Olive Salad for this post was a no brainer for me. Everyone one should have a jar of this salad at home at all times in their fridge. The only thing I changed was the quantity of olive oil. This recipe (and all version of) use a massive amount of olive oil in my opinion, I cut it by a third and it was perfect for me.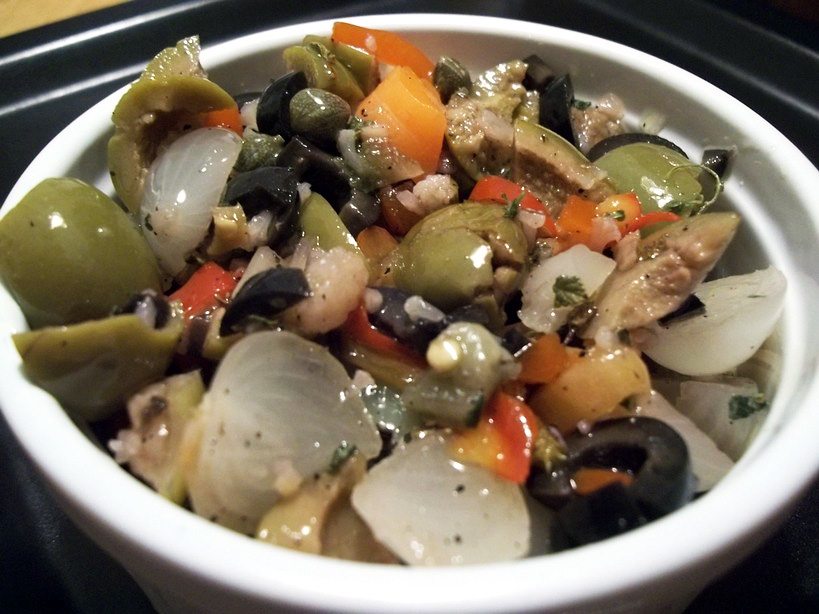 Myesha's Muffuletta Olive Salad
The olive salad for the New Orleans classic sandwich, the Muffuletta
Ingredients  
1

cup

pitted green olives

1

cup

Kalamata or black olives

1

Cup

fine cut gardiniera

2

tbsp

capers

drained and rinsed

2

garlic cloves

thinly sliced

4

tbsp

thinly sliced celery

1

tbsp

finely chopped parsley

1

tbsp

fresh oregano

2

tbsp

thinly sliced green onions

1 4-

oz

jar pimientos peppers

1/3

cup

extra-virgin olive oil

recipe calls for 1 cup

Salt & black pepper
Instructions 
Finely chop the green olives and the Kalamata or black olives. In a large bowl, stir together all the ingredients. Cover with the olive oil.

Transfer the salad to a large jar with a lid. Refrigerate for at least 4 days, so the flavors have a chance to fully mingle, or up to 3 months.
I served my Olive Salad in a lighter fashion: a half slice of a French Bagette and a lovely French cheese called Saint-Nectaire (hints of hazelnut and mushrooms) which I popped in the oven for a few minutes. And stay tuned for an upcoming post soon for a really fantastic cocktail recipe made with Absinthe. I love that stuff.