This Georgian Ajika Dry Spice Paste, with chili pepper, coriander, fenugreek, marigold, salt, and garlic, will add a wonderful flavor to any dish you make.
The Eat the World Challenge is headed to Georgia this month. Did you know that Georgia is both in Europe and Asia? It's got quite a cultural mix and a wonderful variety of flavors. I have a very special spice mix for you to try, the Georgian Ajika Dry Spice Paste.
Honestly, I think is if my favorite spice mix ever. Salty, garlicky, a touch of heat, a  sweet touch of bitterness and floral. It's addicitive.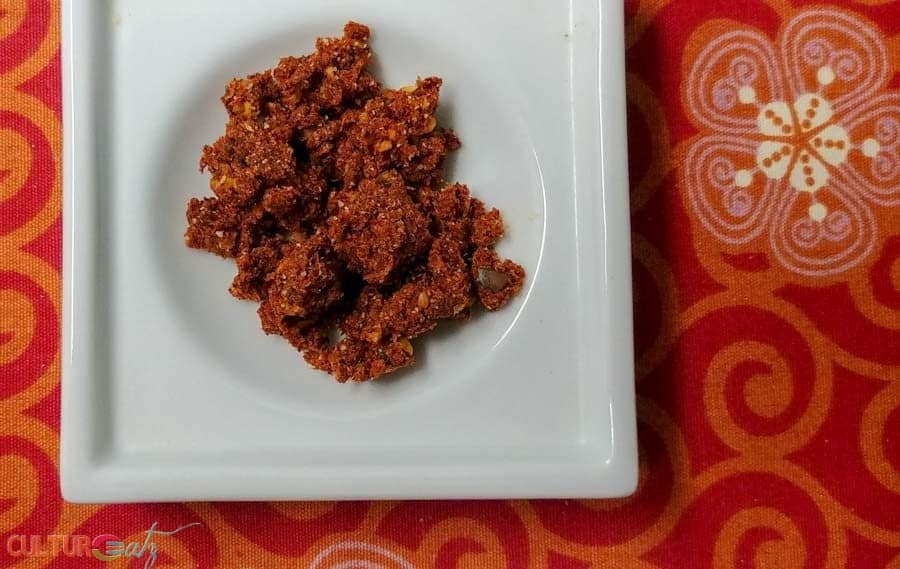 My body is trying to kill me, not Mexico
In my last post, where I showed you how to make a refreshing Singaporean rose milk drink, I mentioned that I was recovering from Montezuma's revenge. Well, that was half my health battle.
You see, I had a bad asthma attack a few days before my trip. And I did not stop coughing after. Like not for the whole trip. But when I got back I wanted to treat the gastro issue, still coughing and getting worse. So it's only after having a follow up with my GP this did I find out I have acute asthmatic bronchitis. Besides lots of meds, I am on bed rest, just after coming back from vacation. Kinda sucks big time.
For my Georgia contribution, I was originally so looking forward to making this awesome Acharuli Khatchapuri, but it will have to be for another post. I want to taste this so bad! It will be here soon!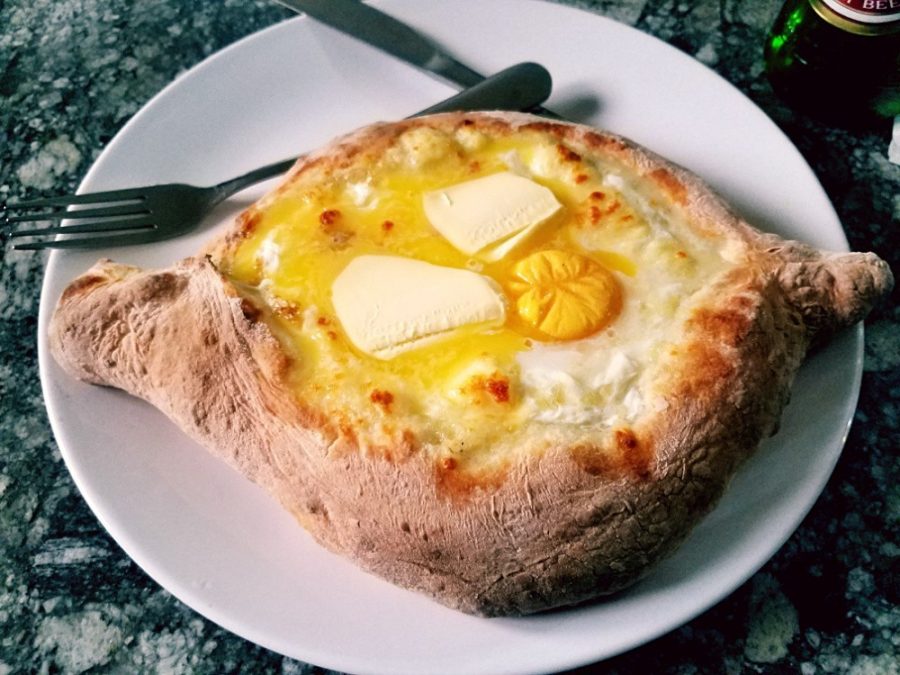 So once again, if I wanted to participate in this month's Eat The World, I had to find something super easy and quick to make, with ingredients I already had at home. And I was so thrilled when I found this Georgian Ajika Dry Spice Paste recipe.
Georgian Ajika
Ajika is one of the cornerstones of Georgian cuisine when it comes to flavoring and condiments. Ajika is a heavy dip, or paste, which is used to flavor many Georgian dishes. The really bring spiciness to a dish enhanced by subtle flavors.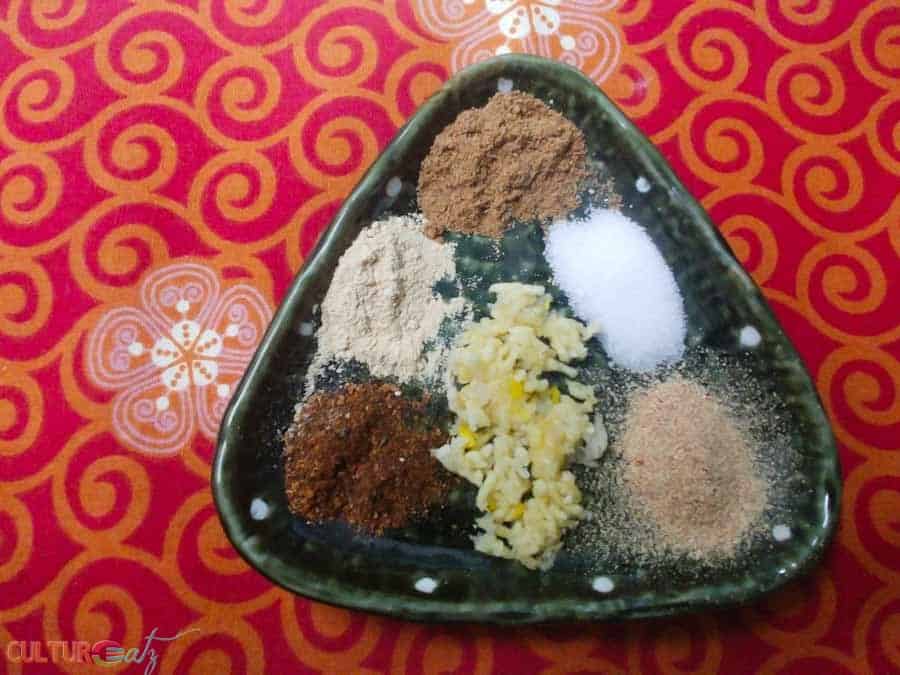 The two most common ones are the red Megrelian ajika and the green ajika. Both are boiled mixtures of hot pepper, lots of salt, garlic, and many local herbs and spices.
Note: marigold powder, made from the flower, is a very common spice in Georgian recipes. As a substitute, divide the total amount you need by 4. Use powdered saffron for 1/4 of the amount you need, and use a dry powdered flower like chamomile or chrysanthemum for the remaining 3/4.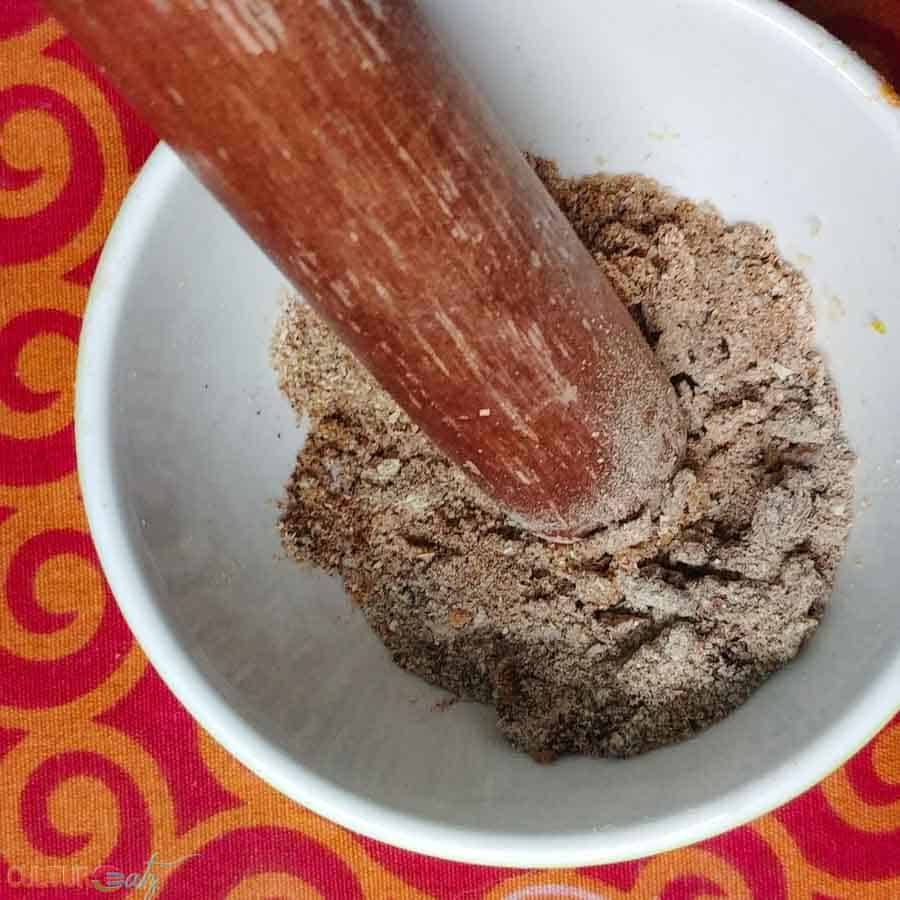 I have a FREE PRINTABLE for you
Surprise! I have prepared a Cheat Sheet that includes 41 Cooking and Baking Ingredient Substitutions that are commonly found in a kitchen. Click here to get your FREE Ingredient Substitutions Cheat Sheet right now!

Georgian Ajika Dry Spice Paste
I also came across a dry version on a Georgian recipe channel on YouTube. The end product looks like a very dry paste of small red clumps. And t is very easy to make. Just pound the right amounts of chill pepper, dry coriander, fenugreek, marigold, salt, and garlic.
The paste can then be stored in two ways. The first is in a jar that you must keep in the fridge and it will keep for a couple of months.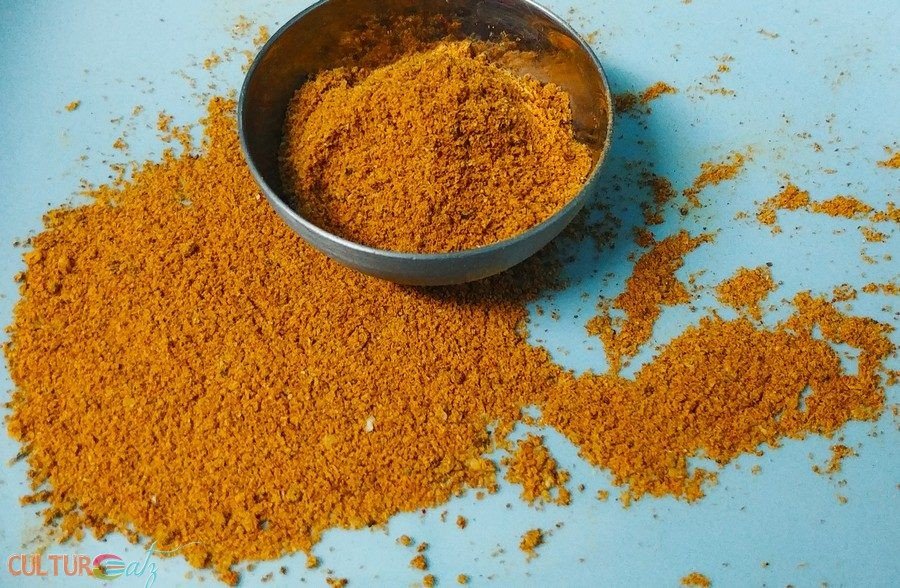 The second is to break up the paste and leave it to dry for a few days on the counter and then pulverize it to a powder. You can keep this with your regular spices and it will last for years.
It will give just about every dish you make a wonderful flavor, giving it a bit of heat, garlic, and a unique fragrant flowery bitterness. Add a bit to soups, eggs, potatoes, and any meat.
If you used the safron alternative and you are a saffron fan, you will use this stuff on everything!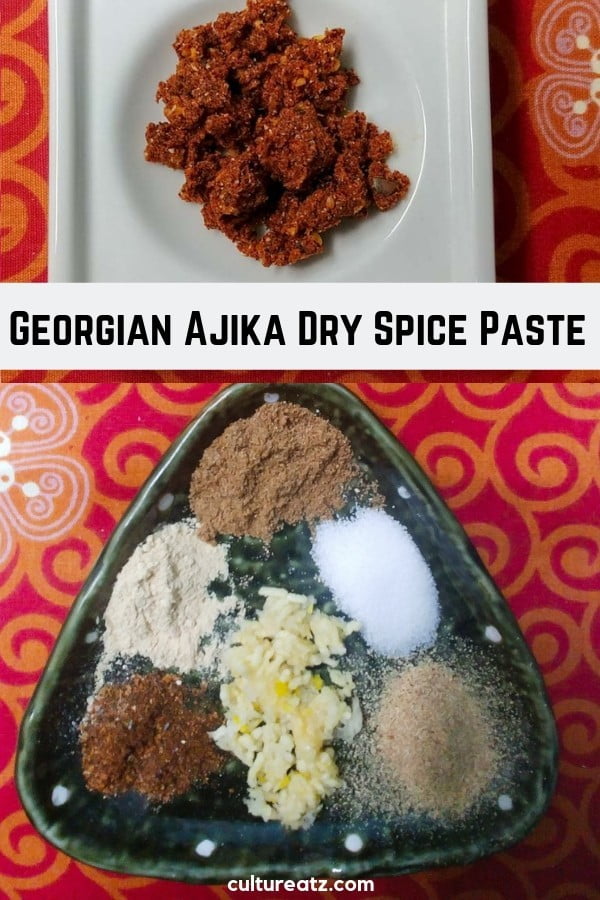 Georgian Ajika Dry Spice Paste
This Georgian Ajika Dry Spice Paste, with chili pepper, coriander, fenugreek, marigold, salt, and garlic, will add a wonderful flavor to any dish you make.
Ingredients  
1

teaspoon

of chili pepper

2

teaspoons

of dry coriander

2

teaspoons

of marigold

1

teaspoon

of fenugreek

1

teaspoon

of salt

5

cloves

of garlic
Instructions 
Peel and crush your garlic cloves.

Add all the ingredients to a mortar grind the mixture with the pestle for about 5 minutes until you get a paste and have extracted all the juices from the garlic.

Store fresh in the fridge in a jar or leave to dry for a few days and store in a dry cool place.
Notes
Don't have marigold powder? As a substitute you can mix 1/2 teaspoon of powdered saffron and 1 1/2 teaspoons of a dry powdered flower like chamomile or chrysanthemum.
Eat the World Recipe Challenge
Check out all the wonderful Georgian dishes prepared by fellow Eat the World members and share with #eattheworld. Click here to find out how to join and have fun exploring a country a month in the kitchen with us!
Bernice: Fresh Herb Walnut Tomato Cucumber Salad
Camilla: A Georgian Salad Duo: Ispanakhis Pkhali and Charkhlis Mkhali
Tara: Khabizgina (Ossetian Cheese and Potato Bread)
Juli: Satsivi – Georgian Walnut Turkey
Amy: Georgian Chicken Stew with Tomatoes and Herbs [Chakhokhbili]
Margaret: Charkhlis Chogi (Georgian Beets with Sour Cherry Sauce)
Amy: Lobiani (Georgian Bean-Stuffed Bread) #EattheWorld
Wendy: Khinkali (Georgian Dumplings)
Simply Inspired Meals: Fruit Leather aka Tklapi
Evelyne: Georgian Ajika Dry Spice Paste
PIN IT FOR LATER ON PINTEREST!