.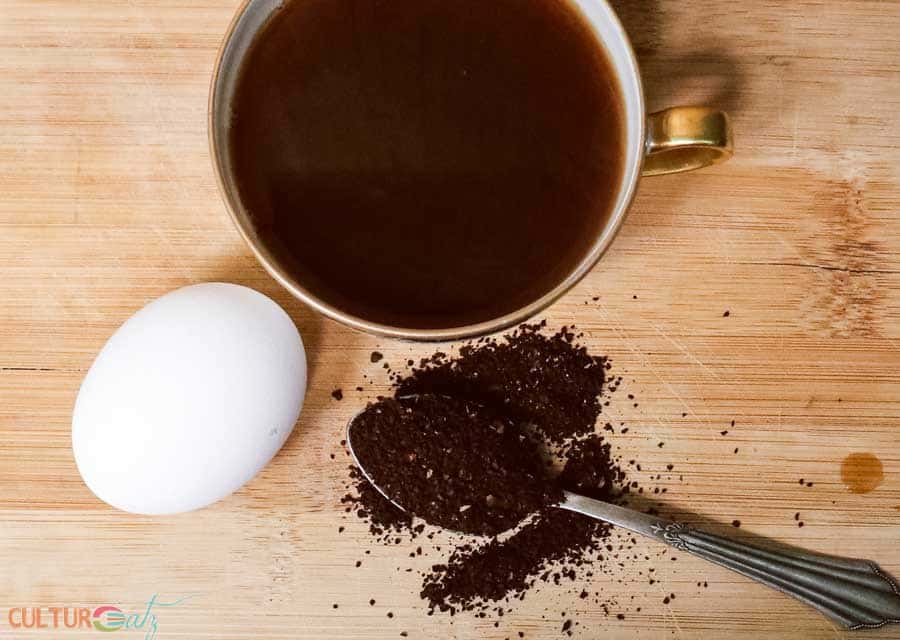 There are many types of coffee in the world and the Swedish egg coffee recipe is a pretty unique one. But it promises a smooth, light and bitter-free perfect cup of coffee.
I swear I have not started a liquid diet! This is my third post in a row about a beverage or a drink. It's just coincidence, or maybe the occasional warmer weather is making me thirsty. But this time I am offering you a cup of joe…with an egg! Nope, this is not breakfast but a Swedish egg coffee recipe for this month's Eat the World recipe challenge as we visit Sweden!
But first, a bit about Sweden the country
Back by popular request, I'll talk a little bit about the country like I used to. Sweden is the largest of the Nordic countries and has a population of about 10 million, 2 million of them live in the capital of Stockholm.
Bordering Sweden, you will find Norway, Finland and is connected to Denmark via the bridge of Öresund. The Baltic Sea lies to the east of Sweden, as well as the Gulf of Bothnia. After Switzerland, Sweden is the next in line to be known for being a country of peace. The standard of living and life expectancy rank among the highest in the world.
Sometimes the Swedes can first appear to be cold and discreet, but they are in fact very open and friendly once you get to know them. I speak from experience, I worked for a year in the Ericsson offices in Montreal and made loads of Swedish friends.
They like to drink and party, skål! It's a beautiful country to visit, just bring money, lots of money. Or you can follow these great budget tips when traveling in Sweden. And you can find some good deals on hotels  online (click here to search hotel prices in Sweden)
Swedish Cuisine
Sweden was another country I was sure I had not cooked from yet on the blog since I had not named the country itself in the post. Well turns out I had already made a couple of Swedish food recipes or some that are also very popular there. I long time ago I made some homemade gravlax and turns out blood pudding is also very much enjoyed there. But no Swedish drinks yet, till today.
This Swedish coffee would be a great match to some Swedish dishes, or perhaps their famous Swedish cinnamon buns, or after your Ikea meatballs with Lingonberry jam.
Swedish dishes also include lots of seafood, meats, dairy, a big variety of bread, berries, and fruit soups. Swedes love their beer, vodka, and Akvavit liquor. Again,  skål!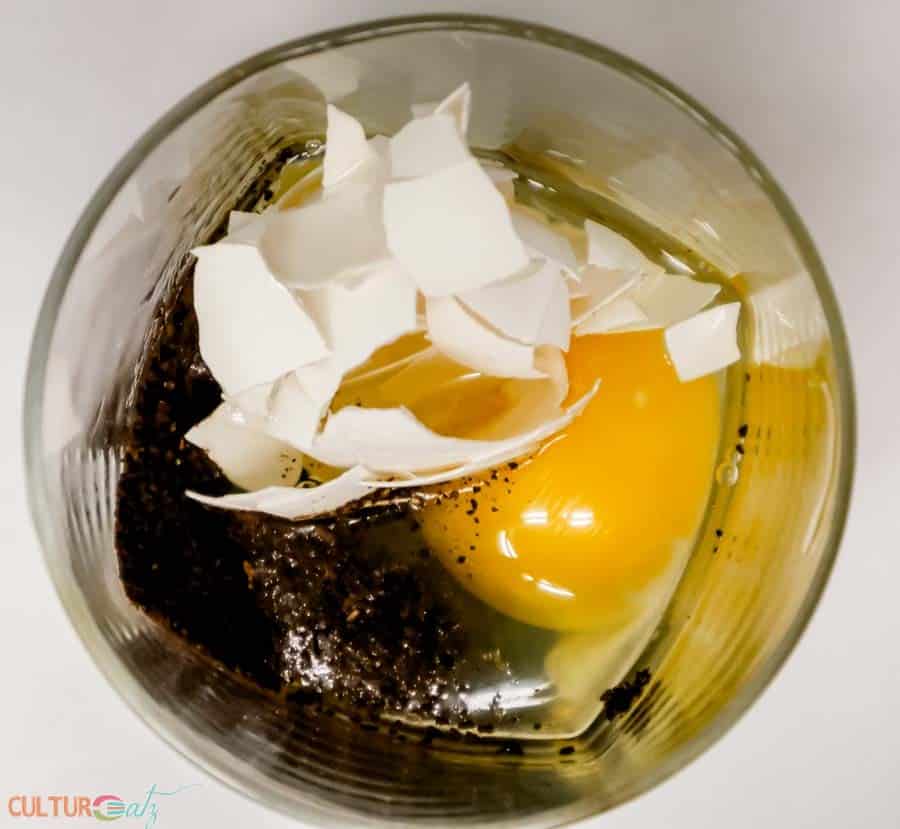 Did you get your FREE PRINTABLE yet?
Surprise! I have prepared a Cheat Sheet that includes 41 Cooking and Baking Ingredient Substitutions that are commonly found in a kitchen. Click here to get your FREE Ingredient Substitutions Cheat Sheet right now!

Swedish Egg Coffee recipe – one of the best coffee brewing method
I love drinking eggs in the morning, especially with eggshells in coffee. This coffee and eggs recipe will not be on your nearest Starbucks menu.
Now there are many ways to make coffee around the world, many techniques on how to make the perfect cup of coffee…so why would you want to make a cup of coffee with an egg and shell in it?
Here is the list of reasons why it may be the best way to brew coffee at home:
Eggshells contain calcium carbonate, which helps to neutralize the acid extracted from the coffee.
Since there is no paper filter, we keep all the wonderful essential oils in the coffee beans
There are also several enzymes in the egg which neutralizes the bitterness often found in coffee.
You get a super smooth and mellow cups of coffee. So smooth you may want to skip the milk or cream.
The recipe multiplies easily (see recipe). Make one cup of coffee or scale up for a group with ease.
Side note: always try to use the freshest beans you can find. It truly makes a difference in the end result, Same goes for getting the best espresso beans for the best shot of espresso.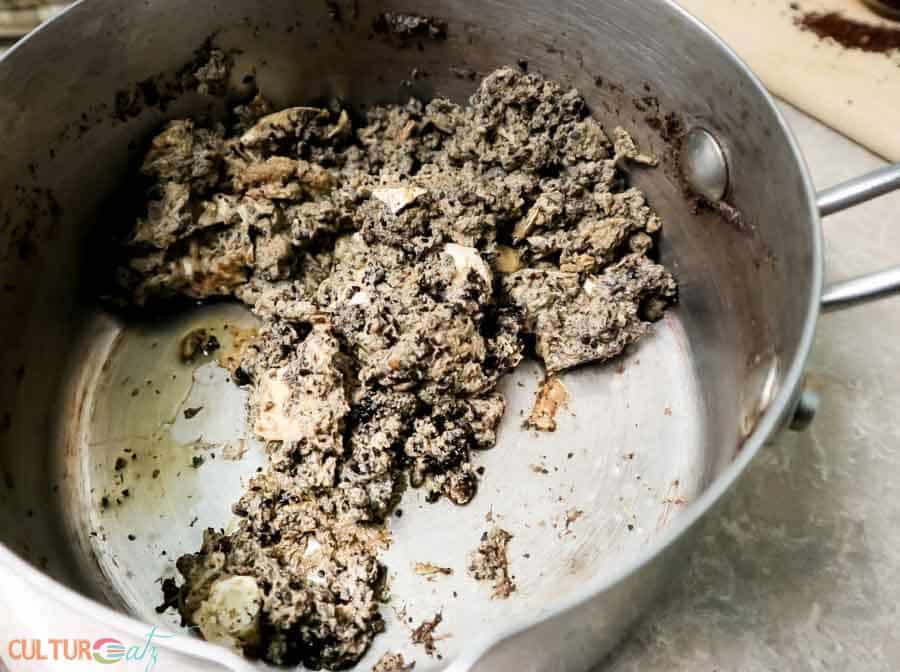 How to make egg coffee
Here are some trick s on how to make a cup of coffee the Swedish way:
My recipe is for 1 cup but you can easily multiply it as indicated in the recipe. To be scientific, the amount of coffee grounds per cup is a 1:16 coffee to water ratio. One portion uses 2 cups which is 16 ounces. So you need 1 ounce of coffee which is roughly 2 tablespoons. It's pretty easy this way to figure out how much coffee per cup you need. This ratio works for all coffee brewing methods.
Why do you need icy cold water? When you add the water to the coffee, it will cause the egg and coffee grounds to clump and sink to the bottom of the pot. But the water has to be really cold for it to work so I placed a glass of cold water in the freezer a good 10 minutes before. Yeah, there are really many different ways to make coffee!
Now let's talk about why you may skip the creamer and may consider this to truly be one of the best ways to make coffee at home. My theory of why this is the best coffee recipe is that the egg yolk is responsible for the creamy taste to an already smooth, mellow and acid-free cup of coffee.
How do you make coffee?
I really enjoyed this egg coffee recipe. I do like a stronger coffee normally but the lack of bitterness and acidity made up for it. And I normally only add a touch of milk so I found it maybe even a bit too creamy for my taste.
Nonetheless, I was really impressed and happy I tried this cooky way of preparing coffee. And according to the Swedes, this may be the best coffee in the world!
So I would love to know how do you brew coffee at home?
And do you think that this Swedish egg coffee recipe is the best coffee cup to sip?
In your opinion, what is the best coffee?
How many ways do you know how to brew coffee?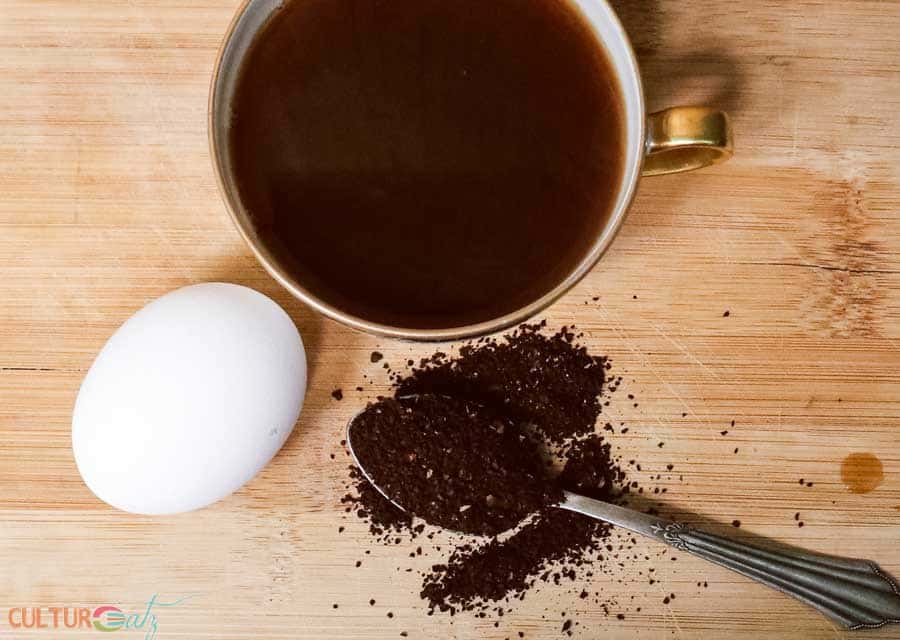 Swedish Egg Coffee
There are many types of coffee in the world and the Swedish egg coffee recipe is a pretty unique one. But it promises a smooth, light and bitter-free perfect cup of coffee.
Ingredients  
1

cup

water

per cup you want to make

2

tbsp

ground coffee

per cup you want to make

2

tbsp

cold water

1

egg + broken up shell

1

cup

of ice cold water
Instructions 
Bring to a boil the water in a small pot.

In the meantime, crack the egg into a glass with the broken up eggshell. Add the ground coffee, 2 tbsp cold water and beat lightly.

Lower heat to med-low and add the mixture to the pot. Simmer for 2 minutes. Remove from heat, cover and let it rest for 8 minutes.

Add the cup of ice cold water. The solids will clump and sink to the bottom of the pot. For this to happen the water has to be really cold, keep it in the freezer for a bit before.

Strain it through a fine mesh strainer or a French press and serve.
Looking for more fun and unusual coffees?
Eat the World recipe challenge
Check out all the wonderful Swedish dishes prepared by fellow Eat the World members and share with #eattheworld. Click here to find out how to join and have fun exploring a country a month in the kitchen with us!
Wendy: Rabarberpaj
Camilla: Fläderblomsglass (Elderflower Ice Cream) for Midsommar
Tara: Våfflor (Swedish Waffles)
Heather: Korngryn och rotsaker (Pearl Barley with Roasted Root Vegetables)
Juli: Färskpotatis – Swedish Dill Potatoes
Evelyne: Swedish Egg Coffee recipe
Loreto and Nicoletta: Smorgastarta – Swedish Sandwich Cake
Amy: Rödbetssallad med Getost (Grated Beetroot Salad with Goat Cheese)
Margaret: Swedish Meatballs with Cream Gravy
PIN IT FOR LATER! https://www.pinterest.ca/pin/266275396703613326