Pickled Laba Garlic is ready to eat when it has turned green. That goes against everything else we know about green food! And it pairs perfectly with greasy meat dishes such as dumplings.
My new Chinese friend Kerry took me to a dumpling restaurant for lunch on my first day in Beijing. The tables were so low there was no way you could even slide your knees under. Awkwardly seated, we chose 4 different dumpling varieties. It was worth the back breaking position, we were rewarded with delicious jiaozi  (dumplings). I asked Kerry what on earth were those green things floating in the brown liquid in the three huge jars placed inside enclaves in the wall. He said it was pickled Laba Garlic and right away he called over the waitress to bring us a few green jewels on a plate. I was on an exotic tasting role that day so I grabbed one with my chopsticks and bit down…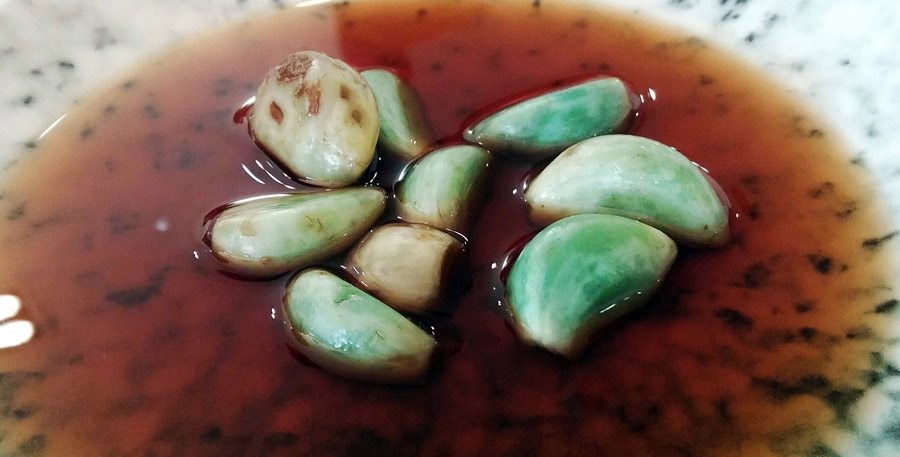 Oh boy, that is straight-up raw garlic with a spicy kick!
Watch my reaction as I pop 2 of these beauties in my mouth in this video
. They were perhaps not quite ready as the brown rice vinegar is supposed to help blunt the spiciness of the garlic cloves. Yes, you read that right, you need brown rice vinegar which has less tang than the white version. And yes the green is perfectly normal, it is the chemical reaction of garlic cloves left in an acidic environment in low temperatures.
Chinese Foodporn Ahead
After spending a week in Beijing, these garlic cloves remain near the top of my list of the most visually striking foods I ate or saw. And let me tell you my epicurean senses were bombarded and shook up for the entire week. This first China post is all about food, foodporn to be exact. Not a lot of pretty restaurant dishes here, I hit the small streets and snack stands hard.
Some of the best Chinese eats are cheap
. Enjoy, salivate and be freaked out (some will I am sure) by the foodie visual show ahead.
A variety of delicious jiaozi (dumplings)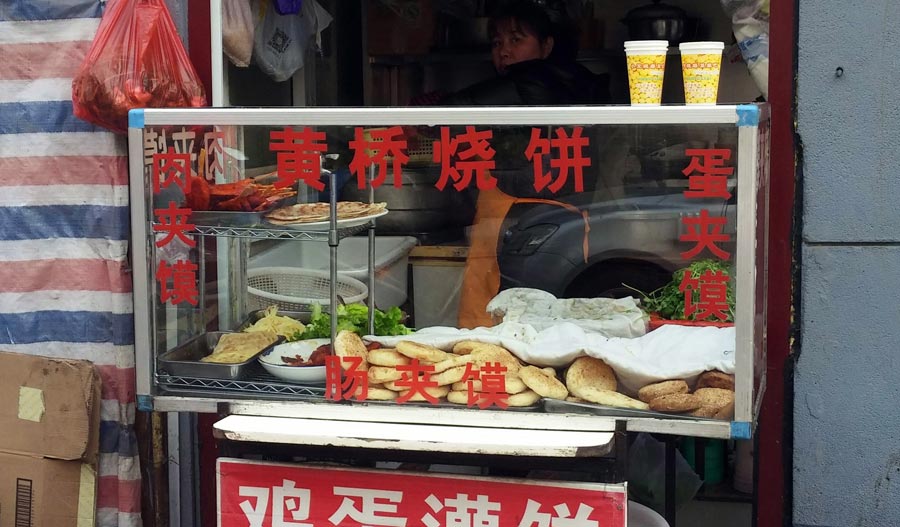 A food stand in the hutongs (non touristy area)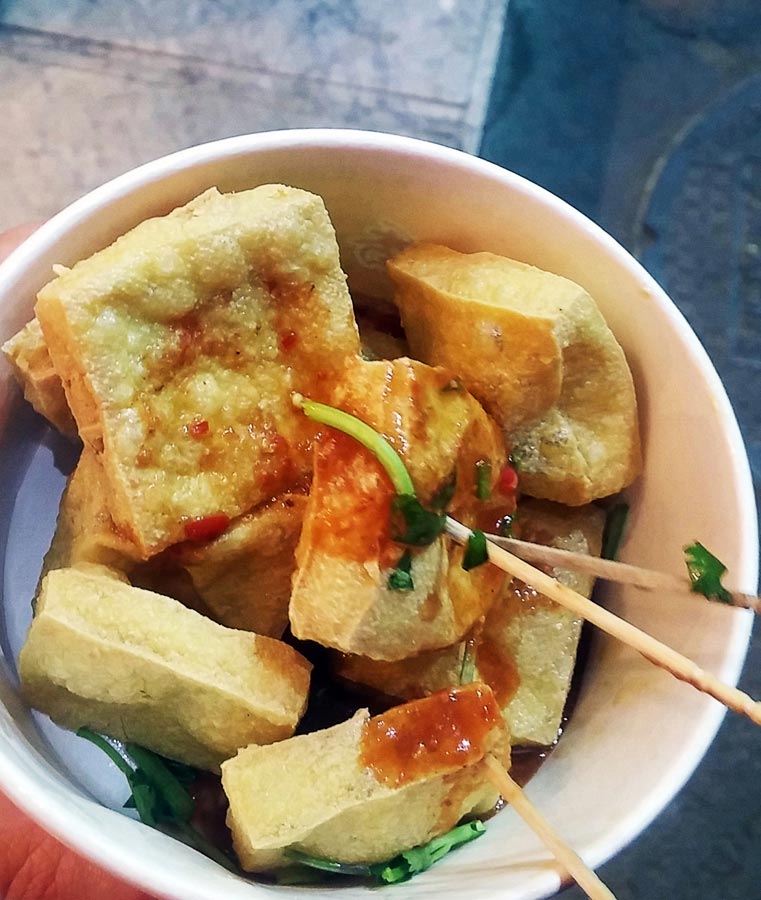 Enjoying a chou doufu snack, or fried fermented tofu called stinky tofu. Not as bad as it sounds.
More chou doufu, or stinky tofu, a black version.Is my nose blocked? I am not smelling anything.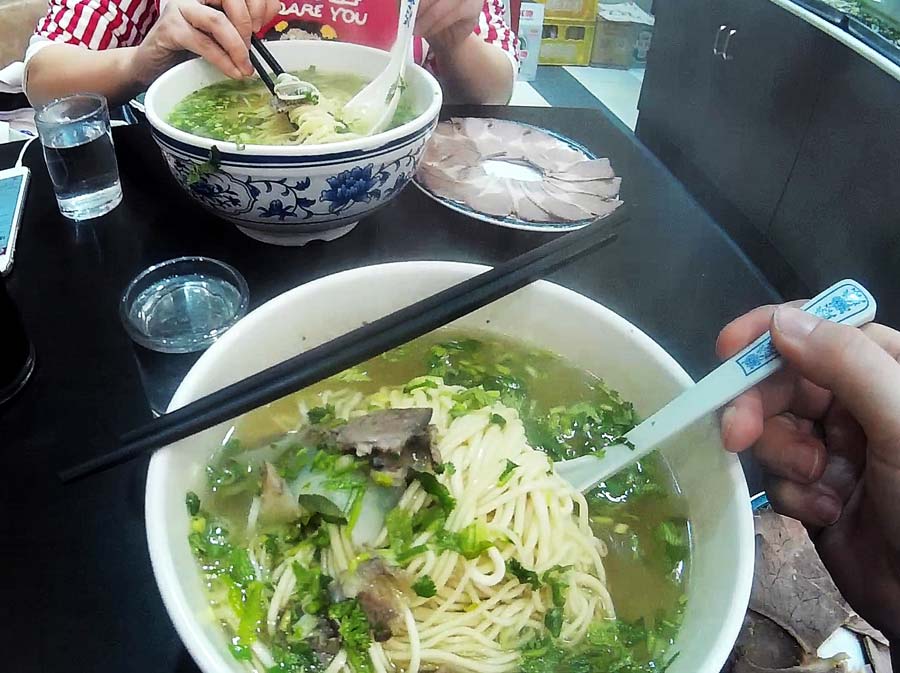 Lanzhou beef soup made with lamian noodles (hand pulled noodles)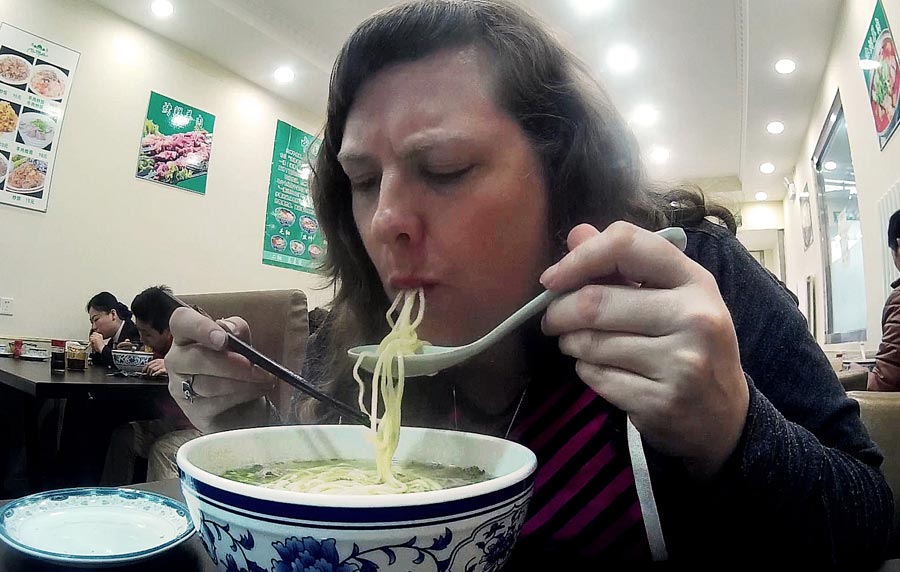 God sent silky lamian noodles, a Chinese Muslim specialty. With extra meat it cost me 5$ CAD

OK this is the roughest one and was my very first meal in China. A typical Chinese breakfast: my friend got the Yang Za Tang, a lamb organ soup. The pink stuff is lungs and the middle blob intestine. YES I had a bite of everything. Not a fan!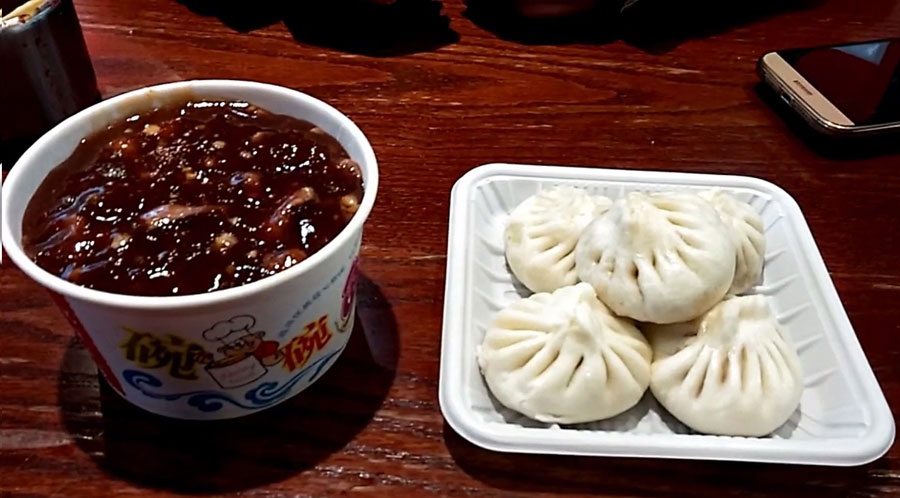 My breakfast was a fried liver goop (3 bites was enough) called Chao Gan, with some delicious Baozi (dumplings)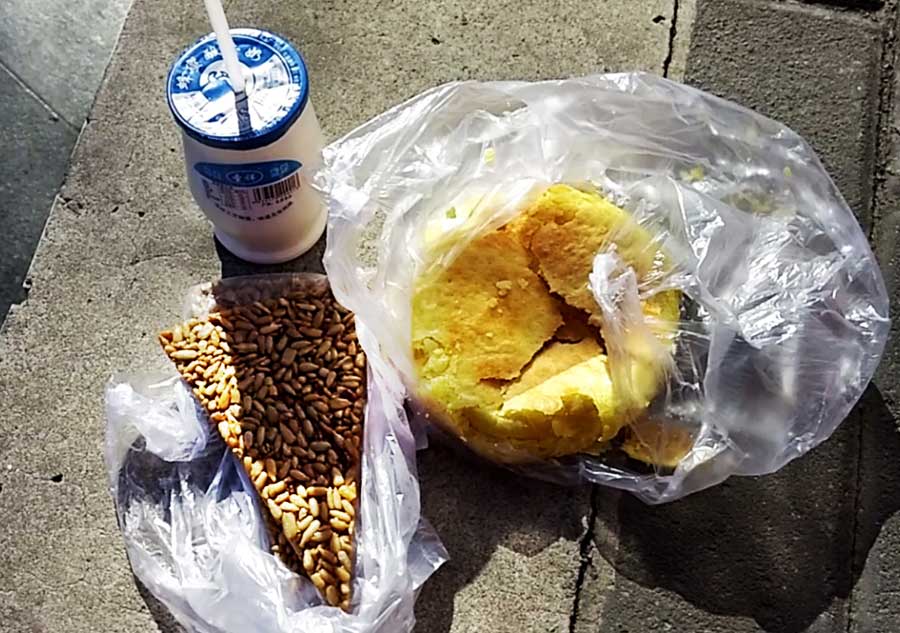 My next breakfasts were on the sweet side: a yogurt drink (only form of dairy I had), a few sunflower seed brittle, and an unknown flaky pastry. Cost about 2$ CAD.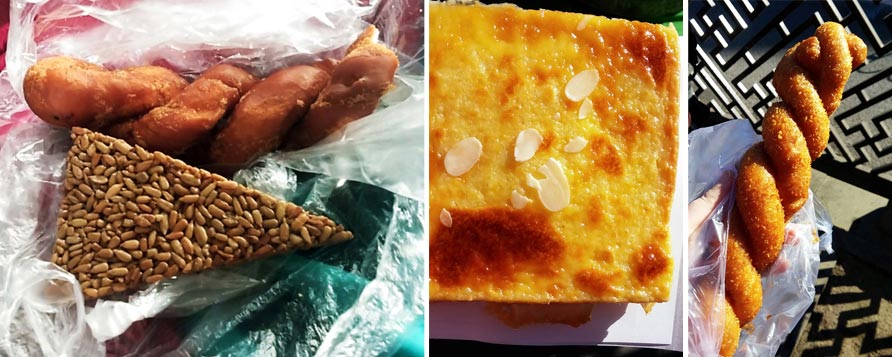 More unknown flaky pastries I had for breakfast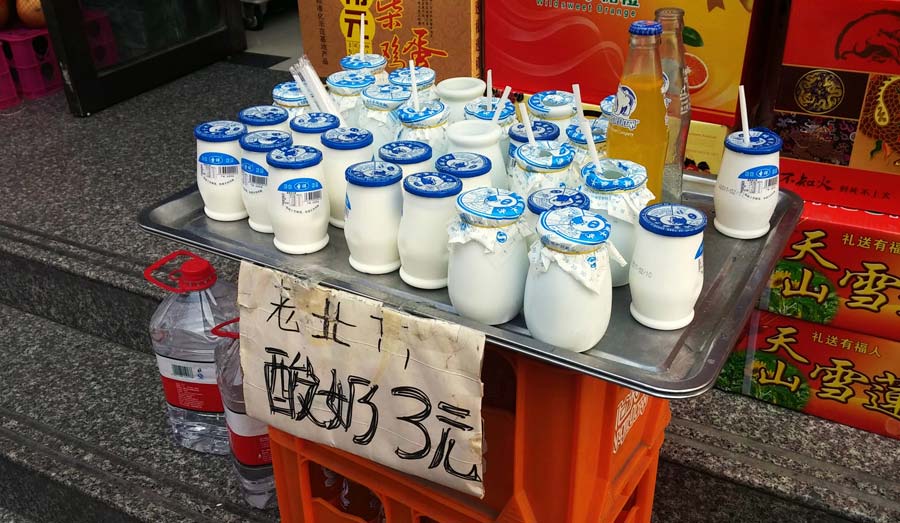 They drink their yogurt over there. Not sure why there are used and new ones on the platter????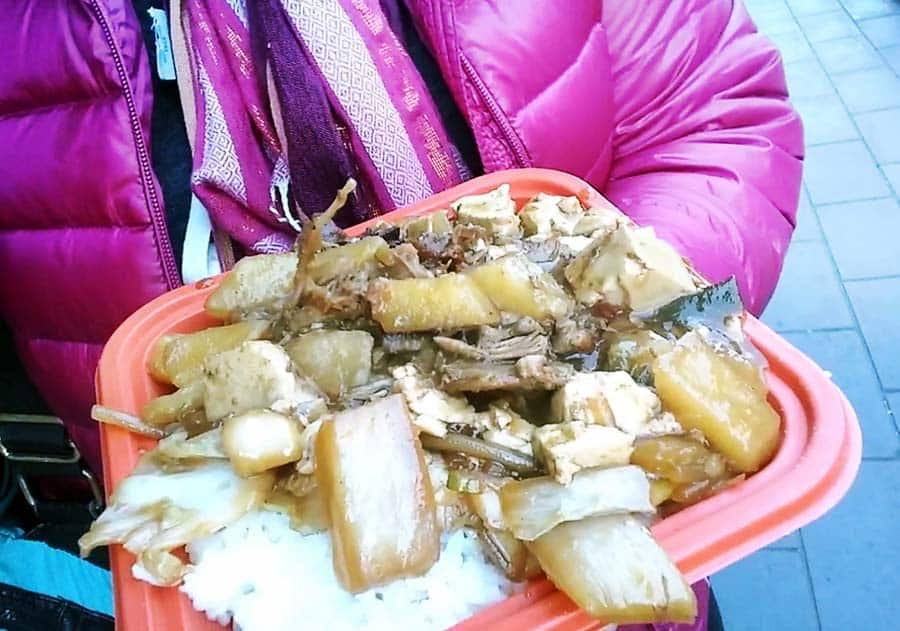 Mystery curry I bought from the only food vendor at the flea market. Cost 2$CAD, so cheap!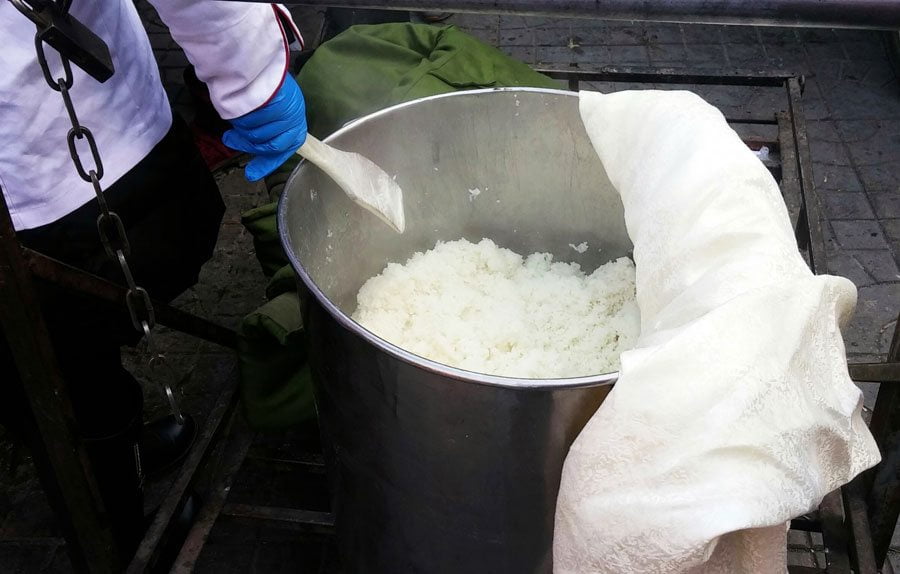 The vat of rice from that food vendor just there outside in the alley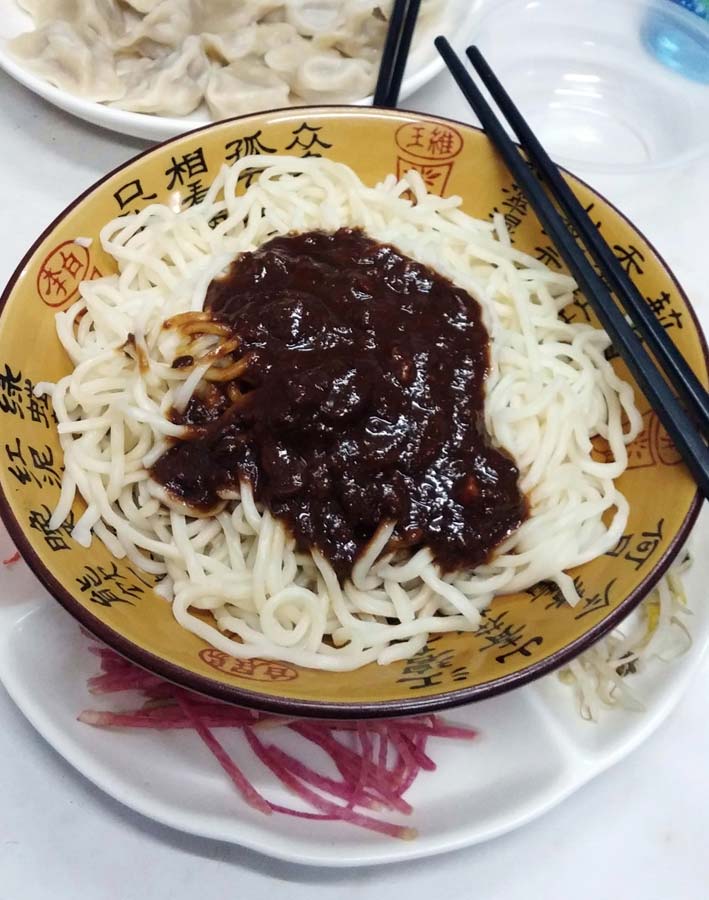 I had to have Zha Jiang Mian since I had made this dish for a post. It was a hole in the wall restaurant, I prefered my heartier Zha Jiang Mian version found here!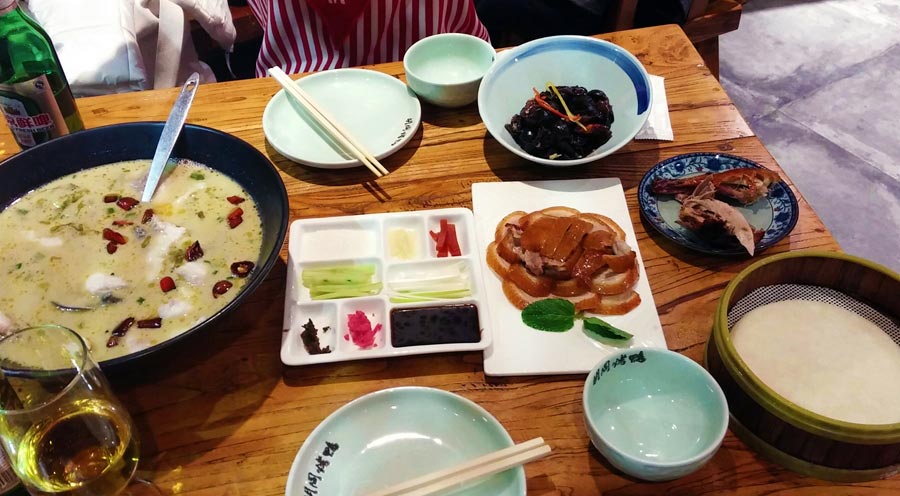 A MUST Pekin Duck dinner with a sour fish soup and black fungus salad. Excellent meal!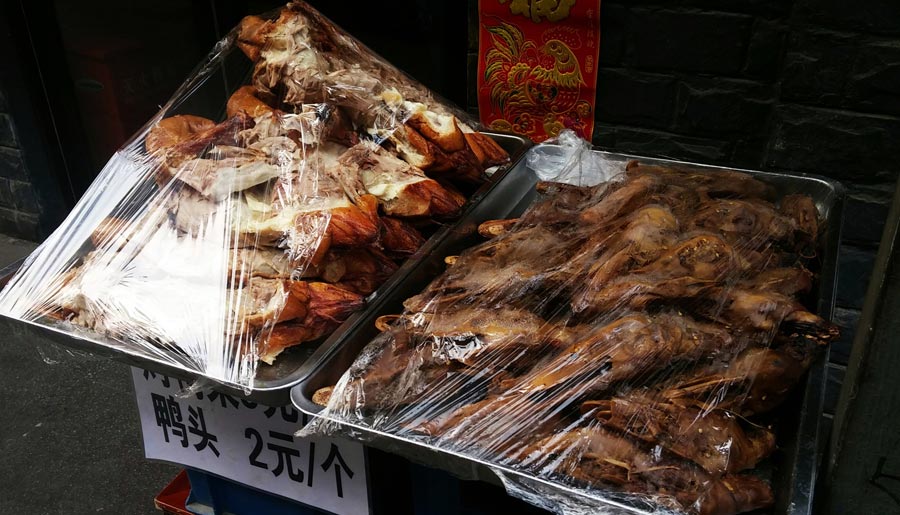 Restaurants leave the duck carcasses outside for people to buy. This non tourist spot had the heads out too!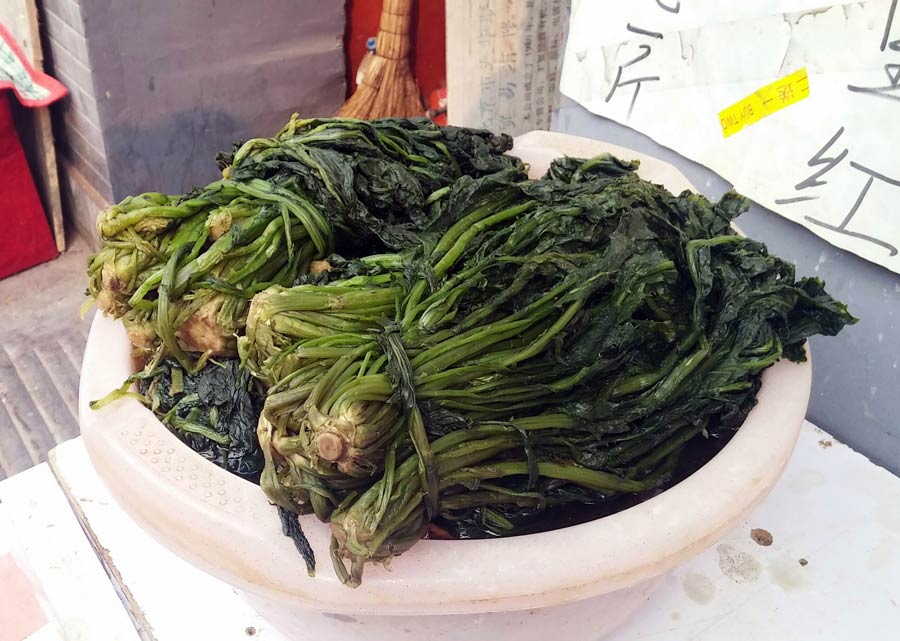 Pickled mustard greens for sale on the street in the hutongs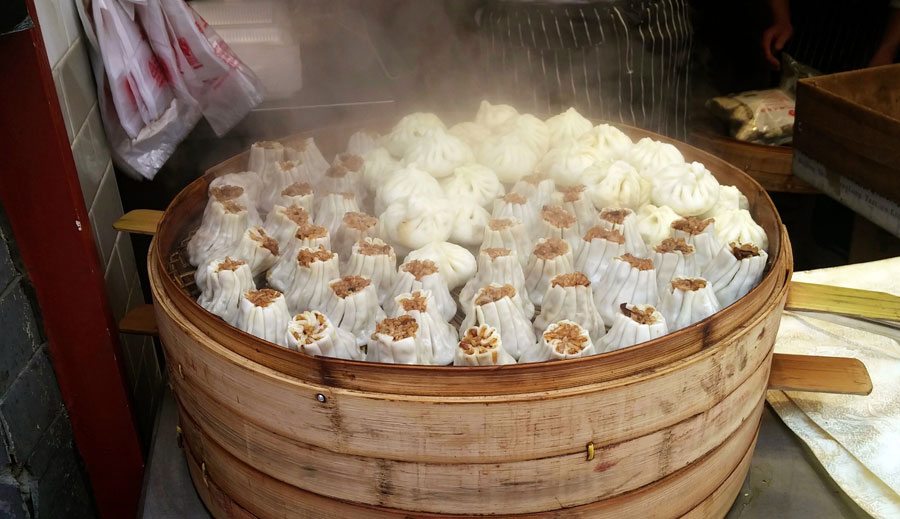 Shumai, pork and shrimp dumplings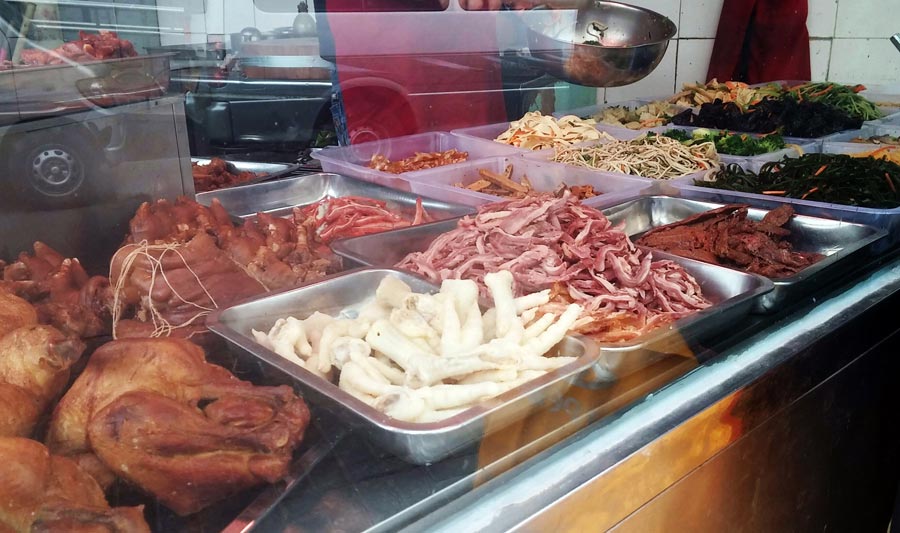 Now this is real Chinese take-out food. Chicken feet in the front!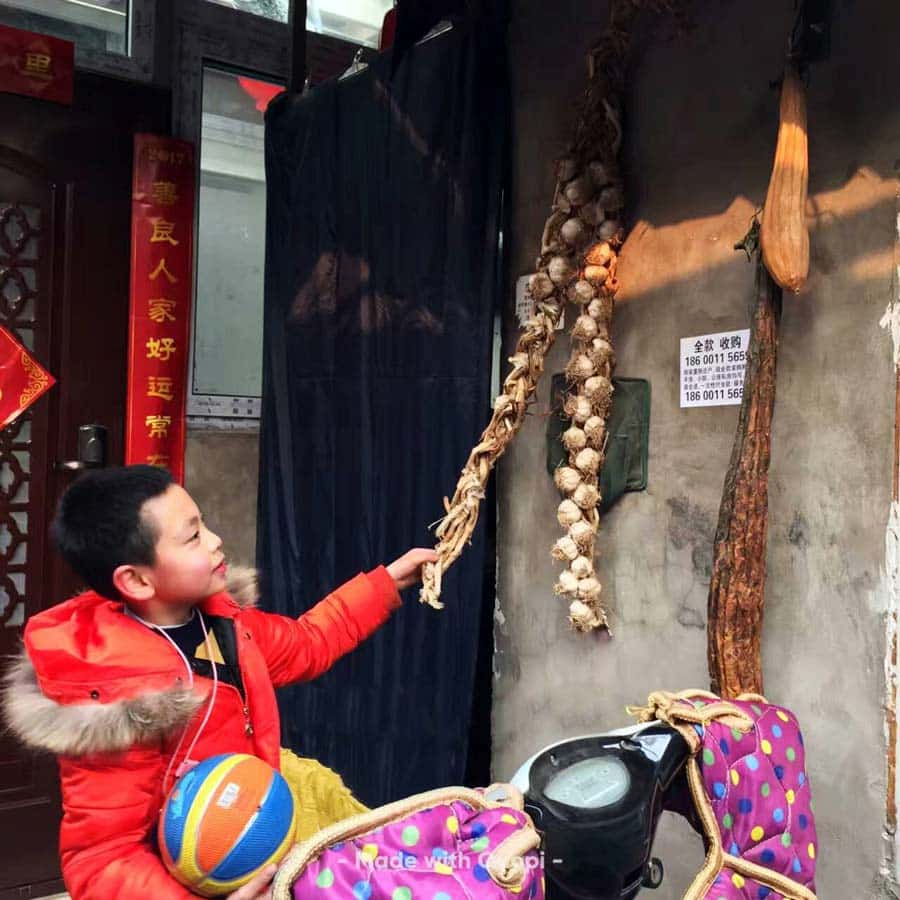 Garlic tresses drying outside, sneaked into an alley in the hutongs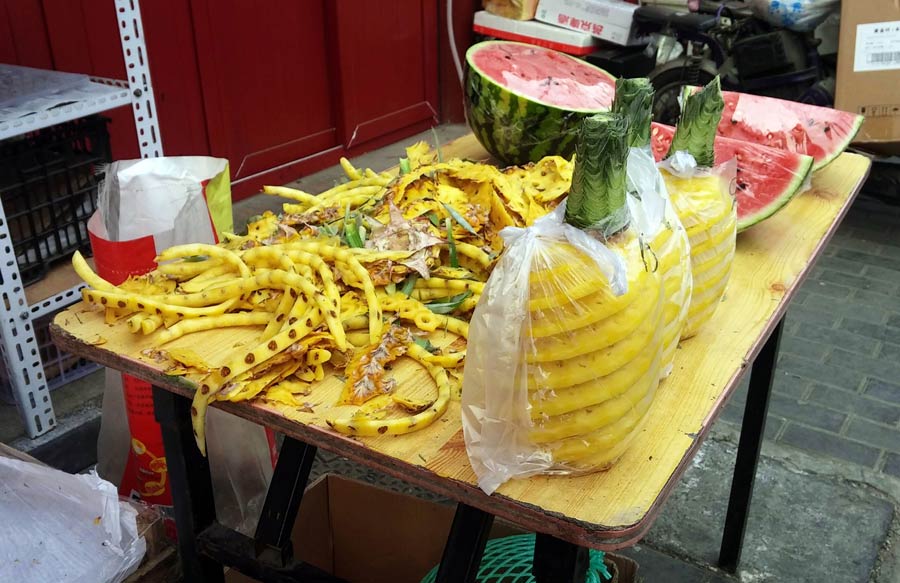 Random pineapples and watermelon for sale on the street in the hutongs.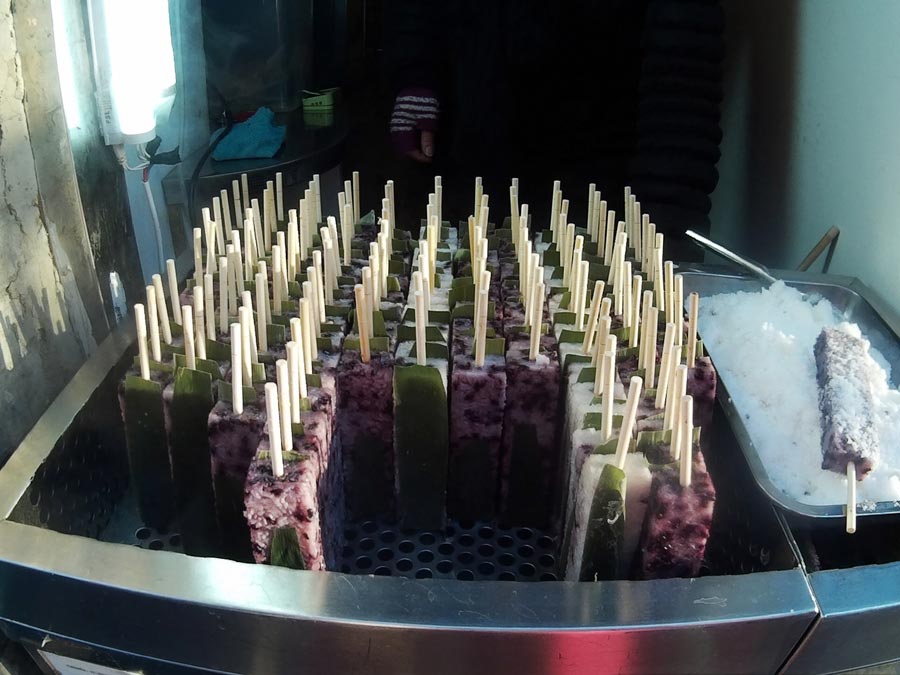 Sweet sticky rice and red bean snack on a stick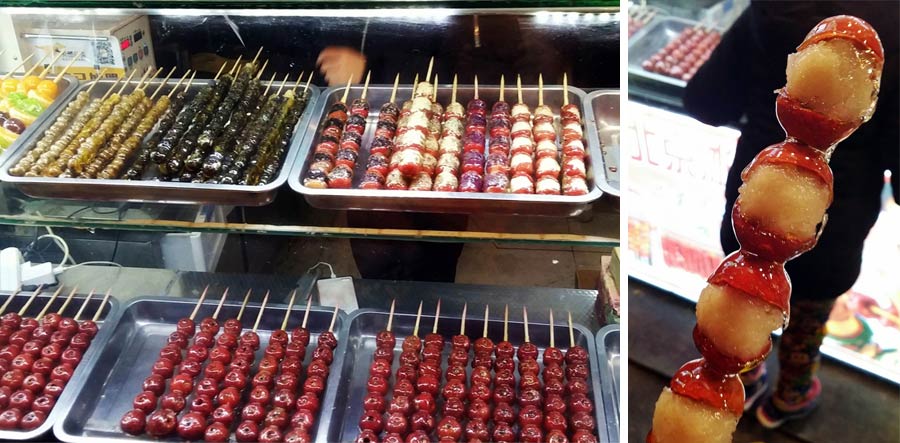 Candied hawthorn fruit sticks – yumminess!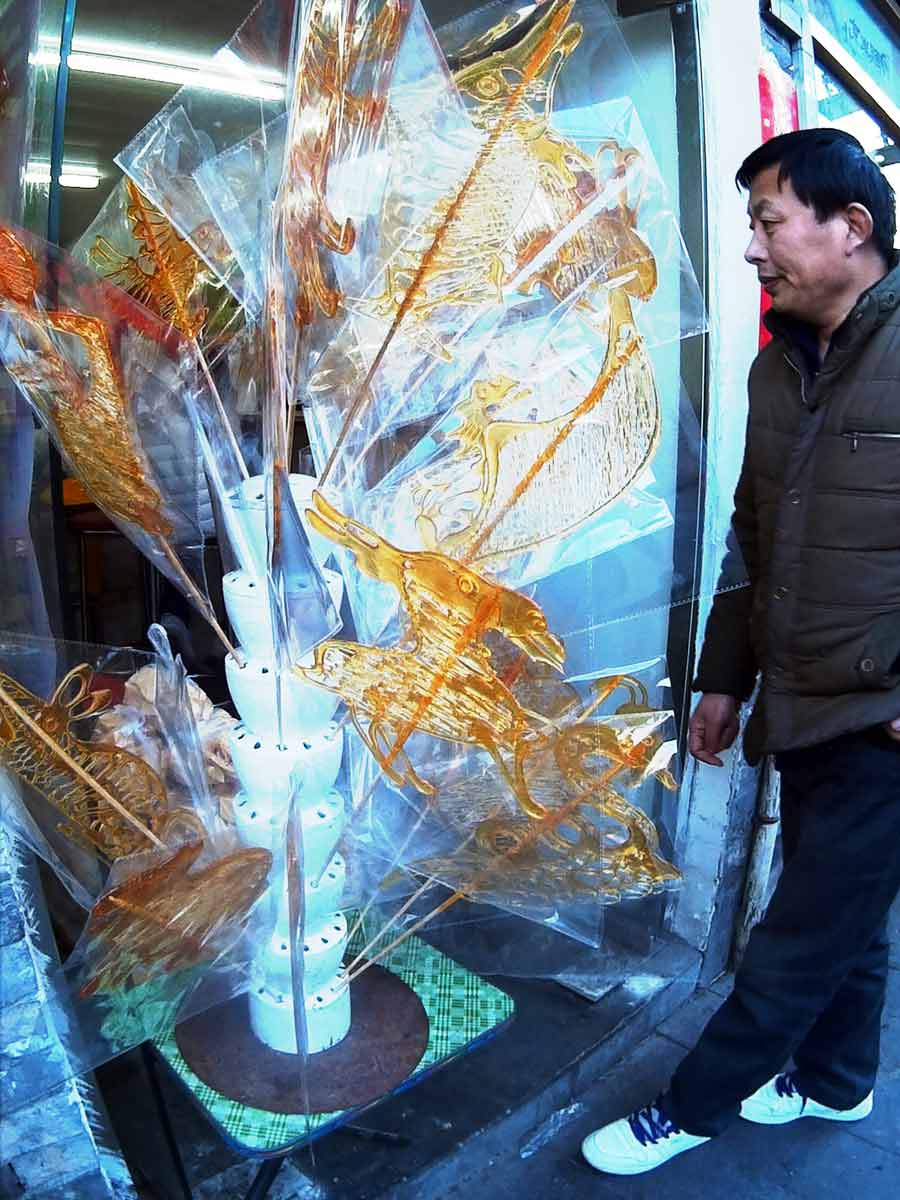 Sugar animals on a stick, cool to see them make it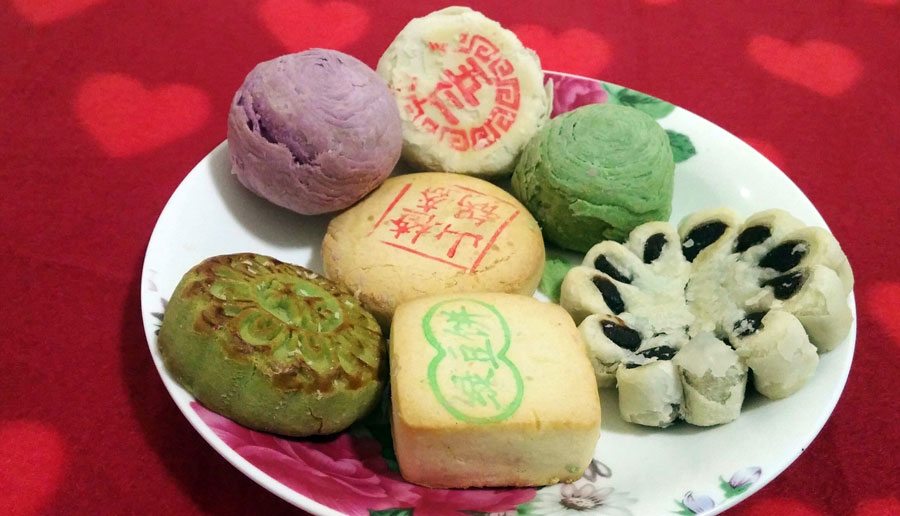 A bunch of sweet filled pastries bought at Carrefour, one of the giant supermarkets.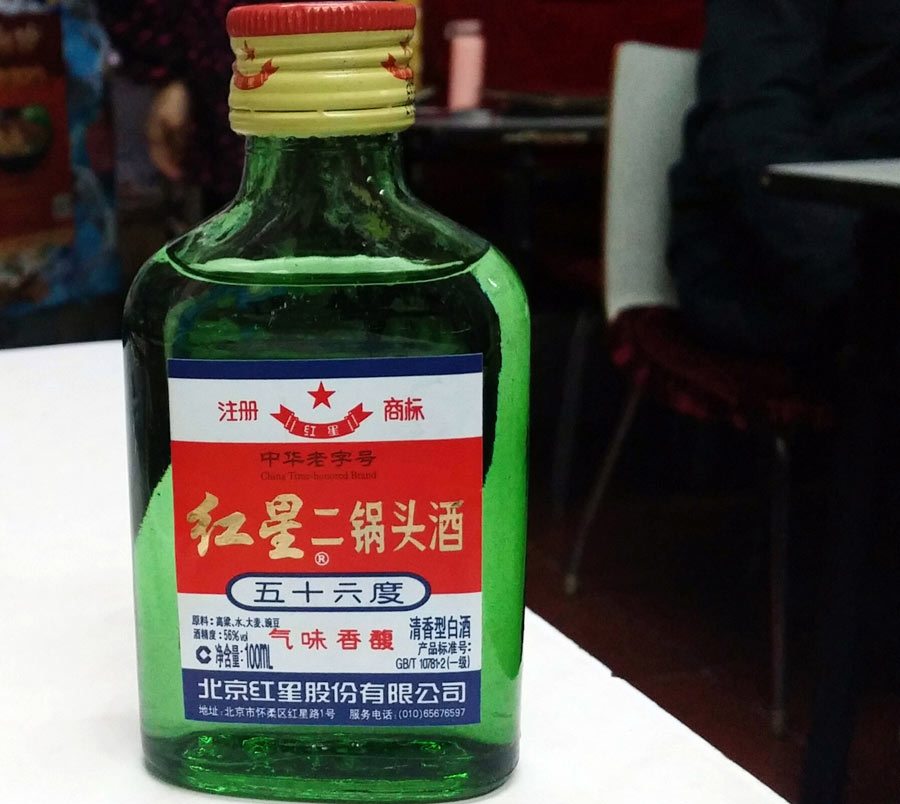 Baijiu, a very strong Chinese grain hard liquor usually around 55% alcohol. This is the common cheap brand.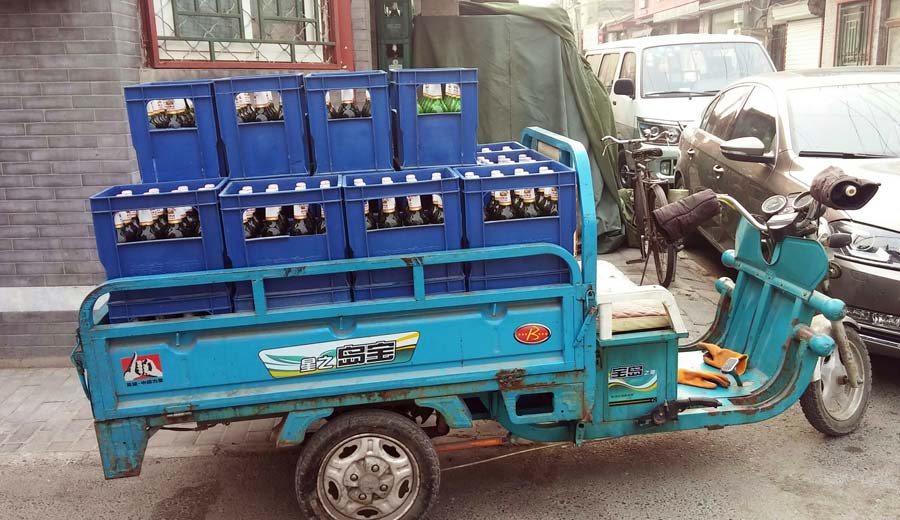 And finally, a beer delivery truck!
Check out my
Beijing Photo Tour post with pics of the wonderful places I visited
. And once I go through all my footage I will do a food only video as well. Till then you can follow along on YouTube as I post a new video every week on my 
Travel Series: 6 days in Beijing, China
Laba Garlic | 腊八蒜 | Laba Suan
The Laba garlic recipe is normally prepared on the 8th day of the 12th lunar month. This day is the Laba Festival in China. The story goes that this day is considered the coldest day of the year in Northern China and it was a celebration of the new harvest. Later it became a fixed date that just happened to coincide with the enlightenment day of the Buddha. Here is a quick 1 minute Laba Garlic recipe video The pickled garlic is ready to eat when it has turned green (10 to 20 days) when placed in the freezer. UPDATE: Must be the freezer, the fridge did not work. How conveniently timed with the Chinese New Year and Spring Festival! People Northern China enjoy eating the Laba garlic with meats or greasy food, such as dumplings. Pickled Laba Garlic is said to open your appetite, cut the grease in fatty foods, aid digestion, and prevent aging and cancer. And the vinegar is very tasty when added to dishes. On the otrher spectrum, this sweet fermented
honey with garlic
recipe is a great contrast. Good thing I was in Beijing just at that time of year and got to eat this pickle with dumplings to boot! Obviously, I am breaking some kind of Chinese law by making this recipe in March. But I was just too curious to make my own green garlic. I will post an updated picture once they are ready for sure!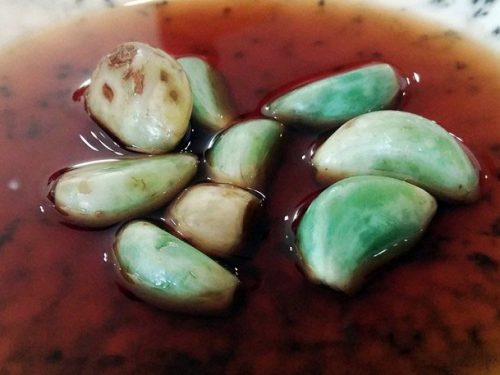 Chinese Laba Garlic | Laba Suan
Ingredients  
1/3

cup

brown rice vinegar

1

teaspoon

sugar

1

garlic head

pink color peel preferably
Instructions 
Add sugar and a little bit of brown rice vinegar to a closed bottle. Shake.

Peel and clean the entire garlic head into separate cloves.

Place the garlic cloves in the bottle, fill with vinegar to cover.

Seal lid and place outside in winter or in the freezer for about 20 days. Must be freezing cold!

***multiply recipe as desired per used garlic head.
Here are a few more authentic Chinese recipes for you to try: