Looking for a pretty and hip coastal town to explore or to add as a stop for an east coast trip? You need to look into the lovely city of Portland Maine. Check out the 12 best things to do in Portland.
If you enjoy exploring old colonial towns with a vibrant food scene, all while breathing in a bit of salty sea air, then you should really visit Portland, Maine. This is my second visit to Portland in 9 months. I first went in Aug 2018 with my mom on a 5-day road trip to Maine and I visited Portland again in May 2019 for a travel conference. It was so great to once again explore all that the city has to offer. In this travel guide, I will tell you about what to do in Portland Maine by pointing out the 12 best things to do in Portland.
Updated May 13th, 2019 following WITS19 conference in Portland Maine.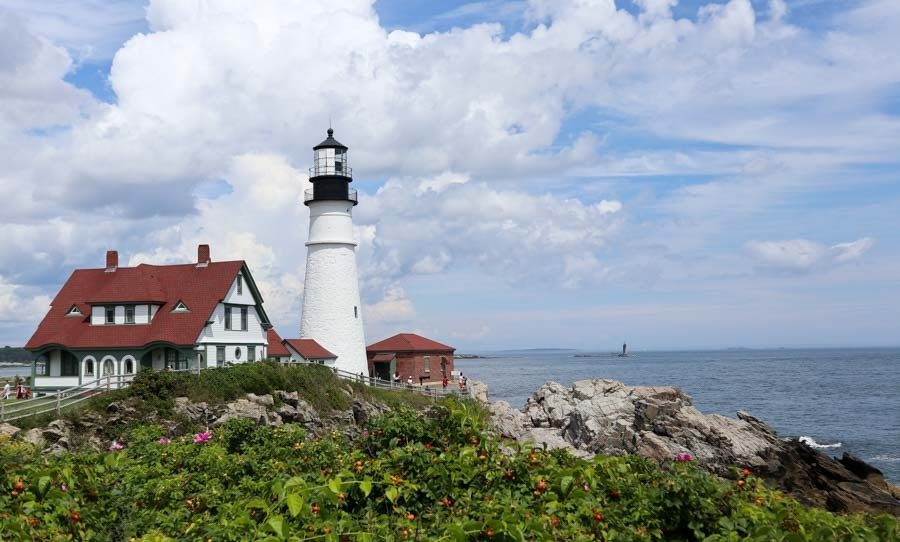 Where is Portland Maine
The small seaside city of Portland is situated on the Southern Maine coast,  on a peninsula in Casco Bay, about 1.5 hours away from Boston by car. Portland is the most populous city of the state of Maine and the population significantly increases in the summertime.
The beautiful rugged coast attracts many visitors, so there is no shortage of restaurants, museums, attractions, tours, and shops.
Fun Fact: The city of Portland, Oregon was named after Portland, Maine – because of a coin toss.
Need a flight? Click here to find the cheapest flight on BookingBuddy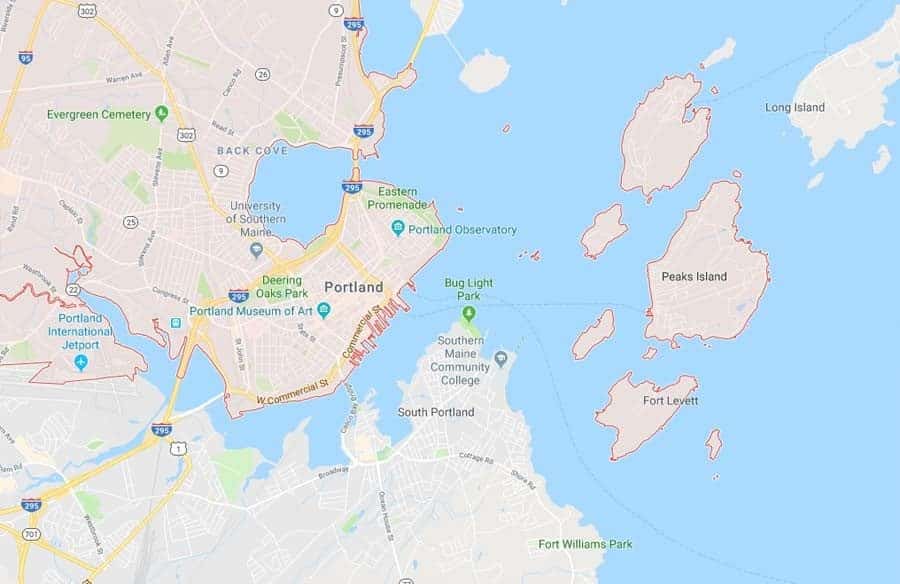 Getting to Portland Maine USA
You can fly in domestically at Portland International Jetport but if you are flying in internationally, chances are you will arrive at Boston Logan International Airport. There is also a train station, as well as a bus station.
If you are there for a very short stay and only plan to see the waterfront, you can get around on foot pretty much anywhere. But if you want to explore the city and some of the sights, have a car at your disposal is essential as the public transport system is really not great. Uber is another option.
Book here now to get unbeatable prices on Rental Cars
12 Best Things To Do in Portland Maine
You have decided to plan a Portland Maine vacation and you are wondering what is there to do? The answer is lots but keep in mind Portland is a pretty small city. You could do all 12 places in an action-packed long weekend or spread your itinerary over a leisurely week with a few extra side trips. A great overnight side trip would be exploring Acadia National Park.
Make sure to watch as well the 2 videos found in this post from the CulturEatz Youtube channel.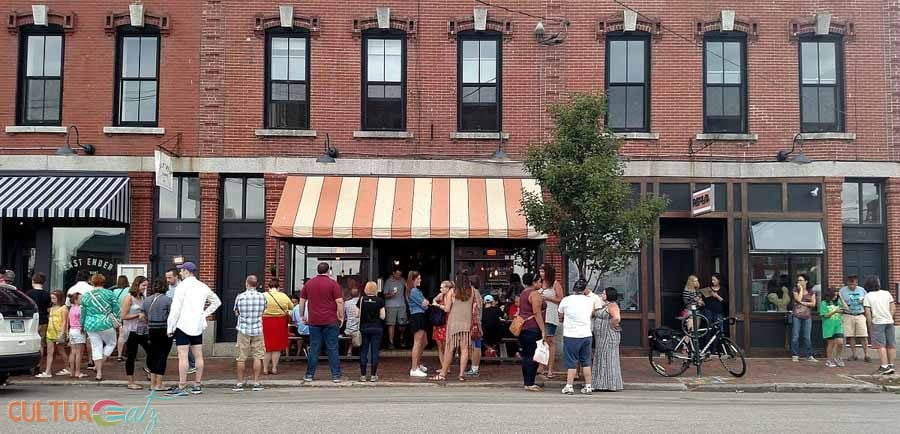 1) Historic Old Port District
The birthplace of a city is often found on the waterfront. Exploring the picturesque port is definitely the number one must do in Portland. Stroll along the hilly roads and cobbled streets lined by old brick buildings until you hit the piers along the coast. It really reminded me of Halifax in Nova Scotia. This will also be your restaurant, bar and shopping hub.
2) Portland Museum of Art
One of the top things to do in Portland Maine for art lovers is the Portland Museum of Art. You will find over 20,000 works from the US and Europe, dating from the 18th century to today. The museum also welcomes traveling exhibits so make sure to check their website and see what is on.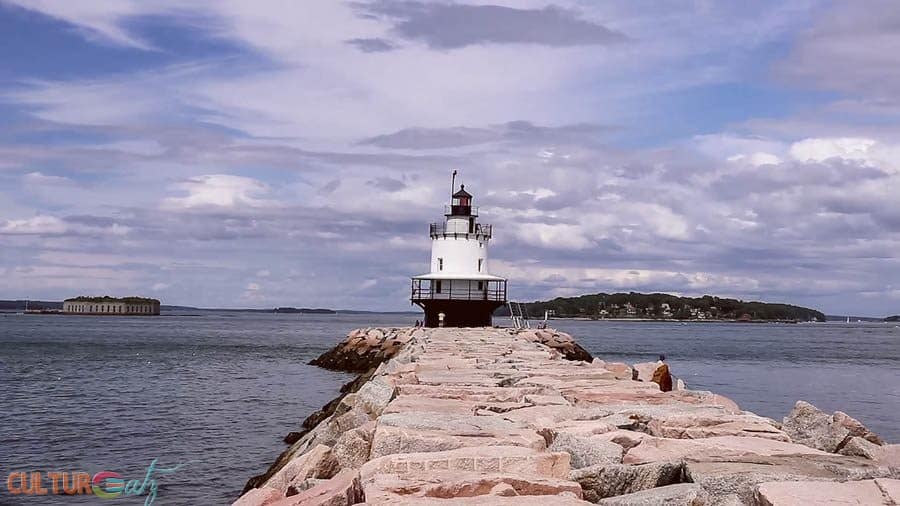 3) Lighthouses as far as the eye can see
Lighthouse fans will be in heaven with no less than 6 lighthouses in the Portland vicinity. They are a big part of the Portland Maine attractions list. The most iconic one is Portland Head Lighthouse (first pic of the article). Also popular are the Bug Light and the Spring Point Ledge Lighthouse (pic above).
I really enjoyed the last one best as you can walk along the rock pier all the way to the actual lighthouse. Not sure if it is technically allowed but lots of folks do but it can be a bit dangerous.
4) Fort Williams Park
One of the fun things to do in Portland Maine for history buffs is visiting the Fort Williams Park which is located right next to the Portland Head Lighthouse. Set in a 90-acre park, this fort was operational from 1872 to 1964. The walking trail between the fort and the lighthouse offers breathtaking views as well.
Click here to take one of many offered Tours in Portland Maine
5) Crescent Beach State Park
Even if the city is right along the coast, you will not find any beaches listed amongst the many Portland tourist attractions. Your closest bet, a 20-minute drive away, is the Crescent Beach State Park. This mile-long beach is located on the southern part of Cape Elizabeth.
6) Portland Observatory
One of the unique things to do in downtown Portland is visiting the Portland Observatory, America's last standing maritime signal tower. Visit the little museum and get ready to climb the +100 steps to take in the view from the top. The site is opened from the end of May to early October.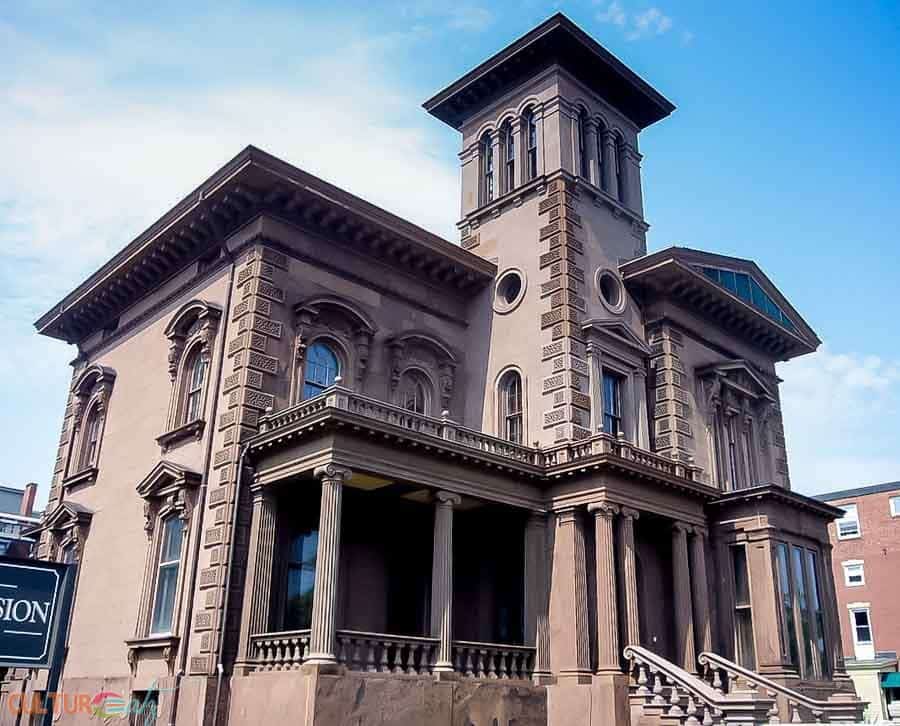 7) Victoria Mansion
I am a sucker for restored and furnished old homes, so for me, the Victoria Mansion is definitely a Portland must see! This massive Italian villa style brownstone was finished in 1860 and it was used as a summer home for hotelier Ruggles Sylvester Morse.
The opulent interior has a few unique features usually found in hotels, like a flying staircase and wall-to-wall carpeting. It was modernized with central heating, gas lighting, hot and cold running water, and a servant call system, all rarities at the time.
8) Whale Watching Tours
From mid-April through October, whales migrate here to feast on the many eels, plankton, and fish found in the local waters. When in season, whale watching tops the list of what to see in Portland Maine.
Odyssey Whale Watch is the main tour company offering whale watching cruises with a naturalist onboard.
Did you get your FREE PRINTABLE yet?
Surprise! Never know what to pack when getting ready for a trip. I got you covered with my Ulitmate Packing Checklist. Click here to get your FREE Ulitmate Packing Checklist right now!

9) Eastern Promenade
Located on the northeastern tip of Portland, the Eastern Promenade is 68-acre public park and recreational area which might be more popular with locals than tourists but is worth the trip. There are a handful of small attractions, many sports facilities, and a bike path.
During my second trip, we stayed at an Airbnb just 2 blocks from the Promenade, just a charming part of town to explore.
10) Peaks Island
There are many little islands around Portland and a few can be reached with a ferry service. The most popular one to visit is Peaks Island. It became a popular summer escapade destination in the 19th century and it remains to this day one of the great things to see in Portland Maine.
Explore the island on foot or with a golf cart, visit the Fifth Maine Museum, stop for a bite or two in the many delicious eateries, and do a little shopping before heading back to the mainland. You can find organized tours as well.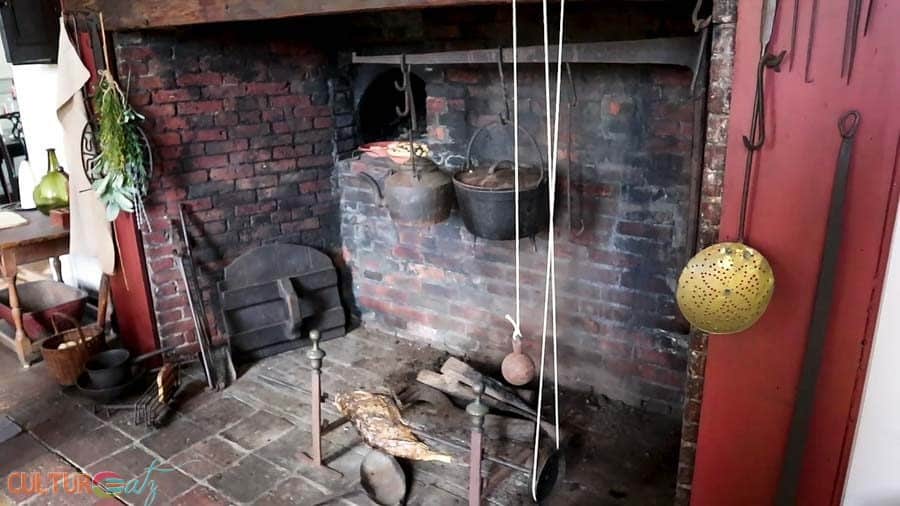 11) Tate House
The Tate House is a bit more off the beaten path but worth the detour. This historic house was built in 1755 and it is one of the oldest houses in the city. The house was made for George Tate, a former Royal Navy captain who made his fortune in the felling and shipment of trees for use as masts.
It was luxurious for the time and one of my favorite rooms is the kitchen. I love seeing the old hearth and what was involved in preparing a meal at the time. You can purchase your Tate House Museum Admission and Tour ticket ahead of time.
12) Local breweries and distilleries
Beer and booze connaisseurs will find plenty of tasting opportunities at the many local breweries, wineries, and distilleries. The two biggest brewers are the Allagash Brewery and Bissell Brothers Brewing Company.
Many companies offer brew tours. During my conference in May, I joined a tour with the Maine Brew Bus that took us to a brewery, a winery, and a distillery. I loved having a sample of all three. I definitely recommend this company.
When I was there in August, my penchant for hard liquor lead me to the New England Distilling Co. I had the best time with the owner visiting this small batch distillery that produces award-winning Rye Whiskey, Bourbon, Gin, and Rum. I even made a video of my visit…
Portland with Kids
If you are traveling with the whole family, many of the popular attractions are sure to please all generations. But here are a few fun and noteworthy things to do in Portland Maine with kids:
the Children's Museum & Theatre of Maine
Funtown Splashtown
Cryptozoology Museum, the only one in the world dedicated to the study of hidden or unknown animals, like Bigfoot.
Click here to purchase the Travel Insiders' Guide to Portland Maine book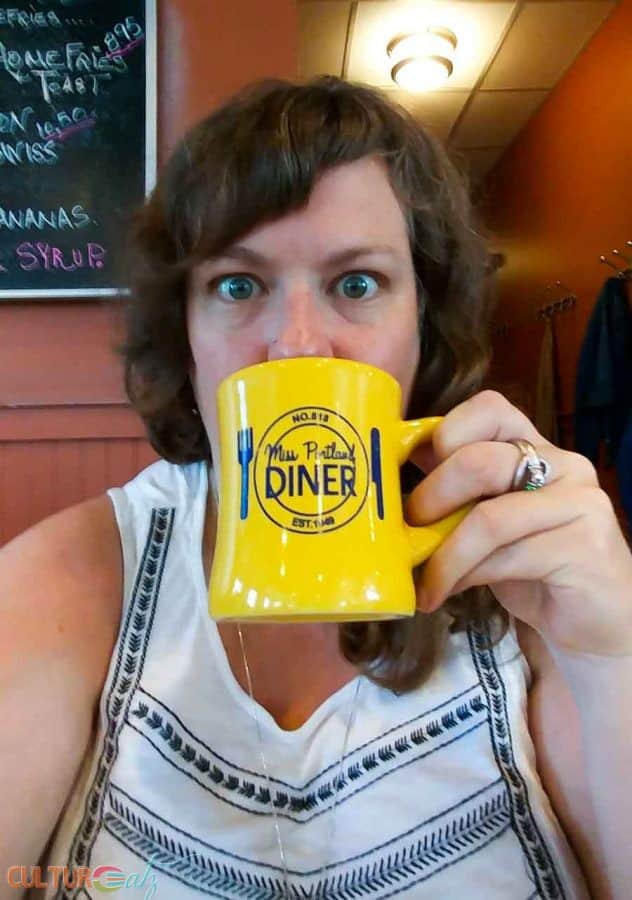 Best Restaurants in Portland Maine
Portland has definitely a budding foodie scene with a huge number of dining options. There are many upscale farm-to-table restaurants and of course, you can find some of the best seafood in Portland Maine. Lobsters beware!
If you are wondering where to eat in Portland Maine, you will find many of the best places to eat in Portland Maine in the Old Port. This is also where you will find the best bars in Portland, even some local breweries.
Here are a few recommendations for top restaurants in Portland:
For seafood check out J's Oyster, Eventide Oyster Company, Street & Co., The HighRoller Lobster, and Bite Into Maine.
Looking for more variety or American options Try Duckfat, Central Provisions, Fore Street, or Scales.
Great brunch options are Miss Portland Diner, Hot Suppa, and The Front Room.
For pub grub with a local beer in hand, try Sebago Brewing Company, Shipyard Brewing Company, Liquid Riot Bottling Company, or The Thirsty Pig.
There is one discovery I made thought that I would classify as one of the best food in Portland Maine: the FANTABULOUS potato donuts at The Holy Donut. Oh-My-God! It's the cover of one of my Youtube videos above.
.

Where to stay in Portland Maine
When trying to find the best hotels in Portland Maine, convenience will definitely raise the price. Downtown Portland Maine hotels include all the big chains and make getting around easy if you are mostly exploring the historic Old Port.
But if you have a car or use Uber, you can find some deals if you look a little bit outside the tourist center. And some of the best places to stay in Portland Maine can also be one of the many Airbnb listings.
Click here to Find Your Best Accommodation Deals Today- Book Now!
Have you ever been to Portland or Maine before?
Do you think that after reading the 12 best things to do in Portland, you might want to add it to your travel bucket list?
PIN IT HERE for later