I am in love with this Guyanese sweet delicacy! The Salara is a soft rolled bread with a fragrant cinnamon coconut filling that is tinted red.
#twelveloaves is a great group where we bake a bread with the addition of the monthly theme, flavor or ingredient. I am pretty sure you will have a general guess as to what February inspired as a theme: red of course, for the month of Saint Valentine. We were given lots of suggestions but I wanted something really original. I was thrilled to come across this exotic Guyanese Coconut Roll recipe called Salara.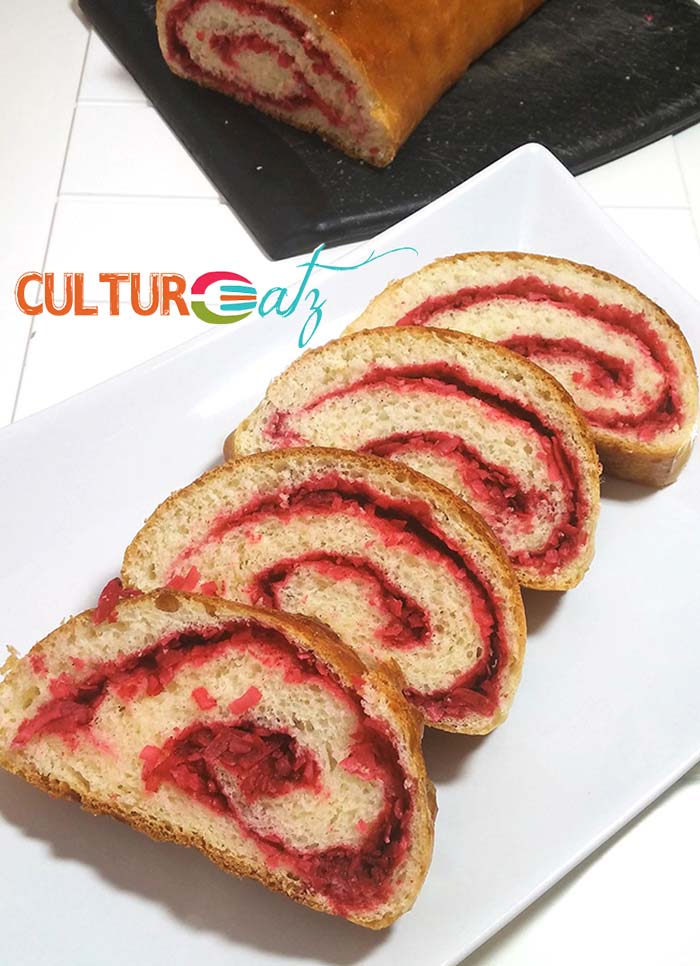 Where is Guyana?
Guyana is located in north-eastern South America. It has an Atlantic Ocean coastline in the northeast, and lies between Suriname to the east and Venezuela to the west, with Brazil to the south. The name Guyana (from Arawak Wayana) means "Land of many waters." Originally a Dutch colony in the 17th century, by 1815 Guyana had become a British possession. Guyana achieved independence from the UK in 1966, but under socialist government until 1992.
Guyanese cuisine has a Creole/Caribbean foundation with Indian and Chinese influences. Popular dishes include curries with any meat and seafood, rotis, chow mein, cassava dishes, and stews. Homemade bread-making, an art in many villages, is a reflection of the British influence.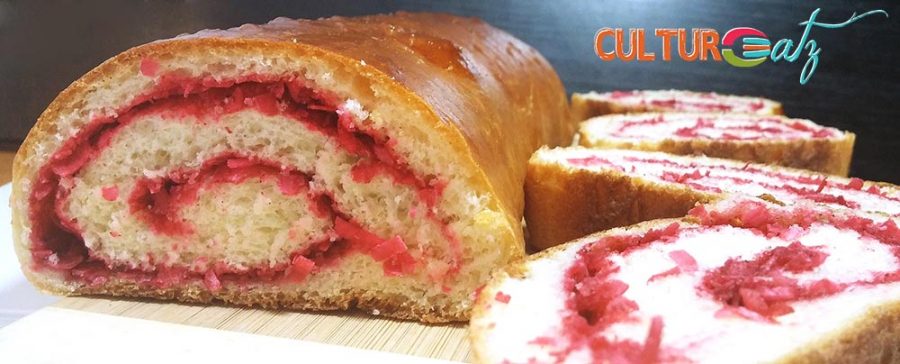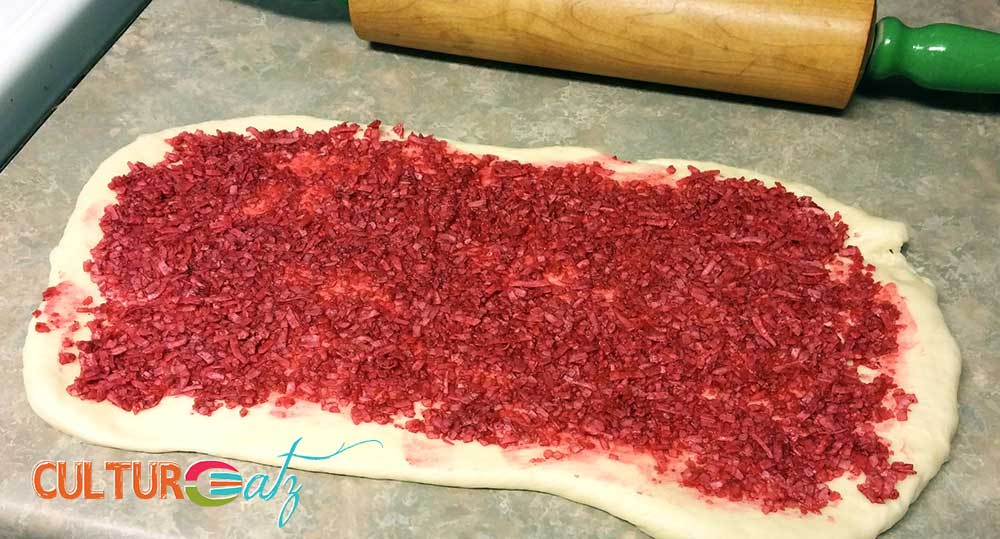 I have a FREE PRINTABLE for you
Surprise! I have prepared a Cheat Sheet that includes 41 Cooking and Baking Ingredient Substitutions that are commonly found in a kitchen. Click here to get your FREE Ingredient Substitutions Cheat Sheet right now!

Salara is a rich and sweet bread dough that is rolled out into a rectangle, covered with a coconut mixture that has been tinted with red food color, and then rolled into a log. Although I found this recipe on the Guyana Outpost site , it actually comes from the Recipe from "Caribbean Cuisine" By Dr. Betty "K"cookbook, which you can purchase at various store, such as Kohl's and the like.
I believe the original recipe calls for freshly grated coconut flesh, so a bit wet, and has sugar added to the coconut. I did adapt the recipe by using regular store bought sweetened coconut and adding a bit of milk to it. The recipe said also to add 5 drops of food coloring. I added WAY more – like close to 1 teaspoon – to get the deep red I wanted.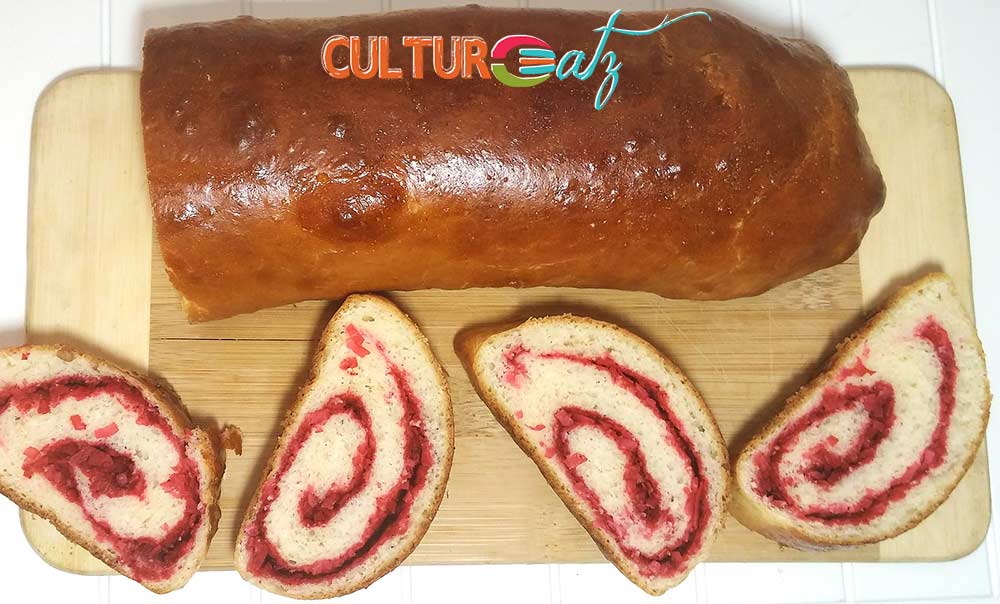 The recipe makes 2 generous bread rolls. I brought one Salara to work and it was declared a big hit by every taster. Having a second complete roll at home has been dangerous: constant snacking. It is really addictive stuff! The only different thing I will do next time is I plan on doubling the filling to get more coconut goodness.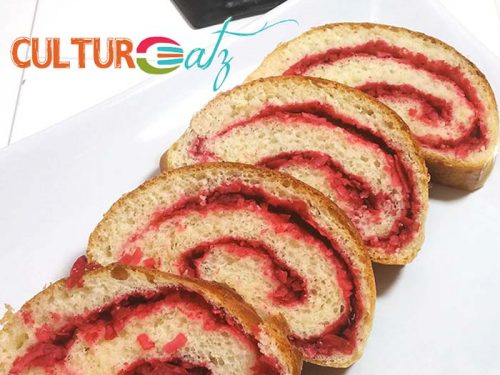 Salara (Guyanese Coconut Roll)
Ingredients  
Bread
1

tbsp

dry yeast

1/4

cup

warm water

1/4

cup

sugar

1

cup

milk

1/4

cup

oil

1

tsp

salt

3

cups

flour

1

egg

beaten

1

tbsp

butter

1

egg white
Filling
1

cup

sweetened shredded coconut

1/4

milk

1/2

tsp

cinnamon

1/2

tsp

vanilla extract

about 1 tsp of red food colouring
Instructions 
Dissolve the yeast in the warm water. Sprinkle with 1 teaspoon of sugar and let stand.

Warm the milk, combine with the yeast mixture, oil, salt, sugar and egg.

Add flour and knead until it comes together into an elastic ball, adding a bit of flour if necessary.

Place the dough in a greased bowl, cover and let rise to double in size for about 1 hour.

Combine all the filling ingredients and set aside.

Punch down the dough and divide in half. Roll each half into an 12 inch x 8 inch rectangle, and brush with melted butter.

Sprinkle half of the filling mixture on each rectangle of dough. Roll up lengthwise and seal all the edges. Cover and let rise until double in size.

Brush the rolls with beaten egg white and bake at 375°F for 20 - 30 minutes, until golden.

Cut into slices to serve.
Notes
Make sure to seal all the edges very well so the red filling does not leak.
TwelveLoaves
#TwelveLoaves is a monthly bread baking party created by Lora from Cake Duchess and run with the help of Heather of All Roads Lead to the Kitchen, which runs smoothly with the help of our bakers.
This month we'll be baking breads with a RED theme in honor of National Heart Month, Valentine's Day, and the Oscars (red carpet) – any red ingredient goes! For more bread recipes, visit the #TwelveLoaves Pinterest board, or check out last month's mouthwatering selection of #TwelveLoaves enter last month's breads featuring a "new to you" type of flour!
If you'd like to bake along with us this month, share your "RED" themed bread using hashtag #TwelveLoaves!
This post contains a sponsored link by Discountrue.
Check out more South American recipes here: