More beans are good for you! Here are two great recipes to add to your recipe rotation: Vegan Feijoada and Japanese Red Bean Ice Cream.
For as long as I can remember my mom has been on the hunt for good recipes with beans and legumes. This has influenced me a bit too as I may not search for such recipes as actively but if they fall in my lap my curiosity will be piqued. When I was offered the Vegan Beans from Around the World cookbook for review I could hardly say no. The 'around the world' part obviously increased my interest. Would it love up to my high expectation? Let's find out with the two recipes I prepared from this cookbook: the Brazilian Vegan Feijoada and the Japanese Red Bean Ice Cream.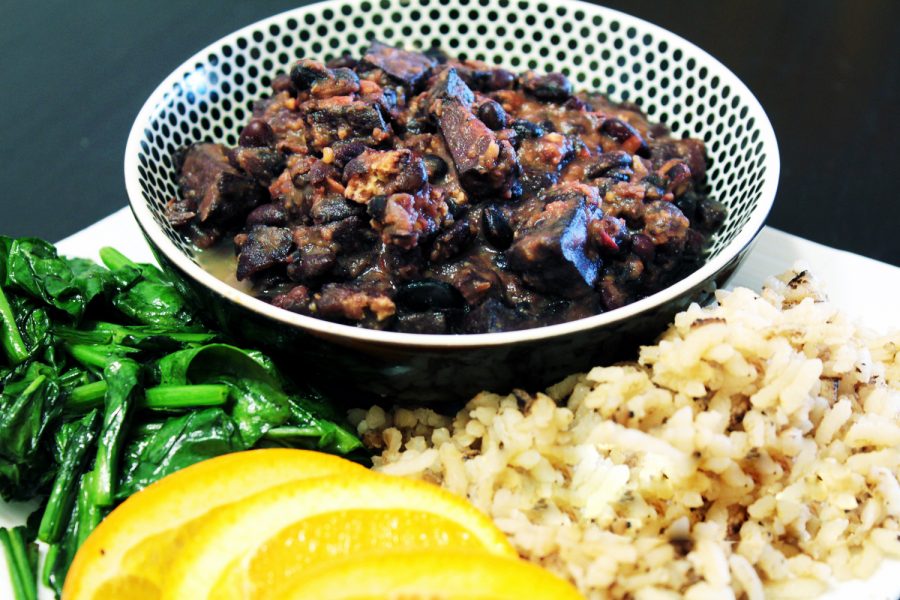 I am not vegan but no harm in having a vegan meal now and again. It's actually fun to learn different techniques I can incorporate in my cooking. In the past I have not always been impressed but after trying a few recipes in this book I now have hope again. An important food to consume if you are vegan is beans in all its forms. They are packed with protein, vitamins, minerals and flavor, making them the perfect base for countless meals.
Many people are deterred though because they lack the knowledge of how to choose and prepare them. The first part of the Vegan Beans from Around the World cookbook explains all these things: from types of beans, dry vs canned, how to prep and cook dried , soaking beans, and ways to save cooking time.
Another deterrent is the old saying: Beans, Beans, The Musical Fruit! Well you will learn how to remove the oligosaccharide, a form of sugar, which is know to cause these side effects.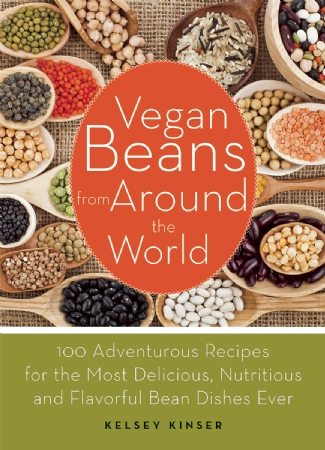 Just to tempt you a little bit more, here is a sampling of some of the recipes you will find in these pages: African peanut soup, African curried black eyed pea and coconut soup, mujadara (Lebanese spiced lentil pilaf), curried dal with cauliflower, black bean brownies, sweet red bean paste, soy milk, Mexican Refried Beans, Tuscan White Bean Soup and Greek Lentil Salad.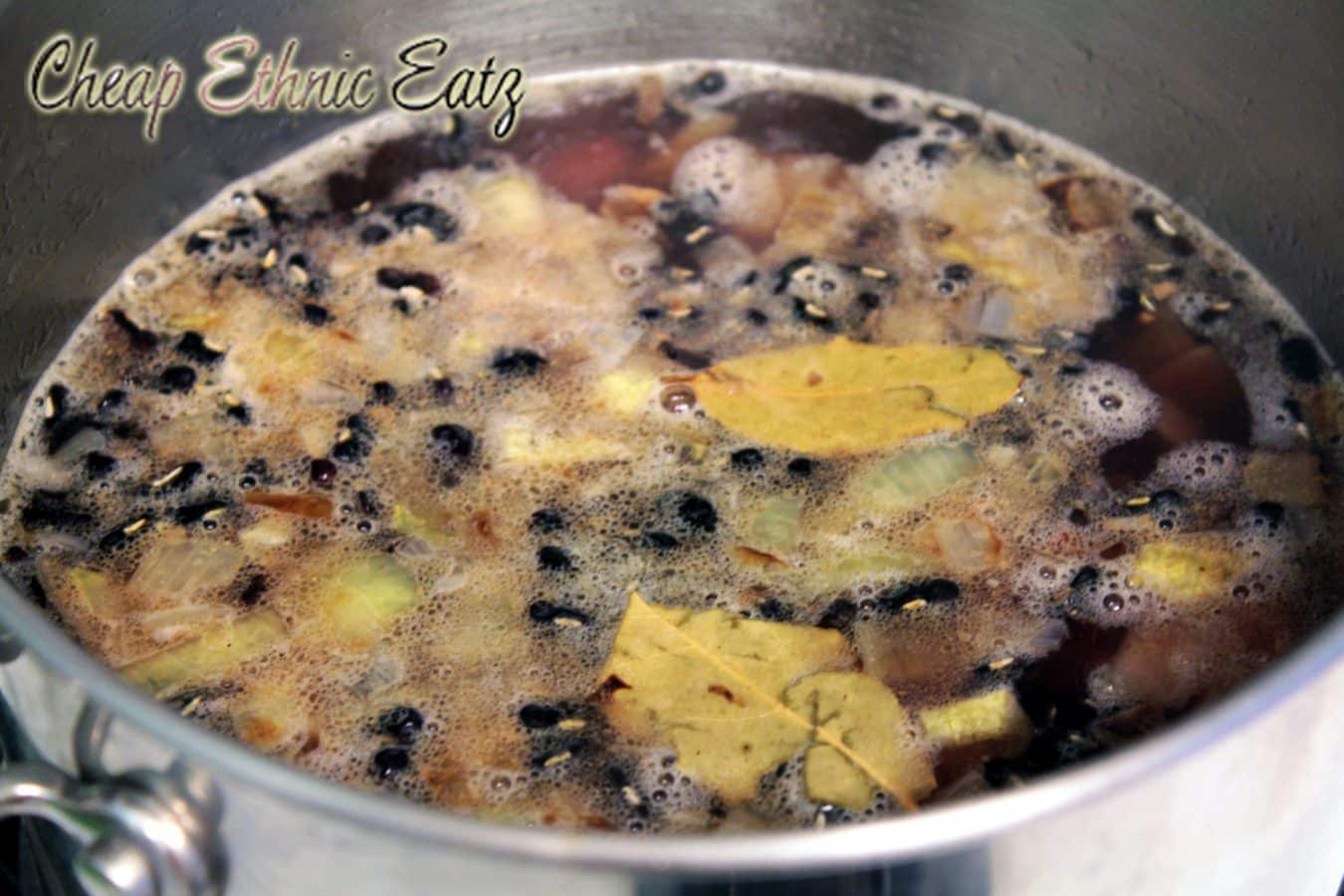 The first recipe I tried is the national dish of Brazil. A Brazilian Vegan Feijoada is a stew prepared with black beans and usually smoked meats like pork and sausages. It is usually served along with rice, greens and orange slices. Since we are dealing with a vegan recipe some modification will be required. The meat here will be seitan or tofu, I bought fried tofu squares. The key to make this vegan version a success is the liquid smoke. It gives that smoked flavor the meat would have given…it's a must.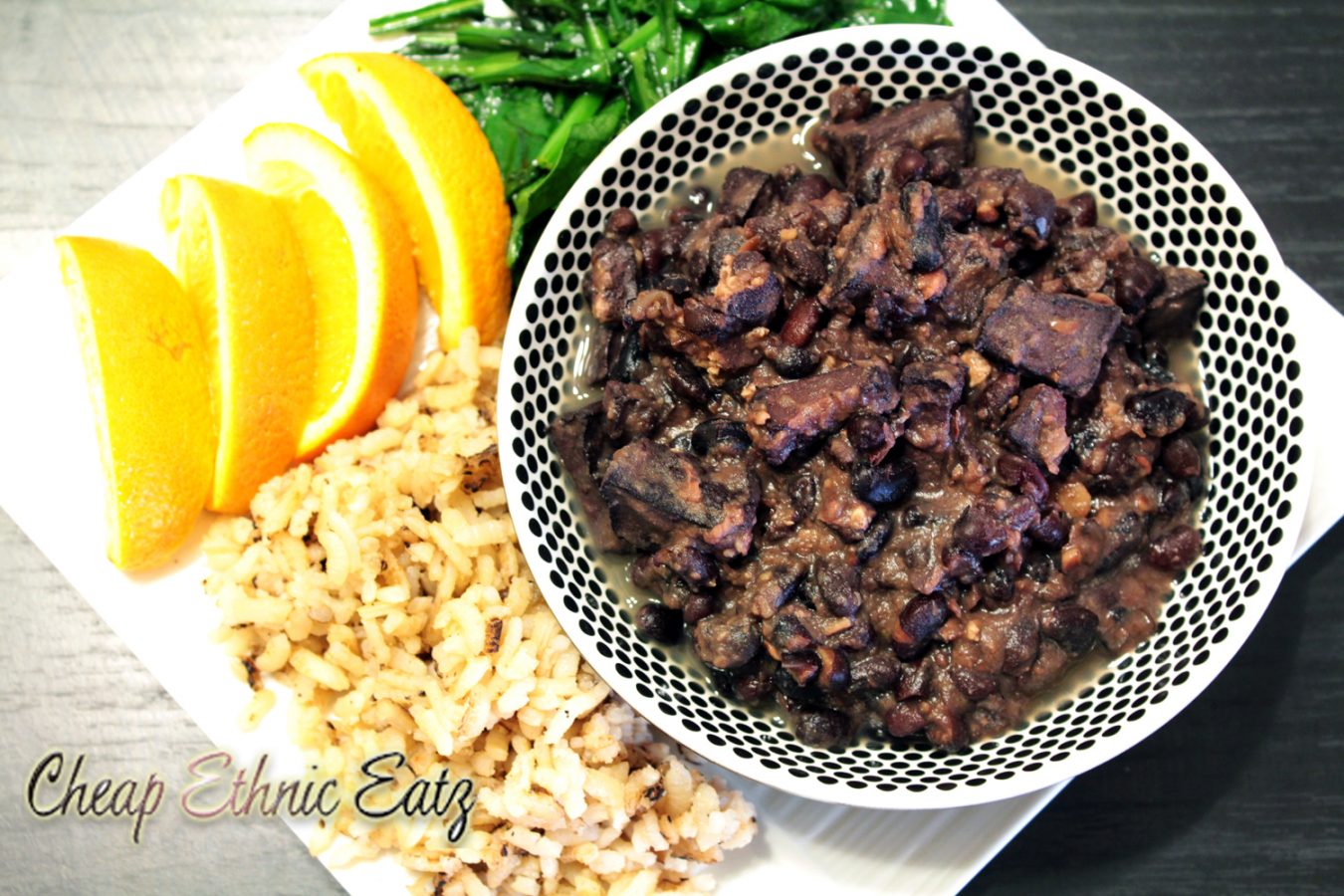 The result of this Vegan Feijoada was incredibly satisfying. I have enjoyed the classic meat version and this Vegan Feijoada recipe it just as delicious. You don't even miss the meat at all. I really loved it.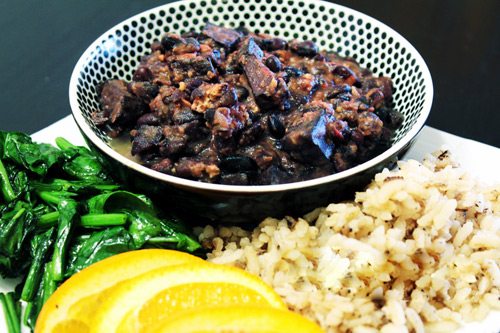 Brazilian Feijoada
Feijoada is a stew from Brazil that is typically very full of meat. Liquid smoke and seitan, however, add some depth of flavor and textures to this homage to Brazil's national dish.
Ingredients  
2

tablespoons

olive oil

2

cups

onion

chopped

8

ounces

spicy seitan

or fried tofu

2

tablespoons

chopped garlic

2

bay leaves

1

?8 teaspoon cayenne pepper

1

teaspoon

liquid smoke

3

?4 teaspoon salt

1

?8 teaspoon freshly ground pepper

1

pound

black beans

hot sauce

cooked rice sautéed greens

collard, chard, or kale

orange slices
Instructions 
In a large pot on medium-high heat, heat the olive oil. Sauté the onions and seitan until browned, about 7 minutes, making sure to stir occasionally.

Add the garlic and sauté for another minute. Add bay leaves, cayenne, liquid smoke, 8 cups of water, salt, pepper, and black beans. Bring to a boil, reduce heat, cover, and simmer for approximately 2 1/2 hours. If necessary, add more water during cooking to make sure the beans do not dry out.

Using a spoon, mash half of the beans and stir. Taste for seasonings and add hot sauce to your liking.

Serve with rice and greens, topped with orange slices.
And now who wants beans for dessert? Many of you will find this concept weird but beans are very common in Asian sweets and treats. Keep an open mind and I promise you will be gladly surprised. A good place to start is at Vietnamese and Chinese restaurants. Japanese ones may have a good selection too.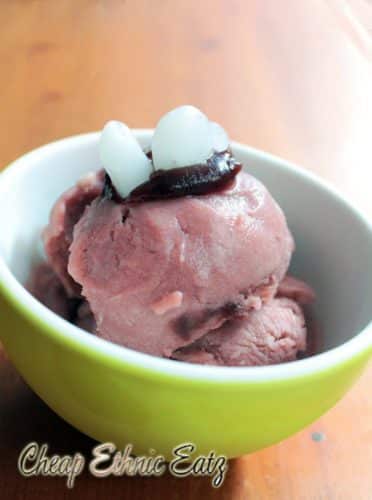 Red bean paste is a classic ingredient in many Asian sweets. This paste is made with the Azuki bean and it is the base for the Japanese Red Bean Ice Cream. Since we are going vegan we will sub the milk for coconut and almond milk, and use tapioca as a thickener.
This is the 2nd of the 3 ice creams I made 2 weekends ago. Check out my first post for the Kaffir Lime Ginger and Gin Ice Cream. The result of the Japanese Red Bean Ice Cream was quite convincing as well next to the dairy version. Just a note: it will freeze hard so do remember to take it out for a bit before serving. It is not a smooth custard base.
Anybody know what the white things are, served on a dollop of the red bean paste atop of the ice cream? It's one of those 'I have to buy because I have no idea what this is' finds from Chinatown. They are Attap Chee, or Palm Seeds. It came in a came with a weird sweet syrup. Can't say I am a fan but nice to add atop an exotic sweet.
[mpprecipe-recipe:377]
Check out more South American recipes here