Who could resist a sweet milky egg custard that is just dripping with a light caramel sauce? By adding a bit of quinoa one could say this Peruvian Quinoa Flan is healthy too (sorta)!
I have been meaning to tell you one of my craziest travel stories for a while now which happened in Peru … but I just never got around to making a Peruvian recipe. Well a fun food group I just discovered focuses on a country a month and guess what this month is? Peru or course, for which I prepared a Crema Volteada de Quinua, or Peruvian Quinoa Flan for ATW12P.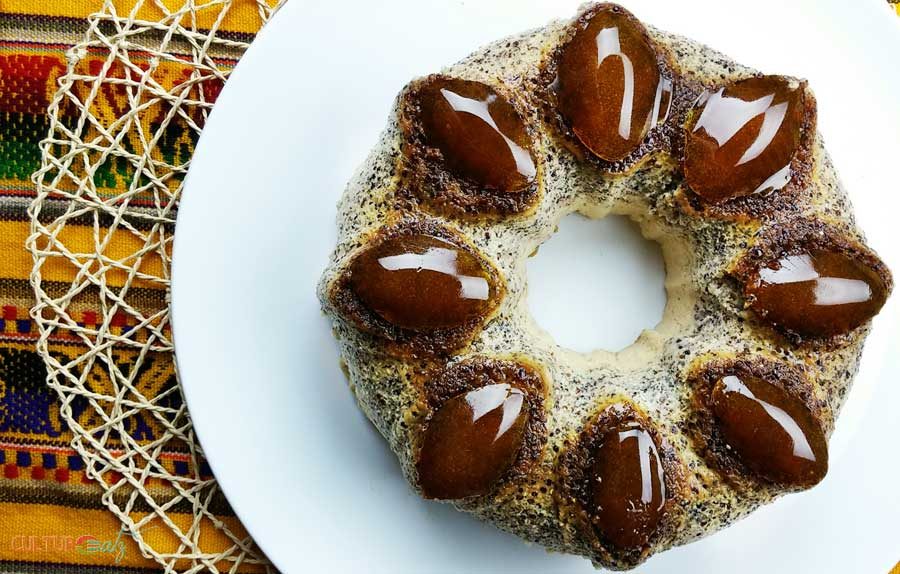 But before we get elbow high into the recipe I urge you to watch my video where I will tell you how I breached airport security on purpose in Cusco, Peru. Yes, airport security! It's a crazy story (kids do not ever do what I did)….
Peruvian Quinoa Flan
This is my first participation in a group called Around the World in 12 Plates which is lead by Gabby. Each month the group explores a suggest country. For August we are of to Peru…a country I have visited in real life! I could have gone with a gazillion potato recipes as Peru grows over 3,800 varieties! But quinoa is just as indigenous to the Andes and so healthy. But let's turn our quinoa into a naughty treat.
Funny how a recipe can travel around the world and take different names. Of French origin, crême caramel can be found in many European restaurants. But in Latin countries this dessert is called a flan! And in Peru a flan is called a crema volteada, or flipped over cream. Let's add quinoa to ours: this unique Quinoa Flan,  or Crema Volteada de Quinua, is as Peruvian as you can get!
PIN IT FOR LATER https://www.pinterest.com/pin/266275396701989025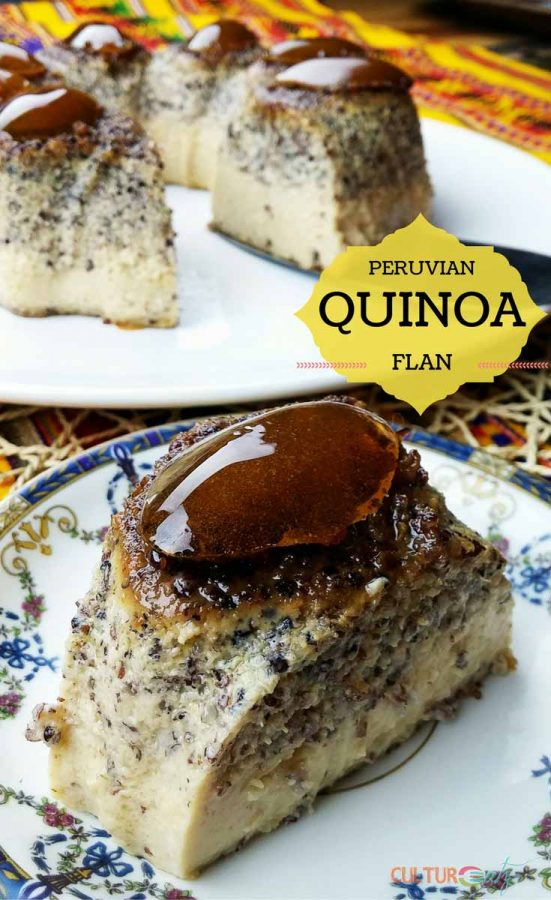 I got my Quinoa Flan recipe from a Spanish blog called Cocinando con Wendy. I am far from being fluent but I can understand a recipe in Spanish no problem. Actually her directions are only a video and I still figured it out right away lol. French and Spanish are pretty close. Normally a white quinoa is used for this Quinoa Flan recipe but I just happened to have black at home. I kind of like the grungy look 😉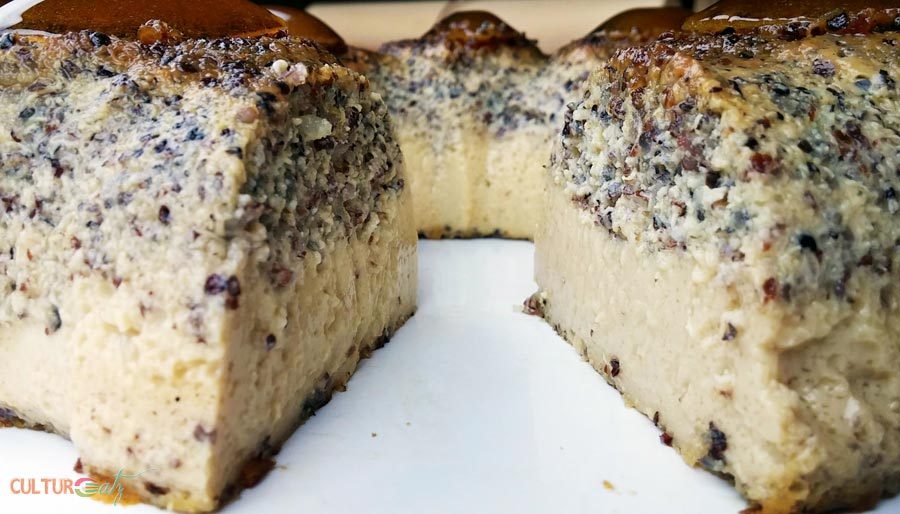 No those are not almonds on top! That is the caramel sauce that did not melt and turned into a barley sugar. I think it was because of my silicone mold. I put it back in the mold and the next day it was melted into a sauce, weird!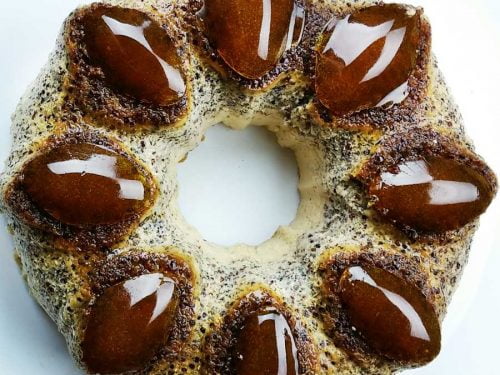 Peruvian Quinoa Flan | Crema Volteada de Quinua
Ingredients  
1/2

cup

quinoa

2

cups

water

1

cinnamon stick

3/4

cup

sugar

1 12

oz

can evaporated milk

1 14

oz

can condensed milk

6

eggs

1

tablespoon

vanilla extract
Instructions 
Bring water to a boil and add quinoa with cinnamon stick. Reduce to a simmer. After 10 minutes remove the cinnamon stick and simmer for another 10 minutes or until the quinoa is cooked.

Preheat the oven to 350 F.

In a saucepan add the sugar and cook over medium-low heat until melted and just lightly golden.

Pour the caramel in a 6-cup mold, cake pan or in six ramekins. Place your baking dish of choice in a large baking pan.

In a blender add the quinoa with any liquid, condensed milk, evaporated milk, eggs and vanilla, and process for 1 minute. Pour in the prepared baking dish of choice. Add water to the large baking pan halfway up the filled baking dish.

Cover loosely with aluminium foil and bake for 1 hour or until the center is set and an inserted knife comes out clean.

Cool at room temperature for 30 minutes and then put it in the fridge overnight. Run a knife along the edge and tap the flan on the sides to make sure it is loose, then flip over onto a plate with a lip that will catch any caramel sauce.
Around the World in 12 Plates
Check out what wonderful Peruvian dishes my fellow ATW12P blogger friends have prepared #ATW12P:
Check out more South American recipes here: