What to do with Leftover Coca-Cola? Amazingly there are a few South American recipes that make this soft drink a main ingredient.
Yep! Coca-Cola recipes. Actually another great title for this post would have been What to do with Leftover Coca-Cola. I needed a 2 liter bottle…future post! But I thought I would be "environmental" and "recycle" the Coke ???!!!???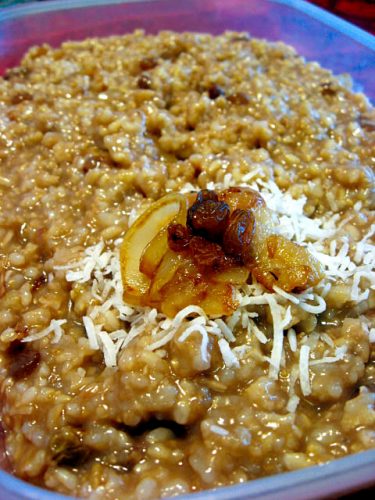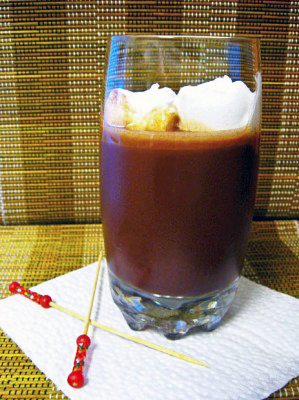 I have never been a big fan of sodas but I felt bad at the thought of pouring 2 liters of Coke down the drain. I was too curious and went hunting for recipes that had Coca-Cola as an ingredient. There was not a whole lot out there but imagine my surprise when I came across two South American recipes! Not only do I get to use up the Coke….I am doing Ethnic Eatz with it!
The first recipe I made was an apparently very popular Colombian coastal dish. If you are Colombian and are reading my blog please hit me and let me know what is up with that? It is not the prettiest dish but it was good. I took it to a potluck BBQ and it had some success. I did a half portion of this recipe from Colombian born Food Network starlet Ingrid Hoffmann.
Ξ Colombian Coca-Cola Rice Ξ
Ingredients

1-1/2 tbsp vegetable oil
2 cups long-grain white rice (I had brown rice at home)
1/2 tsp salt
3-1/2 cups Coca-Cola
1/4 cup raisins
3 tbsp sliced or slivered almonds, lightly toasted (I had shredded coconut on hand)

Preparation

Heat the oil in a large pot over medium-high heat for 1 minute. Add the rice and cook until it is opaque, about 2 minutes, stirring often.Add the salt to the cola and stir until dissolved (the salt helps to release some of the carbonation) and then add it to the rice. Bring to a boil, then reduce the heat to medium- low, cooking until the liquid has almost completely evaporated, about 15 minutes. Stir in the raisins and the almonds and reduce the heat to the lowest setting. Cover and cook until the rice is tender, about 25 minutes. Uncover, fluff with a fork and serve.
If you are doing your liquid math, I had about 2 cups left of soda since I halved the rice recipe. Trying the Brazilian Iced Chocolate Drink was a no brainer decision. A super sweet chocolate iced drink! It was soooooooooo decadent.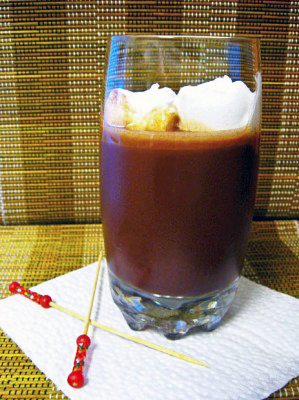 Ξ Brazilian Iced Chocolate Ξ
Ingredients
2 squares (1 oz. each) unsweetened chocolate
1/4 cup sugar
1 cup double strength hot coffee
2 ½ cups milk
1 1/2 cups Coca-Cola
Whipped cream or ice cream
Preparation
Melt chocolate in top of double boiler over hot water. Stir in sugar. Gradually stir in hot coffee, mixing thoroughly. Add milk and continue cooking until all particles of chocolate are dissolved and mixture is smooth, about 10 minutes. Pour into jar, cover and chill. When ready to serve, stir in chilled Coca-Cola. Serve over ice cubes in tall glasses. For a beverage, top with whipped cream. For a dessert, add a scoop of vanilla ice cream. Makes 5 cups.
Check out more South American recipes here: