The Punschtorte is a classic Austrian cake with a big boozy punch! A thin cake sandwiches a rum punch filling, and finished off with a thick pink fondant icing.
No one knows for sure the origins of this Punschtorte cake but it may have been introduced to Vienna in the Middle Ages by the Ottoman armies some time during the 17th century. The components include cake crumbs, chocolate, rum, apricot jam, citrus juices. It is a kick-ass cake! Individual pastries are known as Punschkrapfen.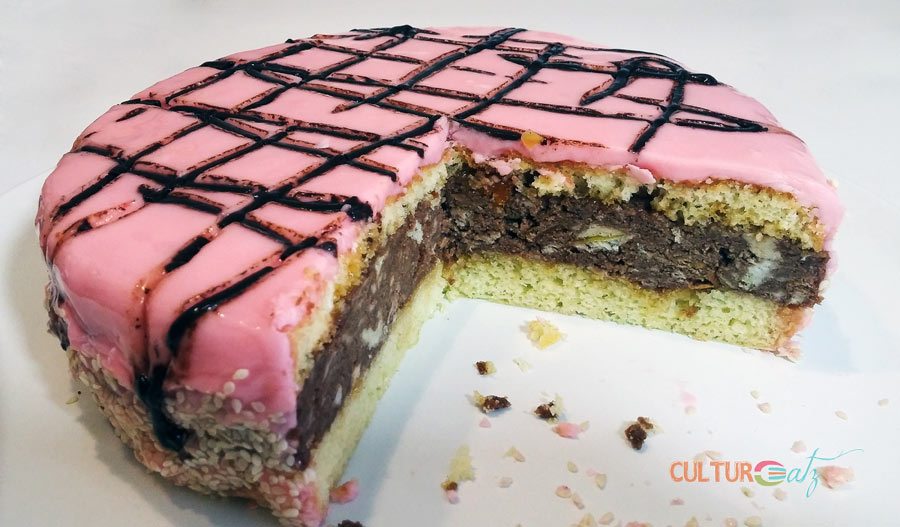 We made it! My last vacation post from my Austrian and Hungarian 2016 trip. This post will not be political like the last one. It is a pure visual feast. I kept the best of Vienna and loads of local food for my last post. Enjoy, and wait till you see this Punschtorte recipe, orgasmic! But first a few of my best Vienna and Wachau Valley pics….
Vienna…
The heart of Vienna : pedestrian Graben street leading to Stephansdom Cathedral.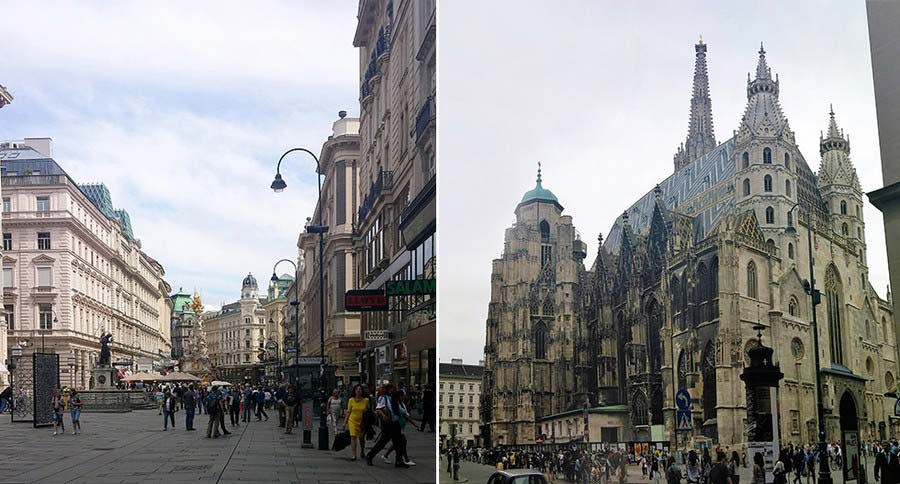 The Mozart Statue in the Burggarten.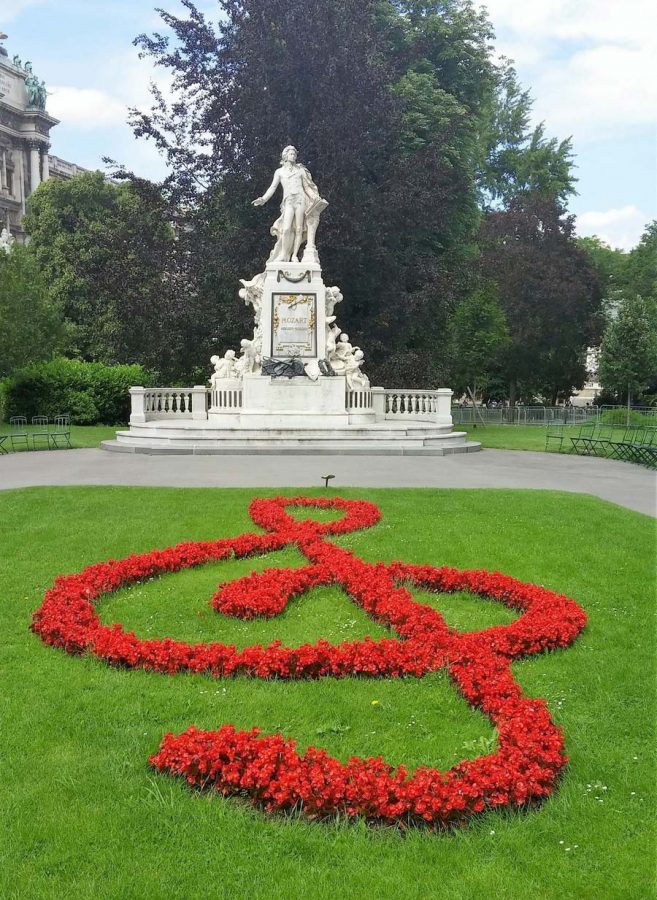 In Austria you must eat schnitzel…several times! Left to right: pork cutlet schnitzel at the Schweizerhaus Stelze in Prater; mushroom schnitzel in a restaurant in Krems; and chicken cutlets schnitzel at the 10er Marie Heuringer.
Heuringers are wine taverns found on the outskirts of Vienna (bottom pic).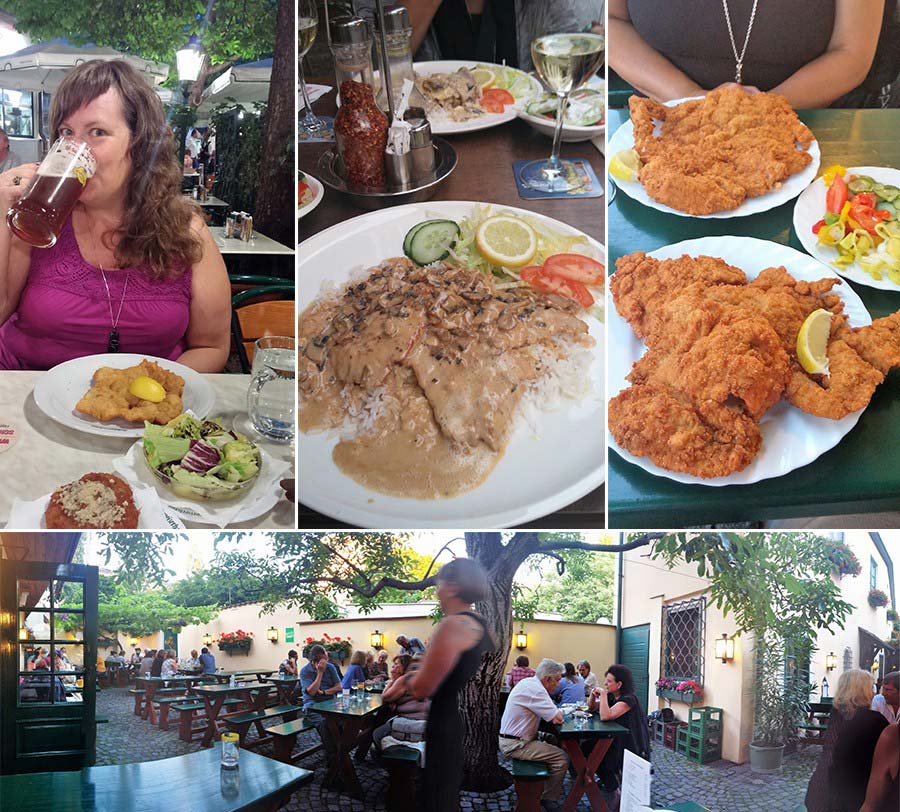 The famous Riesenrad (Ferris wheel) at the Prater amusement park in Vienna. Built in 1897, it was the world's tallest extant Ferris wheel from 1920 until 1985. And here is the first haunted house I ever saw in my life when I was 11 years old. It has not changed one bit in decades.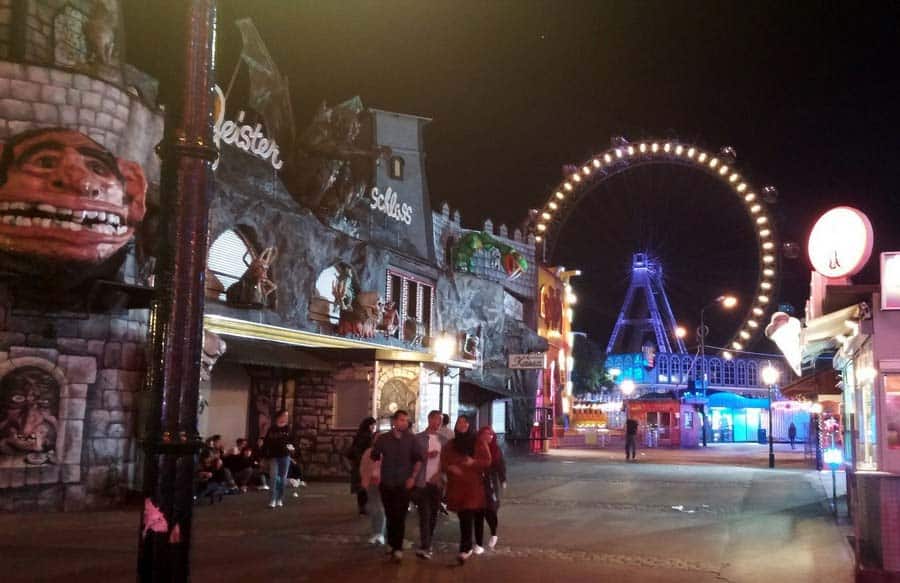 A gem of a foodie find!
I came across the Henzls Ernte store by pure luck. I walked in just as Gertrude, the owner, was opening shop after spending her morning gathering plants in the outskirts of the city. She showed me her finds of the day. Everything in her store is homemade: pickled plants and vegetables, spices mixes, jams, flavored sugars and salts, and gorgeous sugared flowers.
Gertrude took out her boxes of sugared flowers for me to see, every one more beautiful than the next. I left with a wild garlic salt and a sugar flavored with lemon and ground poppy flowers. Foodies in Vienna, check out this shop!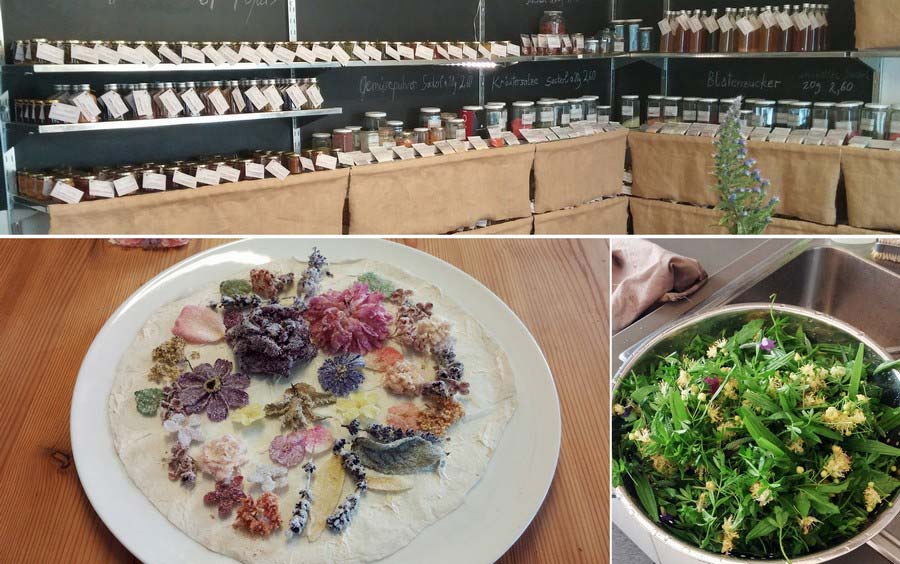 The more unusual sitting! Coincidence: I arrived in Europe the day the Euro soccer championship started, not that I am a fan. There was soccer (football) EVERYWHERE! Major parks were turned into public viewing stations and bars showcased the games outside on the street. Same thing in Budapest.
We saw this guy with a Mohawk in the Austrian flag colors and thought we should ask if we could take his picture. Even better, my cousin and I each got a kiss on the cheek!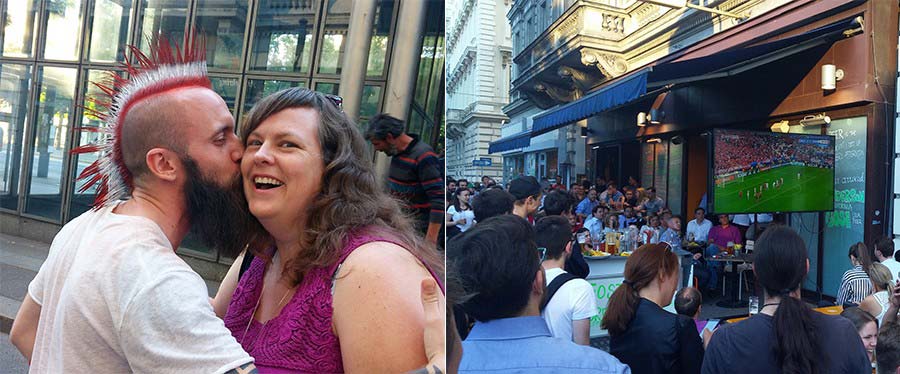 Coffee Culture
On the other hand, pastries, cakes and old world coffee houses are a very common sight in Vienna. The city is also famous for its pastry shops called konditorei. Many have been around for at least 150 years and have not changed one bit inside. Cake and coffee is an art form in Vienna, lounging coffee culture is a way of life.
The first one below is Café Landtman, opened since 1873. I enjoyed a light sausage plate lunch, savored a marzipan and nougat cake, and a Wien Mélange (like a cappuccino a bit). A very elegant but a bit stuffy address.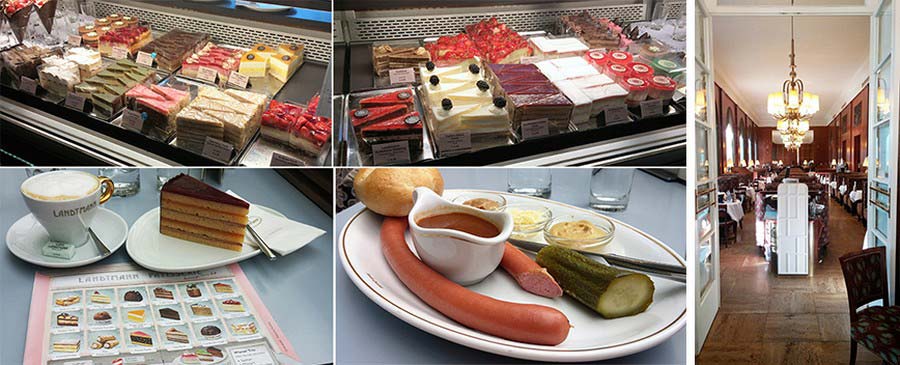 But my favorite coffee house was without a doubt Café Sperl. Very old world in a great neighborhood, it has been open since 1880. I found it more relaxed and welcoming. Enjoy here a delicious Marillenkuchen (apricot cake) and my favorite coffee option, a Großer Brauner. It is a double shot of strong coffee served with cream on the side.
There is no such thing as ordering plain coffee in Vienna (or Austria), it does not exist. Each way of serving a coffee has a name, so do your homework ahead!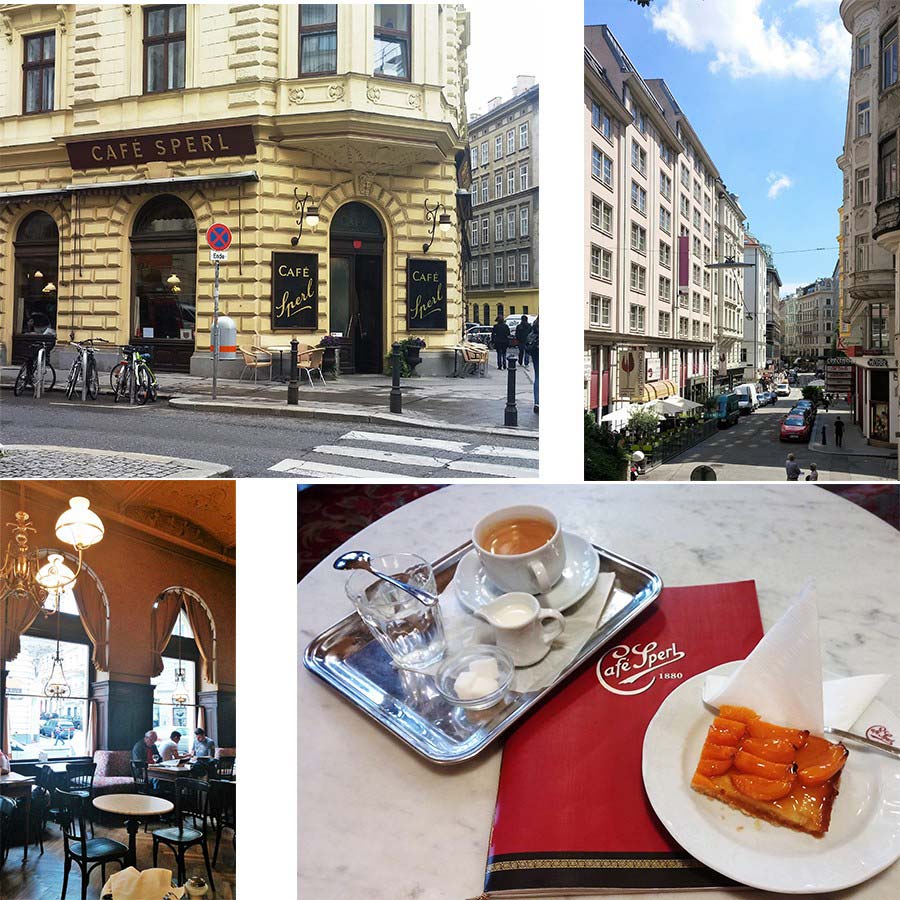 The last coffee house we visited was the very bohemian Café Leopold Hawelka, first opened in 1939. In the 50s and 60s it was frequented by writers and artists. A city resident warned us to expect temperamental waiters. They were right but we saw it as part of the experience. And it was a lovely place to get a bite to eat before a show.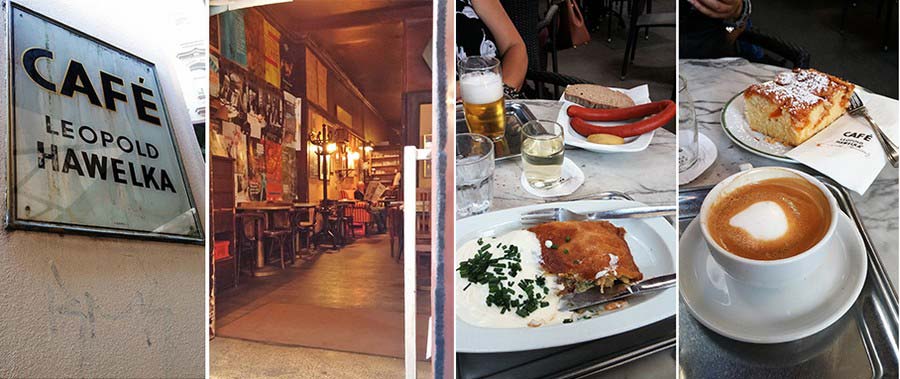 No trip to Vienna is complete without…
…a visit of Schönbrunn Palace. My friend saw Versailles on the same trip and declared Schönbrunn the winner out of the two. This palace was the summer imperial residence, quaint with only 1,441 rooms. You can see about 40 of them on the tour.
The current buildings date to the 1740s with the great ruler Maria Theresa, mother of Marie Antoinette. The last rulers here were Emperor Franz Joseph and Empress Sisi of the Austro-Hungarian empire, until 1916.
The garden is huge and has an orangerie, a big zoo, a palm house, 'roman ruins', a desert section and more. You can walk up the hill to the Gloriette. It is a good hike up but the view is the reward.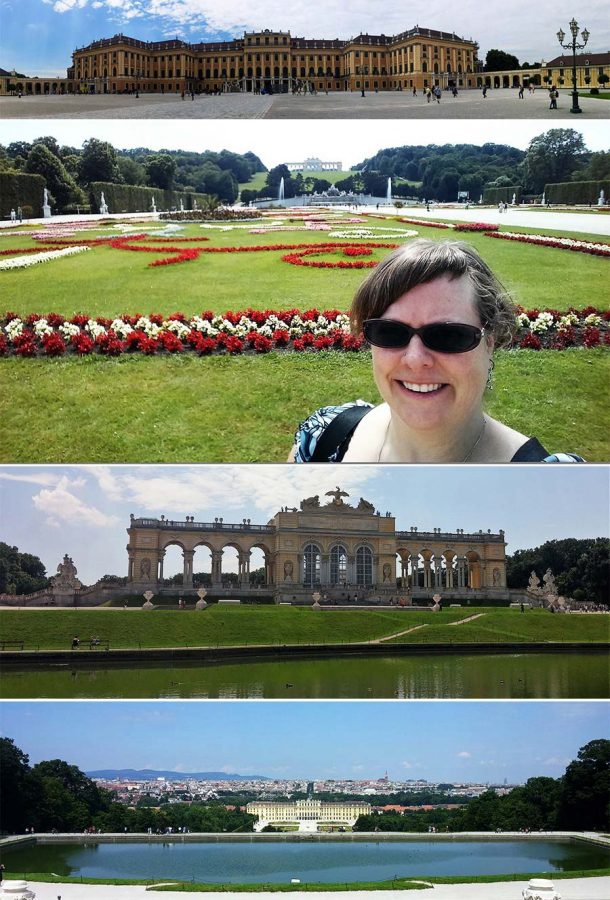 OK, really no trip to Vienna is complete without seats for a performance at the Wiener Staatsoper (Vienna Opera House). We scored first row top balcony seats months ahead of time on a wait-list for only 34 Euros a piece.
And it was The Marriage of Figaro by the native Mozart, you may have heard of him 😉 Absolutely incredible experience!

A day trip to the Wachau Valley
I am getting to the recipe! But first let me tell you how I came about the Punschtorte! It all started with a magical day trip to the Wachau Valley, famous for its vineyards, apricots, fortresses, and the most beautiful section of the Danube river.
Do not book an overpriced rushed tour! Instead get this Wachau combo ticket from OBB, Austria's railway company. For a much more reasonable price a you get a train ticket, from Vienna and back, to Krems and Melk, entrance to the Melk Abbey, and a 1.5 hour cruise on the Danube.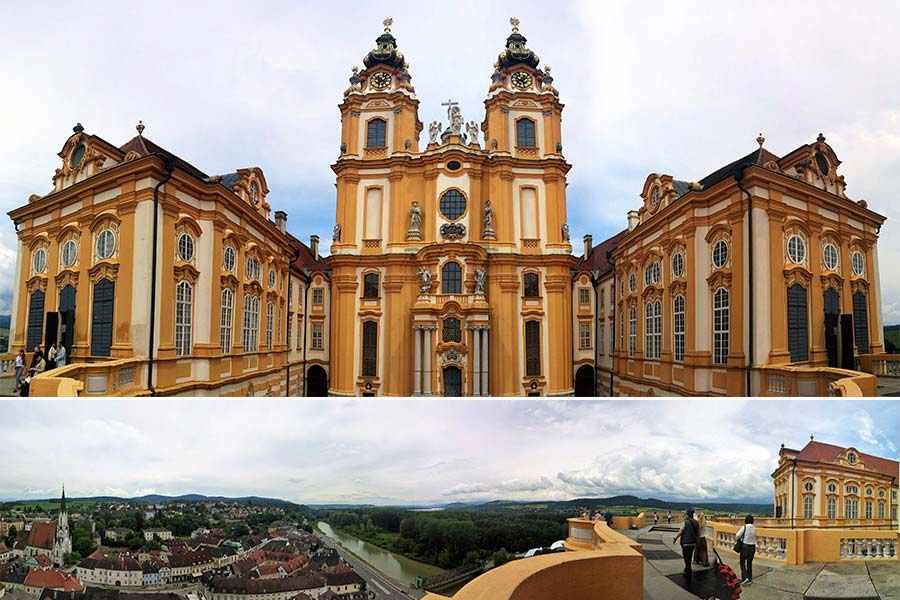 We chose to start with the medieval town of Melk and it's famous Melk Abbey. It is the most amazing and massive abbey ever. The baroque church is the most ornate and guilded church I have ever seen. Everyone entering the church could be heard exclaiming 'Wow'! The photos do not do it justice.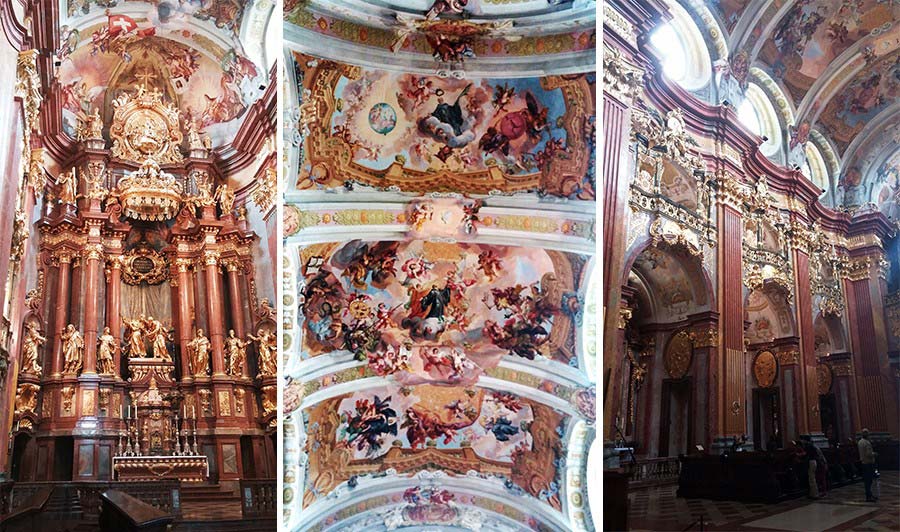 The cruise covers the most scenic part of the Danube. It is so beautiful it is UNESCO protected. Below you can see the castle above the town of Dürnstein where Richard the Lionheart was imprisoned at one time. Why not enjoy an apricot schnaps while on board! This is apricot land!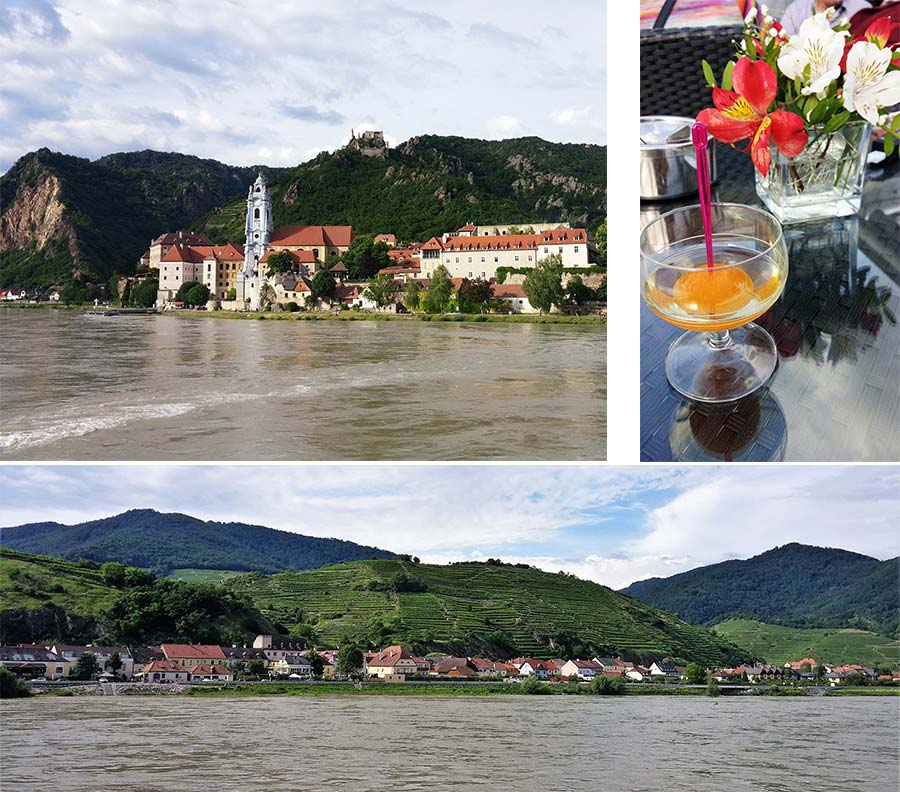 Our last stop was the pretty town of Krems, known for the cobbled stoned streets and architectural charm. A great town to just wander and get lost in.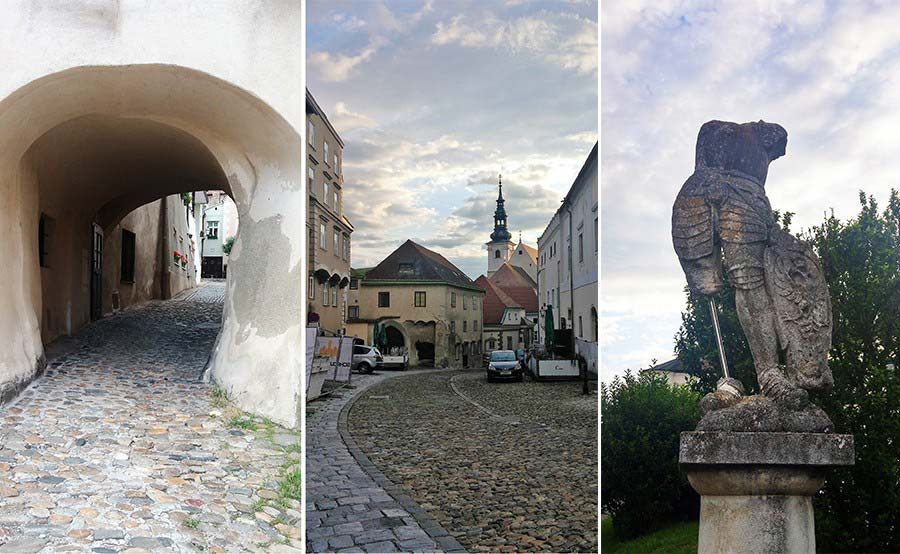 Meet the Punschtorte
So we ran out of time to buy lunch before catching our ferry. The best we could do was settle for a lunch of pastries, a terrible shame 😉 Yes we bought 3 pastries each. One of my choices was this bright pink Punschtorte cake. And boy does it ever pack a punch!
It was the very best pastry I have ever eaten in my life and it cost me 2 Euros. It is so citrus-y sweet your jaw feels like it will unhinge and you will literally bounce of the walls. The citrus-y boozed interior will get you tipsy after one piece (not kidding)! And at the end you will feel like you had an orgasm. Not a foodgasm, an actual orgasm.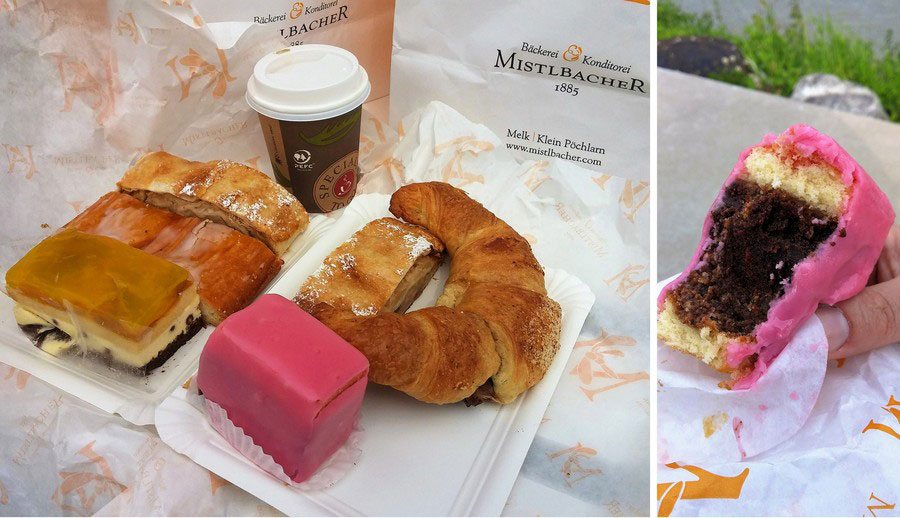 I knew for sure I had to make a Punschtorte when I got back home. Finding a recipe was not easy. There are not that many online and 90% of them are in German. No two recipes are alike and none on it's own would replicate what I tasted. So I combined about 7 recipes into this Evelyne's Punschtorte creation.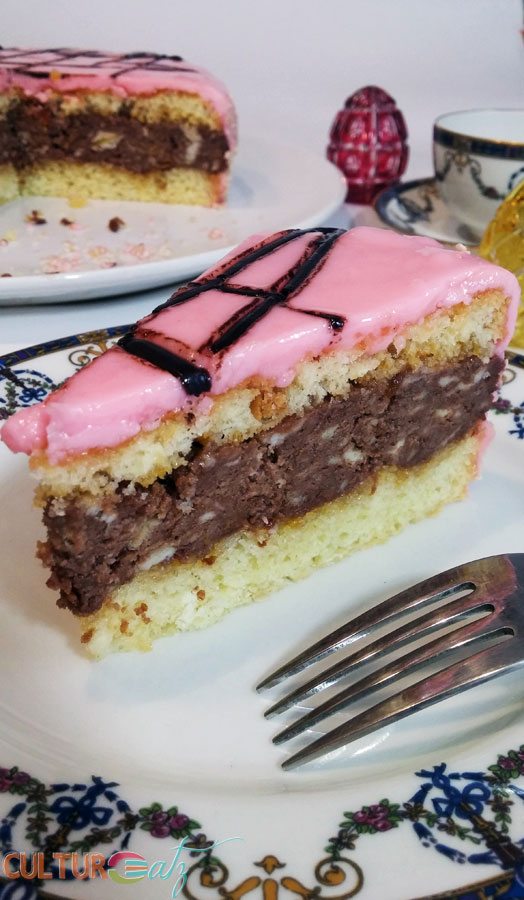 A note on the icing
So you really want a thick yet flowing fondant icing. The recipes I read all say this is the tricky part. Many end up with a thin icing. How do you know when to stop adding liquid? Check out this pic below. If the icing looks streaky and breaks when you stir it, yet settles smooth once left alone, you should be good. Add you color before the water! If you do not have enough for the sides, they can be finished off with slivered almonds. I had none so resorted to sesame seeds.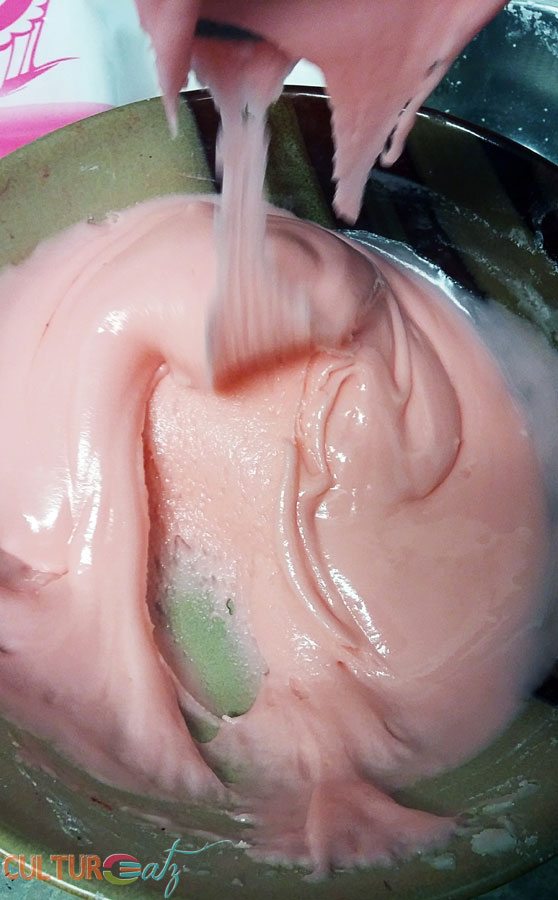 The result was almost the same, it was very close. Next time I would double the filling, add a bit more rum, and double the icing to cover the whole cake. There was one section of the cake that was the same taste: the upper and outer part of a slice where you get the most icing and filling in one bite.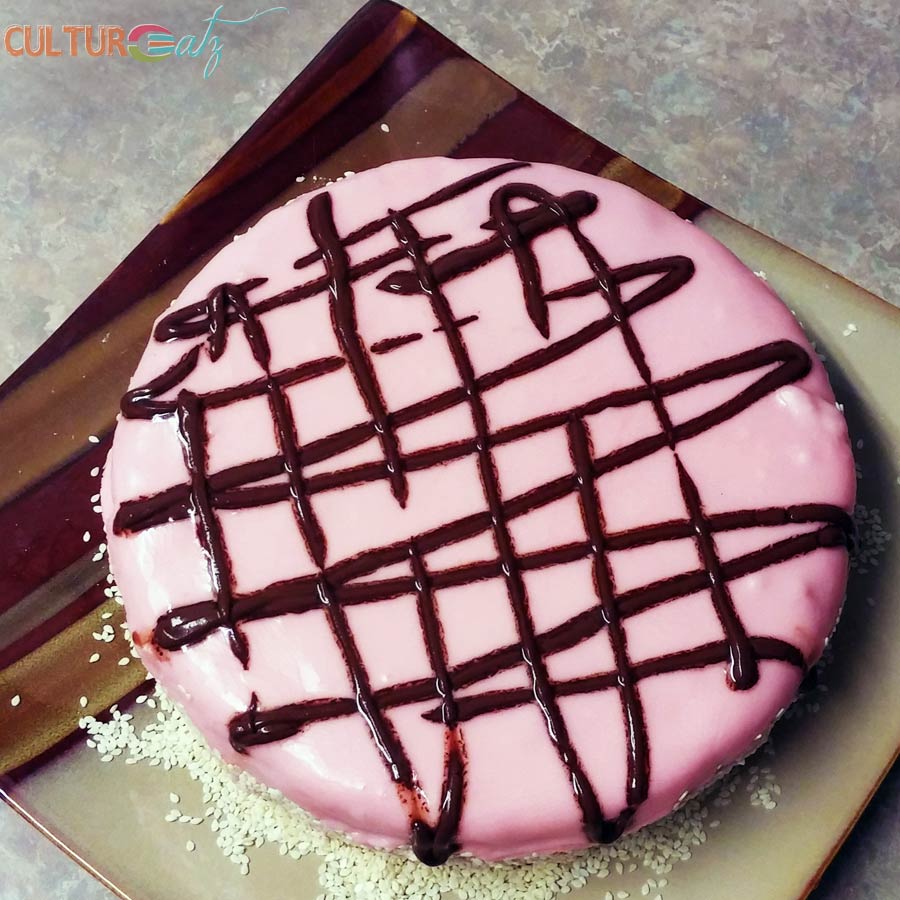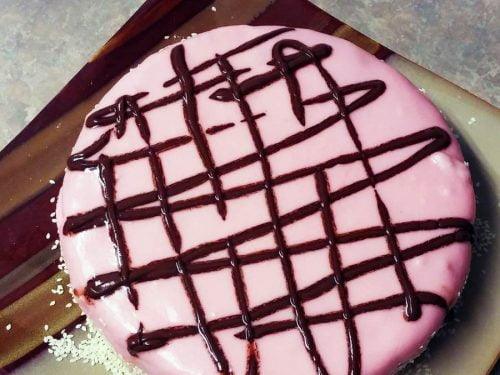 Evelyne's Punschtorte
Ingredients  
For the sponge cake
3

eggs

1/2

cup

sugar

1

cup

self-raising flour
For the filling
3

tablespoons

lemon juice

1/2

cup

orange juice

100

gr

3.5 oz apricot jam

1/3

cup

cocoa powder

3/4

cup

Rum

400

gr

15 oz ladyfingers, shredded or cut in fine cubes

100

gr

3.5 oz apricot jam, for brushing
For the icing
3

cups

icing sugar

2

tablespoons

lemon juice

2

tablespoons

rum

3

drops red food coloring

1-2

tablespoons

hot water

more or less
Instructions 
Preheat oven to 350º F/175º C. Butter and flour an 8 inch round spring form cake pan. Whisk the eggs and sugar until very fluffy. Fold in self-raising flour delicately and pour into the cake pan. Bake for 30 minutes, or until the top of the cake springs back when lightly pressed. Cool completely in the cake pan on a baking rack. Slice the top off to make it even and slice horizontaly in 2.

Heat to a quick boil in a saucepan the lemon juice, orange juice, apricot jam and cocoa powder. Remove from heat, add rum and leave to cool. Mix with the ladyfingers.

Place bottom sponge layer back in cake pan and brush with half the apricot jam. Spread the filing evenly on top and press down slightly. Brush with the remaining apricot jam and cover with the top layer of sponge cake. Cover and let stand for at least 3 hours to overnight and remove from cake pan.

Place icing sugar in a bowl. Mix lemon juice and rum together and slowly mix in with sugar. Add the red food coloring till you get a nice bright pink. Now add a little of the hot water at a time until you get a a streaky mixture when mixed but a thick smooth texture at rest. Pour over cake on a wire rack, starting in the center and moving out in a circular motion. Smooth sides with a spatula. Leave out to set and serve.
Notes
Tip: use a cheese grater to shred the ladyfingers - Make self raising flour: mix 1 cup -1tbsp of plain flour, 1.5 tsp baking soda and 1/4 tsp salt
So there you go! It took me a few months and 3 posts to tell you about my 2 week 2016 vacation. I hope it was worth it and that noted a few vacation and culinary discoveries.
Missed my other posts? Check out Part 1 of my trips pics, which includes the southern Austrian country side, Vienna market and Buda, and Part 2 of my trips pics, which includes a look Budapest and it's Jewish Heritage. And check out my Erdäpfel Vogerlsalat made with the unique Styrian pumpkin seed oil.