Mapo tofu is a popular dish from the Sichuan region of China that's made up of meat and fried silken tofu cooked in an aromatic, spicy red sauce. But you can also make Mapo Tofu by substituting chopped mushrooms for the meat to create a vegan alternative!
Fancy trying some Chinese recipes that are vegan? If so, you need to try this amazing recipe for Mapo tofu. The classic Sichuan version is made with tofu plus ground pork or beef! Are you looking for amazing vegan Chinese recipes? By switching up the meat with loads of chopped mushrooms, you can now enjoy the ultimate vegan Mapo tofu recipe while maintaining the spicy heat from classic Sichuan recipes.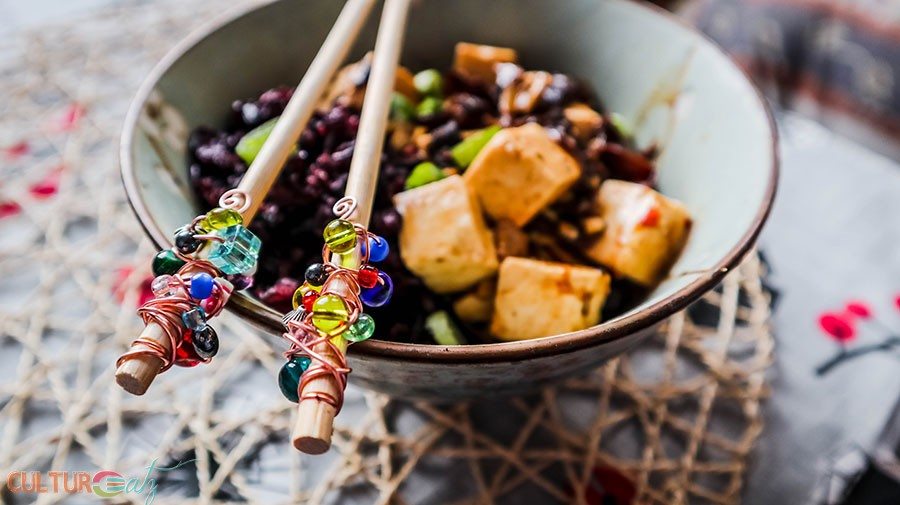 And I have quite the bonus for this blog post with a tutorial on how to make decorative chopsticks and a wiring project for those who have trouble eating with chopsticks.
Exploring Authentic Sichuanese Recipes
Ever since my trip to China, I am always on the hunt for great authentic Chinese recipes and I just found one that is so delicious and easy to make! This Mapo tofu recipe has a spicy kick you will love. It's almost as good as an authentically made dish from some grandma in China, but with my own twist – which makes it vegan-friendly too!
Speaking of real authentic Chinese food, I once read a wonderful book specifically about Sichuanese cuisine. Well, it is actually the story of the author, Fuchsia Dunlop, an English foreigner who lived in Chengdu, the capital of the Sichuan province, and learned the local cuisine in and out. I think many people have a misconception of Sichuanese dishes, so I wanted to share this passage, her reaction to this statement:
"Outsiders, Chinese and foreign, tend to stereotype Sichuanese cuisine as being simply 'hot and spicy'. It's a gross oversimplification. What really distinguishes Sichuanese cookery is its mastery of the arts of flavor. Sichuanese chefs delight in combining a variety of basic tastes to create dazzling fu he wei (complex flavors)".
If you want to check out the book it is called Shark's Fin and Sichuan Pepper: A sweet-sour memoir of eating in China, click here to see more information on this book. Funny enough, the author mentions Mapo tofu in the book.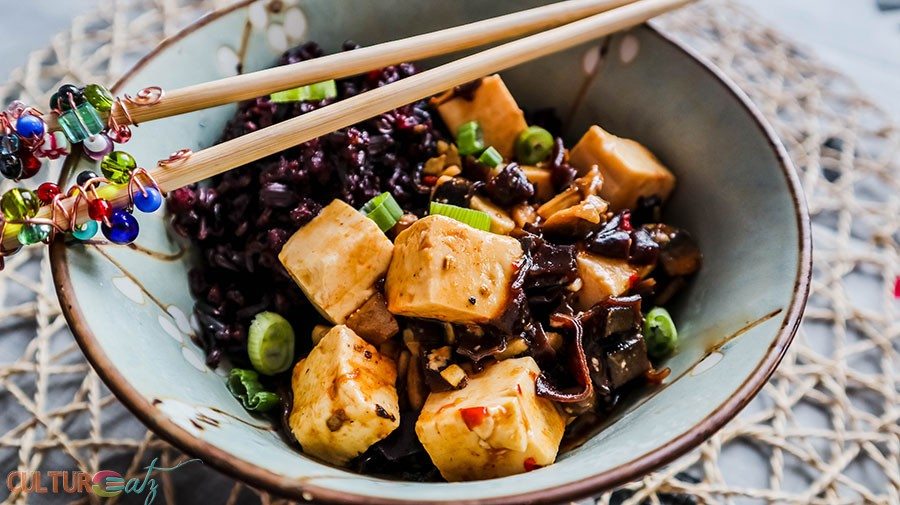 What does Mapo tofu mean?
As I was researching Sichuan Mapo tofu recipes I came across an English translation, which is pretty hilarious.  Ma means pockmarks and Po means old woman or grandma. Tofu is beancurd. So Mapo translates to pockmarked old woman beancurd.
I really don't think the dish has any resemblance to this description lol. All I do know is that I fell in love with this easy mapo tofu recipe at first bite. You can serve it with a side of rice. In this case, I used the black forbidden rice. This black rise was so luxurious it was considered only good enough for the emperor, hence the name forbidden to the masses.
Cooking and Wire Craft
I had the pleasure of preparing this dish with my friend and fellow Montreal YouTuber, Heather from Heather Boyd Wire. Heather creates beautiful art pieces with wire. From jewelry to cake toppers, to so much more.
We had decided to collaborate on a video project. She created a tutorial on how to decorate your chopsticks with beads and I have included below a second really cool wire project that holds chopsticks together.  Check out her tutorial here:
How to Make Mapo Tofu, the Vegan way
The thing I love most about cooking is how it forces you to get into the kitchen and experiment with new flavors, textures, and aromas. This dish was no exception!
The Mapo tofu recipe called for soft silken tofu that has been cut into cubes then fried until crispy before being tossed in a spicy sauce made from ginger root, fresh garlic cloves (minced), Doubanjiang (chili bean sauce), miso, Shaoxing wine, and brown rice vinegar.
My vegan version is made with mushrooms. I used a container of plain white mushrooms and also a handful of wood ear mushrooms. You will find them dried in Asian markets and you just cover them with hot water to bring them back to life. They absorb the sauce's flavor and they have a meatier consistency.
And let's not forget the signature ingredient of Shichuan cooking: Sichuan peppers!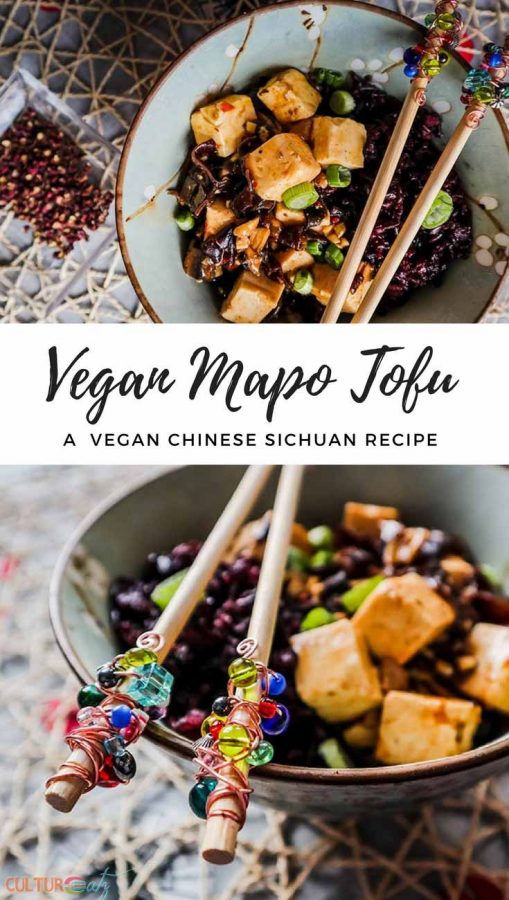 What is Sichuan pepper?
Sichuan peppercorns come from an evergreen tree native only to China's Szechwan province which is why they're sometimes referred to as Chinese black pepper. The berries grow densely clustered at points where branches meet limbs so you might find this spice paired with other dried herbs like bay leaves for instance!
Sichuan pepper is known for its sharp and spicy flavor. The taste of the spice has been described by some people to be similar to black peppercorn with citrus overtones, which can slightly numb your tongue!
Watch my video as I show Heather how to cook Mapo tofu. And I'll show you how to prepare the Mapo tofu sauce recipe so you can learn how to control the heat level for a mild or spicy Papo tofu.
I have to say one of my favorite parts of the video is when you hear Mimi's (Heather's daughter) reaction when she tastes the vegan Mapo tofu.
This vegan Mapo tofu dish is sure to satisfy even the most meat-loving of eaters! But if your friends and family asking "where's the beef?" just follow the recipe below but switch out the mushrooms for one pound of ground beef.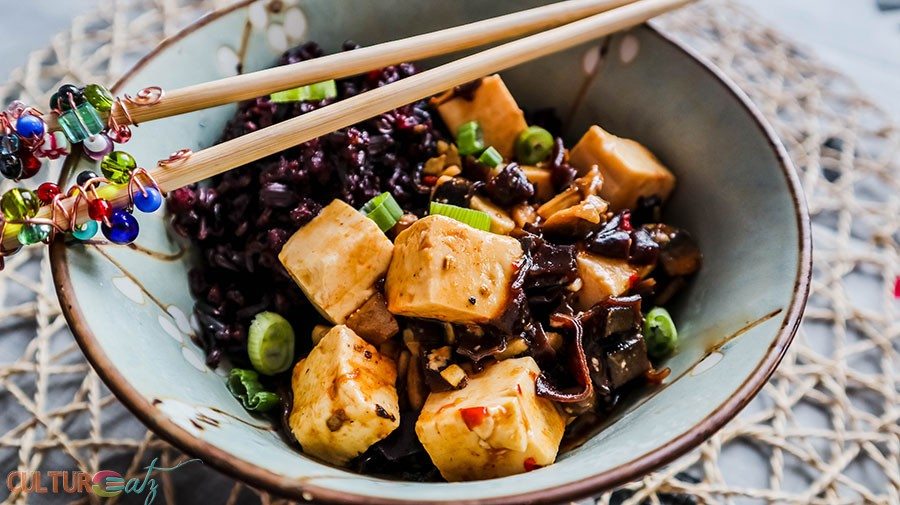 Spicy Vegan Mapo Tofu
Mapo tofu is a popular dish from the Sichuan region of China that's made up of meat and fried silken tofu cooked in an aromatic, spicy red sauce. But you can also make Mapo Tofu by substituting chopped mushrooms for the meat to create a vegan alternative!
Ingredients  
2.5

Tbsp

Doubanjiang (chili bean sauce)

2

Tbsp

Shaoxing wine (or Mirin)

1

Tbsp

miso paste

1

Tbsp

brown rice vinegar

1/2

Tbsp

soy sauce

1

tsp

sesame oil

1

tsp

cornstarch

4

Tbsp

water

2

cloves

garlic

1-

inch

ginger

8

oz

white mushrooms

1

handful dried wood ear mushrooms

1

Tbsp

vegetable oil

14

oz

silken tofu

1

tsp

ground Sichuan pepper

2

green onions
Instructions 
Cover the wood ear mushrooms with boiling water and re-hydrate for 30 minutes. Drain.

Meanwhile, combine all the ingredients for the sauce in a bowl and mix all together. Set aside

Mince the garlic cloves and ginger. Slice the green onions. Drain the tofu and cut into about 1-inch cubes. Cube all the mushrooms into bite-size pieces.

Heat the vegetable oil on medium heat in a large frying pan. Saute the garlic and ginger. When fragrant, add all the mushrooms and cook until tender.

Add the sauce and stir. Bring to a boil and lower heat to a simmer. Add the tofu and Sichuan pepper, and gently stir to coat with the sauce. Simmer for a couple of minutes.

Serve with a side of rice and top with the sliced green onions.
PIN IT FOR LATER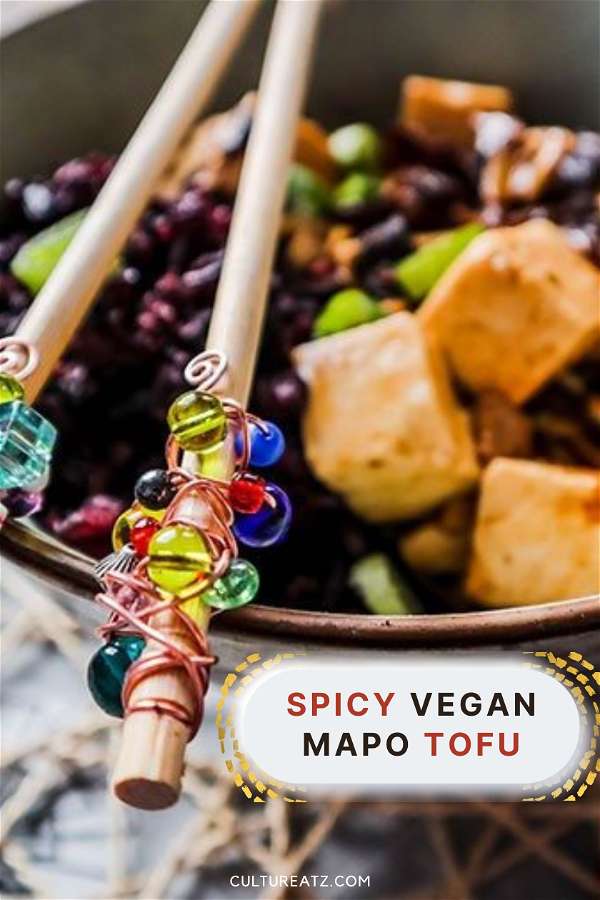 Check out all the wonderful Chinese dishes prepared by fellow Eat the World members and share with #eattheworld.
Click here to find out how to join
and have fun exploring a country a month in the kitchen with us!
Culinary Adventures with Camilla:
Scallion Pancakes
Pandemonium Noshery:
See Ji Tan – Chinese Lion's Head Meatballs
Amy's Cooking Adventures:
Homemade Fortune Cookies
CulturEatz: Easy Spicy Vegan Mapo Tofu
Magical Ingredients:
Biang Biang Noodles
Kitchen Frau:
Kung Pao Chicken
Sneha's Recipe:
Quick Pork Fried Rice
Making Miracles
Zucchini Stir Fry
Sugarlovespices:
Authentic Sichuan Mapo Tofu Recipe
A Day in the Life on the Farm:
Lettuce Wraps
Here are a few more authentic Chinese recipes for you to try: