Do you think that making Swedish Cured Salmon Gravlax is a long and complicated process? Nothing could be further from the truth. I'll show how to make your own gravlax at home.
I just love a pot-luck. Don't you? And with the great summer weather approaching it would be even better to take this feast outside. I have a vision of a checkered tablecloth lying on the grass, a few chilled bottles of wine and a magical array of delicious dishes. My contribution is a lovely sliced up slab of Swedish Cured Salmon Gravlax.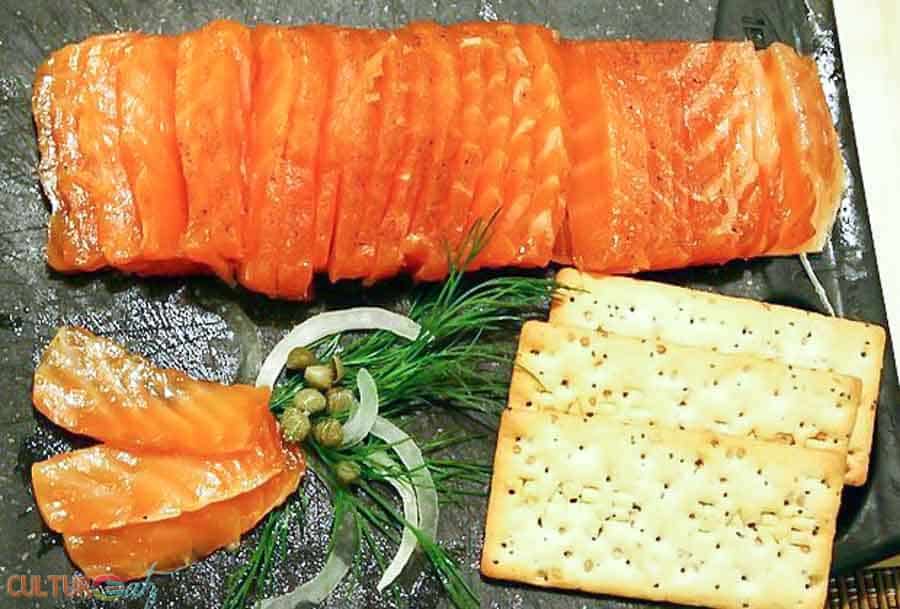 Swedish Cured Salmon Gravlax
When I think picnic I think of foods that preserve well. Even with a few ice packs, it can be hard to control the freshness of the dishes. Preserved fish fits the bill perfectly. This technique was invented by the fishermen of the Scandinavian countries during the Middle Ages. They would bury the salmon in the sand by the ocean.
Today this dish consists of  'burying' the raw salmon with salt, sugar, and dill. The cured gravlax is usually served with dill and mustard sauce, either on bread or with boiled potatoes.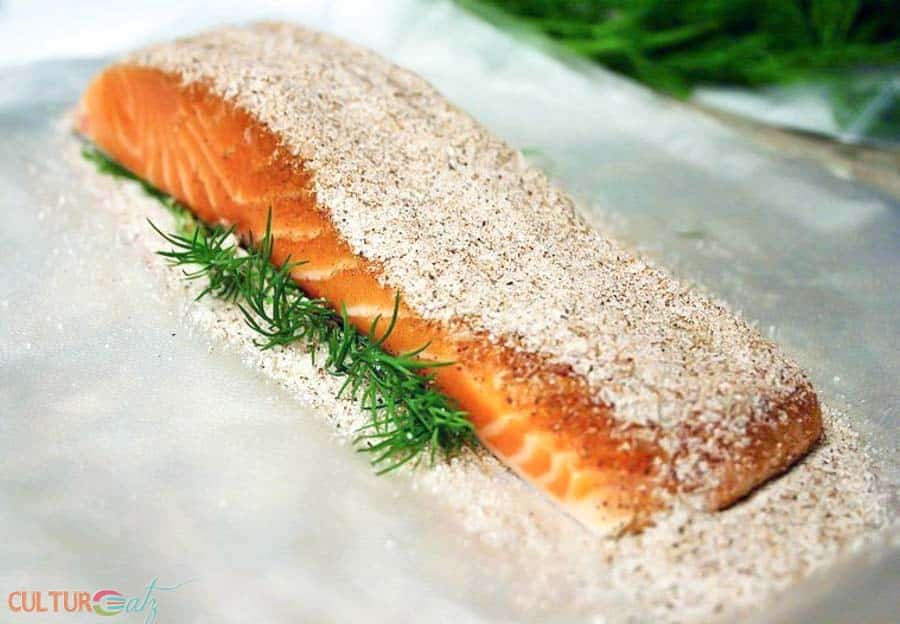 Lox vs Smoked Salmon vs Gravlax
Real lox is made exclusively with the belly of the salmon. It is brined for weeks in salt. Smoked salmon can be made from any part of the fish. it is salt cured and then cold smoked. Gravlax is similar to Lox but with the addition of spices and it is weighed down while it is being cured.
When I saw this recipe on Not Quite Nigela I immediately bookmarked it for a future day. I am so fascinated with the idea of curing meats at home and I have dabbled a little bit already, such as this cured pork tenderloin. This was my first with Swedish Cured Salmon Gravlax. I kept Lorraine's recipe as is, just perfect.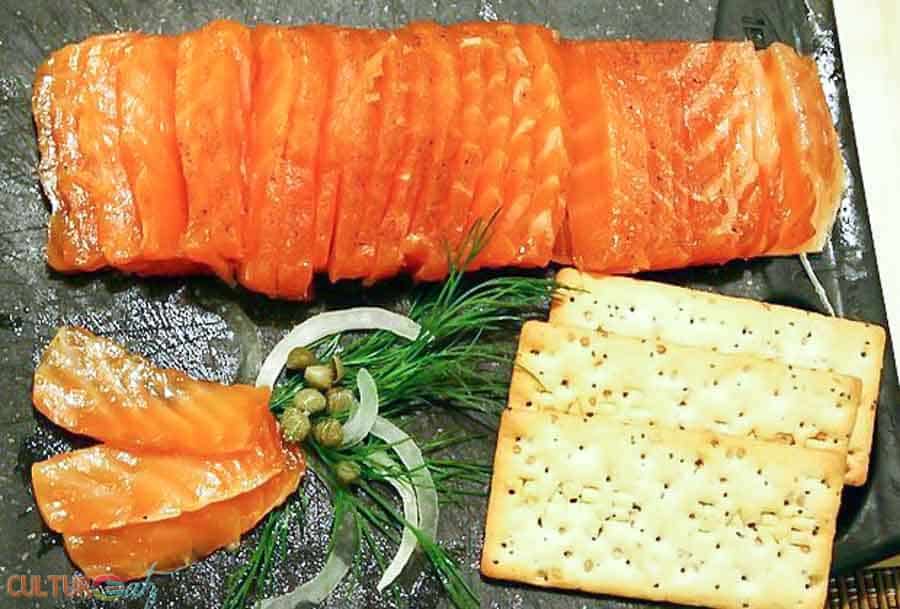 Cured Salmon Gravlax
A perfect recipe for cured salmon, or gravlax, based on the Scandinavian technique of burrying the salmon in the sand by the salty ocean.
Ingredients  
500

g/1 pound centre fillet salmon with skin on

3

tablespoons

salt

2

tablespoons

white sugar

1

tablespoon

pepper

1

tablespoon

smoked paprika

optional

1/2

bunch of dill
Instructions 
In a bowl, mix the salt, sugar, pepper and paprika if using. Lay out two large sheets of cling wrap on a tray. Check the salmon for tiny pin bones by running clean hands over the flesh side of the salmon and removing with tweezers.

Spread out half of the dill fronds onto the surface of the cling wrap and then lay out half of the salt and sugar mixture. Lay salmon fillet on it and then sprinkle with the remaining half of the salt and sugar mixture and then the rest of the dill. Wrap very well ensuring that there are no holes-use more cling wrap if needed.

Place on the tray in the fridge and weigh down with cans. Turn twice a day and do this for 3-4 days. When ready, unwrap and remove the dill and salt and wash gently under icy cold water to remove excess salt.

Slice thinly with the grain with a good knife.Serve with sour cream and/or fresh dill, finely sliced onions and capers. Don't forget the crackers.
PIN IT FOR LATER!