If you love food and travel then you will be absolutely delighted and salivating by the end of this article. Below, I asked travel bloggers to share their best meal while traveling. Warning: you will get hungry!
It has been my goal on this blog for 12 years already to prepare recipes from every country on our little planet. I just love traveling through my kitchen but nothing beats the first-hand experience of discovering a local dish while you are traveling somewhere around the world. If I asked you what was the best meal while traveling you ever had, I am sure you could answer right away.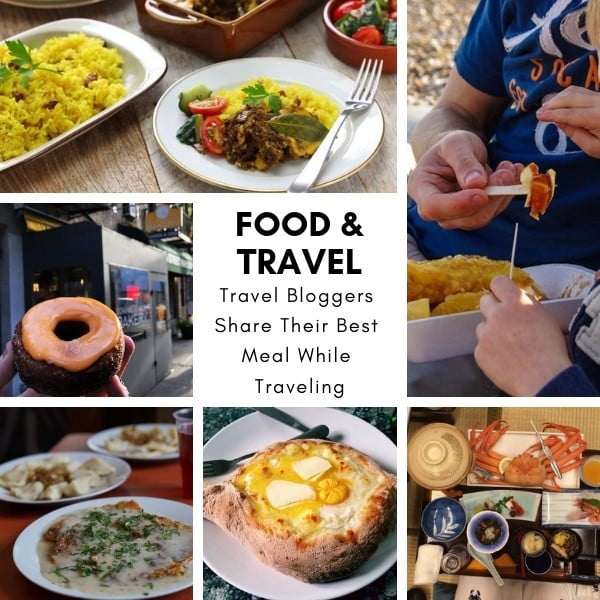 Since I just love to travel as much as I can, or as much as a full-time job will let me, I have started recently to write travel guides as well as my recipes. It makes perfect sense when you think about it. If you are a foodie, local dishes will be an attraction in itself while on vacation.
When I was in Beijing, I sought out Pekin Duck, I stuffed my face with tapas in Madrid, and I ate all the arepas I could in Colombia. Once home, I even recreated the Punschtorte recipe, BEST FREAKING CAKE EVER, I had in Austria even if I could only find decent recipes in German online. I can't be the only one who puts food first while on vacation, right?
Turns out I am far from being alone. I asked fellow travel bloggers to share with you all their best meal while traveling. It could be a favorite restaurant, a street food, a meal or a dish. The response was so great I had to split the post into a part 1 and a part 2, and we visited 34 countries in all. Check out part 1 here.
Get your passport ready and a big cup of coffee for this 2nd trip around the world with food sightseeing adventures…
Best Meal While Traveling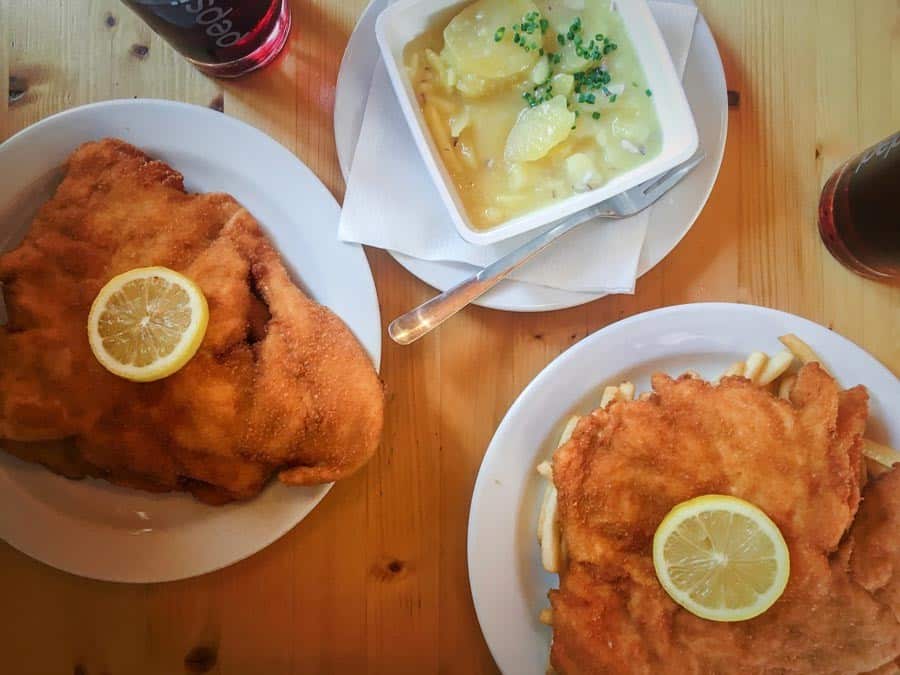 Austria, Vienna – Wiener Schnitzel
A trip to Vienna isn't complete without trying Wiener Schnitzel. This celebrated Austrian dish is the ultimate comfort food. Whenever I return to Vienna, it's the first thing I order. And whenever I'm on the road, it's the first thing I crave.
Traditionally, Wiener Schnitzel is made from a cutlet of veal that has been pounded thin, breaded and pan-fried until golden brown. However, most restaurants offer an alternative meat. You can often order Schnitzel vom Schwein (pork), Schnitzel von der Pute (turkey), or Schnitzel vom Huhn (chicken). For the foodies out there, note that you can only call the dish "Wiener Schnitzel" if it's made with veal, and that's literally the law.
Wiener Schnitzel is typically served with either a Gemischter Salat (mixed salad) or Kartoffelsalat (potato salad). No condiments are served with this dish, so resist the urge to order ketchup (it's hard, I know). The key to eating Schnitzel properly is squeezing lemon over it.
Though you'll find Schnitzel in most restaurants in Vienna, I highly recommend eating it at Figlmüller, or Gasthaus Quell.
By Sabrina, Moon & Honey Travel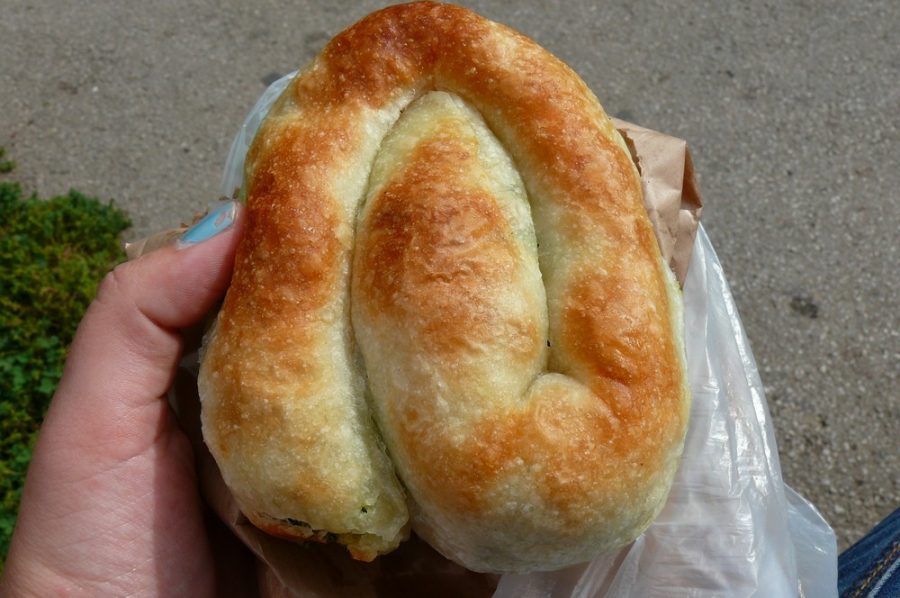 Bosnia and Herzegovina – Burek
No matter where you travel in the Balkans you will find bakeries everywhere. Big cities or small villages – they all have the bakery with the fresh, warm and delicious like nowhere else pastries. But among these goodies, there is one thing you can't miss. It is burek – a filo dough with various fillings.
Usually, you can find bureks filled with meat, cheese, spinach or potatoes. There are also different ways of preparing burek – it can either be done in the big pan and then cut into smaller portions or each piece can be an individually made one. While in most of the countries in the region the pastry is called "burek with…(you just add the name of the filling) you need to be more careful when buying burek in Bosnia and Herzegovina.
Their burek with each filling go under a different name and so the meat one is just burek, the one with cheese is called "sirnica", with spinach and cheese "zeljanica" and with potatoes "krompirusa". Also in Bosnia you can find bakeries that sell burek only – they are called "buregdzinica". Burek, especially served with natural yogurt (that you can buy in the bakery as well), makes a perfect breakfast and will keep you full for a big part of the day. It's also a perfect emergency food for vegetarians as unfortunately, the Balkans isn't the most vegetarian-friendly region you will ever travel to.
By Kamila, Kami and the Rest of the World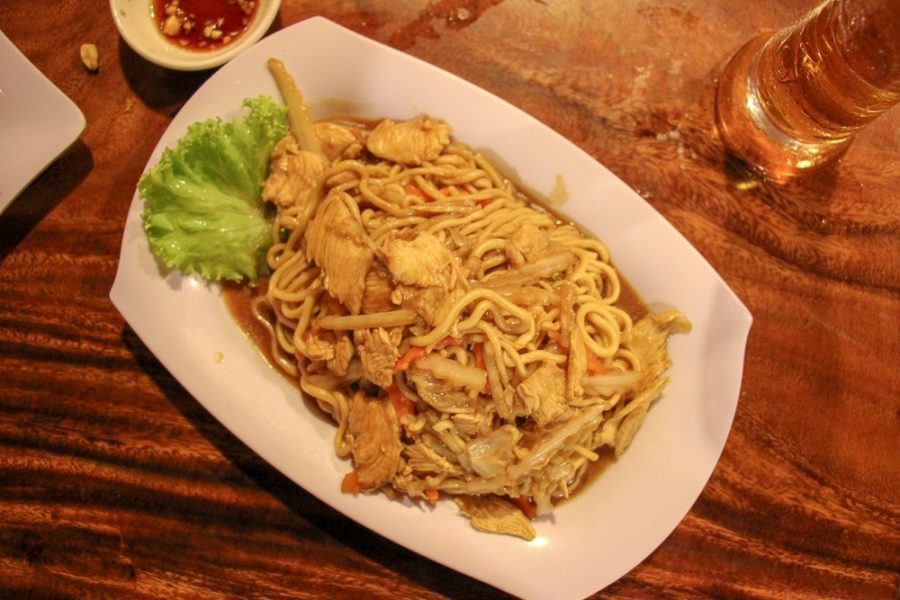 Cambodia – David's Noodles
In Phnom Penh, Cambodia there is no shortage of places to indulge in delicious fare. In fact, there are numerous Cambodian restaurants where you can feast on an exceptional meal. David's Noodles is one of those places. Located in a popular tourist district – close to the riverside by the National Museum of Cambodia and the Royal Palace – the small family-owned restaurant sits on a quiet street, appearing nondescript as a no-frills, open-air eatery. The homey space, in which guests are can relax and linger, is part of the ambiance.
With a focus on local cuisine, the menu includes the full range of classic Cambodian dishes – like Khmer amok, curry, fried rice, and spring rolls. However, as indicated in the restaurant's name, noodles are what they do best at David's. Noodle dishes are prepared fresh, with David (or his young apprentice son!) hand-pulling the noodles right before your eyes. They expertly take a lump of dough, then stretch and pull it to create long strings of noodles, which are then cooked for your requested dish. Watching the process of making the noodles is fascinating – and eating them, whether in soup or with chicken, is beyond satisfying.
What makes eating at David's Noodles even more incredible is the affordable price. The popularity of his noodles – and effort into ensuring each dish is prepared fresh – has not driven up costs. Most meals are priced $3 USD or less and draft beer costs just 50 cents.
By Sarah and Kris, JetSetting Fools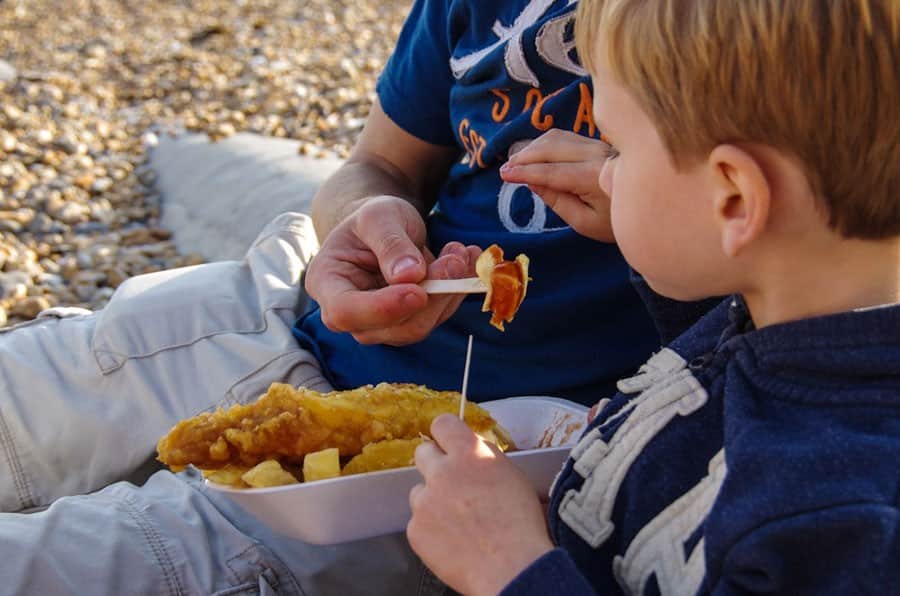 England – Fish and chips
Fish and chips are a very British invention: crispy, deep-fried batter surrounds moist, meaty fish and is accompanied by copious quantities of fat chips. For a really authentic experience, it's important to eat fish and chips by the seaside (you get extra points if it's cold/windy/rainy!). You can also smother them in the cheap vinegar that you'll find in the shop and quantities of salt.
In days gone by, fish and chips were served wrapped in older newspapers. Health and safety concerns have banned this practice and you'll probably get your fish and chips wrapped in white paper or perhaps in a polystyrene box.
We enjoyed fish and chips at the end of a sunny day on Brighton beach, in the south of England. Eating deliciously greasy chips covered in vinegar and salt was a highlight of the day!
Fish and chips are an important part of British street food culture; don't forget to try them on your next visit to the UK!
By Clare, Epic Road Rides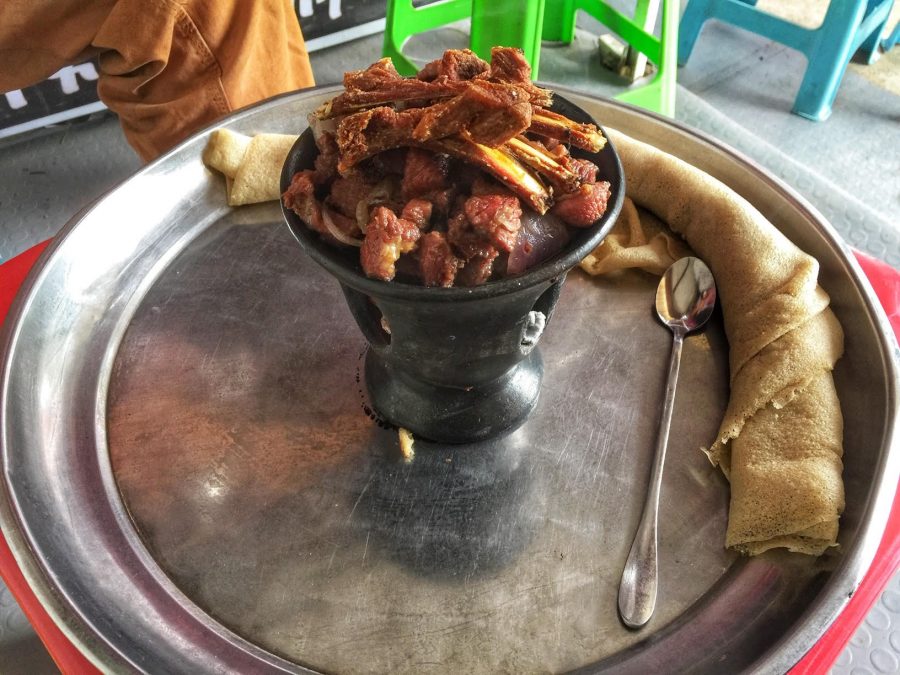 Ethiopia – Shekla Tibs
There's a lot of famous foods in Ethiopia, from their tef bread injera to various vegetable dishes. However, while often Ethiopia is known for its large bread and sampling of small vegetable dishes, meat is a very popular choice for many locals in the country.
You'll find raw meat dishes such as Kitfo to cooked meat such as tibs. One of my favorite street food varieties is the Shekla Tibs. Piping hot cubes of meat and vegetables cooked inside a clay pot. Tibs are various types of cooked meat (lamb, beef, etc) while the shekla part comes from the clay pot that it is cooked/served in.
You'll find this in many different markets and local food establishments, usually cheap and served very hot. Perfect for a quick meal or snack while out exploring.
By Anwar Yafai, Beyond my Front Door
Did you get your FREE PRINTABLE yet?
Surprise! Never know what to pack when getting ready for a trip. I got you covered with my Ulitmate Packing Checklist. Click here to get your FREE Ulitmate Packing Checklist right now!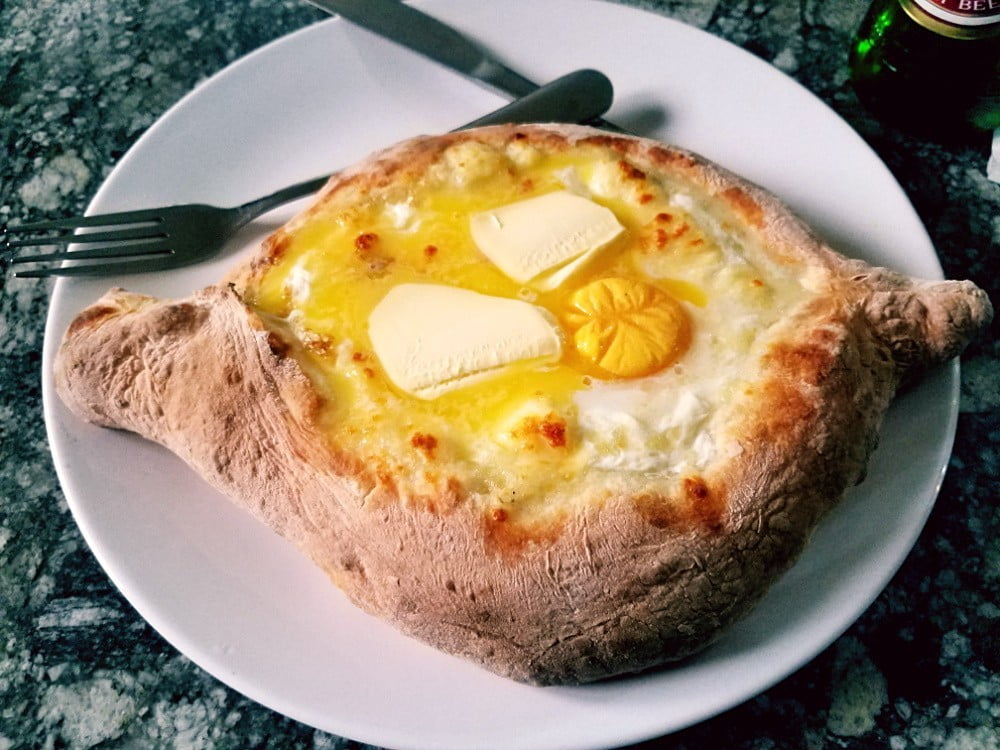 Georgia – Acharuli Khatchapuri
Have you ever been to Georgia? Not Georgia the state but the beautiful culture-rich country on the Black Sea between Turkey and Azerbaijan? If you haven't, you should, and I could give you a million reasons, but let's stick to this one food. This is acharuli khatchapuri, or a cheese bread boat. Khatchapuri is the general term in Georgia for all different types of cheesy bread, and each region claims their own unique version of it. Honestly, I haven't found one I don't like!
Adjara is a region in southwestern Georgia on the Black Sea and contains its second largest city, Batumi. A Georgian national pastime is to talk about the specifics of traditional foods. Therefore, I'm assured by Georgians all over the country, the best place to experience acharuli khatchapuri is the Laguna Restaurant in Batumi.
I've now eaten there several times and enjoyed every. single. bite. I can hear you now saying, "What!? There's a raw egg floating in the center!" That magnificent homemade bread boat is baked with Georgian cheese and butter then an egg is broken in the center, and it's whisked out to your table. You have to use your fork to mix up all the insides together, and the egg cooks as you do this. It is so worth the splurge, and you will thank me even if you can only eat about a third of it. I always get a Borjomi sparkling mineral water to go with it, and it's sheer perfection!
By Lauren, Explorer Momma
Check out this Georgian Cuisine Mega Guide if you want to discover more Georgian dishes.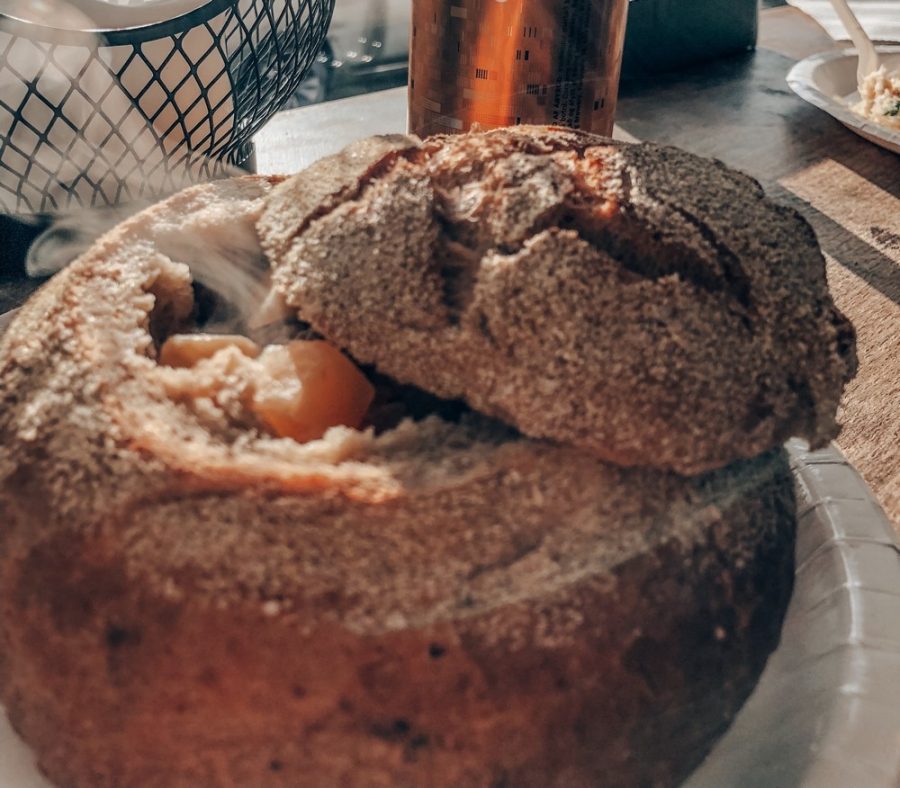 Iceland – Icelandic lamb soup at Icelandic Street food restaurant
Icelandic Street food restaurant is located in Downtown Reykjavik, in Iceland. This restaurant serves local delicacies like Icelandic lamb soup and cod-fish with mashed potatoes called Plokkfiskur. This restaurant is unique as it serves homemade and traditional recipes. It is also an "all you can eat" style restaurant.
One of the popular dishes of this restaurant is their lamb soup. This soup is made of local lamb and organically grown vegetables. It is a healthy food and is also mildly spiced. The WOW factor of this traditional Icelandic lamb soup is that it is served in a bread bowl. And for the same price as many other regular restaurants, you can get as many servings as you like. You also have an option to buy a cup of soup for cheaper – an option not readily available in other restaurants. So, when you are in Iceland next, try this lamb soup.
By Mayuri, To Some Place New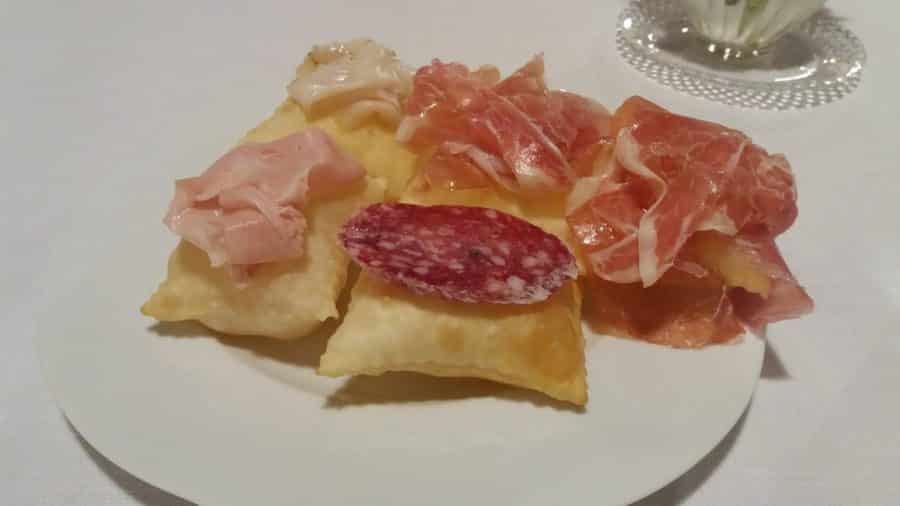 Italy, Modena – Hosteria Giusti
The Emilia-Romagna region of Northern Italy is often lauded as the country's gastronomic heart. Home to such famous exports like prosciutto di Parma, Parmigiano Reggiano, balsamic vinegar, and countless other delicious things, there is no shame in traveling to this amazing region solely to eat.
If you are looking for one of the best food experiences in Emilia-Romagna, then you absolutely cannot go wrong with having a meal at the famous Hosteria Giusti in Modena. This small establishment is often considered to be one of the best restaurants in Italy. Situated behind a rather inconspicuous deli, Hosteria Giusti only has four tables and is only open for lunch.
They have a simple, seasonal menu that dishes out traditional dishes from the Emilia-Romagna region and it is easily the best place to sample this fantastic cuisine. Some menu items include gnocco fritto with local salumi, delicious handmade tortellini in brodo, and other traditional Emilia-Romagnan pastas and meat dishes.
Tables for Hosteria Guisti book out months in advance, so if you want to work in a meal at this incomparable restaurant as part of a Modena day trip or longer holiday in the beautiful city, then make sure to plan ahead. You will not be disappointed!
By Maggie, The World Was Here First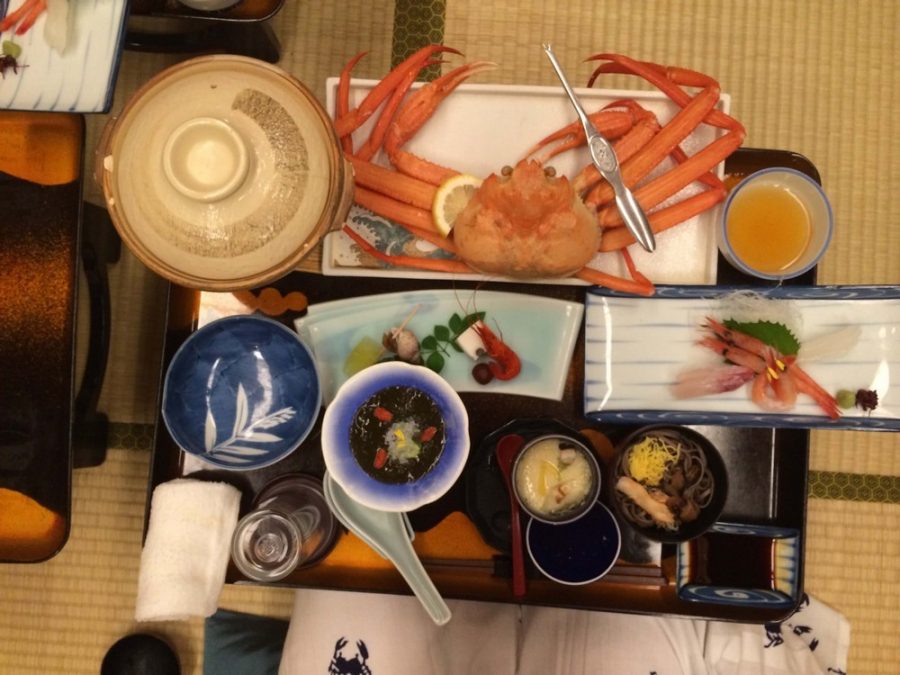 Japan – Kaiseki Ryori
Kaiseki Ryori is a regionally specialized meal of many dishes served in the traditional Japanese Inn, the ryokan. What makes it unique is that it's served in your traditional Japanese room. Tatami matting on the floor, cushions, low chairs and tables – and if you get fully into the spirit of it, you'll be wearing a yukata robe as well.
The Kaiseki Ryori was served to us as we stayed in a ryokan in the onsen town of Kinosaki. Presentation for Kaiseki Ryori is immaculate and elaborate, although you usually only get a small taste of each. We had 15 dishes in our Kaiseki Ryori – from sashimi to snail to miso soup. There was tempura, Japanese pickled vegetable, a Japanese hotpot that we cooked on our small tables, grilled fish and, of course, the crab, which was the specialty of our ryokan. Rice is served to signal the end of the meal. We washed all this down with traditional Japanese sake with our meal and then Japanese tea.
By Sarah, ASocialNomad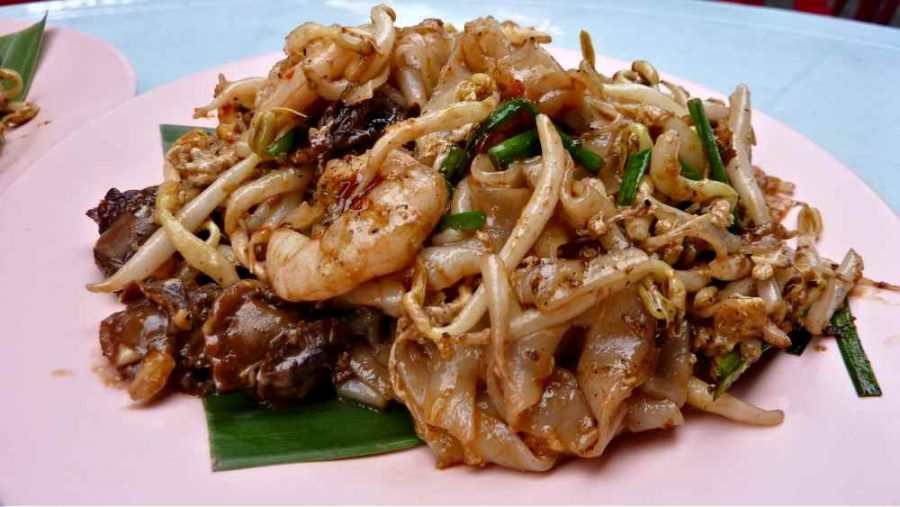 Malaysia – Char Kway Teow
My favorite meal on vacation is the quintessential Malaysian dish, "Char Kway Teow". It roughly translated from the Hokkien language means, "Fried Noodles". It's sold by street hawkers, who typically only sell that one dish.
CKT was essentially born as a "bubble and squeak" peasant dish for laborers. Its ingredients are a hodge-podge mix of typical Asian kitchen leftovers; egg, prawn, Chinese sausage, fried pork lard, fish cake, blood cockles, garlic chives, bean sprouts and – of course – noodles.
So what makes it so special? Well, every CKT seller has his/her own patented "secret sauce", but that's not it. The truth is the frying is where the magic happens.
"Hot wok, cold oil" is the start, then, in order of cooking time, ingredients are thrown into a wok heated to incredible temperatures. The combination of intense heat through seasoned wok imparts a beautiful smoky charring that typifies the dish and creates the perfect intermingling of flavors.
CKT is so memorable because each ingredient contributes to the perfectly balanced flavor and texture profile of the dish. Creamy eggs and crunchy pork lard, sweet prawns and Chinese sausage, briny cockles, charred smoky noodles, and beautiful umami from the "secret sauce" all combine with the freshness of chives and sprouts to make every mouthful a flavor bomb without being overly heavy.
The quest for "best" CKT is every Malaysian's Holy Grail, but while no one can ever agree on the "best", (almost) everyone unilaterally agrees that Penang Island is where the search should begin and end, so pack your bags and go see.
By Paula, Expert Abroad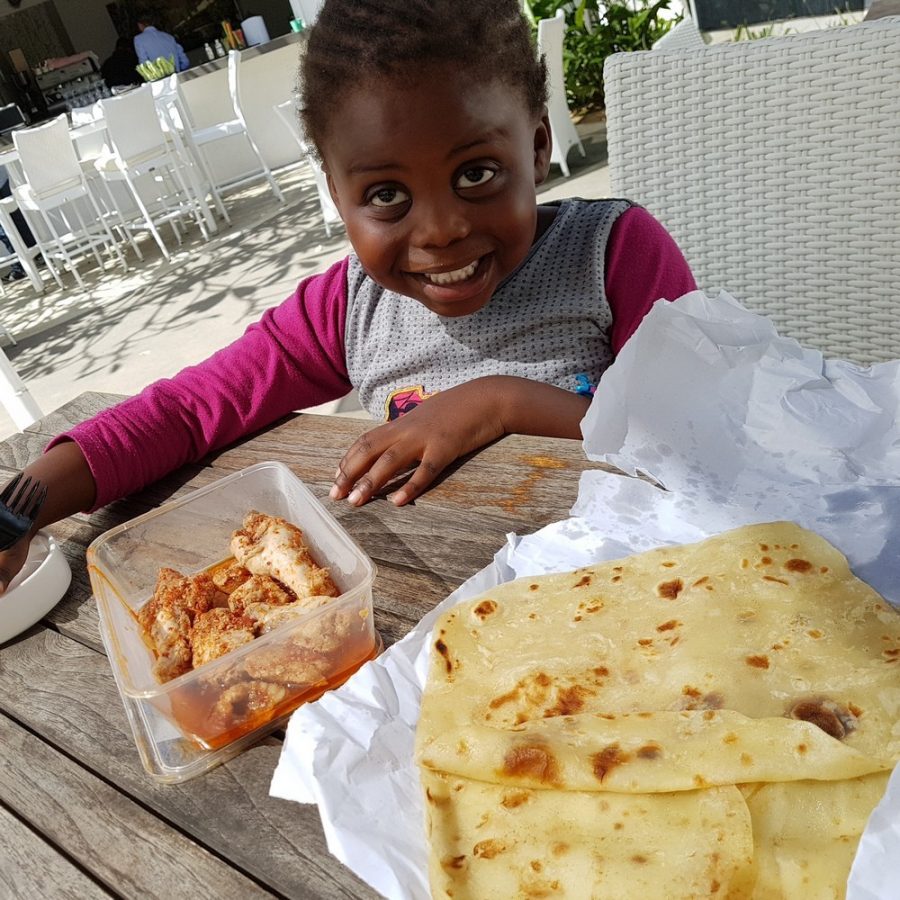 Mauritius – Chapati, Chicken Roti
During our holiday in Mauritius, we had some fantastic chicken roti, also known as chapati. It was deliciously freshly made, not to spicy so that my daughter also enjoyed them very much. Mauritius, in general, was very impressive with regards to food. Because of all the different influences, we could eat croissants for breakfast, roti for lunch and fresh fish for dinner. It is a fantastic destination food wise.
The best chapati we found was at the market in Port Louis which is a fantastic local market with all kinds of food and then there's also a more touristy part. Of course, we looked out for the vendor with the longest cue which always indicates that the food is fantastic. Our roti came with dahl and juicy chicken. I wish I had been able to take a picture of us enjoying this but being a single mom. I didn't have enough hands and there was no seating area in the market.
Then we went for some grocery shopping at a big supermarket, we found a stall where they were also selling roti. Without a doubt, we ordered a few and then sat down to enjoy them. I think I paid about 1 euro for lunch for both of us. It was incredibly cheap which was a bonus.
By Jessy, Planet Pilgrims
Did you get your FREE PRINTABLE yet?
Surprise! Never know what to pack when getting ready for a trip. I got you covered with my Ulitmate Packing Checklist. Click here to get your FREE Ulitmate Packing Checklist right now!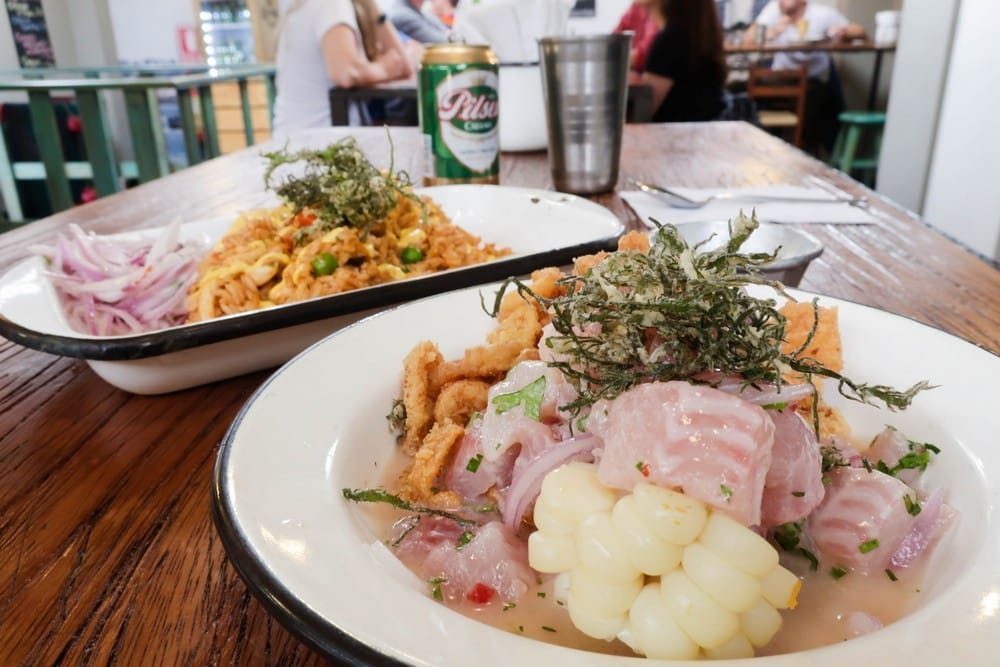 Peru, Lima – Ceviche
Lima is a love it or hate it kind of place, but everyone seems to agree on one thing— its food is unparalleled. During my stay in Lima's Barranco district, I tried as much of it as I could at street food stalls, markets, and restaurants. My most memorable meal? Ceviche at Barra Mar.
Peruvian ceviche is beyond. It's known for being incredibly fresh, thanks to Lima's location on the coast, and my meal at Barra Mar didn't disappoint. Our first dish, a kind of Peruvian fried rice with shrimp and lime, was surprisingly tasty for such a unique combination. But the second stole the show: fresh cuts of fish and perfectly cooked calamari in a citrusy leche de tigre marinade, served over sweet potato and corn and topped with delicate, fried seaweed. The ceviche's textures (soft sweet potato, crunchy calamari, melt-in-your-mouth fish) balanced each other perfectly, as did its sweet, savory, and citrusy flavors.
If you're headed to Peru, I can't recommend enough trying its ceviche. Throw in a bottle of Cusqueña Pilsen beer, and it might be the best meal you try there.
By Dylan, Everywhereish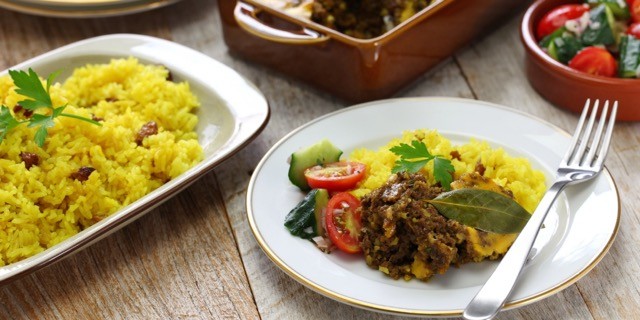 South Africa – Bobotie
My favorite meal I have ever eaten was a dish called bobotie in beautiful South Africa. Bobotie is the national dish of South Africa and is a curried mince dish with an egg topping. It is served with rice, bananas, chutney, and coconut. It has its origins in South Africa from Cape Malay cooking although some say it originated from Indonesia. And it was Nelson Mandela's favorite dish.
Although I make bobotie regularly at home I once was able to order and enjoy this dish whilst visiting Cape Point in South Africa. Cape Point is the most extreme southwestern tip of the African continent.
The Two Oceans restaurant where we enjoyed our meal has superb views over Cape Point and is situated in the Cape of Good Hope Nature Reserve. The two oceans are of course the Atlantic and Indian Oceans. Enjoy a meal whilst taking in some of the most breath-taking ocean and coastal scenery anywhere in the world.
By Tracy, Tracy Travels in Time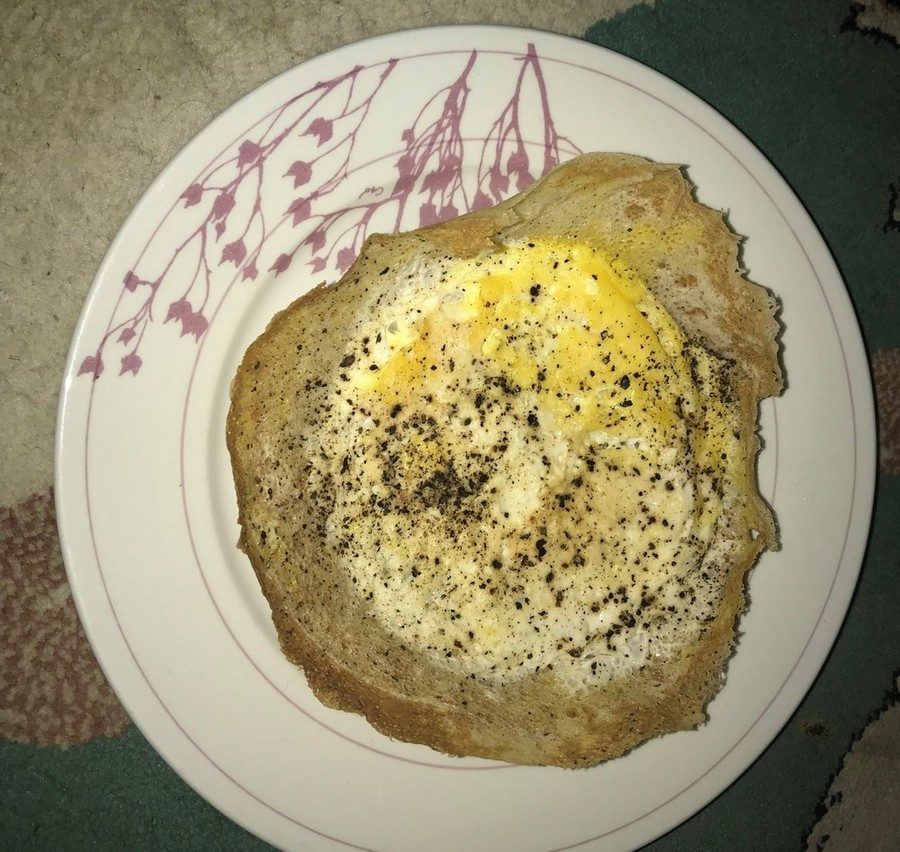 Sri Lanka – Egg Hopper
The street food scene in Sri Lanka is fragrantly exciting with different types of spices and delicious curries. With the curries, locals generally love egg hoppers and puttu for breakfast or as snacks. The popular street food egg hopper is a bowl-shaped pancake made of rice flour and coconut milk with the center filled with a poached egg.
We first had the egg hopper in Negombo in Sri Lanka and then were quite hooked on it. Interestingly, the egg hoppers are made with many variations and every part of the island adds its own flavor to this classic Sri Lankan street food. We were able to find vegetable filled egg hoppers, curd and curry filled versions across the island.
Another interesting variant is the string hopper that looks like nests of rice flour spaghetti which are steamed. The string hopper is traditionally paired with curries and stews.
By Pujarini, MySoulTravels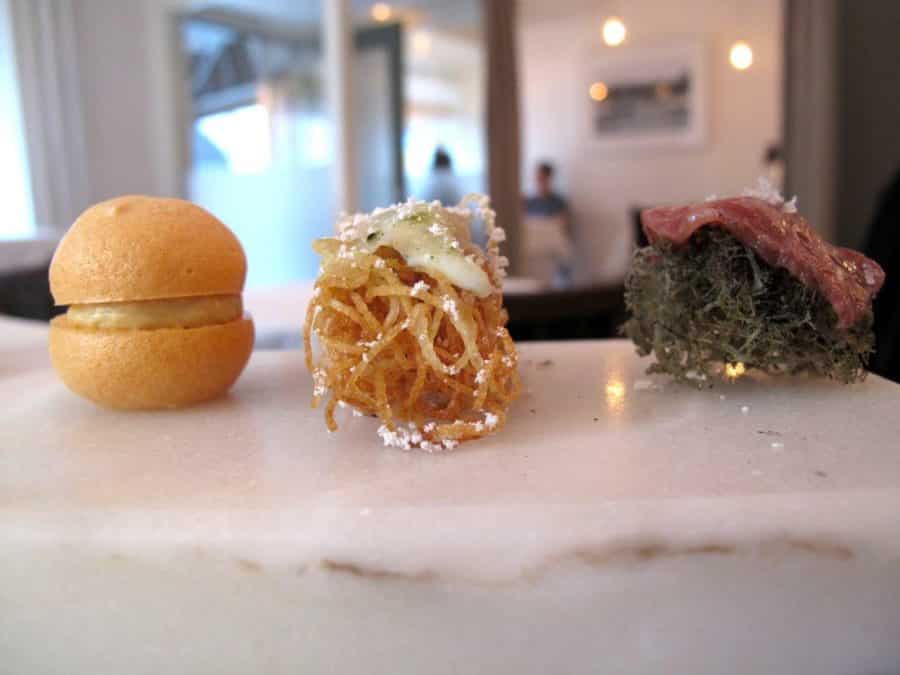 Sweden, Stockholm – Restaurant Frantzen Lindeberg
My first meal in Stockholm was at 2 Michelin Star Restaurant Frantzen Lindeberg, Sweden's most creative and celebrated kitchen. I arrived just before 6 pm and finished up just before midnight. Some 10 wine glasses were emptied and 20 plates sampled over the course of our unforgettable feast.
The dining room is petite and the ambiance simple, with one painting hanging to the right of the chef's table. Each table in the room had nothing but a white linen tablecloth draped over it.
The magic started when my server placed a rectangular box with a sliding glass lid onto our table and said "Welcome to Frantzen Lindeberg. This is the bread we will be roasting over the fire for you later in your meal. We will let it enjoy its second rise in your company." Never had I been given the opportunity to "get to know" my bread prior to eating it. I spent the next hour or so peaking over the glass as the tiny loaf rose at the corner of the table.
The entire dinner was a spectacle. Once the restaurant had filled to capacity I couldn't help but laugh as each table featured the flash of a camera. These were serious culinary tourists. My people, all in one room! Highlights included fresh butter churned tableside, scorched veal under our noses, a salad which was made up of 45 ingredients (and had its own dedicated menu) and an unforgettable verbena sorbet.
By Andrew, DobbernationLOVES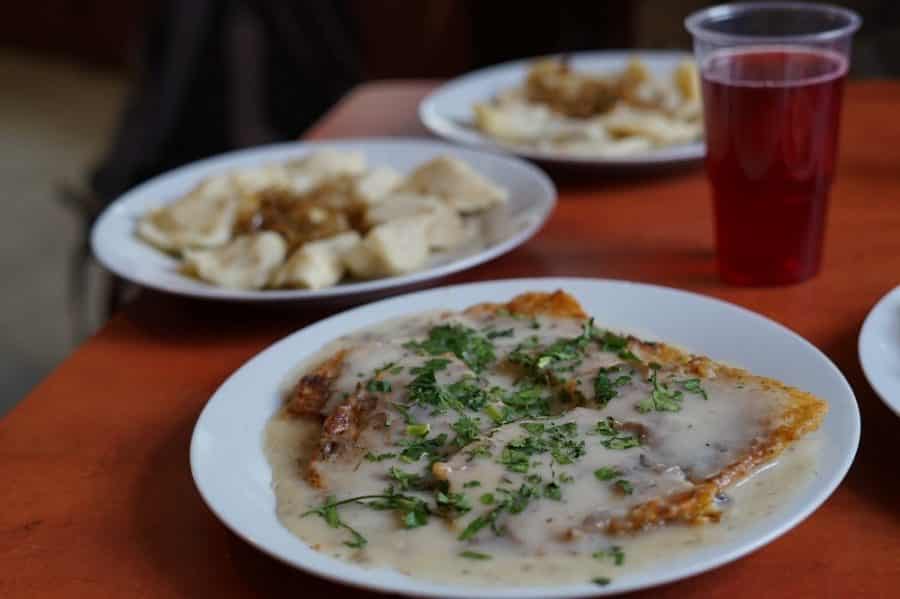 Poland – Polish Milk Bar (bar mleczny)
If you are visiting Poland, you must pay a visit to a Polish Milk Bar or 'bar mleczny' as it is referred to in the Polish language. These milk bars were first opened in the 1890s and aimed to serve relatively cheap and nourishing food (mostly dairy-based) to the local working class. Even today a number of these milk bars remain and are popular jaunts for locals and visitors alike for their low-priced and super-tasty menus. Don't expect any pretentious service here; these milk bars are simple places which have still retained the old world feel and are mostly self-service.
The food served at the milk bars is a hearty and homely fare. In addition to dairy products, milk bars also serve Pierogi (Polish dumplings), omelets and other flour-based dishes. Some popular dishes include Placki Ziemniaczane (pancakes), Borscht (beetroot soup) and Kompot (a compote drink). The food is delicious and as traditional as it can get. Definitely a must-visit not just for the wholesome Polish food but also for the atmosphere/ ambiance which takes you back in time.
By Deeptha, The Globe Trotter
Tanzania – Zanzibar Pizza in Forodhani Gardens
There's no better place to experience Zanzibar's eclectic mix of cultures and exotic spices than Forodhani Gardens Street Food Market. Occupying the prime waterfront spot in Stone Town, Zanzibar's historical capital, Forodhani Gardens is overlooked by House of Wonders and the Old Fort. Every night at sunset street vendors set up their makeshift tables inside the gardens, and before the darkness has fallen, the queues reveal where to find the best treats.
Grilled meat and seafood are abundant, but I'd recommend going for a local specialty: Zanzibar pizza. Meat, chicken, or vegetables are layered on thin dough according to your wishes, and the treat is finished with an egg and a dollop of mayo. Then, the pizza is closed with another thin layer of dough, just like a calzone, and fried. Pair your pizza with freshly pressed sugar cane juice and find a seat between locals, keeping an eye out for the next queue to new wonders. You can even have Nutella pizza for dessert!
It pays to arrive well before sunset to walk around the seafront while the food stands are being set up. Watch how local fishers draw their wooden boats to the shore and boys play at the seawall jumping off to turquoise waters. Zanzibari are proud of Forodhani Gardens, which has gone through significant restoration: it's a charming place to idle away an evening or two.
By Niina, Bizarre Globe Hopper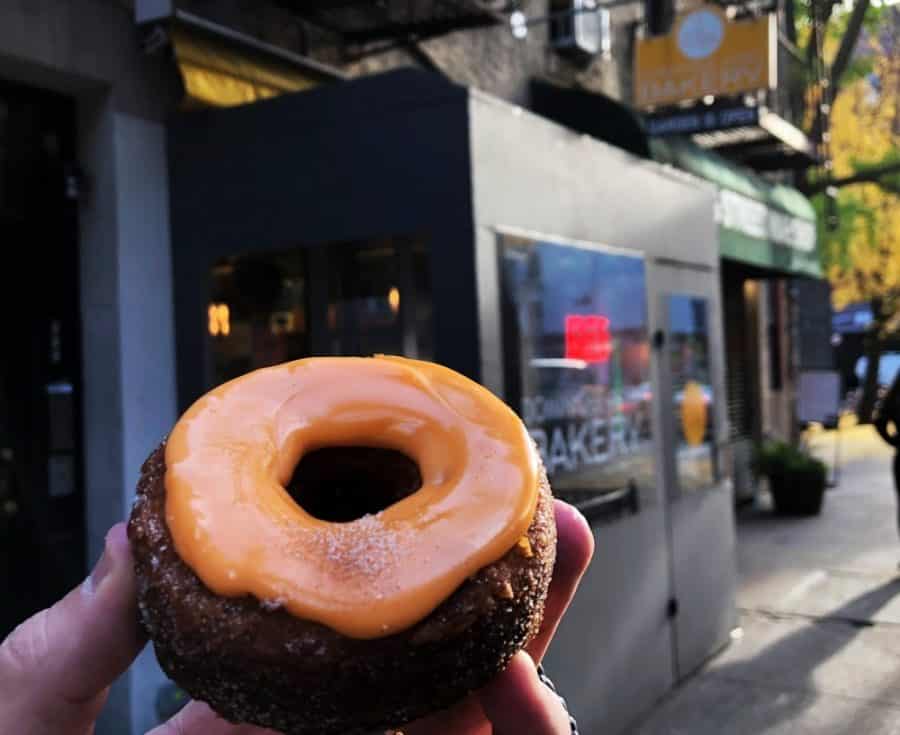 United-States, New York City – Cronut
You can find imitation cronuts elsewhere, but the cronut is one of New York City's must-have food experiences. It was invented in New York City by Dominique Ansel and his bakery in Soho is the only place in the world to get the original and real cronut. I had heard about cronuts – a cross between a croissant and a donut – and was determined to try them.
I had read that you needed to line up before the bakery opened at 8:00 am, but I went there about 8:15 am and there was no line. It cost $6 and was worth every cent. It is delicious! It's shaped like a donut, with flaky layers like a croissant, filled with a flavored creme and topped with ganache. Every bite was a flaky, creamy delight! The flavors vary seasonally – custard and sweet potato when I visited in November. It is worth the early morning trek to Soho for a cronut (they do sell out each day).
By James, Travel Collecting