Food and travel are two of life's great pleasures. Below, I asked travel bloggers to share their best meal while traveling. Check out these tasty bites!
Here on CulturEatz, I have been blogging and preparing recipes from around the world for close to 12 years already. It's been great exploring destinations in my kitchen but nothing beats the first-hand experience of discovering a local dish in the actual country it originates from. Food and travel truly go hand in hand.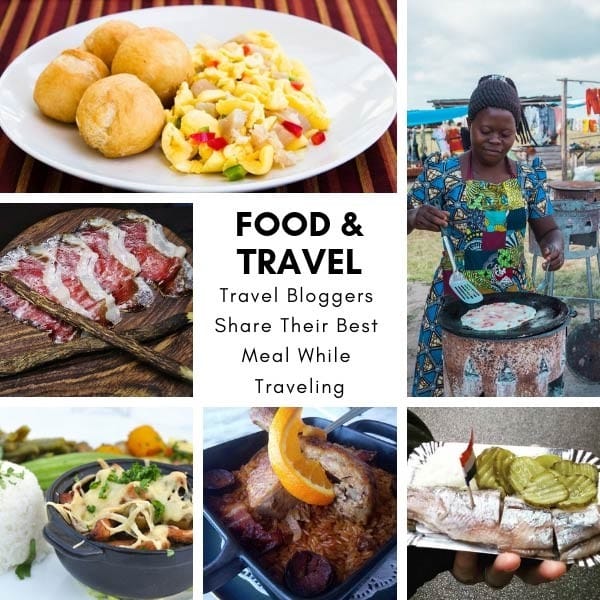 As an avid traveler, I have started recently to write travel guides as well as my recipes. Some regular readers have been thrown off by these new articles of mine, but the two are so intertwined. If you are a foodie you are going to seek out great meals while on vacation.
I have come across amazing tasty treats I never knew existed while on holiday. For sure, I could not have been alone to feel this way. And so, I asked fellow travel bloggers to share with you all their best meal while traveling. It could be a favorite restaurant, a street food, a meal or a dish.
The response was so great I had to split the post into a part 1 and a part 2 and we visit 34 countries. Check out part 2 here.
Get your passport ready and a big cup of coffee for this around the world food sightseeing adventure…
Food and Travel Experiences
Aruba – Keshi Yena
A steaming casserole is not the first dish you'd expect to see when dining at a beach restaurant in the Caribbean. But Aruba is not your ordinary sun and sea destination and Keshi Yena is not a typical dish. But for me, it was one of the most intriguing and satisfying dishes I encountered in my culinary foray through the Dutch Caribbean. I first discovered this unexpected treat while staying in an overwater bungalow at Aruba Ocean Villas, a collection of palapa-topped villas set on the waterfront in Savaneta on Aruba's north shore. Inventive Dutch cuisine is a highlight of a stay at this boutique hotel filled with creative touches. While its possible to dine in an overwater dining room, we enjoyed our evening meals watching the sunset and listening to the waves lap gently on the shoreline.
What exactly is Keshi Yena? It's a classic Dutch dish with humble roots. It was originally developed by households in the Netherlands as a way to use leftover scraps from the kitchen, most notably the rind of a round of Edam cheese. Leftover ground chicken or beef was chopped, seasoned with cinnamon and other spices, spooned into the empty cheese rind and then baked or steamed. This resulted in a round of slightly nutty, melted Edam cheese stuffed with piping hot meat. The dish is also popular in Curacao and Bonaire, as well as Aruba with each region, restaurant and home cook, has their own secret recipe. It's definitely a must-try if you're visiting the Dutch Caribbean!
By Michele, A Taste for Travel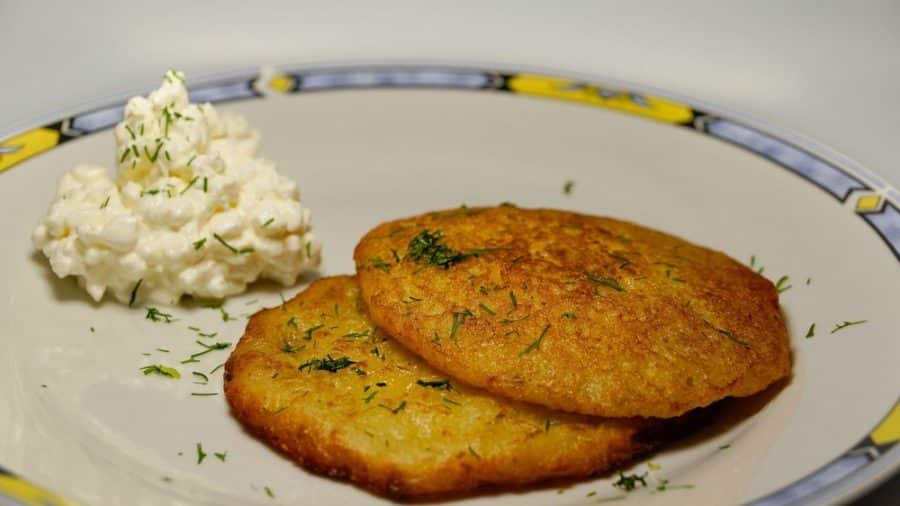 Belarus – Draniki
Belarus is not a very popular place to visit, while it's gaining more and more popularity with the simplified visa procedure (30-day visa-free regime for citizens of over 80 countries compared to a mandatory visa for $60-100 before).
One of the favorite features of Belarus for tourists is the local cuisine. It is delicious!
While in the US or Canada, having a small budget, you'll probably go to burger chains and have some junk food. In Belarus, the delicious and healthy traditional food is even cheaper than eating at McDonald's!
Main ingredients in local dishes are different kinds of vegetables, potatoes, meat, and dairy products. The most common ingredient in Belarusian cuisine is a potato. That's what draniki, the most typical dish in the country is made of.
Here is how these potato pancakes are made: grated piled potatoes (size of the grater can vary, depending on the texture you want to achieve) are mixed with flour and eggs, and then fried in oil. To get rid of the abundant oil, the ready draniki are placed on paper towels and then served on a plate with sour cream.
This is the most typical recipe, but there are lots of varieties of it. Sometimes, you can find draniki filled with meat, bacon, cheese, mushrooms and some other ingredients.
In Belarus, you can order them in numerous restaurants of national cuisine, but also most of the hotels in Minsk (capital city) serve them.
By Roman, Visit Belarus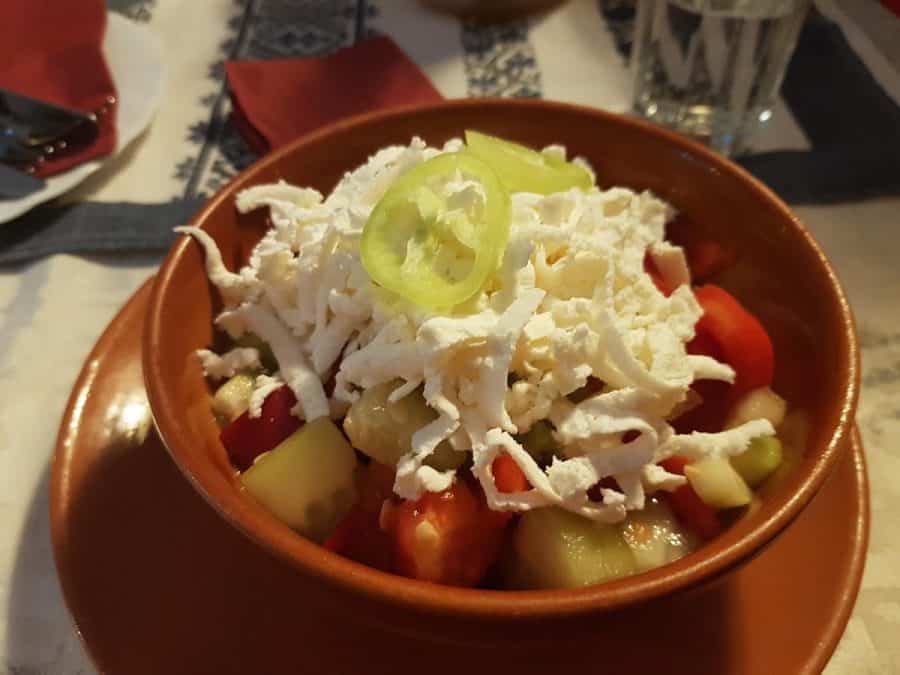 Bulgaria – Shopska Salad
One of my favorite foods I discovered on vacation was shopska salad, a salad that is original to Bulgaria but is also found in other neighboring Balkan countries like Serbia and Macedonia. However, the original Bulgarian shopska salad is the best. Only in Bulgaria do they use the delicious Bulgarian feta called sirene that works perfectly with the salad.
A shopska salad is basically a lightly dressed chopped tomato and cucumber salad with green onion and peppers. Then a thick layer of grated salty sirene cheese on top of everything. This is even more delicious than the similar Greek salad, as the cheese clings to nearly every piece of salad. And the pairing of the salty Bulgarian grated feta with the fresh vegetables is just dreamy. Plus, it's actually quite healthy, full of organic produce, local cheese, and healthy oils.
You can find shopska salad virtually everywhere in Bulgaria, Macedonia, and Serbia. But my favorite will always the first one I ate, at a traditional restaurant in Sofia called Shtastliveca, on the thriving pedestrian-only Vitosha Boulevard. Tradition says to drink it with a shot of rakija, the Balkan spirit that's ubiquitous in Bulgaria, but I much prefer a crisp glass of Bulgarian rosé with it!
By Allison, Sofia Adventures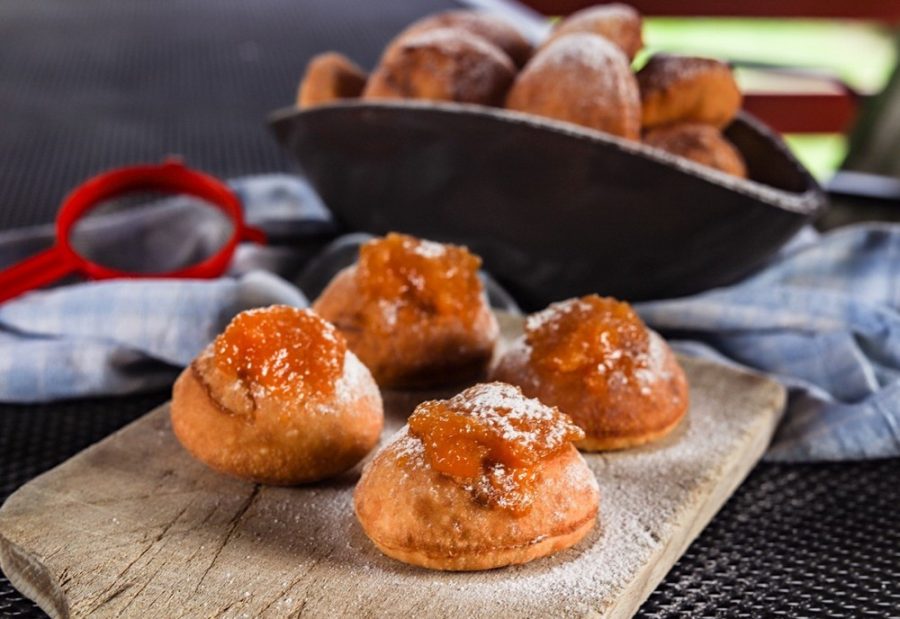 Croatia – Krofne
Easily the best street food you can get in Croatia is from the bakery. There are bakeries on every corner – and the prices are dirt cheap for everything! Be on the lookout for Krofne, sometimes spelled Krofne depending on which part of Croatia you are traveling in. Either way, these are a type of Croatian doughnuts of sorts, and a must try food!.
Krofnes are round like doughnuts as you know them, but without a hole in the middle as you might find with American or Australian style doughnuts – but they are filled with all kinds of yummy centers – chocolate, jam, and even a vanilla custard.
Croatia has held a doughnut tradition for a very long time, and lots of grandmothers will make these yummy sweets to serve to the grandkids. You will also find krofne being made on masse, on the last week before Lent – when the carnival festivities across Croatia begin.
So, don't be shy, be sure to try each flavor when you are in Croatia.
By Sarah-Jane, Chasing the Donkey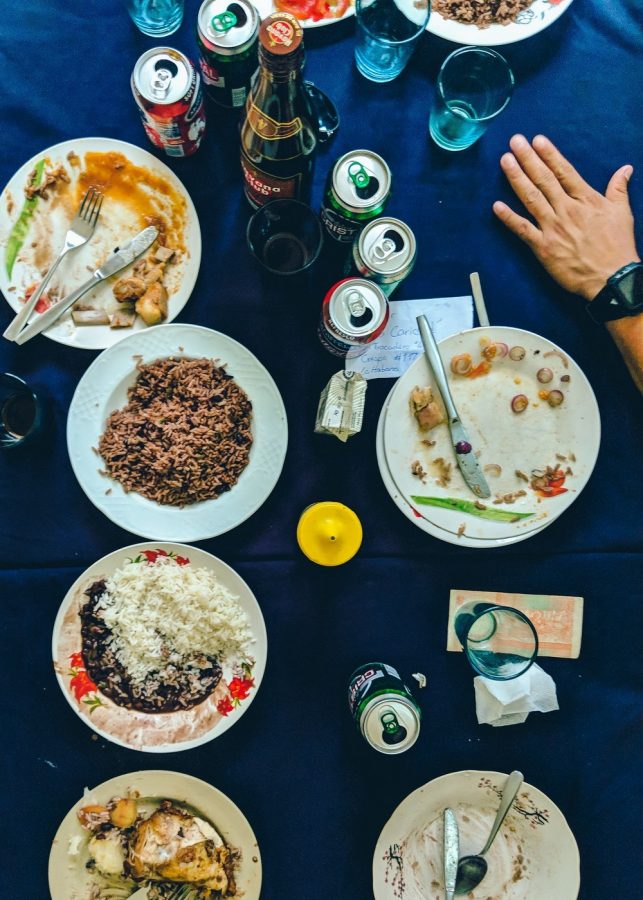 Cuba – Palada Caridad and real local food
The first time I visited Cuba I had almost given up on finding anything good to eat. Every time I asked for restaurant suggestions my friends and I kept getting sent to spots that were clearly only for tourists. I wanted to know where Cubans ate and I wanted to try traditional Cuban food.
Thankfully on the second to last day, one of my friends was talking to a couple of Cubans at a hotel bar and he asked them for suggestions as I was so discouraged. They were shocked that I was having such a hard time. They were about to go have lunch and asked if we wanted to come along.
That day we went to a small restaurant in Centro Havana, that we would have likely passed by without knowing it was a restaurant because it had no sign. Five of us spent the afternoon at Paladar Caridad, eating and drinking amazing food and when the bill came it was $17 for everything.
That afternoon unlocked something for me. I realized Cuban food could be good, people were just going to the wrong places. A month later I returned as I already had Cuban friends who offered to help me find more places. I've been based out of Havana for the last year researching all the great spots only Cubans know about.
By Ayngelina, Bacon is Magic
Did you get your FREE PRINTABLE yet?
Surprise! Never know what to pack when getting ready for a trip. I got you covered with my Ulitmate Packing Checklist. Click here to get your FREE Ulitmate Packing Checklist right now!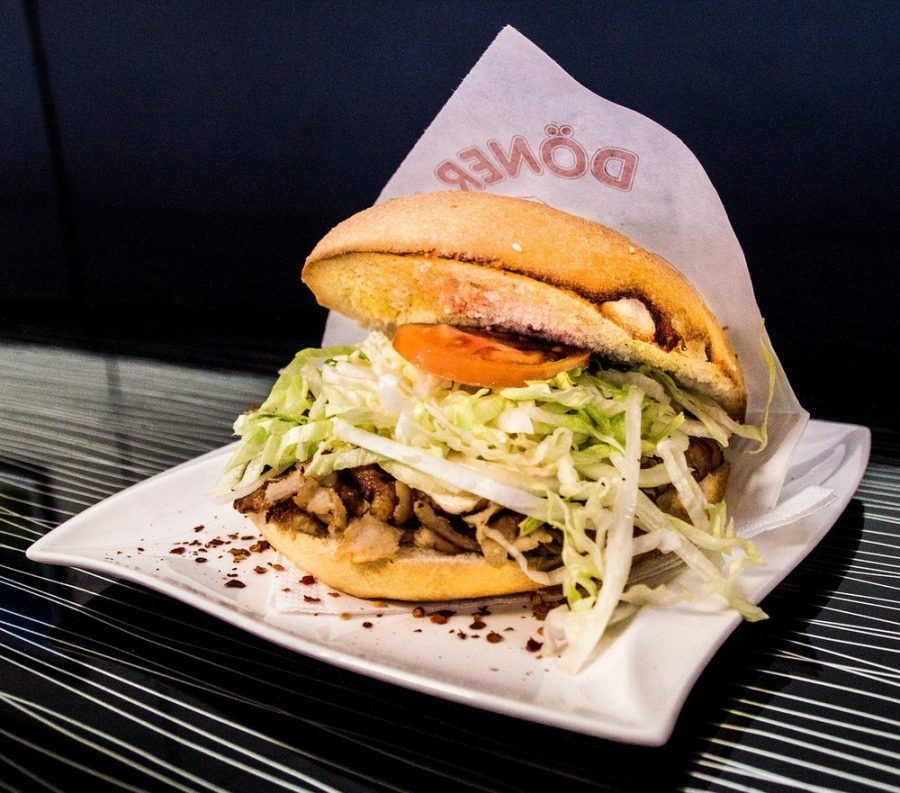 Germany – Döner Kebap
One of my all-time favorite street foods is the German version of the Döner Kebap. Germany was the first place I ever tried Döner and I fell in love immediately! Döner make a quick and inexpensive warm lunch or dinner and you can find them on nearly every street corner.
When I lived in Germany, I had a favorite Döner shop in every city I lived in. They were the go-to fast food. These days, when I'm visiting Germany, I look for a crowded shop and try that one. I used to eat the standard lamb Döner but now I alternate between chicken and falafel with "Salat" (usually a lettuce and cabbage mixture), tomatoes, and tatziki sauce (no onions). So good!
I usually just get one to go but sometimes I'll order a larger Döner plate with rice instead of bread. Next time you're in Germany, give Döner a try!
By Cate, International Desserts Blog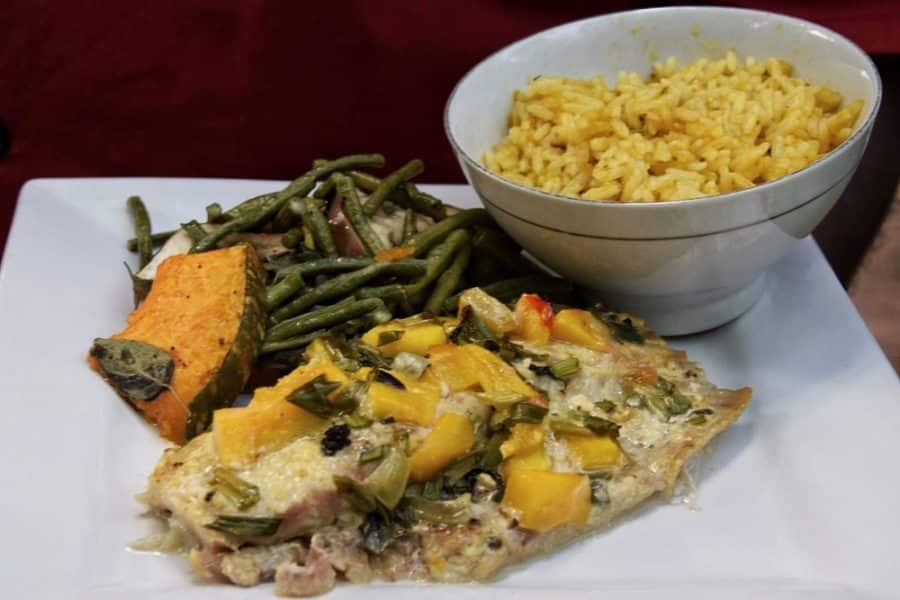 Guyana – The Backyard Cafe
The Backyard Cafe is a tiny restaurant literally located in the backyard of chef Delven Adams in Georgetown, the capital of Guyana. The location is stunning: a cozy, well-kept garden that hosts only a handful of people. Here, only the best Guyanese food is served. Every day, chef Adams travels to the markets of Georgetown (at times with his guests, thus explaining a lot about the local produce) to buy the freshest local ingredients. He then puts together incredible dishes of seafood, chicken, vegetables, salads, and desserts for his guests.
What makes this restaurant all the better is the fact that the local community is involved. Delven relies on a web of market sellers that he trusts; he has involved the locals to work as staff at his place, in an effort to requalify the area where the restaurant is located and to keep the youth out of crime (and he's been doing so successfully).
Make sure to book in advance, as this is one of the nicest places to eat in Georgetown and it gets filled up quite easily!
By Claudia, My Adventures Across The World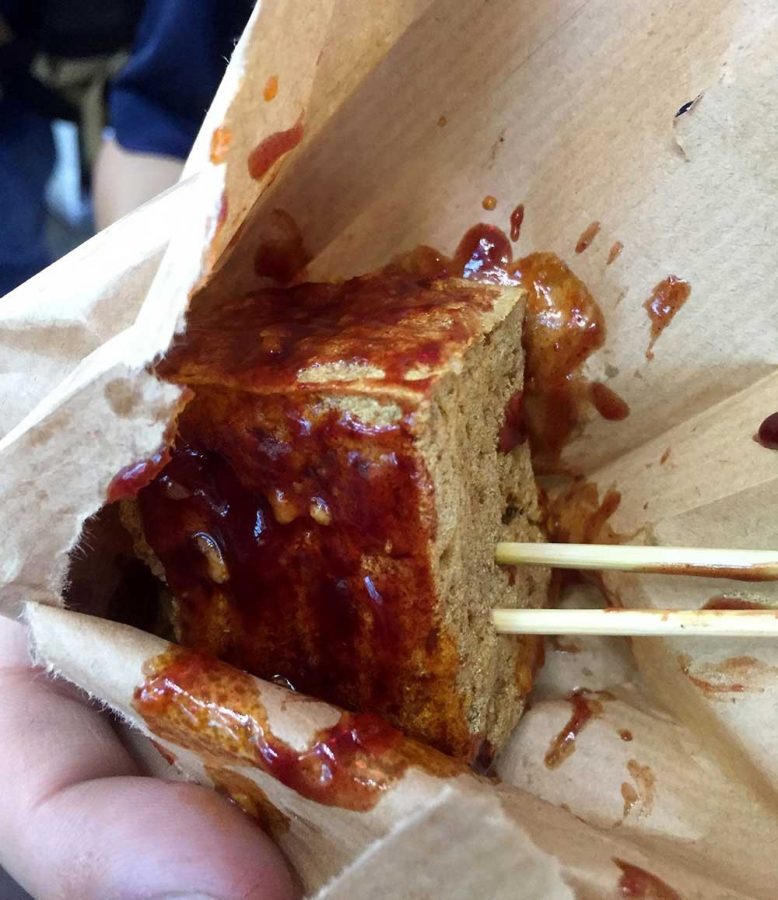 Hong Kong – Stinky Tofu
Stinky tofu is one of the most infamous foods in Asia, especially as a street eat in Hong Kong, this is due to its extreme fragrance or stench, depending on whether you love it or you hate it. For those who love it, the smell takes you on a journey in search of stinky tofu. To those who hate it, the smell is similar to the scent of raw sewage and makes you want to run away immediately.
Though stinky tofu is found in parts of China as well as Taiwan, the Hong Kong version is fried and eaten with a version of hoisin sauce and chili sauce. The best place to get it in Hong Kong is at Kai Kei Snack in Mong Kok. Their stinky tofu is beautifully fried and you get to brush on your own sauce so you can add as much or as little as you wish.
By Constance, The Adventures of Panda Bear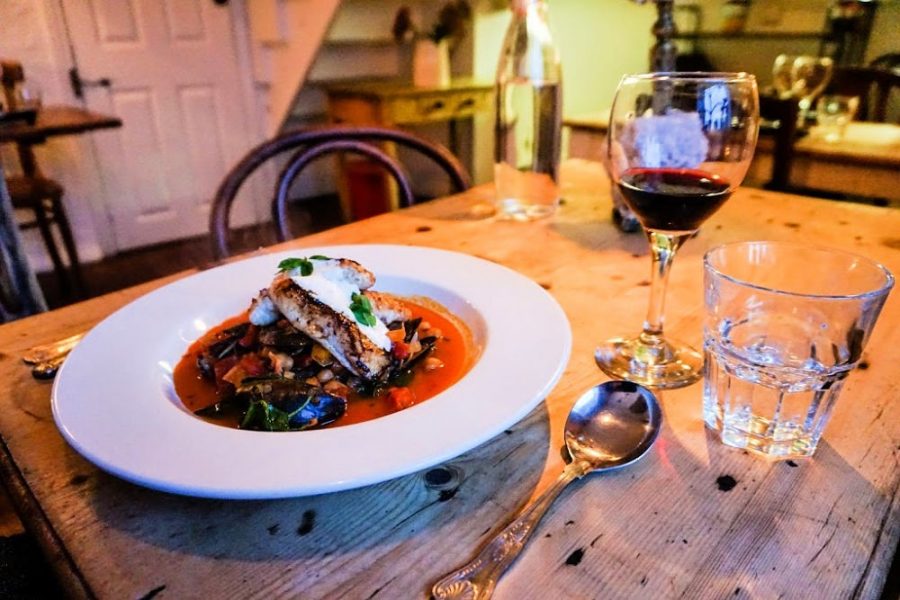 Ireland, Galway – Ard Bia
Tucked into a stone building near the Spanish Arch, Ard Bia at Nimmos sits along the River Corrib, giving diners romantic, waterfront views in Galway, Ireland.
Through a small window near the rustic wooden table where I was seated, I could see the water lapping against the stone walls as rain drizzled down. It was a damp and bone-chilling fall evening — the kind that calls for warm, comfort food.
Fittingly, Ard Bia's seasonal menu featured hearty yet modern Irish dishes influenced by cuisines from around the world. To begin my meal, I ordered a savory roasted pumpkin and pearl barley risotto balanced with earthy wild mushrooms.
Then came my entree, a flavorful monkfish stew with mussels, chickpeas, chorizo, and a dollop of preserved lemon yogurt. Together these ingredients combined in a well-balanced complexity, making each bite unique.
Not wanting this mouthwatering meal to end, I selected a scrumptious apple pie with an apricot glaze for dessert. Served with a rum ice cream and goat's yogurt cream, this pie was a sweet ending to an all-around delicious meal in a rustically romantic setting.
By Erin, The Epicurean Traveler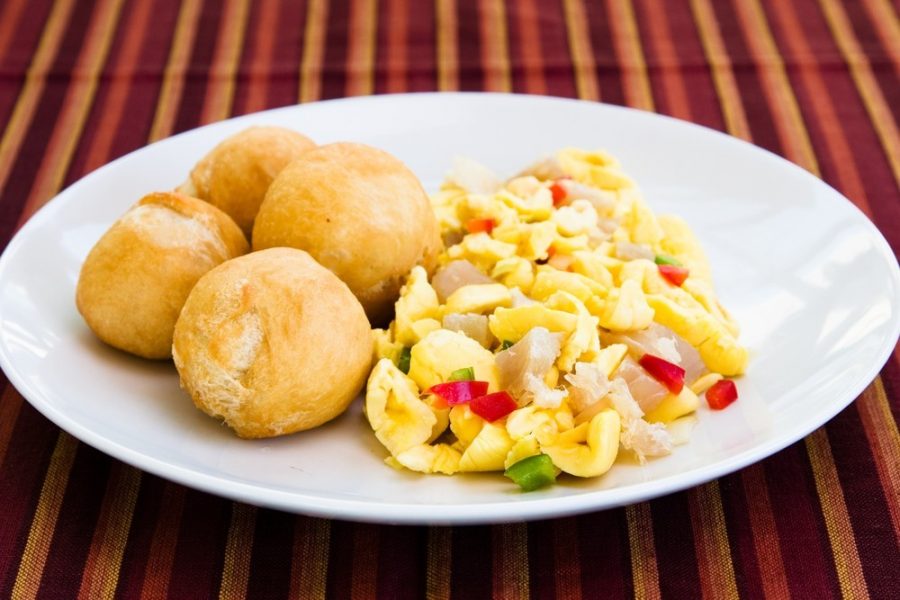 Jamaica – Ackee and Saltfish
Ackee and Saltfish is the national dish of Jamaica and is usually eaten for breakfast. It is usually served
with roasted breadfruit, boiled yam or boiled green bananas which are starches. It is also served with
fried johnnycakes (a fried dough mixture). Ackee resembles scrambled eggs but it has a buttery flavor.
It is usually combined with boiled saltish, which is cooked up with tomatoes, onions and a bit of scotch
bonnet pepper.
If you are in Jamaica you will find most hotels serve this dish for breakfast. If you are in Kingston try the
Sunday brunch at the Terra Nova hotel. You will not only be able to enjoy some of the best Ackee and
Saltfish in Kingston but you will also be able to try other Jamaican dishes.
If you are in Montego Bay try the Pelican Restaurant on Gloucester Avenue. This is hands down our
favorite spot for Ackee and Saltfish. If you are at the Pelican restaurant get a corner seat and enjoy the
sea view and a delicious Jamaican breakfast at the same time.
By Charmaine, LuvMiHome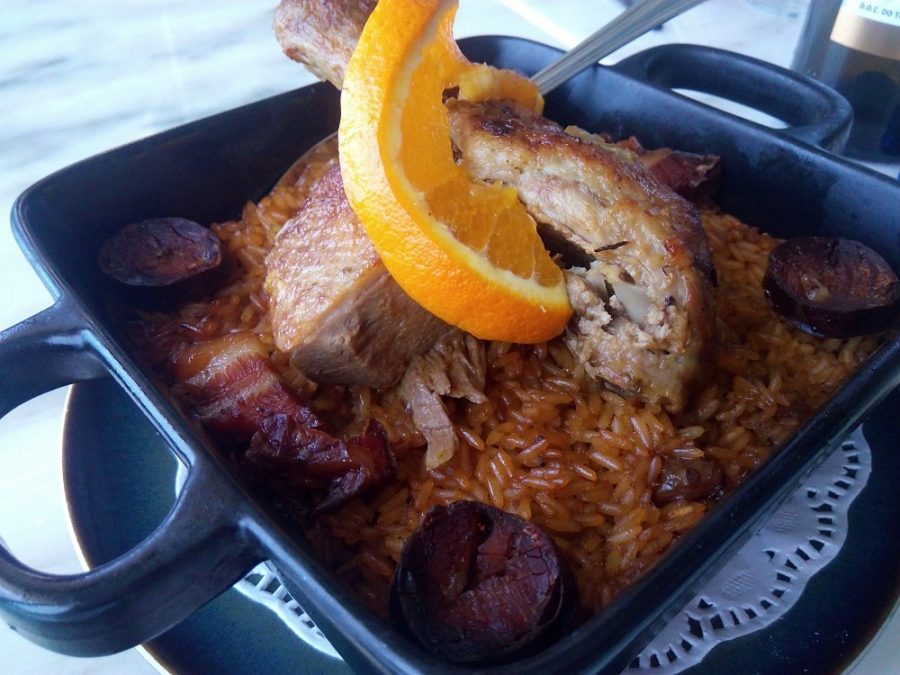 Portugal – Arroz de Pato
Arroz de pato, or duck rice, is a much-loved traditional Portuguese dish. Usually, this consist of shreds or pieces of duck mixed with rice, and perhaps some chunks of chouriço (smoked pepper sausage) for extra flavor, baked in the oven. The top layer is often slightly crispy while the rice and duck concoction below is moist and full of flavor. It can, however, be a bit on the greasy side and the amount of actual meat varies from place to place.
When I ordered arroz de pato at Restaurante Panorâmico in a small town in Central Portugal called Penacova, I was more than impressed to find half a duck nestled in the center of the rice and chouriço. For this amount of tasty, tender duck, I'm more than happy to do the work of taking it off the bone myself. The memory of this meal lingered for weeks, making my mouth water each time I conjured it up. I've been back to repeat the experience several times and each has been as good as I remembered. As well as delicious duck, my new favorite restaurant, Panorâmico, has magnificent views over the Mondego River, hence the name.
By Julie, Julie Dawn Fox in Portugal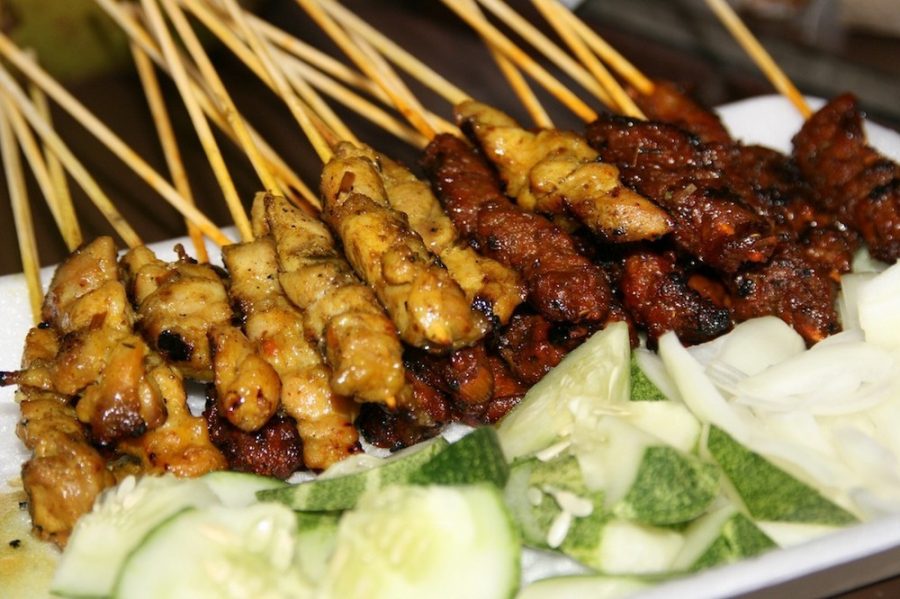 Singapore – Satay
Satay is a real favorite street food snack for many people in Singapore, and indulging in a satay feast is a quintessential Singapore experience.
To prepare this Singapore delicacy, diced marinated meat (usually chicken, beef or prawn) is skewered onto bamboo sticks and grilled over hot charcoals until it becomes deliciously chargrilled and sticky. It is traditionally served with raw onions, cucumber, and a flavourful spicy peanut dip.
You can find satay in food courts and hawker centers all over Singapore, but Lau Pa Sat hawker center in the middle of the Central Business District is the most popular place to indulge your cravings and where we most enjoyed eating satay.
Boon Tat Street closes to traffic in the evening and becomes known as 'Satay Street' and here we found all the satay vendors churning out smoke from their stalls and vying for hungry diners' business. Sitting on a plastic chair in amongst the crowds and chowing down on a pile of delicious satay is one of our favorite dining memories.
By Marianne, Mum on the Move
Did you get your FREE PRINTABLE yet?
Surprise! Never know what to pack when getting ready for a trip. I got you covered with my Ulitmate Packing Checklist. Click here to get your FREE Ulitmate Packing Checklist right now!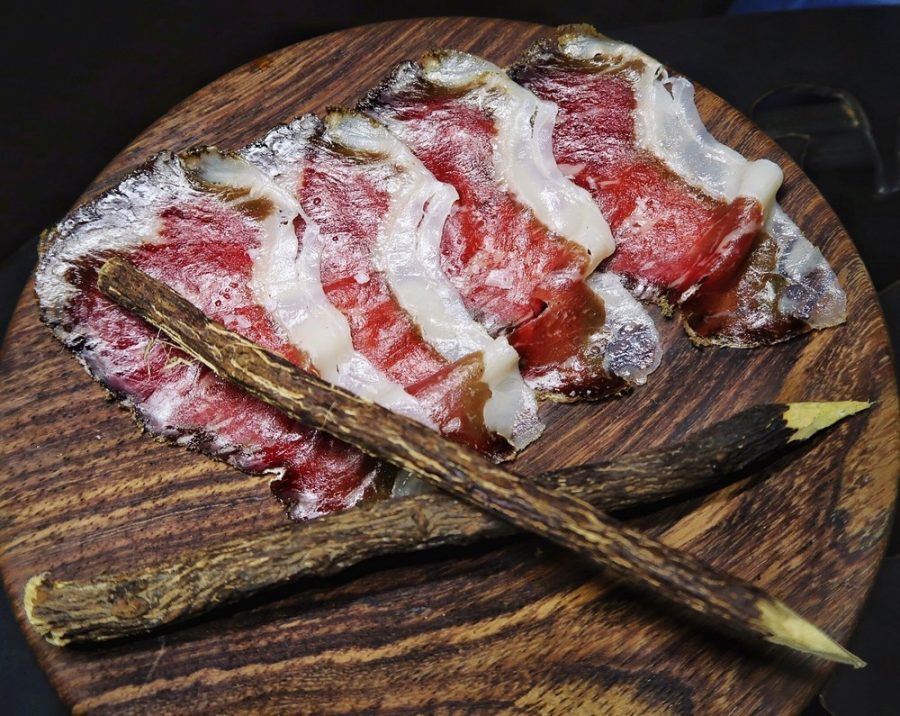 South Africa – Local licorice cured Wagyu biltong
As part of the degustation at The Test Kitchen, one of the many wonderful plates we tried included Local licorice cured Wagyu biltong. This dish was part of the many snacks at the beginning of our meal, and one of my favorite things I ate in 2017.
Deceptively simple, with basically just two ingredients, the depth of flavor and absolute deliciousness came together for a plate I would happily order anywhere in the world. A visit to The Test Kitchen in Cape Town, South Africa is a must for any global foodie. Insider tip — reservations are very difficult to get at this restaurant, so work with your hotel to ensure a booking.
By Courtney, A to Za'atar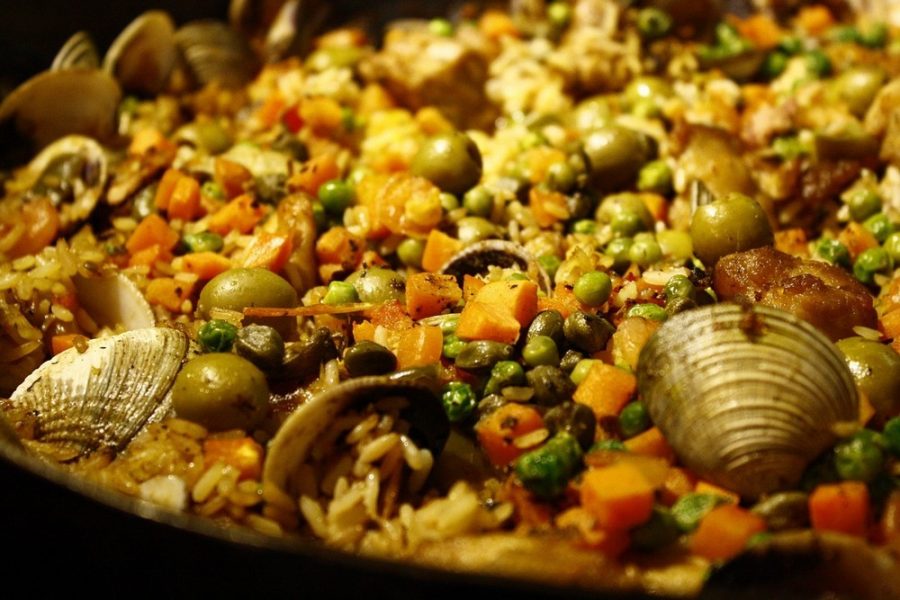 Spain, Valencia – Paella
Valencia in Spain is currently my favorite city in the world. A place, which I would not only visit again but would be glad to live in. Being a large city (however, smaller than Madrid and Barcelona), Valencia feels very cozy and nice to be in. 360 days of sun per year, great food and drinks only increase the joy of being there.
The dish I truly loved when I visited Valencia was paella. The dish originates from this city. Nowadays, there are lots of varieties of paella, but I loved the original one the most.
Paella for you seems a dish with seafood? The original one doesn't have any!
The ingredients included in the original paella are green beans, chicken, rabbit (optionally, duck), the local beans called garrofo, saffron, rosemary, and of course, white rice.
The base of the dish is just rice, rosemary, and saffron while adding different ingredients to it makes other varieties of paella. The one with seafood usually includes shrimps, mussels and octopus, and it is also delicious!
Visit Valencia to try the original paella yourself.
By Roman, Roman Roams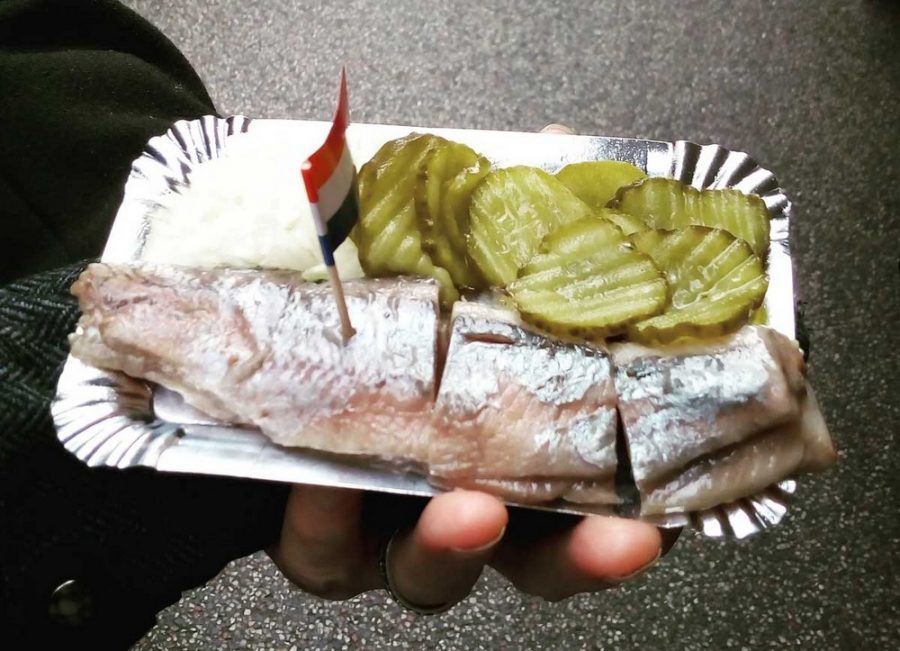 Netherlands – Hollandse Nieuwe
Haring or 'Hollandse Nieuwe' (Dutch new herring) is one of the most popular Dutch snack foods. It is usually found on street food stalls and consists of very fresh preserved herring that has been deboned with the head removed (thank god). The herring is served with fresh sliced onion and dill pickles.
Herring can only be called 'Hollandse Nieuwe' if the fish is caught from May to July. According to Dutch tradition, the herring must be cleaned, the head removed and the herring is preserved in with a secret salt method. The herring tastes really fresh and of the sea. If you are a sushi fan this will really appeal to you. I quite liked the flavor but wasn't so keen on the dill pickles as I found the flavor added very little to the experience.
By Faith, XYUandBEYOND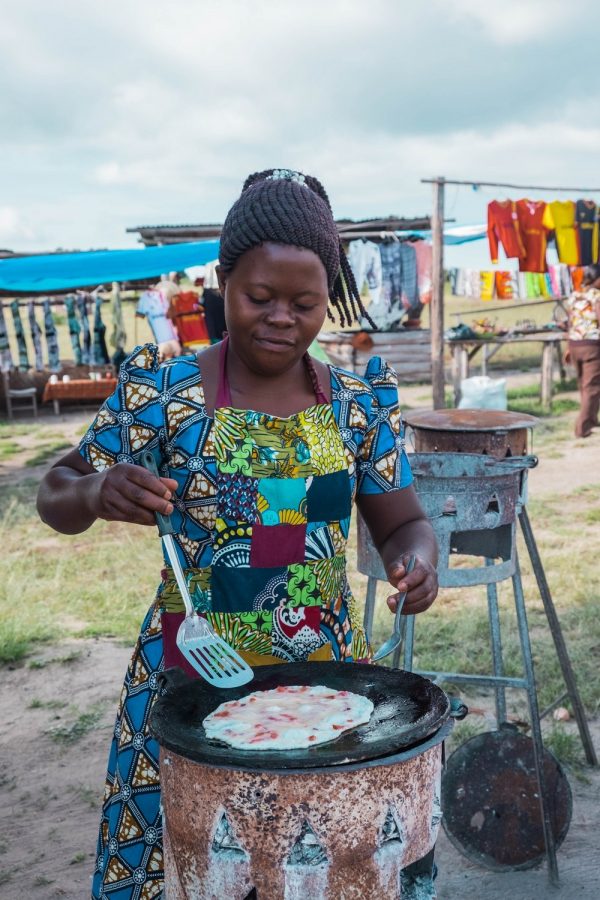 Uganda – Rolex
To be honest I had no idea what Ugandan food was all about and was pleasantly surprised when I learned about the infamous Rolex. Yes, that's right in Uganda you get a Rolex for breakfast or as a snack on the go!
Derived from the word rolled eggs, a Rolex is made of an omelet, some veggies and a chapati all rolled together thus giving it its name. Definitely make sure to add some chili or spicy sauce for an added kick!
Depending on where you get your Rolex from sometimes the chapati is on the inside, other times on the outside of the roll making it easier to eat. Either way, it is usually homemade and the omelet is made freshly before your eyes.
While a Rolex is probably not the most innovative dish of all times, it is cheap, yummy and most of all convenient. You can easily take your Rolex to go and eat it with one hand – unlike a wrap, nothing falls out.
You can find them all over Uganda and every local will have a favorite Rolex shop. I personally loved my Rolex at the Queen Elizabeth National Park center – while this is definitely a place for tourists you can enjoy your Rolex with some stunning views over the park.
By Annika, Midnight Blue Elephant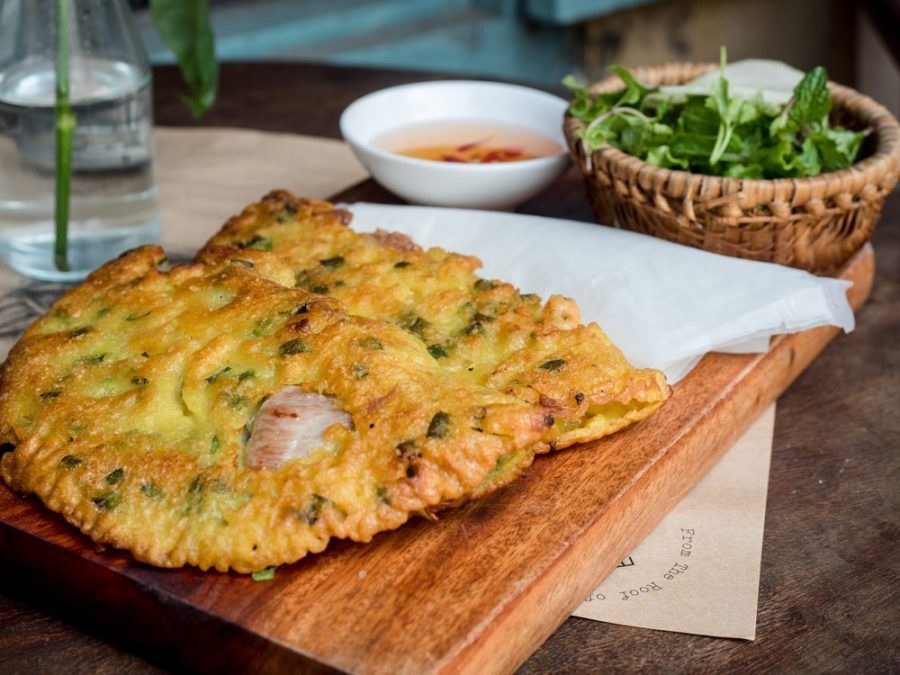 Vietnam – Banh Xeo
Vietnam is a country filled with delicious food. Every bite you eat here is full of fresh vibrant flavors, with herbs featuring heavily. One of my favorite Vietnamese dishes is Banh Xeo, otherwise known as savory Vietnamese sizzling pancakes. Made from rice flour and turmeric powder, with small pieces of pork and prawn, and filled with a mix of fresh herbs.
It can be served as is, or with thin dry rice paper which you wrap around them and then dip into Nước Chấm (Vietnamese dipping sauce) or peanut sauce. If you visit Vietnam, it's a dish I highly recommend you try. We loved making these with a Vietnamese family at their homestay, watching them go through each step. Every Banh Xeo we've had all taste slightly unique. Some are crispier than others, some have more filling, others less, some are overfilled with herbs, whilst in others, it's simply an accent to the dish.
But one thing always remains the same, Banh Xeo is one of the best dishes I've tried in Vietnam after spending over 6 months there. A perfect balance of flavors and textures, crispy and fresh. Some of our favorite places to eat this delicious dish are in Hoi An. Try it at Ho Lo Quan or The Hill Station.
By Mandy and Chris, Almost Landing