Finally here is part 2 of my Chicago trip. If you missed part 1 Click here for Chicago Food and Travel part 1!
The photo below shows one of the most famous recognizable symbols of Chicago. The Cloud Gate is a public sculpture, one of many in the city, located in Millennium park. It is also nicknamed the bean because of it's shape. The mirror surface reflects your image in funny shapes depending on where you stand. It is a really cool art piece. You have to go see it at night time to, as it reflects the dark skyline at some neat angles.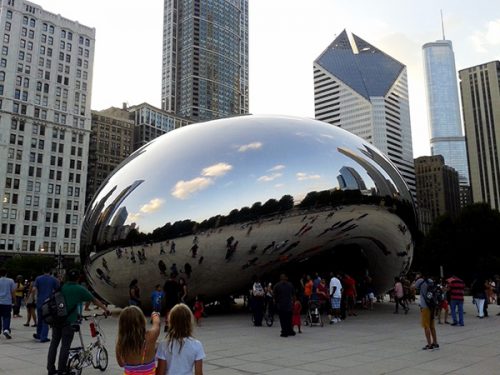 As I was planing my trip I checked those deal coupons sites a lot and I found 4 great deals for my trip. One of them was a rebate for a foodie walking tour. So up my alley! I took the Wicker Park food tour from Sidewalk Food Tours of Chicago. They also offer a second tour in the River North area. I really lucked out too because for some reason that day only myself and another person booked so we had our tour guide Jake all to ourselves. Usually there are like 10-15 people. So this was a great opportunity for a very personalized experience. Our guide was very knowledgeable and tons of fun.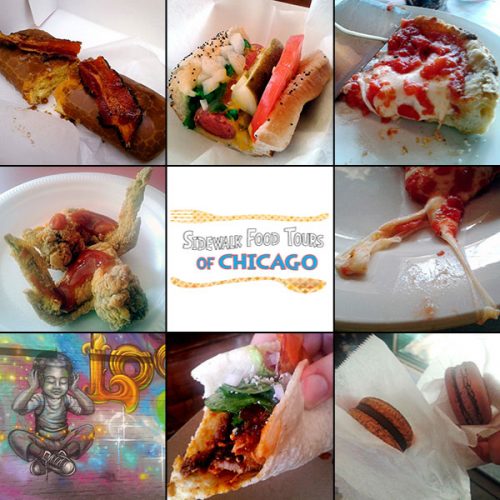 The 3 hour long tour consisted of a nicely paced walk in the very trendy and cool Wicker Park area . Jake peppered the tour with historical information and other great stories only a local could tell you. The price of the tour included also 6 tastings from 6 different food establishments. Here is was we got to try:
Top-left: a Maple Bacon Long John from Glazed and Infused Donuts
Top-center: Chicago-style hot dog from The Haute and The Dog
Top-right: cheese deep-dish pizza from Pizano's
Middle-left: fried chicken wings from Harold's Original Chicken King
Middle-right: oh the cheeeeese!
Bottom-left: cool graffiti from the Wicker Park hood!
Bottom-center: Pork Carnitas from Antique Taco
Bottom-right: French macaroons from the Alliance Bakery
Did you get your FREE PRINTABLE yet?
Surprise! Never know what to pack when getting ready for a trip. I got you covered with my Ulitmate Packing Checklist. Click here to get your FREE Ulitmate Packing Checklist right now!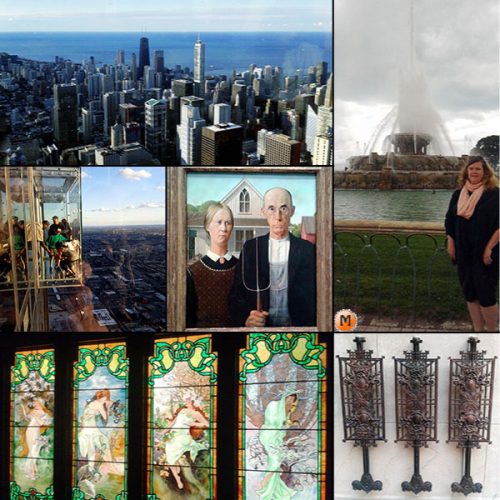 More classic sites, attraction and art in the city:
Top-left: Chicago skyline from the Willis Tower (103rd floor), the tallest building in North America.
Top-right: the Buckingham Fountain, one of the largest fountains in the world, in Grant Park.
Middle-left: one of a few open glass balconies sticking out of the building on the 103rd floor.
Middle-center: the original American Gothic painting by Grant Wood at the Art Institute of Chicago.
Bottom-left: "The Four Seasons" stain glass work from the Stained Glass Museum at Navy Pier.
Bottom-right: decorative architectural element at the Art Institute of Chicago.
I do want to tell you about the overall best dining experience I had while in Chicago. I did a bit of research on potential restaurants I would like to go to and one that came up was a modern Korean restaurants called Belly Q. What really made this place shine was the service. There is no way a tourist would end up in that neighborhood and I arrived without a reservation quite late on a Sunday night. The hostess was charming and asked right away if I was on holiday. I said yes and she chatted me up, asked where I was from, etc. But she just could not stop asking me how I ended up at their restaurant. I told I had found them online prior to my trip. Not long after my waitress arrived and guess what she says: Hi so I hear you are visiting us from Montreal…" Wow the hostess takes the time to chat you up so the waitress comes to you with a personal touch. Loved it. And the service was excellent the whole way through.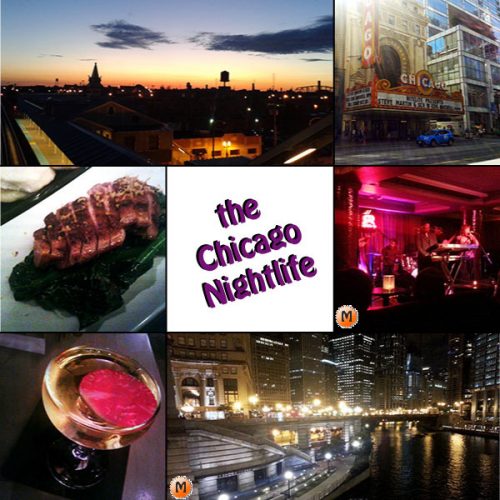 Top-left: west side skyline at sunset from Ashland-Lake L station.
Top-right: the Chicago Theatre auditorium.
Middle-left: Tea Smoked Duck Breast with Chinese Broccoli and Steamed Buns at Belly Q.
Middle-right: catching a show at the Back Room jazz club, entertaining since 1968.
Bottom-left: Floating Sun cocktail.
Bottom-right: the Chicago River lit up at night.
The pics are not the best since it was so dark and I only had a camera phone. I enjoyed a most exquisite cocktail called Floating Sun which is made with Junmai Gingo Nama Sake, Bianco Vermouth, Suze, Ginger-Lemongrass Bitters. It was served with a thin slice of a red radish. Just amazing. I chose the house specialty, a Tea Smoked Duck Breast with Chinese Broccoli and Steamed Buns. It was just out of this world delicious. For dessert I had the Peanut Butter & Huckleberry Jelly ice cream, so original. If you go to Chicago this place is so worth the detour!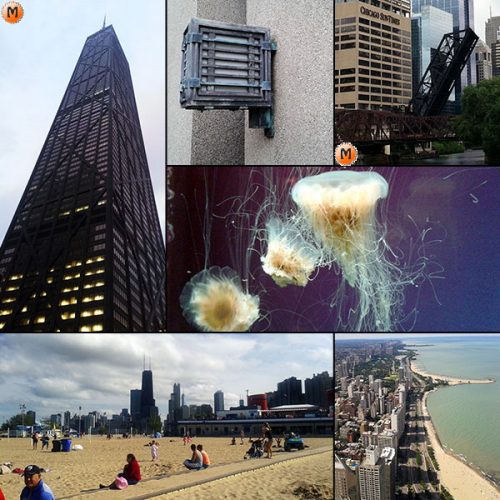 Beaches, architecture and aquatic life shows:
Top-left: the John Hancock Center.
Top-center: outdoor light detail from Frank Lloyd Wright's Unity Temple.
Top-right: raised drawbridge over the Chicago River.
Middle-right: Jellies – jelly fish exhibit at the Shedd Aquarium.
Bottom-left: North Avenue Beach with the city skyline.
Bottom-right: North Avenue and Oak Beach view from the the John Hancock Center.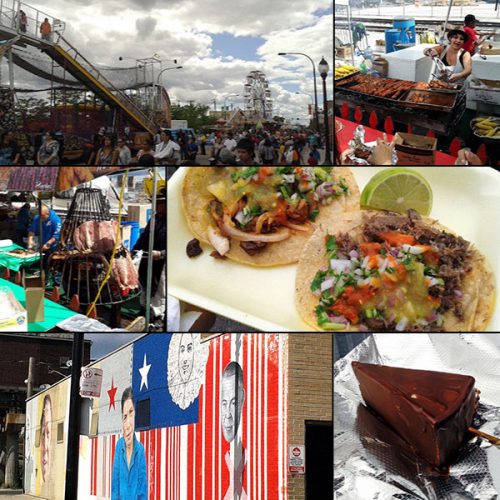 I did not stay in a hotel but instead had a room in an apartment rented out by the two girls living there. I really loved staying in the Pilsen area, know for its artists, the galleries and strong Mexican Hispanic presence. Totally safe neighborhood but not your typical tourist spot at all. On the last day of our trip the area was celebrating the Pilsen Fiesta del Sol festival. So much Latin food, so much grilled meat!
Top-left: Carnival street with rides and mariachi bands
Top-right: grilled meat
Middle-left: more grilled meat with a cool setup
Middle-right: tacos made on the spot
Bottom-left: Pilsen graffiti depicting the Latin workforce
Bottom-right: the best discovery ever, a cheesecake slice dipped in chocolate on a stick, oh yeah!
Thank you for tagging along on my Chicago trip presentation. Hope you enjoyed the food and sites!