I am stubbornly ignoring all the signs of the arrival of fall. We are back in a heat spell after a few cold days so I am back in my capris and sandals, at least for today. We have to enjoy and prolong every last bit of summer warmth and think of all the good times we had these last months. This reminds me, I have not gotten around to showing you some photos of my trip to Chicago back in July!
Yes, I chose a big urban metropolis as my vacation destination. For one, I am definitely a cultural traveler. I have always wanted to visit Chicago and it was pretty much the last major American cosmopolitan city I had yet to see. It is brimming with art, culture, fine restaurants, architecture, science, huge parks, jazz and miles of sandy beaches. I know I was shocked too! Chicago is right on Lake Michigan and there are over 30 beaches. Enjoy a little taste of this city through its attractions and delicacies, in 2 parts.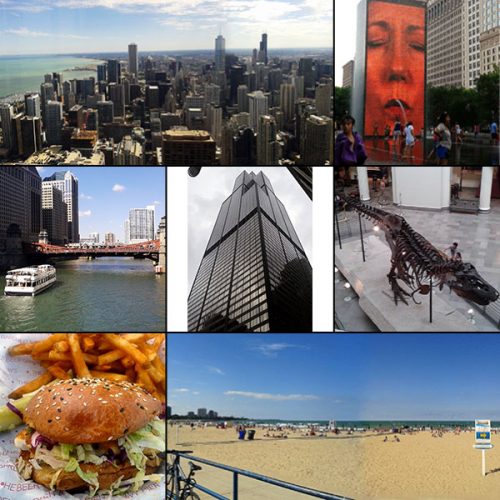 Top-left: Chicago skyline from the John Hancock Center (94th floor).
Top-right: the Crown Fountain in Millennium Park, 2 video skyscraper sculptures which spew water.
Middle-left: one of many bridges over the Chicago River.
Middle-center: the Willis Tower, formerly known as the Sears Tower, the tallest building in North America.
Middle-right: meet SUE, the most complete skeleton yet discovered, Field Museum of Natural History.
Bottom-left: Blackened Grouper Sandwich at the ship-shaped Castaways Grill  Restaurant at North Avenue Beach. Simple but delicious.
Bottom-right: North Avenue Beach, one of Chicago's most popular beaches.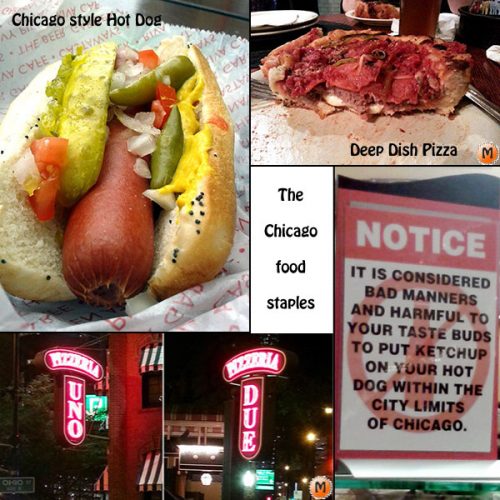 OK so when I mentioned local delicacies I was lying a bit. Two out of the three Chicago specialties are junk food: the Chicago style hot dog and the deep dish pizza. I am not saying they are not good, but it's not high end. In case you are curious the third one is Italian beef.
Top-left: the Numero Uno deep dish pizza with all the works at Pizzeria Due. It takes 45 min to make so get an appetizer.
Top-right: the classic "dragged through the garden" Chicago style hot dog. I am not a big hot dog fan in general and I loved this one.
Bottom-left: Pizzeria Uno (1943) claims to have originated the deep dish pizza. Pizzeria Due has opened in 1955 one block away.
Bottom-right: not a cute remark, this statement is taken very seriously.
Local specialties aside, Chicago is home to some of the best restaurants in the world. There are plenty of opportunities for fine dining. The top places were out of my budget but I did enjoy two particularly awesome meals…more on those later.
Did you get your FREE PRINTABLE yet?
Surprise! Never know what to pack when getting ready for a trip. I got you covered with my Ulitmate Packing Checklist. Click here to get your FREE Ulitmate Packing Checklist right now!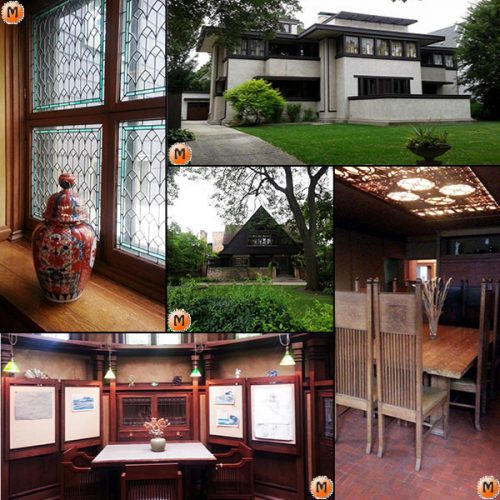 Chicago is home to the skyscrapers and you will find all kinds of architectural styles. But if you go a little west of the city in the Oak Park area you will find the Home and Studio and 30 so houses of Frank Lloyd Wright, the leader of the Prairie Movement dubbed also as organic architecture.
Top-left: an FLW stain glassed window in the dining room
Top-right: the Oscar B. Balch House
Middle-center: Frank Lloyd Wright Home at 951 Chicago Avenue
Bottom-left: Frank Lloyd Wright's meeting room
Bottom-right: the dining room

Photos with this mark were taken by my travel bud Michele, check out her site bisou imaging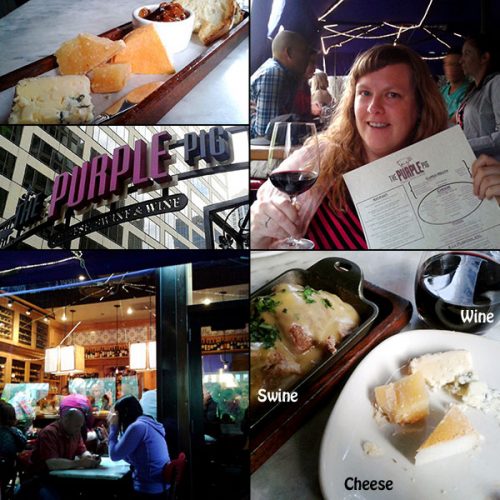 And here are 1 of 2 really awesome dining experiences. This dinner was at The Purple Pig restaurant located along the Magnificent Mile. This is a smoking hot spot in Chicago right now. They do not take reservations so you have to show up early (5:00pm) and put your name on the list until called (6:15pm) The menu is very seasonal so things I had are no longer on the menu. I would say this restaurant is a cross between Mediterranean tapas and gastro food British Pub. The wine list is long and reasonable. I had high expectations and it was a fabulous meal. Just go!
Top-left: 3 cheese plate: Cave Man Blue, Pecorino Gran Reserva and a Mont Sait-Francis
Top-right: Me, my wine and menu on the terrace
Middle-left: entrance sign The Purple Pig: cheese, swine & wine
Bottom-left: looking inside the restaurant from the terrace
Bottom-right: our very own cheese, swine (Milk Braised Pork Shoulder with Mashed Potatoes) & wine
Not pictured but happily consumed was the Watermelon Salad with house-cured Lomo and the Wagyu Sirloin Tip with Fingerling Potatoes, Cippolini Onions, Olives & Bone Marrow Vinaigrette.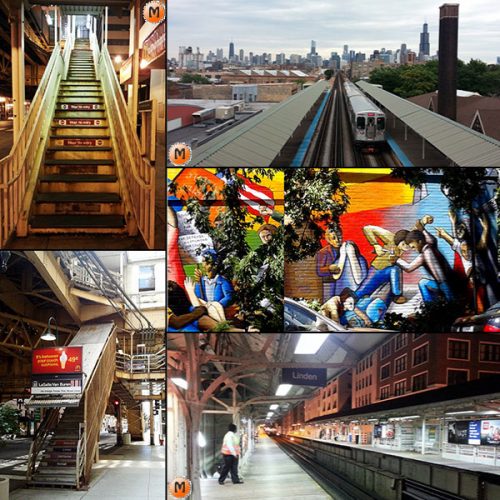 I developed a little obsession with the style and look of the Chicago subway system called the 'L' since it is mostly elevated above street level. I come from a place with serious months of winter so we have no outdoor stations, it was very foreign to me.
Top/Bottom-left: downtown "L" entrances
Top-right: Skyline view from Ashland-Lake L station
Middle-right: Wicker Park famous graffiti
Bottom-right: a platform on "L" downtown
Click here for Chicago Food and Travel part 2!
Want to check out more awesome USA travel guides: