Stews go perfectly with a lovely Sabaayad flatbread which is noteable for its crispy exterior and flaky inside. Call it the East African flat croissant!
It's time for the MENA (Middle Eastern & North African) Cooking Group. This monthly group has for goal to help us discover the culture and cuisine of the countries found in these parts of the world. The host of the month will choose a savory and a sweet dish from the country and the members pick one dish to make. This month we are going back to Djibouti and we willmake a Sabaayad flatbread common in Djibouti and Somalia.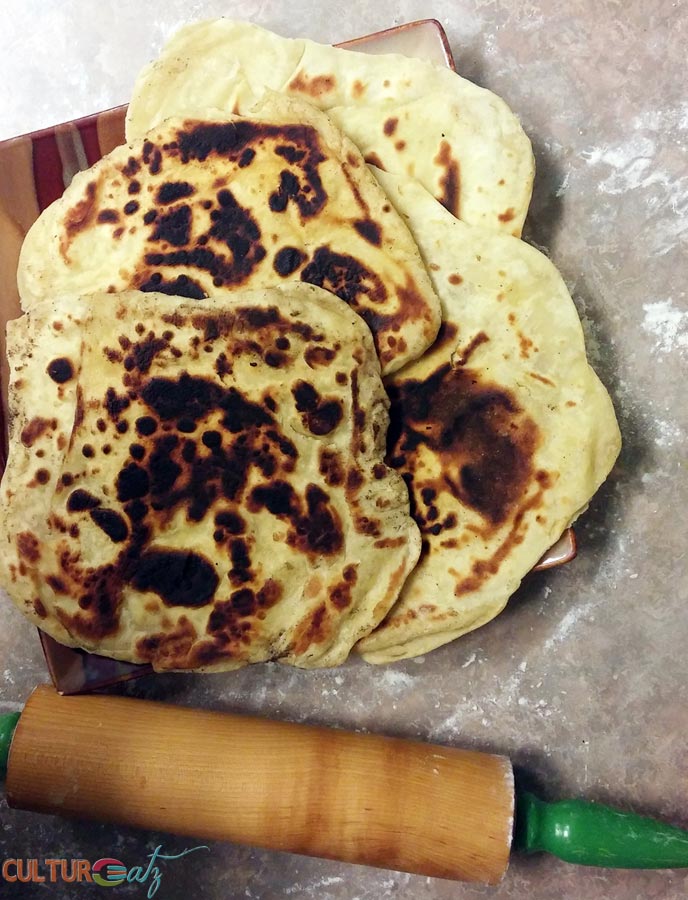 Djibouti is in East Africa, bordered by Eritrea to the north, Ethiopia to the west and south, and Somalia to the southeast. The Gulf of Aden lies to the east. The country can be divided into three regions; the coastal plain and volcanic plateaus in the central and southern parts of the country and the mountain ranges in the north. Much of the country is vast wasteland with virtually no arable land.
One attraction is the Lake Abhe on the Ethiopian border. The steaming lake is surrounded by limestone chimneys and a lunar landscape used as the "Forbidden Zone" in Planet of the Apes (wikitravel).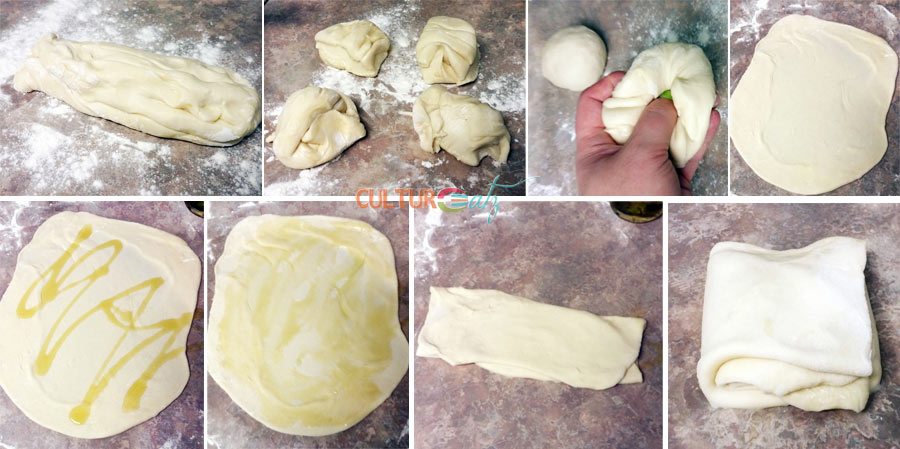 Djiboutian cuisine
Djiboutian cuisine consists of a mixture of Somali, Afar, Yemeni and French cuisine, with some Indian influences. Several popular dishes feature elaborate seafood and meat stews. Rice is often served with meat and/or a banana on the side. Often one will find grilled meats are frequently eaten with the pasta. Snacks have a Indian influence with pakora and Sambusa (simialr to a samosa). The staple dish Garoobey is a porridge made of milk soaked oats, with cumin or other spices.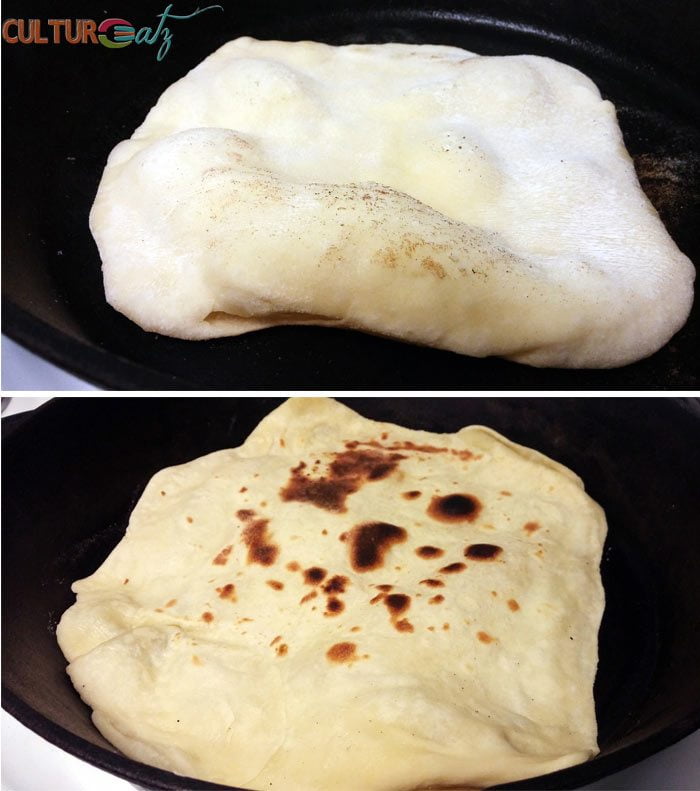 Usually served with a stew, the Sabaayad flatbread is made from a dough of plain flour, water and salt. Otherwise the flatbread can also be eaten as a snack with some honey and tea. Djibouti are fond of rolling them into rough squares and then briefly fried in a skillet. This particular recipe has a bit of baking powder in it, resulting in a slightly more puffy Sabaayad flatbread.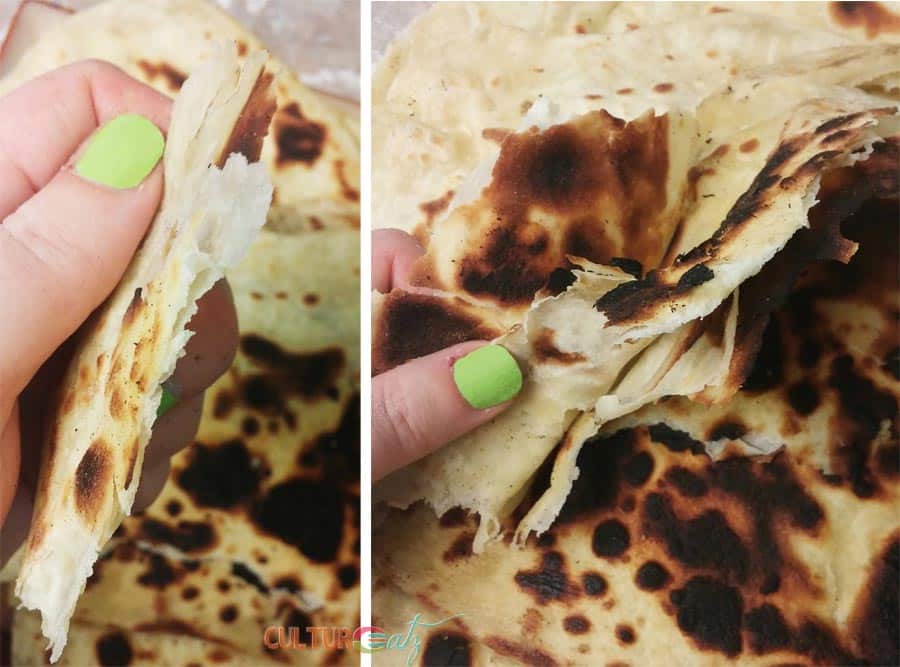 After the dough is mixed you will feel like there is a lot of missing flour. Just oil it and place into a bag. After the rest period, the dough is more solid but so pliable, almost melting. I know this will sound like a weird piece of advise but 'listen' to the dough in each step. The dough will tell you what to do next. It did not turn out exactly as it should but still the flatbread is really tasty. I actually cut it into squares and served them as soft crackers during a cocktail hour with cheese.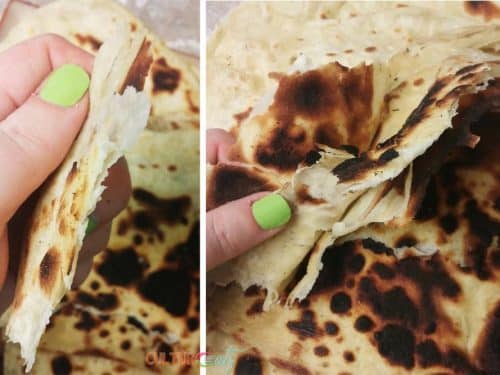 Sabaayad Flatbread
Ingredients  
4

cups

all-purpose flour

2

Tbsp

vegetable oil

1

tsp

baking Powder

2

Tbsp

sugar

1

tsp

salt

2

cups

hot milk

1 1/4

cups

oil for cooking
Instructions 
Mix all the ingredients (except the milk) in a mixer bowl. On, low speed gradually pour in the hot milk and leave to mix for 5 minutes. it will be a super sticky down, this is normal. Smear 1 tablespoon of oil on the dough and place in a plastic bag for a 30 to 45 minutes rest.

After this time the dough should be manageable. Shape into an cylinder and cut into 8 equal pieces. Make a ball by pushing the outside in until there is not more outside oily surface.

Roll out each piece of dough into a rectangle and spread 1 Tbsp of oil on the surface with a spoon. Fold into thrids, turn 90 degrees and fold again into thrirds. It will look like alittle package.

Roll out each piece into a thin rectangle.

Place one at a time on a preheated skillet set on medium heat. Wait until bubbles start to form, about 1 minute, then flip and leave for another minute. Pour 1 Tbsp of oil underneath it in the pan. Flip it over about 4-5 times until it is browned and coated on both sides, about 4 to 5 minutes in total.
Check out more bread recipes from around the world here: