Do you love to travel but don't have a big budget? Let me show you how to find cheap flights with Skyscanner flights and turn your dream vacation into a reality.
I am so excited to share my budget travel finds with you today. I am planing an elaborate trip as we speak and I have been scouring the internet for the best deals. All this searching online has taught me a few tips and tricks on how to find cheap flights on the internet. Let me share some of my favorite tips and introduce you to my new favorite tool: Skyscanner Flights.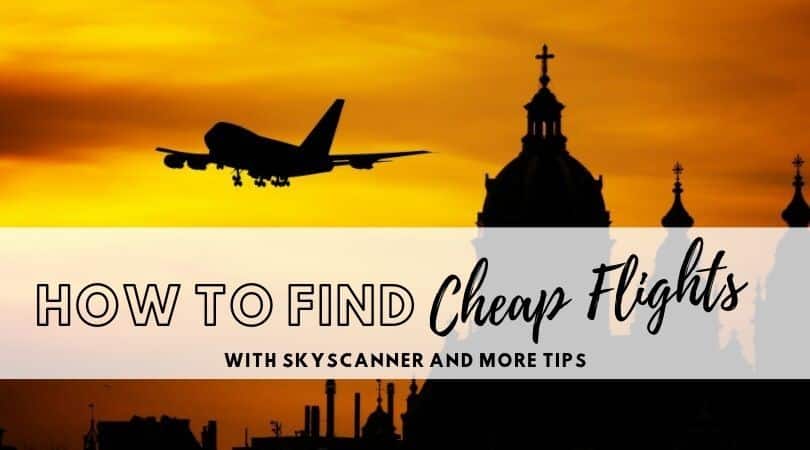 In less than a month, I will be flying to Europe for a full whole entire month! I am so stoked. I have not had the chance to go on a long trip like this since 1998! Like before the internet! Planing a trip now online is a game-changer…if you know where to look.
I will be visiting 8 countries, flying 5 low-cost airlines, and ridding a few trains. So I have been bargain hunting and learned many travel tips on how to compare flight tickets and find cheap flights and train tickets.
My tips apply to any trip, not just long vacations. Whether you are traveling for a long weekend, one week or a two-week escapade, the advice below will teach you how to find the cheapest flights with Skyscanner flights.
Let's get started!
Be flexible with your dates to book the cheapest day to fly
Now I realize this is not always possible, but if you can be flexible with your travel dates, it will make finding a good deal a lot easier. In many countries, flights cost more if you travel on a Friday, Saturday or Sunday. Sometimes traveling mid-week can save you a lot of money.
Another advantage to being flexible with your dates is that sometimes an airline may simply decide to give a good price on a specific flight on a specific day! That Tuesday flight could save you 100$. Something to smile about!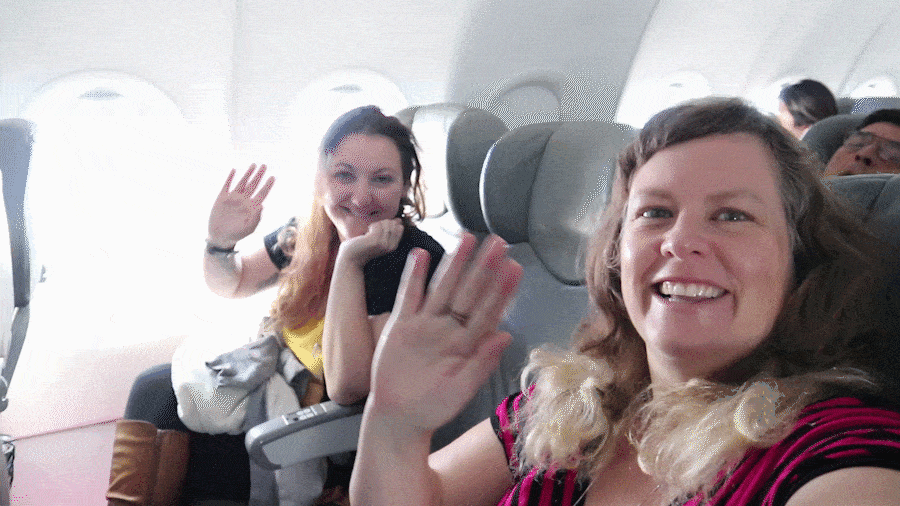 Search cheap flights like a spy!
We all know that every move we do online is tracked. Companies use cookies to know which sites we visit, they use the info to learn how we shop and search habits, and bombard us with targeted ads. You need to get around all this tracking to find the best travel deals. But how? It's a simple 2 step process:
1. Clear your browser cookies, cache, and browsing history. Click here to learn how to clear this info for your particular browser. By taking this first step, you are erasing your internet footprint so it will look like you are a new person going online for the first time.
2. Conduct all your online searches for your cheap flight deals in private or incognito windows. And the same for trains and hotels. Click here to learn how to search in private or incognito mode. Why do you need to do this? It's those internet footprints again. If a site knows you have visited a few times to look at fares, it knows you are getting serious to buy..and the price may go up.
3. Bonus tip! Use a VPN service. A lot of travel prices are set to match the economy in the country you are in now. So let's say you are searching for hotel prices in Barcelona from the US, you can find a better deal sometimes if you were searching from a computer that was actually in Spain.
A VPN service will mask your IP address to the country of your choice, no matter where you are currently. And a VPN will protect you from cyber attacks as well. Personally, I use ExpressVPN and I fully recommend them. Get ExpressVPN now.
Did you get your FREE PRINTABLE yet?
Surprise! Never know what to pack when getting ready for a trip. I got you covered with my Ulitmate Packing Checklist. Click here to get your FREE Ulitmate Packing Checklist right now!

How to Find Cheap Flights with Skyscanner Flights
There are many flight comparison sites out there, all with their own strengths, but Skyscanner deals were my ticket to a great holiday this time around. They are really awesome special features. Let's take a look at them.
To Everywhere
I love this feature. You may have a few days off coming or you just don't know where you want to go. And the price of your ticket may be your deciding factor.
In the Skyscanner tickets search tool, enter your departure city, enter EVERYWHERE in the to field, and your travel dates if you have them. You will get the result of the cheapest flight per country for that search.
Then click the blue arrow to compare flight rates by city. This works for round-trip and one-way. Sometimes buying 2 one-way can be cheaper. Plus it gives you the opportunity to fly in and out of different cities.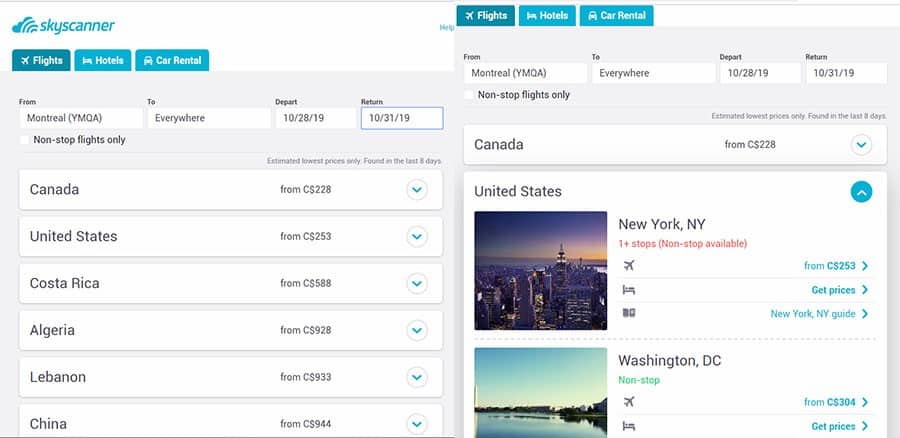 Whole Month and Find the Cheapest Month
This is where being flexible on your travel dates can help you search flights by price and find the cheapest ones. You can still use the Everywhere tool but for my example below we find search flights for London.
Instead of picking a date, click the depart field and select Whole Month and the month you want, or Find Cheapest Month. You can also select a different month for your return. Click Search flights.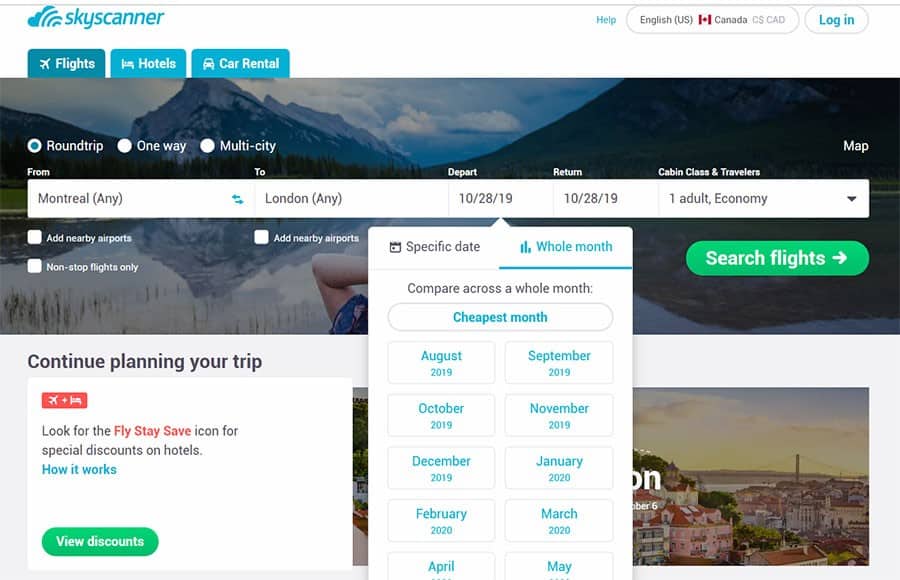 Now you get a picture of how to find cheap flights on any given day. After you select a departure date, it will update the cheapest days to come back as well.
You can play around a lot, change the month, change departure dates and see if you get a better return price too. This is a great tool to find airline error fares, more on that later.
Each price is for that leg, not the round trip. Green means below-average price, yellow means average price, and red is above-average price. Once you are happy with your price, hit the green Show flights button.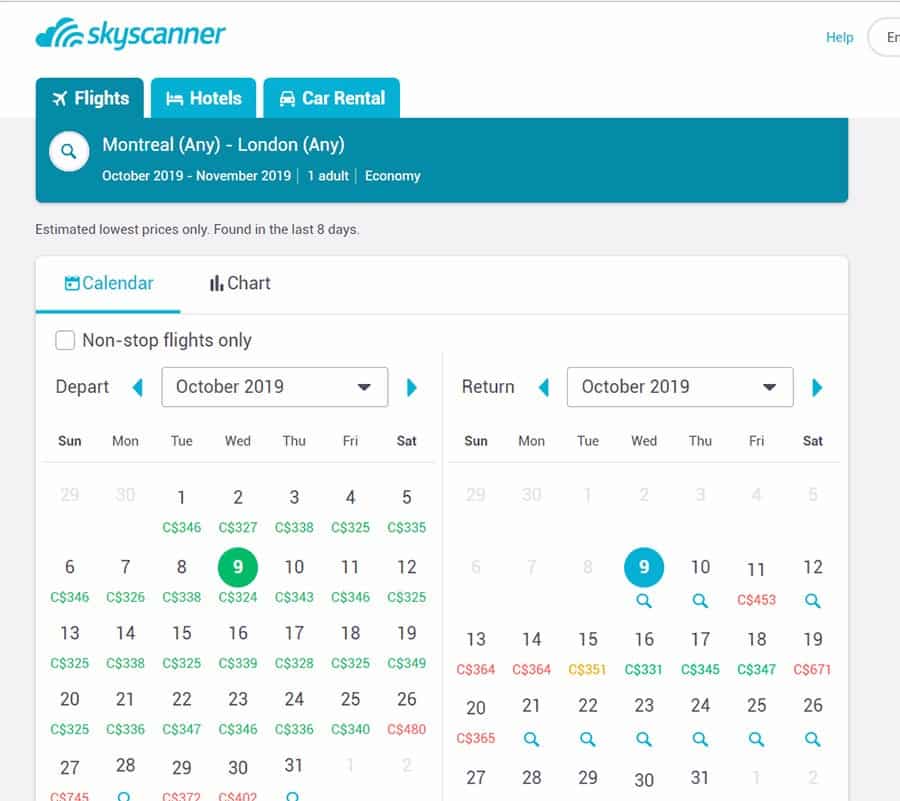 Give the site time to load all the prices it finds. You can then search for the best, cheapest or fastest trip. And there are several options to pick from as well on the left sidebar.
Just below you will also see how long the journey will take. Often the cheapest price will be the longest journey. It's up to you to decide what you are comfortable with. Click Sea Deals and follow booking instructions.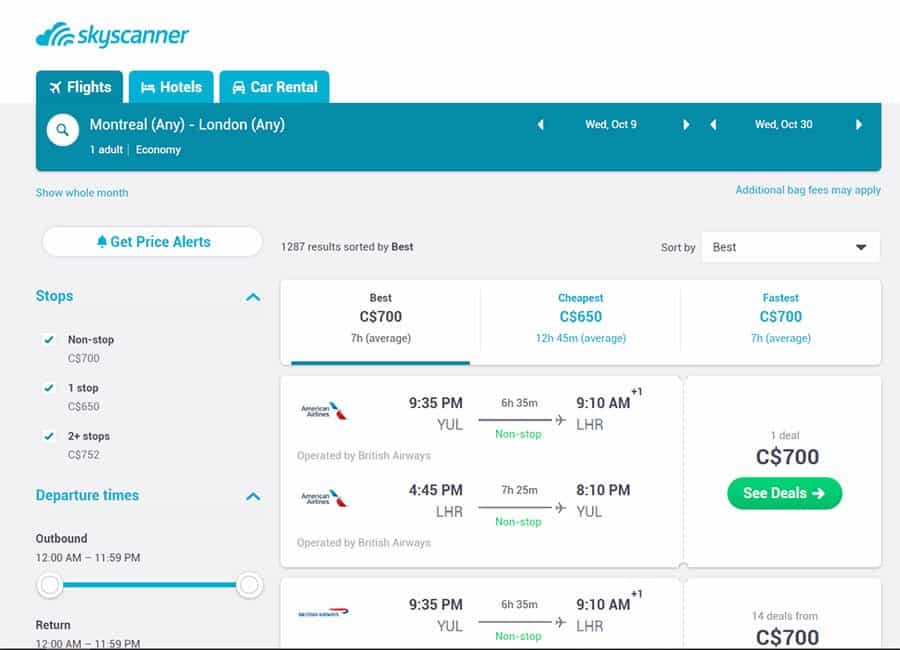 Skyscanner Multi-City
And now for my final tip. If you plan on flying to many cities at once, you can get the best price. I found this particularly helpful when searching multi-city Skyscanner Europe.
In the flight toolbar, click the multi-city option. You can add as few or as many combinations as you like.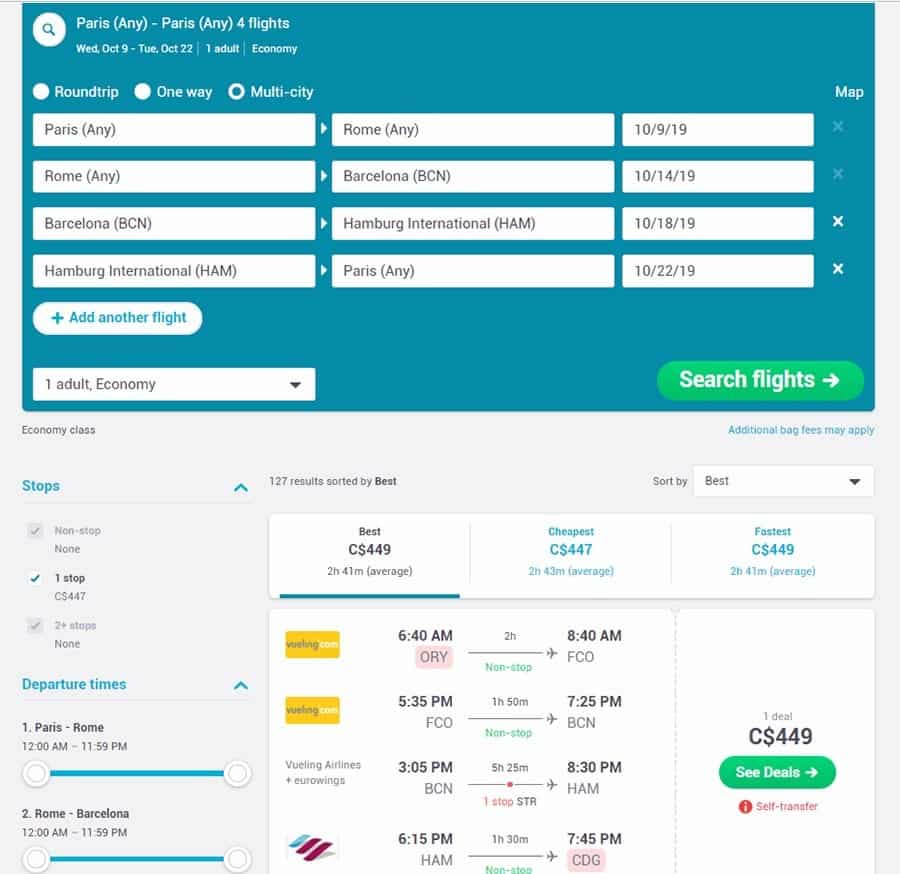 More tips on finding rock-bottom-priced flights
Compare flight prices yourself for connecting flights
This can be a biggy! Especially on a continent with a lot of budget airlines. Let's say you are in Atlanta and you want to fly somewhere that does not have a direct flight, like Dusseldorf. If you search Atlanta to Dusseldorf, chances are you will get quotes from major airlines, flying through their hub, at higher prices.
How you do find a cheaper price you ask in this situation? Look for flights to the big main cities in Europe: London, Paris, Amsterdam, etc. And then look if there are cheap low-coast carriers from that big city to your final destination. You can save big bucks this way.
You can totally mix and match airlines. Just make sure to give yourself plenty of room between your connections because if you miss your second flight, it's your problem and the airlines will not help you.
Budget airlines can be your best friend
As I mentioned above, more and more low-cost carriers are available and they offer bargain rates. Examples are Ryanair, Porter, Jet Blue, Eurowings, and Scoot. The list goes on and on. There are a few things to keep in mind however when you use these airlines:
they are no-frills airlines. You really do get what you pay for. That said, I highly recommend them for short-haul flights. For long-haul flights, be prepared to have a less luxurious experience.
they include the flight and nothing else. No food, no water, no pillow….unless you pay their exorbitant prices. So bring your food, drinks, and comforts with you.
read the fine print, they can be very specific
they can fly out of smaller airports so make sure to pay attention to that.
some require online check-in, and some insist on a printed ticket (or they will charge you for it at the airport). Read the fine print again before and be ready accordingly. One good tip is to download their app if they have one for check-in.
Check the luggage allowances, and carry-on rules, and checked luggage info very carefully. This is where they try to get the most money out of you. If you are doing carry-on make sure you are under the dimension and weight requirements. That will be my next blog post. And if you do need to check luggage it is way cheaper to buy it online first as the price will go up once at the airport.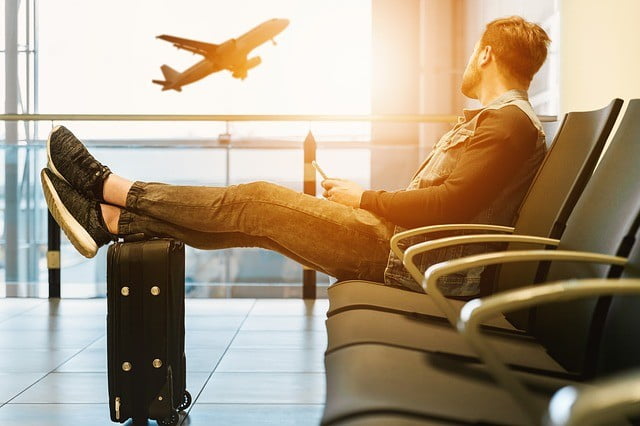 If you see airline error fares grab them right away
Humans must enter flight prices into computers, and humans are prone to error! Or it is a currency conversion mistake, forgetting taxes and surcharges, etc.
That ticket to Sydney was supposed to be 1500$ but the clerk type 150$. If you see something like this BUY IT RIGHT AWAY before the mistake is corrected.
But, when you book a flight it is not yours until you get that booking number confirmation. So although the risk is minimal, an airline could cancel and refund the flight.
Usually, these mistakes are honored but if you have other arrangements to make for that trip, wait till you get a confirmed booking. NEVER contact the airline to follow up though.
Keep an eye out for flash sales
I subscribe to a couple of sites that post incredible flight deals. One of them is for Montreal, YULDeals. If you are in Canada change YUL with your city airport code, most big ones have a site.
Another great site is Scott's Cheap Flights. Sign up for the free weekly newsletter or pay the small annual fee to get every new deal as they come in. One booked flight will pay the annual membership many times over.
These sites are really good. It is how I found a roundtrip ticket to Beijing on Air Canada for 507$ CAD!
Sometimes it pays to gamble, at your own risk
I will contradict 2 things I said in this post, but I want to share something that happened to me. I originally planned a 2.5-week long trip and I changed it to 1 month. But very well-priced transatlantic tickets were no refund any changes.
So I had to buy a one-way ticket back. London was definitely the cheapest to fly out off (and to fly into from where I would be just before heading home). The cheapest was a long 12h journey with a long connection. And there was a direct flight, 5 hours shorter, but it was 100$ more and on a much older plane. Both flights were on the same airline.
So I waited a day to think about it. When I check the fares the next day, well that shorter direct flight was now 2$ cheaper than the 12h option. So I bought it, even if it may be less of a comfortable flight home.
Stop dreaming and start traveling
I hope you learned a lot from this article and that you will use these tips on how to find cheap flights today.
If you find and buy a great deal because of my post, please leave a comment below and share the deal you found!
PIN IT HERE for later!