Last Saturday we saw the price of lobster was more than decent so a lobster dinner was called for…no questions asked. We were 3 and we got 6 lobsters for $50. Score!
It was boiled perfectly
. Score! It was absolutely yummy and delicious. Score! We had a huge pile of lobster carcasses and it was about to go in the garbage. NO! STOP!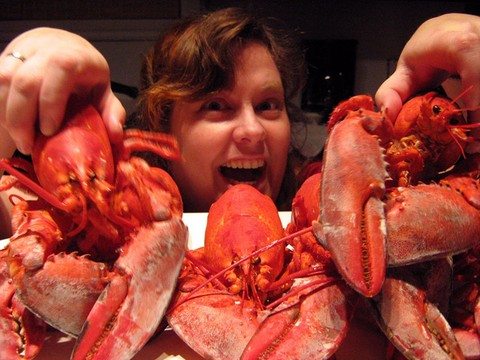 Are you kidding me you are throwing a goldmine down the garbage? Make some lobster broth instead. Oh, you will covet the golden brothy nectar after I promise. Use it after for making Lobster Bisque, Fish stews or Linguine with Shrimp in Creamy Lobster Broth. Here is how to make a broth without running to the supermarket:
Improved Easy Lobster Broth
6 lobster shells, just the shell clean out the body innards
1/3 cup olive oil
3 medium onions, chopped
3 garlic cloves, chopped
8 sprigs of parsley
3 cups white wine
5 bay leaves
salt and pepper to taste
If you happen to have some around, we did not, throw in some carrots, celery, leeks and/or fennel.
Throw everything in a pot. Add enough water to just cover the shells. Bring to a boil and then simmer 90 min. Strain and discard solids. Readjust salt and pepper if necessary. That is it. If you have more or fewer shells just divide or multiply accordingly.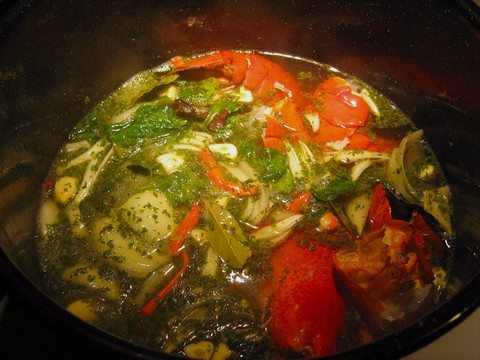 Cool it down, split it into portions and you can even freeze it. With 6 lobsters we ended up with 7 liters of broth. Yeah, freezing and gifts!
Update: I am adding Stef comment to the blog. He already told me he wanted perhaps to add some text when we cooked at his place…I forgot to ask him but he just left a long comment so adding it. How awesome to be dating someone who is as nerdy food-obsessed as I am! Take it away Stef….
Lobsta!
To add to Evelyne's broth blog, I will need to go back in time. Actually, about 1h30 before she had the idea of using the carcasses for broth.
The cooking of the lobsters…
Simply put:
– Boil water with sea salt. Cover.
– Add the live lobsters in the pot (For fun, you may want to traumatize your kids here…Just kidding!). Cover
– Once the water starts to boil and the steam is coming out of the pot, remove the cover and time for 10 minutes for 1 lbs lobster. Add 1 minute per additional ¼ lbs of lobster (1 ¼ = 11 minutes, 1 ½ lbs = 12 minutes etc…)
What I like about adding sea salt is that I don't need to use garlic butter because the salt enhances the natural taste of the lobster. Served with a nice Rosé wine (Sowhilo – Reif Estate). Yummy!
Get cracking!!!
Oh no, that's for eggs. My bad!
-Stef-