OK I know what you are thinking now, one of 3 words: what? why? ewww! Now hold on, we are here to explore new tastes and sometimes the unknown can be quite a revelation.
This liqueur is all Tasty Trix's fault. I even emailed her and told her so. Tasty Trix talked about an Icelandic birch Liqueur she discovered on a recent trip. I wanted to try it but I would have to go to Iceland. She mentioned Pine Liqueur was close. I got none of that around either.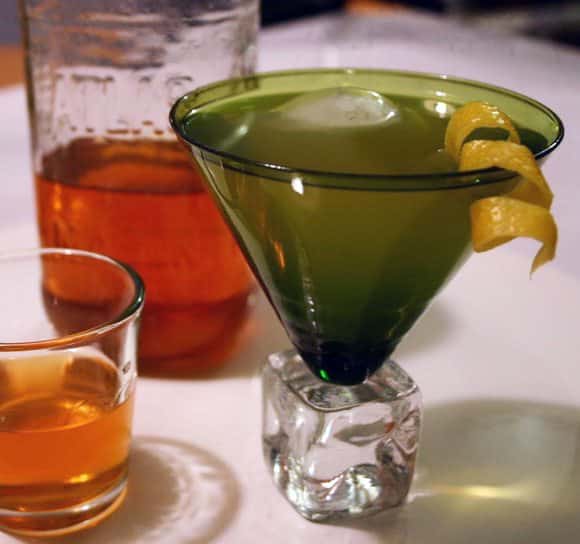 But I just happen to still have 3 ice cubes of spruce extract in the freezer from when I made Spruce Beer soda a while back. So I went searching for a liqueur recipe that would fit the bill with my spruce ressource.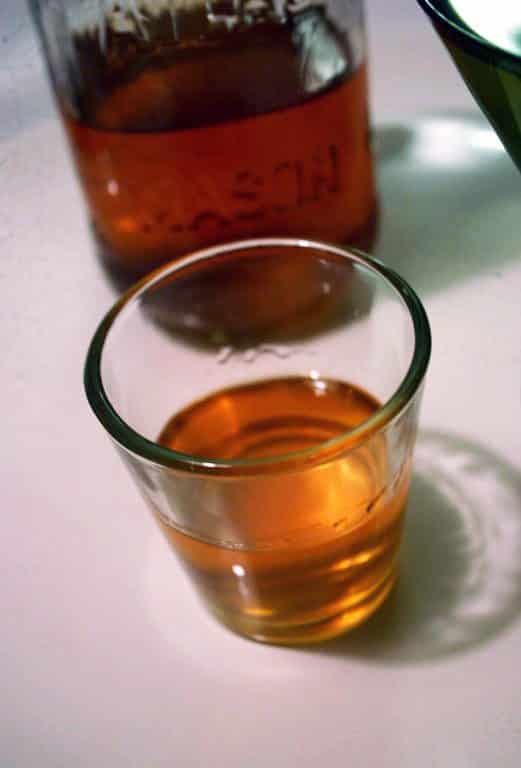 Spruce Liqueur
1 1/2c vodka
2 tbsp spruce extract
1/2 cup sugar
1/4 cup water
Add the spruce extract to the vodka and steep for 10 days.
Put sugar and water in a small pan. Bring to a boil and stir until all the sugar is dissolved. Let simple syrup cool. Add the sugar syrup and mature for 2 to 4 weeks.
After proper maturity the taste is quite nice and only slightly evergreen-ish. Really it is pretty good. And I even found a perfect cocktail to use my Spruce Liqueur. It mixes surprisingly well with lemon and soda. I dare you to try it!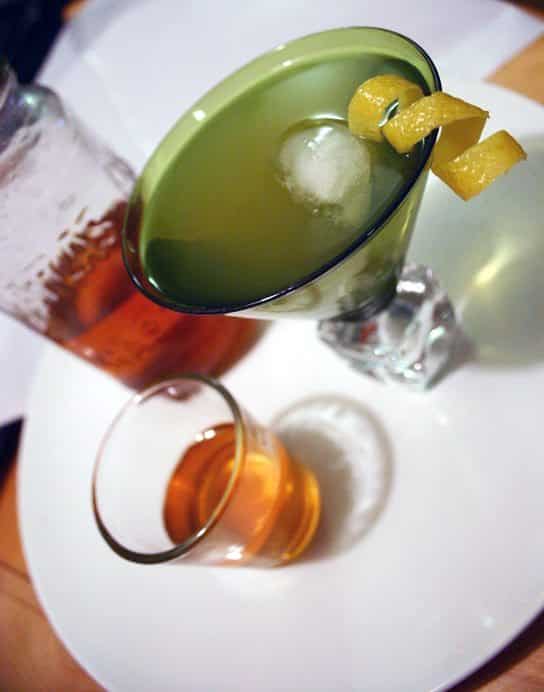 Lemon Spruce Fizz
1/4 cup Spruce Liqueur
1 tbsp lemon juice
1/2 cup soda water
lemon twist to decorate
Add liqueur, lemon juice and soda water to a shaker. Shake vigorously with 1 ice cube. Pour into a martini glass and serve with a twist of lemon rind.
———————–
The Vegan round up of the  Creative Cooking Crew is up: check the pics on our Pinterest page and here are the links to the participants!
The Vegan Gutbuster from Lori of Taste with the Eyes.
Old Fashioned Chocolate Cake with Cranberry Topping from Evelyne of Cheap Ethnic Eatz.
Sweet Plantain Empanadas with Mixed Mushroom Picadillo from Norma at Platanos, Mangoes + Me!
Pumpkin Crepes and Maple Ice Cream from Marisa, Cook's Book.
Mushroom Yakitori and Mushroom Scallion Potstickers from the Home Skillet team.
Nime Chow from Victoria of Mission Food
Smoked Tempeh & Grain Meat Meatballs with Zucchini Spaghetti & Grain Meat Ragu from Lazaro Cooks.
Lemongrass Chickpea Tofu Skewers with Spicy Soya Pomelo Dip from Maya of Foodiva's Kitchen
Two Potato Tofu Napoleon from Christo of ChezWhat?
Vegan Sushi and Edamame Salad by Maureen of Cuisine by Maureen
Batata Vada by Deana of Lost Past Remembered
Baked Pear and Chi Lentils from The Ardent Epicure
Gnocchi with Roasted Garlic Cashew "Cheese" from Tracey of TastyTrix
Broccoli Divan by Faith of An Edible Mosaic
Lentil Loaf by Erica of My Colombian Recipes.
Cauliflower Soup by Laura of La Diva Cucina
Hot Tofu Sliders from Angela of Spinach Tiger
Meatless Meatballs + Spaghetti from Jessica of Cajunlicious
Tempeh Filo Triangles and Brussels Sprouts Slaw from Kelly of Pink Apron.
Baja Style Tofu Tacos with Beet/Carrot Slaw + Avocado Mash from Debi.
And, La Frita, my vegan Cuban burger.