Thanks for all your good wishes. I am still fighting this cold. Some days I win, some days the cold winds. But it shall pass. Thus I remain a bit quieter still on the blog front.
OK so raise your hands if you have ever tried salsify before? I knew it, only 2 of you know what this root vegetable is, right? The first I ever heard about salsify was the day my mom mentioned them from her childhood and she said they sorta vanished. Of course I made it my mission to buy some if I ever came across a bunch of salsify. And guess what? That day has come. I purchased them on the same occasion that I bought the topinambour (or Jerusalem Artichoke) . And I am keeping the mystery for a third exotic vegetable discovery that day, to be posted soon.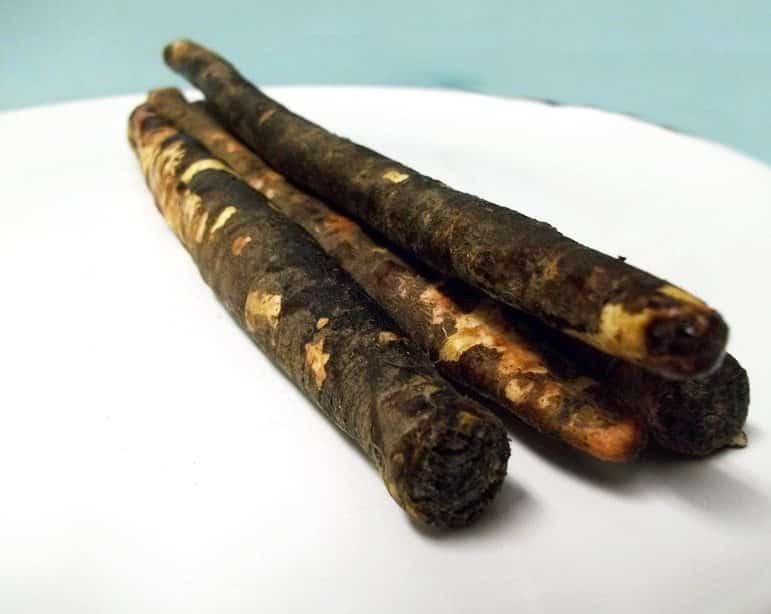 I bet I know what you are thinking: you want me to eat that UGLY thing? Yes I do and trust me you will love it. There are two types of salsify actually: the white salfify and the black salsify. I think you guessed I got the black one. It can also be called black oyster plant, serpent root, viper's herb, viper's grass. The black salsify is native to Southern Europe and the Near East. Although the skin is black the inside flesh is a creamy white.
There are a few precautions to know before preparing black salsify. The thick black skin exudes a sticky latex substance when peeled before cooking. Some prefer to boil the salsify first and peel once cooled. And once the salsify is peeled you want to immerse it immediately in water with lemon juice added or the flesh will turn brown very rapidly.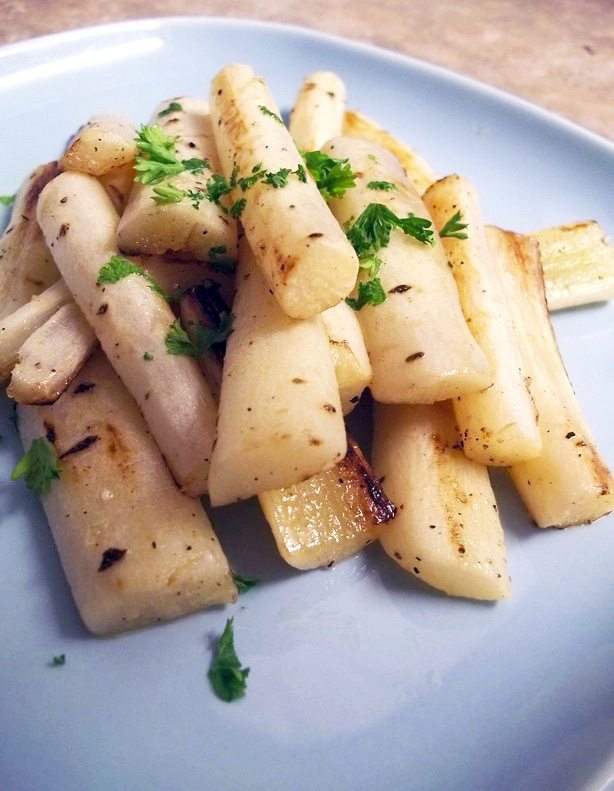 It's mystical witchy look of course made people think it was miracle cure against the bubonic plague and snake bites. I am sad to say those claims are both false but it is a wonderfully nutritious root vegetable. It contains potassium, calcium, phosphorus, iron, sodium, and vitamins A, B1, E and C.
The salsify taste is reminiscent of artichoke hearts or a delicate asparagus. Some even say it has a faint taste of oysters but I did not think this to be true. I found a wonderful and simple recipe using the pan roasting method on the Eggs on Sunday blog. Basically you boil the salsify first to cook the vegetable and then you roast in a pan with caramelizes a little bit the exterior and intensifies the flavor.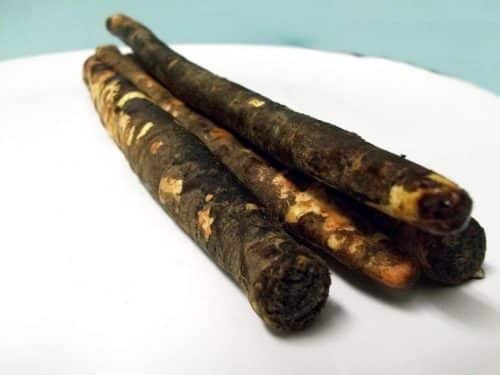 Pan-Roasted Salsify
Ingredients  
4

large or 8 thin/small salsify roots

Juice from 1 lemon

1

teaspoon

black peppercorns

1

bay leaf

1

–2 tablespoons extra-virgin olive oil

Kosher salt and freshly ground black pepper

to taste

A sprinkling of chopped parsley or thyme
Instructions 
Peel the salsify roots and place them in a shallow pan with water to cover, lemon juice, black pepper, bay leaf, and salt to taste. Bring to a simmer and cook until tender (about 20-30 minutes, simmering, based on the thickness of the roots.)

Remove the salsify roots from the liquid and let cool slightly, then cut into small pieces (I cut mine into 2-inch batons.)

Heat some olive oil in a saute pan over medium heat until hot, then add the salsify pieces along with a sprinkle of coarse salt and a grinding or two of fresh black pepper. Cook until golden brown, then toss in the chopped fresh thyme at the end.