I love discovering new food monthly groups or friendly challenges but this one fits the bill in a whole new way. Food 'n Flix is a monthly event where a 'host' picks a movie of their choice that pertains to food. Everyone watches the movie and then makes a recipe which the film inspired. It can be any recipe.  I annually plan a Food Film Marathon at my house with lots of friends so I know my food movies!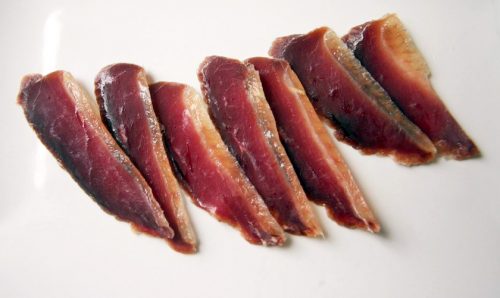 This month's pick is hosted by Elizabeth at The Law Student's Cookbook and she picked a really unusual and quirky movie called Delicatessen (one that is on my annual event's list). I cannot give you a better set-up than IMDB: Post-apocalyptic surrealist black comedy about the landlord of an apartment building who occasionally prepares a delicacy for his odd tenants.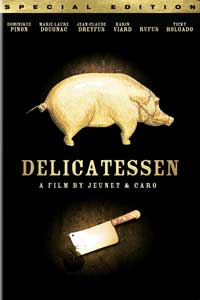 I saw this movie years ago and it was a real pleasure watching it again. It is not a movie for everyone, but it is a beautiful little jewel of the absurd, a black comedy with lots of very unusual hilarious moments.
In this sci-fi war torn city the owner of the local delicatessen is also the proprietor of an apartment building who has a unique way of choosing his tenants. You see food is scarce and sometimes you have to result too…cannibalism for some meat. Don't worry it is not a horror film and there is only one scene where a wrapped parcel hints at the content. Anyways, the new tenants are judged on what they would look like as a steak in a plate.
The movie focuses on the quirky and very absurd characters that live here, including the new tenant who charms everyone, including the butcher's daughter. She wants to save her new love so she goes underground to ask help from the obscure vegetarian rebels.
Will the tennant make it to dinner or as dinner? Well you'll have to watch the movie to find out.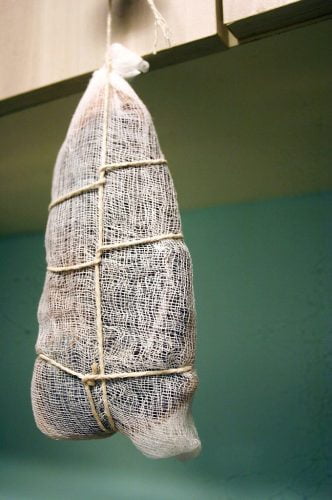 I did not exactly have access to (or want) the main ingredient of this film. So I went with something you would really find in a delicatessen prior to the post apocalyptic world. Furthering my cured meat experience this time I went with duck to make a Duck Prosciutto. It was quite delicious as long as you can cut it as thin as possible slices. Cut a bit thick the consistency is intense for a cured meat. I think the very carnivore look fits with the movie superbly.

Duck Prosciutto
An easy recipe for home made Duck Prosciutto. It can be very simple to do cured meats at home.
Ingredients  
300

g

of rough sea salt

300

g

of golden caster sugar

rosemary leaves

3

garlic cloves

coriander seeds

clove

black peppercorns

duck breasts
Instructions 
First, make a basic curing mixture of salt and sugar.

Add a small handful of rosemary leaves, bashed up and bruised a little in a pestle and mortar, and three peeled and squashed cloves of garlic. Stir into the salt and sugar mix

Crush half a teaspoon of coriander seeds, a single clove and half a teaspoon of black peppercorns together in the pestle and mortar and stir into the salt and sugar mix.

Sprinkle the cure over a plump duck breasts in a non-reactive bowl. A plastic box is best, small enough to contain the duck breasts neatly. Put the box in the fridge and leave for three days.

The salt will work it's magic, drawing out the duck's moisture and gently drying it out. The cure will turn to a brine, and the meat will darken.

After three days, rinse the breasts under cold running water and pat dry on a tea towel before individually wrapping and tying them in muslin. Hang the duck in a cool, airy place for a week to dry – a dry cellar or a shed or garage would be ideal. The duck is cure when it has lost 30% of its weight before drying.

To serve, slice the ham at an angle, as thinly as possible.