In my ever continuing search for unusual ingredients, today I bring you the Aloe Vera plant. I have lathered my body in the past with many Aloe Vera enhanced creams and lotions in my life, even broke of a leaf from a house Aloe plant to help ease a burn…but I never saw it as something I could really consume.
NOTE: I would not recommend trying this with your houseplant. There are about 200 species of Aloe…stick to the one sold in the markets grown for consumption…just to be sure!
Well apparently it can  be eaten…or sipped. A few month ago I discovered Aloe juice bottles from an Asian grocery store. They always have the coolest weird drinks! I really liked it and I loved the fact that the juice contained tiny slivers of Aloe flesh. On a side note it's great with Tequila too as a cocktail. But back to serious business, when I was hunting down those un-findable white asparagus for the 5 Star makeover challenge I found myself again in another Asian market. No white asparagus in sight but they did sell giant leaves (or stalk?) of Aloe Vera. I had to get one.
As you can see it is very big: here it is with my home cordless phone which is maybe 6 or 7 inches long. I barely could get it in the fridge comfortably. great so now what do I do with it I thought. I started searching online and guess what, there are not many appealing or edible recipes out there for Aloe. Finally I settled on Poached Aloe that I found here. Unfortunately I cooked it too much and I wound up with a mass of sticky sweet Aloe gel….so let's make Aloe candy! This was inspired by the ginger chewy candies I adore that you can find in Chinatown. But let's start at the beginning and let me show you how to prepare the flesh.
Get a good knife, a big cutting board and get ready to get slimmed. Start of by cutting along leaf edge where there are sharp points. Cut also the bottom part off…you can see below the gel in cross section. After a little nudge with the knife the flat top part will peel right off.
Next you have the bottom curved edge of the leave. This is a bit more tricky. You have 2 choices: either run knife under the gel (you may miss a lot of meat) and/or  scoop out with a spoon. Make sure to remove all rind or yellow parts which are bitter. You can see below the translucent strips of solid gel. Cool eh?
Now you can cut up your strips of flesh into small cubes. Oh did I mention this stuff is slimy? Like think Ghostbusters slimy. try to keep things as clean as possible…good luck! Slimy and stretchy. Now your flesh is ready for making candy.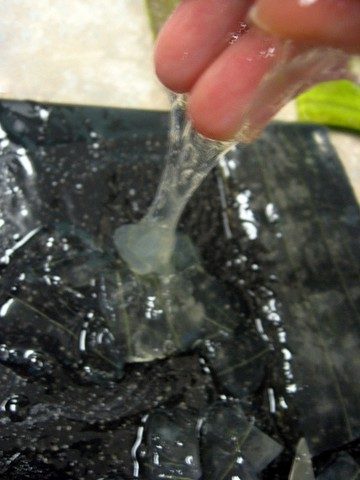 Aloe Candy
1 large aloe leaves peeled and cubed
1/2  cup sugar
1 tbs lime juice
cornstarch
Cook the aloe over medium low heat stirring occasionally until the liquid is no longer slimy and a candy thermometer reads firm ball stage 245ºF (118ºC). Allow to cool to touch. Spread some cornstarch on your counter so the aloe does not stick and roll it out into a cylinder. Cut into pieces and roll them out into balls with some cornstarch.
Yep, all that gave me 7 candies. As you can see it is very similar to the ginger chew that I placed in the upper right corner. The taste is hard to describe, sweet aloe but not overpowering. I would totally eat Aloe candy if I could buy it but I am not planning on making this recipe again. It was cool trying it once.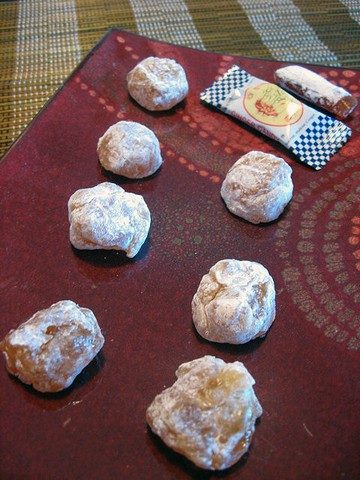 Looking for more unique candy ideas?: