November 25th is known as Sainte Catherine's Feast Day within the Catholic Church around the world. Sainte Catherine was martyred in the early 4th century. She is considered by many as the most important of the virgin martyrs. Sainte Catherine regained popularity towards the end of the Middle Ages and she became the model for proper feminine behavior and the patron saint of young unwed women.
In Quebec, November 25th is also become know as taffy day, or Tire Sainte Catherine in French.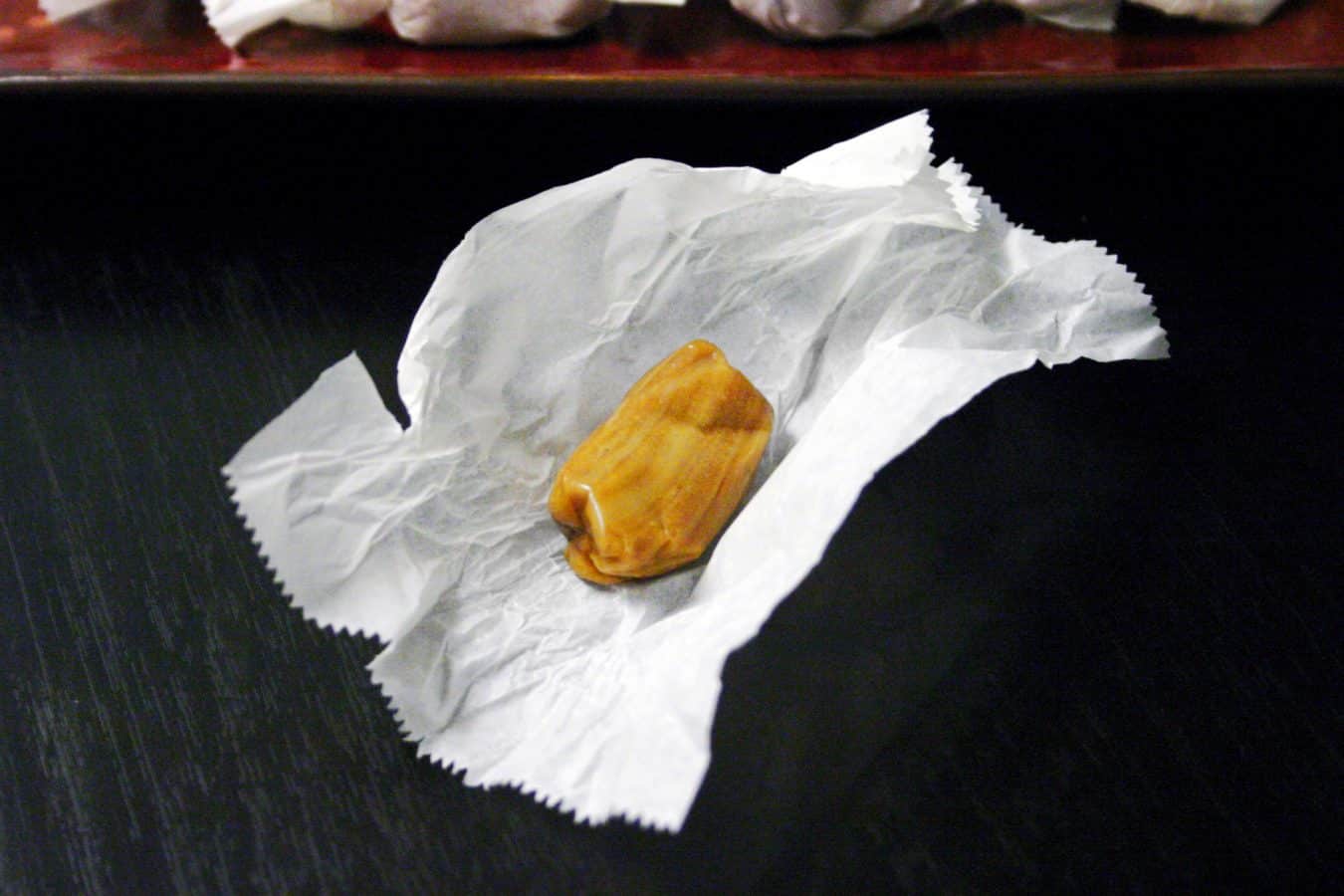 In 1658 a religious community for women was founded in Montreal by Marguerite Bourgeoys. She and her congregation were not confined to a convent but were allowed to live among and help the less fortunate. These sisters had taken on the mission to offer education to poor girls and to watch over newly arrived women who were meant to be married off and populate the new continent.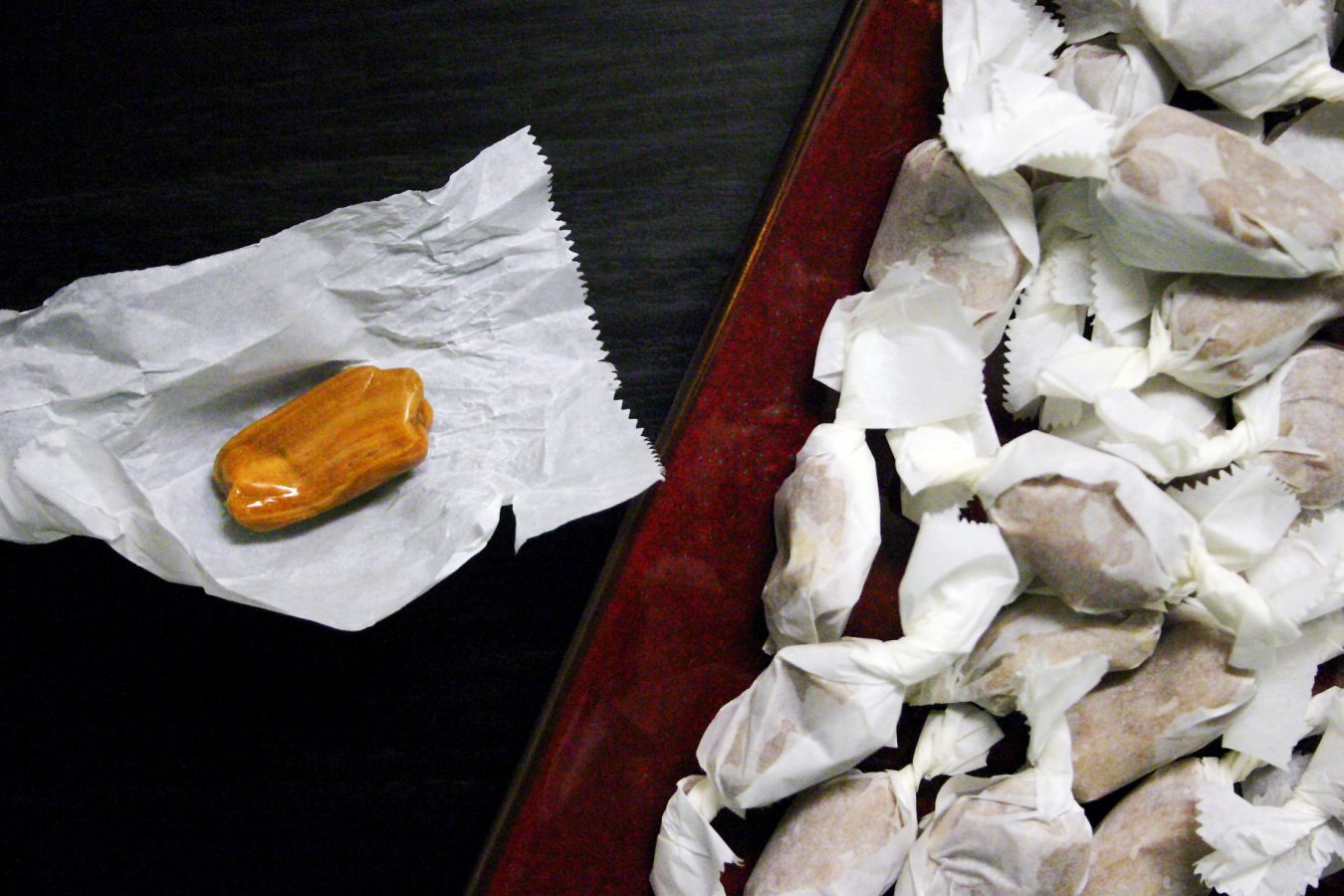 Some say Marguerite Bourgeoys started this candy tradition as a way of keeping the attention of her young pupils by placing the taffy on the path in front of her school leading to the door way. Well these unmarried French Canadian girls thought it was also a great way to show their interest to eligible boys by offering them this candy on the day that celebrated unwed women.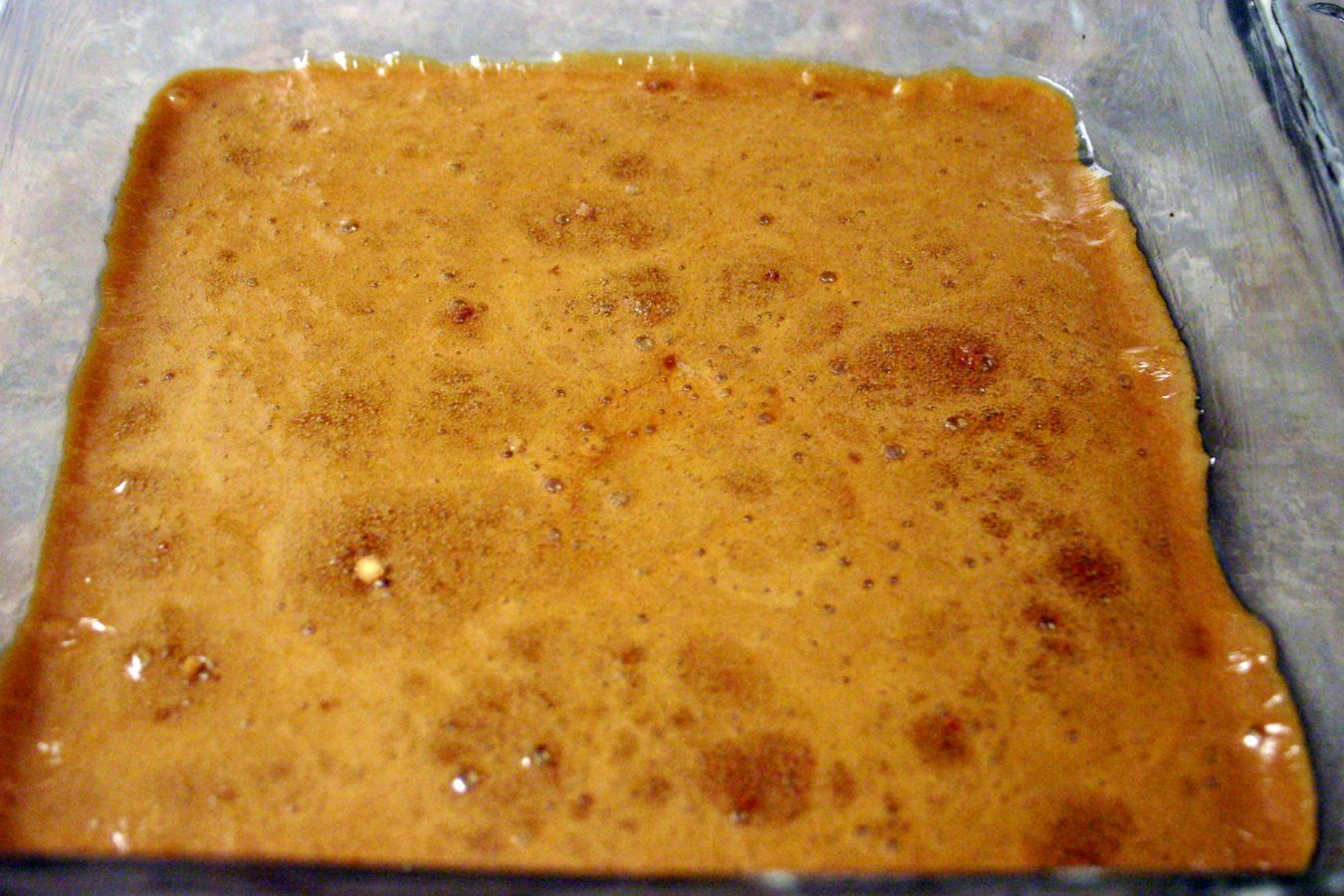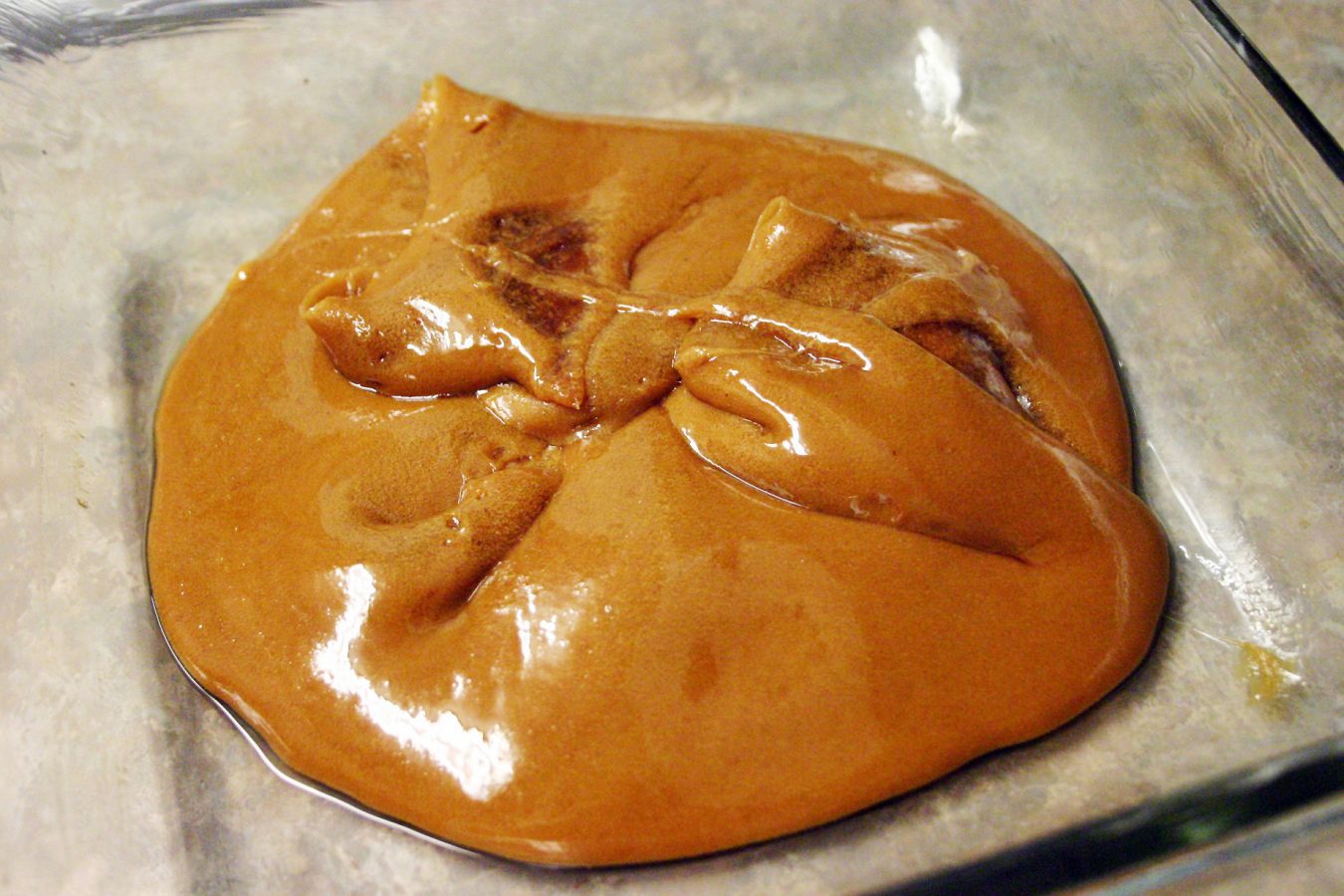 As far as candy recipes go, pulled taffy is one of the easiest to try. This recipe comes from the website of a popular TV chef in Quebec named Ricardo, but there is not modern twist to it, the recipe has remained unchaged since the beginning. It's a great one to do with the kids as well. After the sugars have reached a certain temperate on the stove, the liquid is left to cool in a buttered dish until it has taken on a bit of form and is cool enought to handle.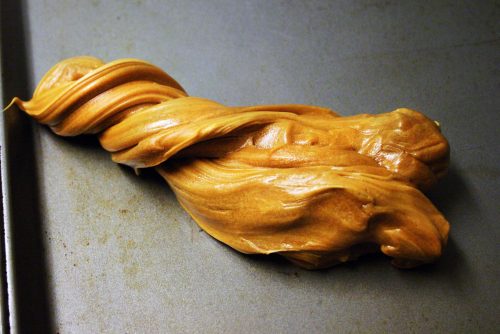 Now here comes the fun part. Butter your hands well, grab the mass of sugar and start pulling, twisting and folding. Keep pulling the taffy until it reaches a golden opaque color. It is quite beautiful and when you really stretch out the candy it looks like shimmering gold threads. When the right color is a acheived just cut up the candy into pieces with scissors and wrap with parchement paper.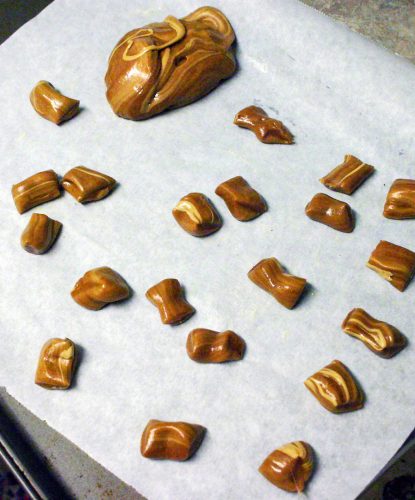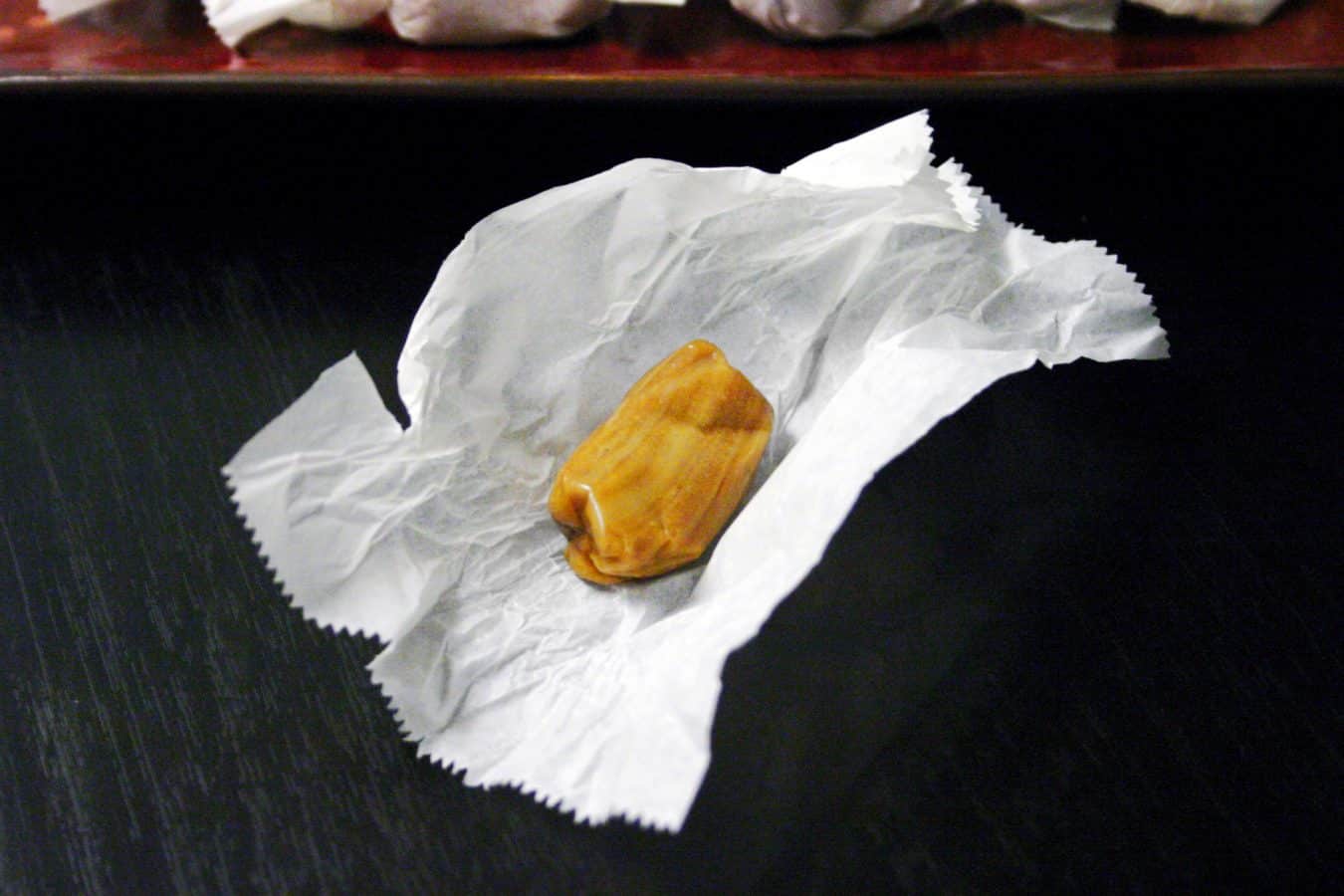 Tire Sainte Catherine (Pulled Taffy)
Ingredients  
1

cup

granulated sugar

1

cup

brown sugar

1/2

cup

corn syrup

1/2

cup

molasses

1/2

cup

water

1

tbsp

white vinegar

1/4

cup

salted butter

plus more for buttering hands!

1/2

tsp

baking soda

72

parchment paper

cut into squares, for wrapping
Instructions 
Generously butter a large 33 x 23-cm (13 x 9-inch) Pyrex dish.

In a saucepan, bring the sugar, brown sugar, corn syrup, molasses, water, vinegar and butter to a boil. Cook over medium heat until a candy thermometer reads 126 °C (260 °F). Remove from the heat, add the baking soda and stir with a wooden spoon just enough to incorporate. Pour into the Pyrex dish and let cool for about 15 minutes. The taffy should still be warm but not hot. Line a baking sheet with waxed paper. Set aside.

When the mixture has cooled enough to be handled, pick up the taffy with buttered hands and begin to stretch and fold the taffy in half and then stretch it again. Repeat this step several times until the taffy fades in color and becomes golden, which take anywhere from 5 to 10 minutes.

Cut the mixture in half. Stretch one piece at a time, into a 1-cm (1/2-inch) in diameter ribbon. With oiled scissors, cut 2.5-cm (1-inch) long candies. Set on the baking sheet until you are ready to wrap them.

Wrap each candy in a square of waxed paper.
A little shy to show your interest to a man you fancy? Today is a great day to pull a bold move, well at least what would be considered a bold move when New France was being colonized.
Looking for more unique candy ideas?: