This Cherry Coke Mentos White Chocolate Fudge is sure to have you bouncing off the walls in no time! It's the only way to enjoy some cola and Mentos candy without an explosion, well except for the flavorful explosion in your mouth!
What a fun movie we got to see this month for Food N' Flix. This time we watched an animated film called Wreck-It Ralph and the food inspirations were sweetly mind-boggling. But eventually, I settled on a drink and candy combo: the Glitch Cocktail and a Cherry Coke Mentos White Chocolate Fudge. Sugar rush guaranteed! And now that is a tongue twister, say 3 times fast: Cherry Coke Mentos White Chocolate Fudge.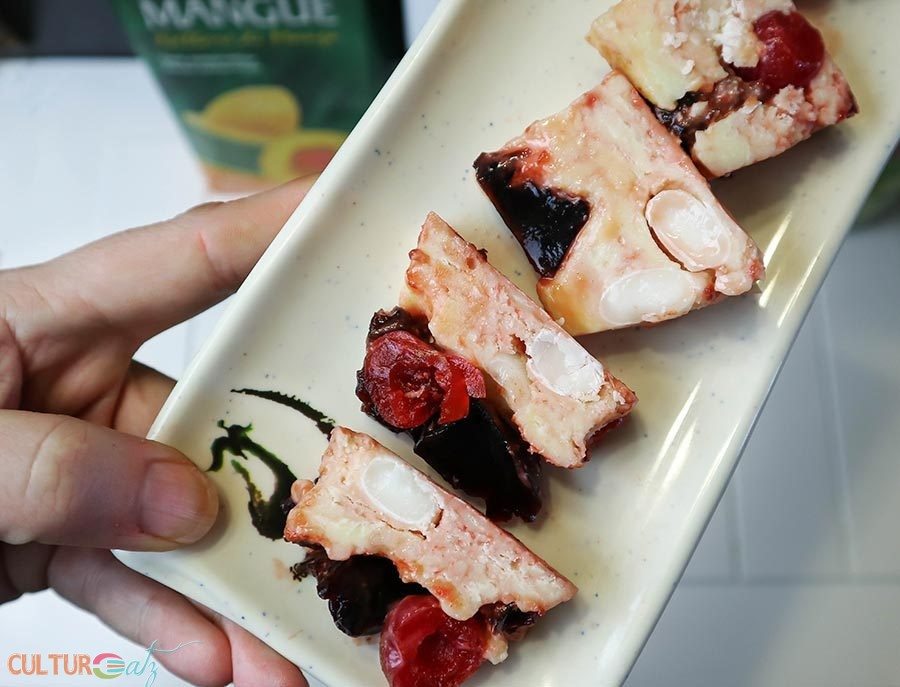 Wreck-it Ralph
Now I had seen Wreck-It Ralph once before but it was a long time ago and I did not remember there being any food in it. Was I ever wrong!  This 2012 Disney movie features a stellar voice cast with John C. Reilly, Sarah Silverman, Jack McBrayer, and Jane Lynch. Ralph is the bad guy in his video game and he can no longer take the hate and rejection of his fellow video game characters. He thinks he needs to win a medal to hopefully gain their friendship.
Ralph goes to Hero's Duty, a shooting game, and earns himself a medal. But catastrophe ensues as he tries to leave the game and he ends up in an escape pod that crash lands into the game Sugar Rush, a racing cart game set n a candy made land. Not long after he arrives, he meets Vaneloppe, a disliked glitch character, who steals his medal so she can enter the cart race. This set a whole lot of problems as glitches cannot race, ever.
Ralph and Vaneloppe end up having to join forces for the common good and save Sugar Rush. In the process they realize that they have a lot more in common then they first realized. Will Vanelope get to race and will Ralph get his due respect from Fix-it-Felix? Watch the movie to find out!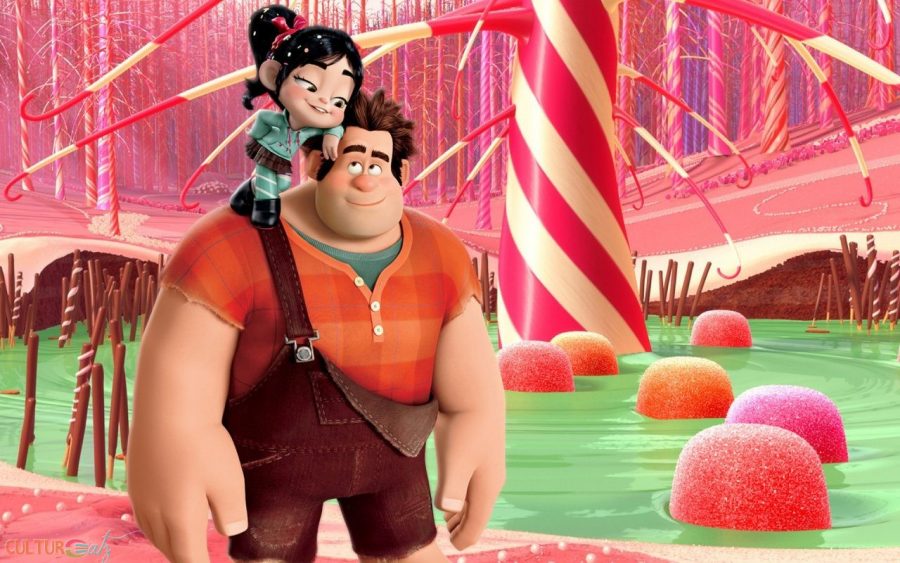 Food sightings in this movie
Sugar Rush video game, pie, coffee and cookies, cherries, martinis, cake, rootbeer, mushroom, subway soda, eggs, Candy Cane Forest, sweets, candies and chocolate, Gumball Gorge and Cakeway. It has many attractions like Diet Cola Mountain, King Candy's Castle and the Sugar Rush Speedway, jujube, gum drops, taffyta, candy corn, lollipop, swiss roll, donut, cupcake, oreo, milk duds, devil dogs, waffers, choco covered pretzel, jaw breaker, vanellope, nesquick sand, laffy taffy, batter, frosting, decorating, sprinkles, sugarfree lollipop, ice sculpture, mentos and diet cola, red rope licorice, molasses, cough drop, sour candy, brown sugar cubes, chocolate milk, nuts, marshmallow, popcorn container, ice cream cone, a la mode, piruline, whoppers, angel food cake, peanut brittle. I am missing lots of items and some candies I do not remember their names, but you can find the full list here.
PIN IT FOR LATER! https://www.pinterest.ca/pin/266275396702766334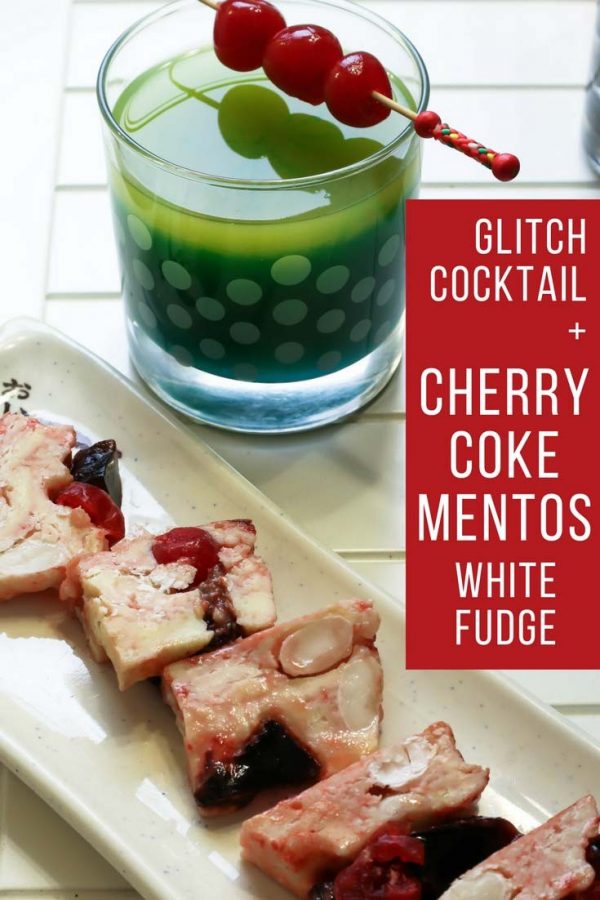 Cherry Coke Mentos White Chocolate Fudge
OK, so at first I really wanted to do a recipe with Coke and Mentos. Besides the infamous jet fuel propelled explosion you get when adding Mento to a bottle of Coke (there are a gazillion videos online if you are curious) there are no recipes that combines these two ingredients. Bummer!
Then I thought of doing a candy landscape but that seemed like an expensive project. Why not come up with one candy intense treat that is pretty colourful and brings out some of the candies in the movie? I saw a recipe for Coke jelly and inspiration struck. I made my own cherry Coke jelly cubes and incorporated them into a white chocolate fudge. With the addition of Mentos and cherries of course.
Kind of a messy crazy mix, without any explosions. My white chocolate did not cooperate super well and seized. It was a fun recipe to make but once was enough lol.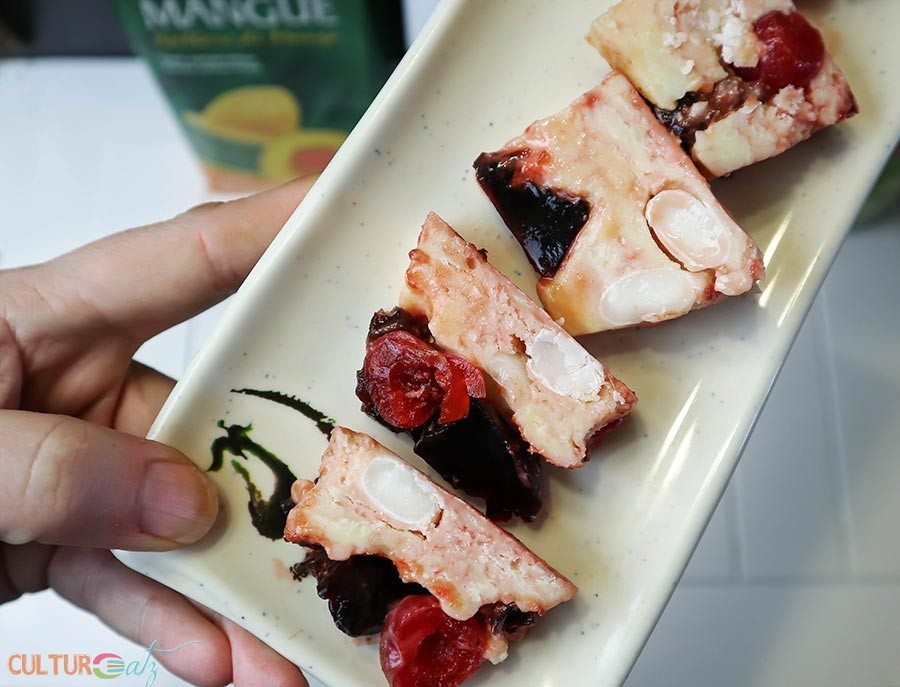 Cherry Coke Mentos White Chocolate Fudge
This Cherry Coke Mentos White Chocolate Fudge is sure to have you bouncing off the walls in no time! It's the only way to enjoy some cola and Mentos candy without an explosion.
Ingredients  
12

ounces

white chocolate chips

1/2

cup

sweetened condensed milk

1

tablespoon

butter

1/4

teaspoon

salt

1

package cherry Jello

optional

brown food gel

1

cup

diet Coke

1/2

cup

cherries

3

rolls of Mentos candy
Instructions 
Bring diet Coke to a boil in a microwave. Mix with the Jello powder until the gelatin has dissolved. Stir in food gel is using. Pour in a loaf pan and set in the fridge. Cut into cubes, place in a bowl and set aside.

Line your loaf pan with parchment paper and generously grease it. Scatter a 1/3 of the cherries, Mentos and jello cubes on the bottom of pan.

Combine white chocolate, condensed milk, butter and salt in a bowl. Microwave in 20 second instalments, stirring until the chocolate is melted.

Gently fold in the remaining cherries, Mentos and jello cubes.

Transfer to pan and spread evenly. Refrigerate overnight.

Remove from pan and peel off paper before cutting into squares.
I could have added some fun colourful items to really make it over the top, like these fun multicoloured jello cubes or my playdough cookies. Perhaps some drunken gummy bears. But hey let's keep it classy 😉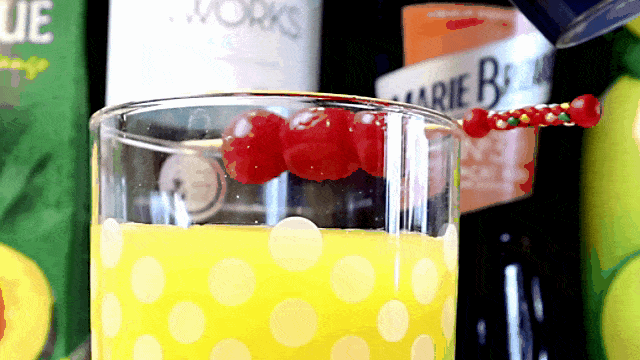 Glitch Cocktail
Now I really wanted to also add a little recipe in honour of Vanellope Von Sschweetz. This misunderstood bad character, a glitch in the game in fact, does turn out to be a hero. Well, I actually found a recipe online, a super colourful cocktail with mango juice and blue curacao called a Glitch.
I think it pairs fabulously with the cherry Coke Mentos white chocolate fudge. It's an over the top combo just like the landscape in the Sugar Rush video game.
[mpprecipe-recipe:485]
Food 'n Flix is hosted this month by Amy at Amy's Cooking Adventures! In this monthly group, a host picks a movie of their choice that pertains to food. Everyone watches the movie and then makes a recipe which the film inspired. It can be any recipe you want. Join us!
Looking for more unique candy ideas?: