Blue, Red, Yellow, Green

Pink, Gray, Orange, Purple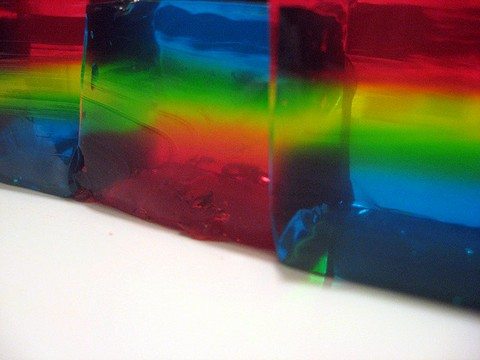 So many choices, so many possibilities! This month,the last of 2010, is an International Incident Colour Party!
Do I choose monochrome, stick to pastels, 2 complimentary colors, psychedelic? Nah, only thing in my head was RAINBOWS, LOUD, SCREAMING, BRIGHT, VIVID. I went hunting the net for the flashiest recipes I could find…while keeping a certain tasteful decorum, ahum. I found 3 recipes and I wanted HAD to do them all. So here we go with no.1
Play Dough Cookies from The Sits Girls
3/4 C butter
3 ounces cream cheese
1 cup white sugar
1 egg
1 t vanilla extract
2 and 3/4 C flour
1 t baking powder
1/4 t salt
assorted food coloring
1. In a bowl cream butter, cream cheese and sugar until fluffy. Add egg and vanilla. Beat until smooth.
2. In a bowl combine flour, baking powder, and salt. Add dry ingredients to the creamed mixture. Stir until soft dough forms. Divide dough into Fourths. Tint each with a different food coloring. Wrap in plastic and chill for 1 hours.
3. Preheat oven to 350 F. Cut each color into 12 even pieces and shape into balls. For each cookie place one red, one orange, one green, and one blue ball together and roll to make one giant ball. Roll into a 12 inch long snakes, and then starting at one end coil roll to make a cookie. Place cookies 2 to 3 inches apart on greased cookie sheet to allow for spreading.
4. Bake for 15 minutes or until lightly browned. Cool and store in an airtight container.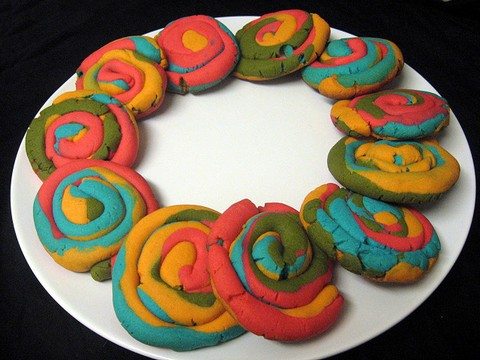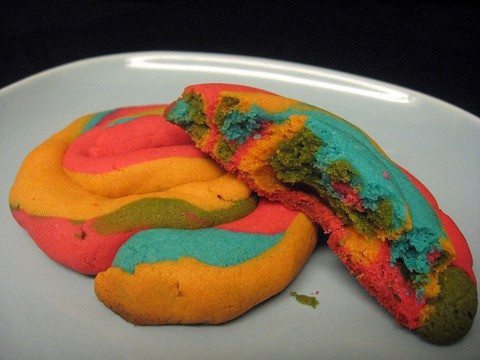 This one really took me back to my childhood and these cookies are massive. You could divide the colors further and make smaller cookies, just reduce the baking time. Very good, very bright. I feel like eating delicious play dough for real. On with recipe no. 2
The Modern Rainbow Jello from Do Better
6oz box of blue jello
6oz box of yellow jello
6oz box of red jello
3 Knox gelatin envelopes
Mix the blue jello with an envelope of the knox gelatin. Pour in two cups of boiling water. Dissolve the gelatin. Add 1/2 cup of ice. Stir until thick. Remove any remaining ice cubes and any bubbles that may have formed. Pour into a 9×13 inch pan. Let set in the refrigerator 30 min.Repeat with the yellow jello and pour it over the set blue. Repeat with the red jello and pour it over the yellow. Cut into small cubes or slices.
These are SO COOL and I think much more clean and sophisticated then the 7 layer rainbow jello our mom's might have made. This version is simple, modern, fresh. And yes even if you only used 3 colors you will see five. There is an optical illusion where each colors meet creating a green layer and an orange layer. Sliced or cubed this jello will not be avoided but rather gobbled up in no time.
And finally a last quickie 3 Layered Sweet Shooter: In a small glass pour in the following order: 1/3 grenadine syrup, 1/3 half and half cream and 1/3 vodka premixed with a drop or 2 of food coloring. I picked a festive red, white and green for which I want to wish you all a very Happy Holidays IIP style!