It seems like there is an influx of invitations to restaurant openings and product launches right now. It happens a lot with the arrival of spring. Most events I cannot be bothered with that much but there are exceptions. If something really grabs my attention and peaks my curiosity I will be there. And that is how I was introduced to a new product from Rise Kombucha by receiving an invitation for the launch of their two new flavors: Mint Chlorophyll and Rose Schizandra.
The curiosity word here is Kombucha. What the heck is it? The company calls it sparkling living tea. A more complete explanation would be that Kombucha is a sweetened tea that is fermented with a yeast, called Mother culture, thus creating effervescence.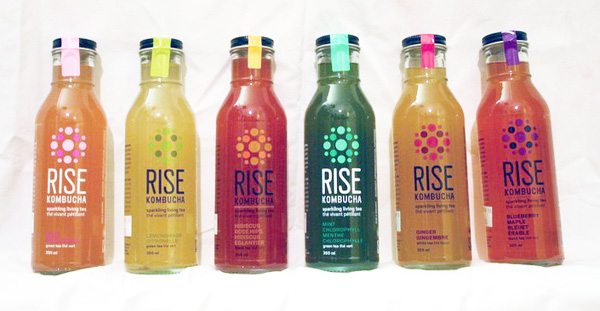 This is hardly a new product, there are claims that the history of this beverage goes back 2000 years in China or Japan. So it covers my ethnic food attraction plus it is a local, raw, organic, vegan and a fair trade product. The Rise Kombucha company is located in my city of Montreal. Actually they are located 3 blocks away from where I work. So before the official launch party I asked for a visit of their brewery. I could not take too many pics to reasons of corporate secrecy but you will still get a unique glance here.
Meet bellow Arthur, the Master brewer. He oversees the production of this unusual beverage. Here is the abridged basic recipe (which you can make at home too). First you need to brew some tea and tisanes (flavors) for a few minutes. Dissolve your sugar in the warm tea and add more water. Place your mother culture in the jar, cover with a cloth and wait 7 to 14 days. When it tastes like vinegar it is ready. Remove culture (keep it for next batch), filter and bottle. I think I will give this a shot.
This is a 200-liter container, the old way they use to make it at first. You can see the tea being brewed here. Now they have two huge vats that hold each 1400 liters (if memory serves me right) Soon they will get an even bigger one holding 4500 liters.
Below is one of their many refrigerated huge containers containing the Mother culture. This stuff is not pretty. It kind looks like a gelatinous slab of fat and ham. But good things come it! Imagine it is like a living starter for bread that must be fed. It it a living organism, just like our skins: if there is a rip it will heal itself.
One of the fun parts about my visit was seeing the assembly line which was made up of 4 guys. One puts the labels on the bottles, one guy fills the bottles, one caps the bottles and the last guy prepares the boxes. These four guys supply all of Canada and soon the US as well. They guys were really cool and chill dudes that love listening to reggae during their shifts.
There are about 5-6 other people making up the team I believe. They were so nice. I was personally introduced to every single employee and each stopped what they did to shake my hand. This simple act I feel says a lot about an organization. Rise Kombucha is also implicated in a governmental employment programs, as well as a organization helping rehabilitating alcoholics (liver detox studies and cider like placebo). Just a great team. Thank you everyone and thank you Abraham for showing me around.
OK so now I told you basically what Kombucha is and how it is made, but what does it taste like and is it good for you? This living sparkling tea is very unique in flavor and smell. Yes it does smell like a light rice vinegar and there are reminiscent tones of vinegar in the taste but it is very subtle. Actually it resembles cider a lot too in taste and effervescence. But keep in mind it is not an alcoholic beverage (contains less then 0.5% alcohol). The bubbles are much light then a soda or pop. Add on top of that the various flavors which I will describe a bit lower in the post.
Kombucha is the new cure all drink out on the market. It claims to have the following health benefits: Acts as an antioxidant, Strengthens the immune system, Balances intestinal flora and Stimulates digestion (acidity of the drink) , Combats stress, Increases energy, and Detoxifies the liver (glucaric acid and/or glucuronic acid ). My skeptical side has to pop out now: there have not been sufficient studies to verify any of these claims. Does not mean it is not true, it is just not proved officially yet.

The 2 new flavors launch party was set up as a cocktail competition. There were 4 bartenders from popular bars, each using the Kombucha as a base ingredient in a cocktail. There were Mojitos, Pina Coladas, Pink concoctions finished of with a candied Hibiscus flower and my wining drink, a Mint Julep (love Bourbon).
I tried my hand at a recipe myself at home in the form of a smoothie with a cool layered effect. I wanted to keep the Kombucha intact without heating it or destroying any of it's properties. This fit the bill and it was so delicious.
Banana Kiwi Smoothie with Rose Schizandra Kombucha
A review and smoothie recipe with Rise Kombucha, a sparkling living tea that is a sweetened tea that is fermented with a yeast, called Mother culture, thus creating effervescence.
Ingredients  
1

bottle Rose Schizandra Kombucha

1

very ripe bananas

frozen in chunks

1

peeled kiwi

1

large scoops of ice
Instructions 
Process in a blender 1/2 bottle of Kombucha and the remaining ingredients until creamy and smooth. Poor some of the remaining kombucha on the back of a spoon, it will go to the bottom of the glass and push up the smoothie, making a layer effect.
Rise Kombucha offers in total 6 flavors:
Ginger: kick ass ginger taste close to a real Ginger Beer soda. A great tonic for digestion.
Blueberry Maple: the sweetest one with local Quebec flavors.
Lemongrass: perfect to accompany an Asian main dish and calms the nervous system.
Mint Chlorophyll: refreshing and lightly minty, a natural detoxifier.
Hibiscus Rose hip: I am a big fan of Hibiscus, a nice floral taste full of vitamin C.
Rose Schizandra: Very subtitle rose flavor with the schizandra berry, considered one of the 50 fundamental herbs in traditional Chinese medicine.
I am personally preferred the Hibiscus, Lemon Grass and Rose Schizandra flavors. Whether you believe in the health benefits or not, I highly recommend you just go ahead and try a very unique beverage. It can become a new addictive find! Rise Kombucha is available throughout Canada and will soon be sold the US as well.