Today is my group's reveal day for the Secret Recipe Club. What is the SRC? Basically you are assigned a fellow participant's blog by the organizer and then you pick a recipe of your choice from that blog and make your version of it. But it is a secret, you cannot reveal whom you picked and what you made until the established posting date and time.
This month I was assigned the blog Cooking With Chopin, Living with Elmo, which is authored by the wonderful Ginny. She is a very happy housewife and mother to two boys and the youngs certainly enjoy spending time in the kitchen with their mom.The array of recipes to choose from was quite vast and finding one in particular to settle on was tough. I was very tempted to try her Bacon-Spinach Pinwheels, Lavender-Lemon Roasted Salmon or Apple-Cinnamon Pull Apart Loaf, but in the end a dish I had to prepare for a BBQ potluck won out: I chose the intriguing Strawberry Avocado Salsa. If you want to skip the obvious corn chips, this sweet and savory salsa goes perfectly with chicken, salmon or trout, or pork tenderloin.
Ξ Strawberry Avocado Salsa Ξ
2 cups ripe strawberries, finely chopped
1 large avocado, peeled, seeded, and finely chopped
2 green onions (green part only), sliced into thin rings
1 tablespoon chopped fresh cilantro
Juice and zest from one large lime
2 teaspoons finely chopped, seeded jalapeno pepper (optional)
1/2 teaspoon kosher salt
Combine all ingredients in a bowl and preferably serve immediately. If you plan on serving a bit later toss the avocado with someone of the lime juice to prevent from turning brown.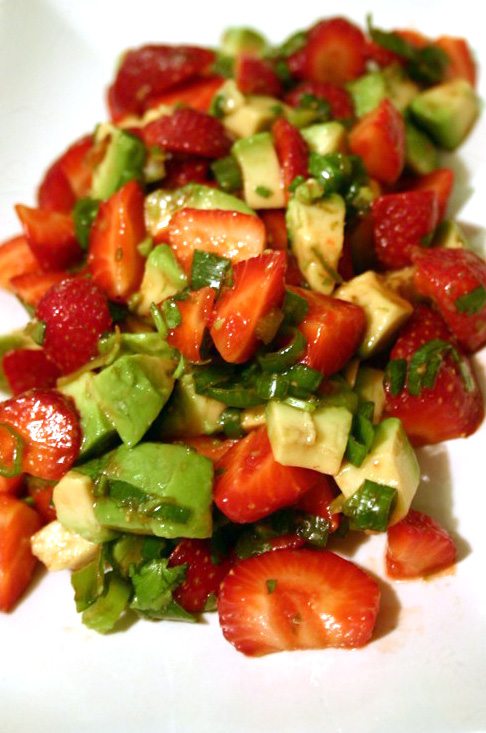 Did you make one of my recipes? I would love to see it. Take a photo and tag me on Instagram @cultureatz.
EDITOR'S NOTE: This post may contain affiliate links (disclosure policy). Please support CulturEatz by clicking on the links and purchasing through them so I can keep the kitchen well stocked. It does not alter the price you pay.