Can you believe we are already at the 9th installment of The Liver Experiment where I will try to acquire a taste for liver? Over a 10 week period I will cook, consume and post my experience once a week about trying to appreciate my food nemesis. I hope my experiment will inspire you to try the same with your own personal food nemesis. And even if you are determined to hate liver for life I hope you will follow along throughout the whole series.
I had leftover beef liver from the Austrian Liver Dumplings on week 3. If you have been reading the series you will know that the dumplings were a disaster as beef liver is very strong in taste and I just could not eat them. But surely a Beef and Liver Chili would be a great way to use what I have left by smothering it in spices and tomatoes, right?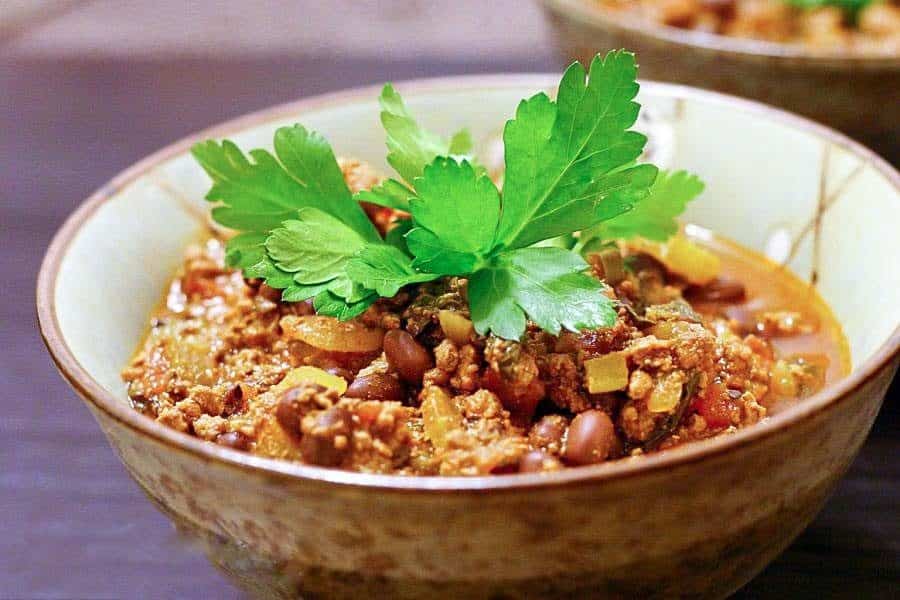 This recipe, or a combo of many recipes, was actually one of the first I had found when looking for 10 dishes to make. Funny how it only makes a 2nd to last appearance. I am telling you it is my fear of the beef liver which has, how should I say, a more "mature" or "full bodied" flavor.
I had passed my liver though a food processor so it was a puree when added to the recipe which is a great way to add liver to a chili or sneak in liver in any favorite family recipe. With or without liver, the chili looks great and is packed with veggies, protein and beans. And lots of spices! Mine is somewhat potent so adjust according to your taste with more or less heat.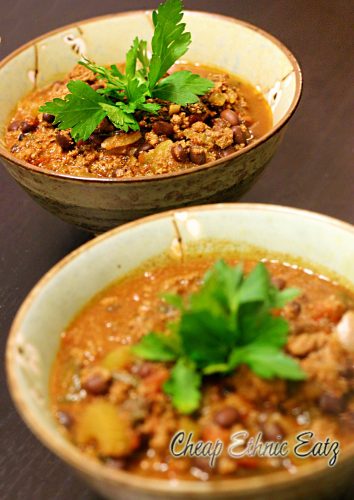 Educational notes of the week: what are offals?
Looking back at history, no part of an animal was wasted when hunted. One ate everything the beast had to offer. Even the weird bits and pieces that fall off the animal when it is slaughtered. Fall off. Off fall. Offal! Yes that is believed to be the origin of the word 'offal'. Many cultures make use of offals in their most gourmet dishes. Think of haggis, chopped liver, chitterlings, rumaki and menudo. Besides liver here is a short list of offals used in recipes: intestines for casing sausages, brain, pig's small intestine, feet, heart, heads, kidney, scrotum, spleen, lungs, sweetbreads, testicles, eyes, tongue, snout and tripe.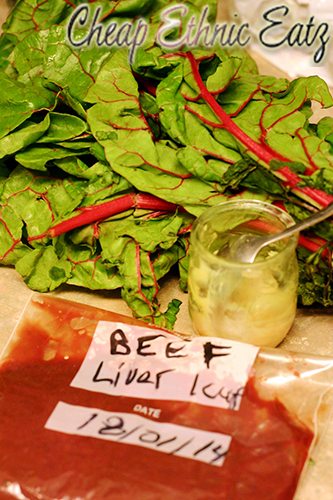 Once I opened my bag for raw pureed beef liver I had hopes it would be OK as the smell did not overwhelm me like last time, so I though I was good. But as soon as it gets cooked wow the strong odor was present again. But I kept my hopes up and kept making my recipe with extra spices that would tame the beef liver. The whole hour it cooked the smell of beef liver was in the air but I think I was getting used to it. The chili ready, I spooned a big bowl of chili, topped it with parsley and dug in!
So was the chili with beef liver properly smothered in spices and tomatoes good? The answer is a resounding NO!!! It's official: beef liver is off my list for life. I am sure with calf, lamb or chicken liver the chili would be good. Beef no way! So my friends Michele and Bernie will be inheriting the product of this recipe.
Update: my friend Bernie already got his share and enjoyed one meal. He said it was phenomenal and perfect with a dollop of sour cream. Glad I have friends that like beef liver to judge the recipe fairly lol.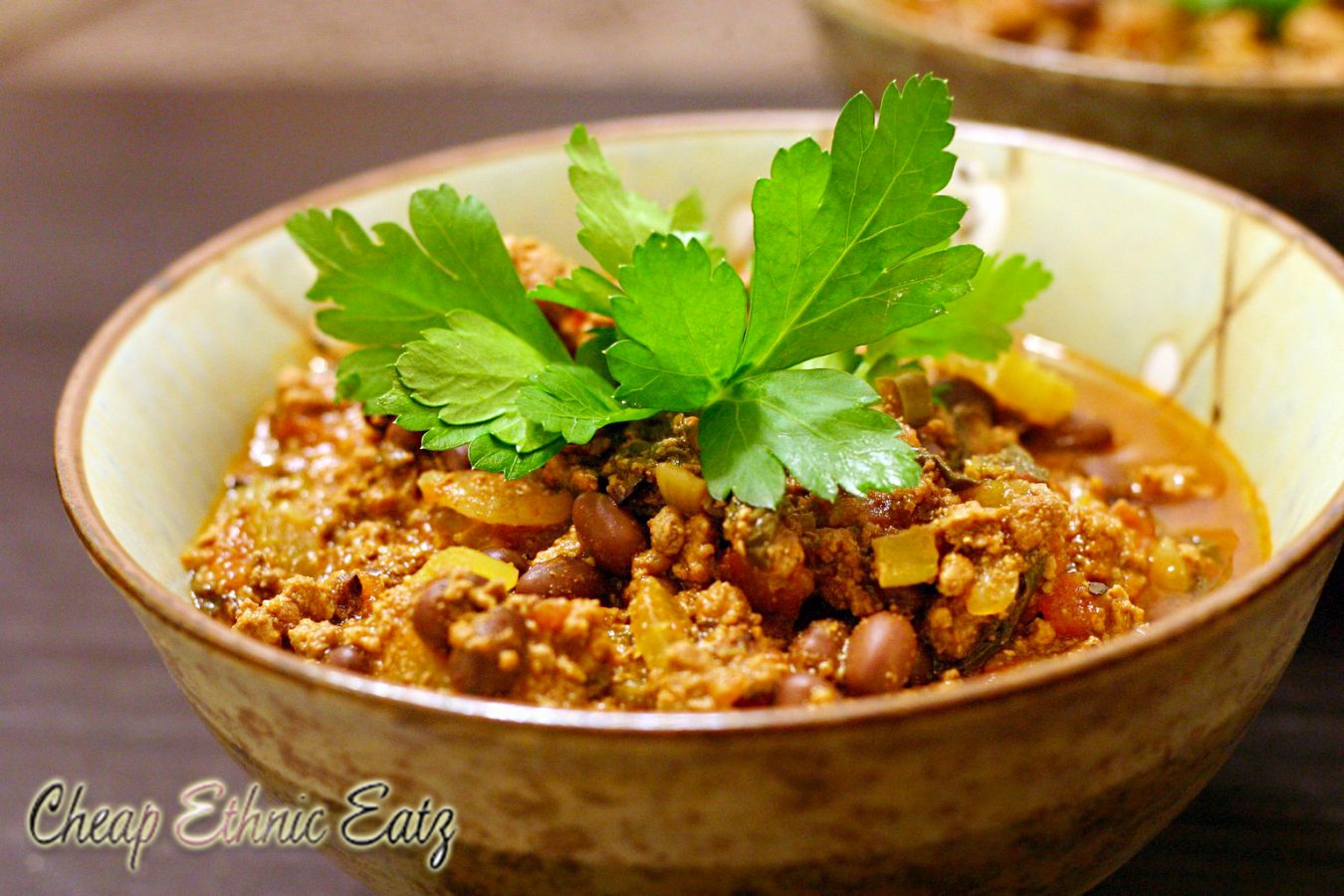 Beef and Liver Chili
Ingredients  
1

pound

ground beef

1/2

pound

beef liver

pureed

2

onions

chopped

3

cloves

garlic

chopped

1

cup

celery

chopped

1

tbsp

oil

19

oz.

can diced tomatoes

6

tbsp

tomato paste

1

cup

beef broth

1

tsp

chili powder

or more

1/2 to 1

tsp

cayenne

or more

1

tsp

smoked paprika

1/2

tbsp

cumin

1/2

tsp

coriander

1/4

tsp

pepper

1/4

tsp

oregano

1/4

tsp

cinnamon

1

tbs

cocoa nibs

optional

1

bay leaf

1/2

tbsp

sea salt

or to taste

2

cups

collard greens

chopped

1

can black beans
Instructions 
In a big cooking pot, heat the oil and saute the onions, garlic and celery for about 3-5 more minutes until softened.

Add the ground meat and cook until it is no longer pink. Add the liver and cook until done (does not take long when pureed). Mix in a good pinch of salt and pepper with the meat.

Add your tomato can and paste, beef broth, all the spices and herbs, bay leaf, salt, collard greens and black beans. Bring to a boil and simmer over low heat, stirring occasionally, for 1 hour. Serve with fresh coriander or parsley.
Notes
If beef liver is to strong for you (like me) the recipe is awesome with more delicate livers like calf, chicken or lamb.
Read the entire The Liver Experiment series:
Week 1: Chicken Liver Pate and Absinthe
Week 2: Liver & bacon sauté with potatoes & parsley
Week 3: Austrian Liver Dumplings (Leberknödel)
Week 4: Indian Liver Curry
Week 5: Stuffed vine leaves with liver and apple
Week 6: Spiced Chicken Liver Tacos with Mole Sauce
Week 7: Lamb Liver Raspberries and Hazelnut Salad
Week 8: Stuffed Baby Eggplants in a Dirty Rice Pilaf