Yes it is already time for the next instalment of The Liver Experiment where I will try to acquire a taste for liver. Over a 10 week period I will cook, consume and post my experience once a week about trying to appreciate my food nemesis. If you want to know why I am doing this in the first place please read my Week 1 post. Again, thank you all for your comments and support. I am really enjoying the exchange with my readers with this series all over the social medias and comments. I hope my experiment will inspire you to try the same with your own personal food nemesis. And even if you are determined to hate liver for life I hope you will follow along throughout the whole series.
I was so happy to be able to combine Week 3 with this month's Creative Cooking Crew, our first one of 2014! This month our theme was dumplings: any kind from any nation so there was plenty of room for creativity. I decided to follow my ancestral roots for this challenge. One of the most authentic foods you will find in Austrian cuisine are a type of dumpling called knödel. This week we will prepare Austrian Liver Dumplings, one of the most popular knödel dishes.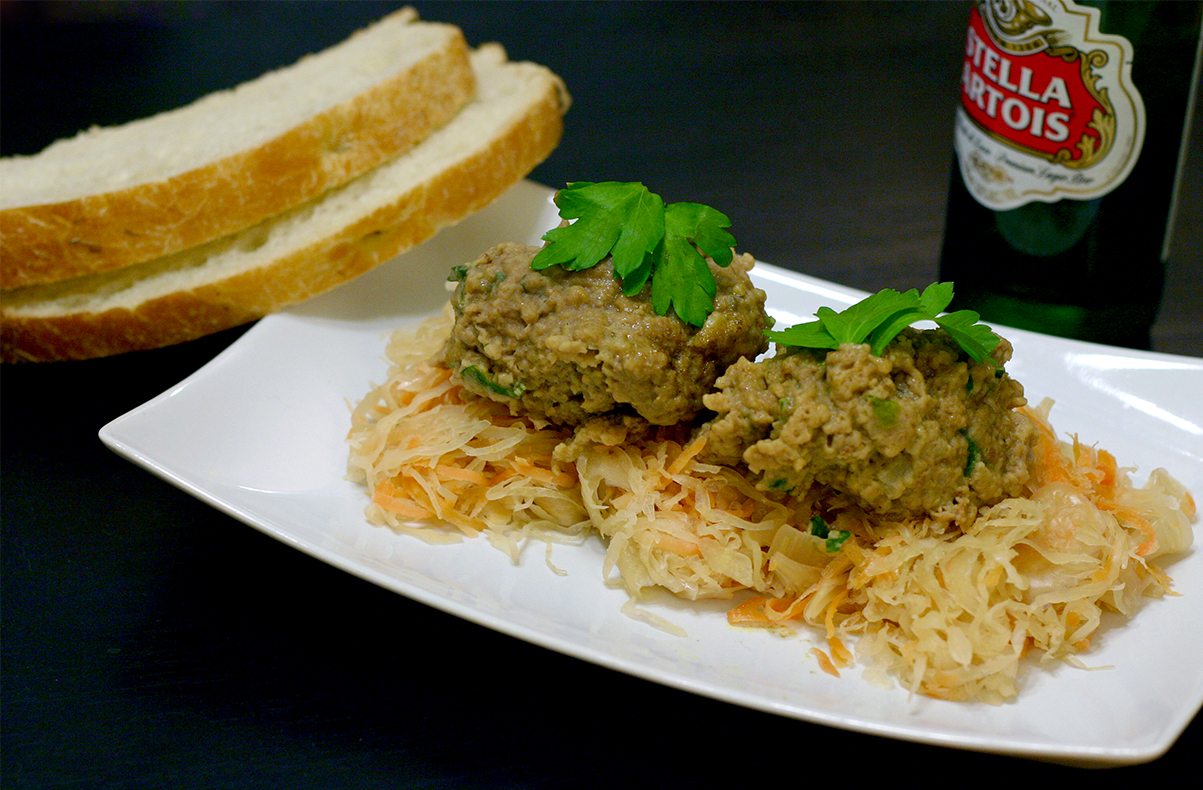 Although my father is Austrian we never ate many of his native dishes. My mom is the cook and she is French-Canadian. The first time I had a knödel was at a dinner at a cousin's place on my dad's side of the family. A big breaded ball in my soup dish left quite an impression. There are many variants on this recipe but one of the most classic recipe is called Leberknödelsuppe, or Liver Dumpling Soup, which is served in a simple broth. I chose to serve mine more as a meal and I placed my dumplings atop of heap of sauerkraut. If you want to see another popular type of knödel check out the  Tirolerknödel which is made with sausage. Let me make a quick mention here that my dad is the only one in the family who likes liver so I thought this recipe was a perfect choice for the challenge.
A knödel is a large dumpling made with potatoes, flour or bread that is boiled or poached. Most Central European country will have their own variant. You can have a savory knödel with your meal, or as your meal, or enjoy a sweet version for dessert.  A knödel made with bread usually requires cubes of bread to be soaked in a liquid (like milk) which is then added to the rest of the ingredients. This is the case with the basic liver dumpling recipe where is liver and bread are pureed before shaping.
Educational notes of the week:
Want to buy liver but do not know where to start? I was advised by many to stick to chicken, and veal or lamb liver, as they are the most delicate in taste and more tender. Along the lines of tastes of liver these have a sweeter note. The lamb liver is apparently a little less flavorful. After that is the beef liver with a tougher texture and, how should I say, a more "mature" or "full bodied" flavor. Pork liver is the most intense one of all apparently. And of course foie gras but that is just awesome stuff so I have exempted it from this experiment, that is a whole other category.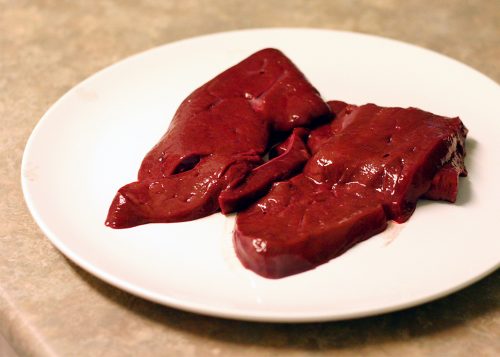 OK so I will admit I got a bit cocky with the success of last week's recipe. So I thought I was strong enough to go with the most intense flavored liver there is: beef liver. I was very wrong. I will never be able to stomach beef liver. Just the smell of it turns my stomach inside out. So for me I have to say this week was a fail for my taste buds. Thankfully my friend Michele was over at my place Sunday and she took all the dumplings away as she likes beef liver. Her verdict was that the recipe was excellent. So if beef liver is your thing this recipe is a thumbs up. And I am sure if I had used calf liver instead I may agree more with her. I have ordered this dish years ago in Munich and did like it. So I will have to give this recipe another shot.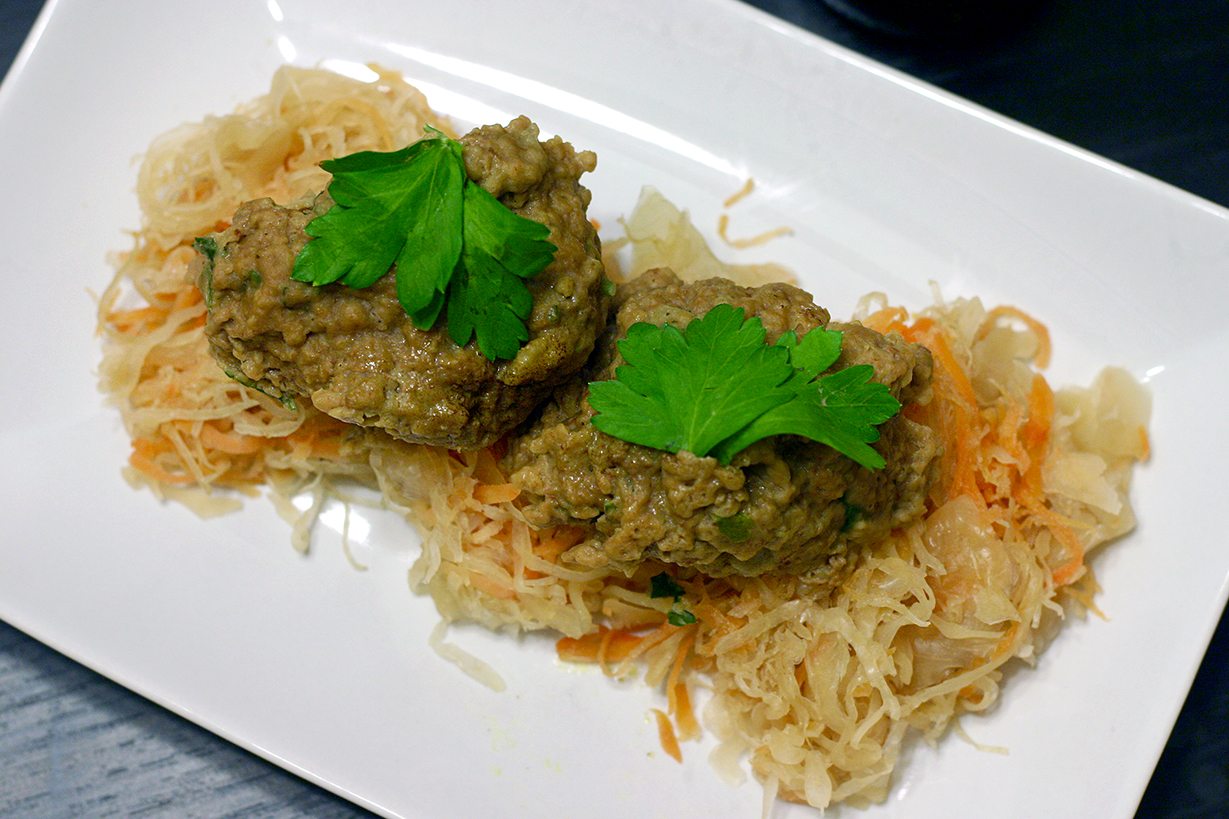 Thank you Lazaro Cooks and Foodalogue for this month's fun challenge. Check out what the other members have created on our Pinterest board by clicking on the banner below.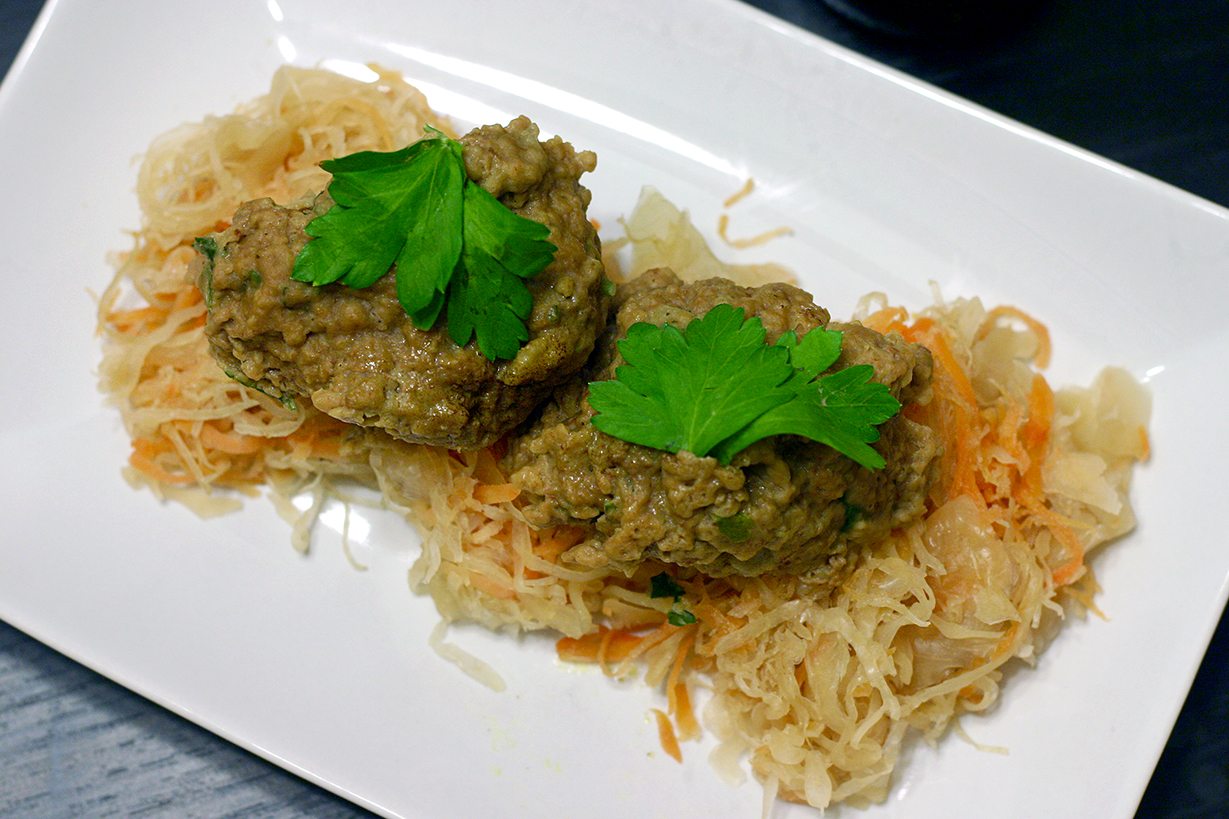 Austrian Liver Dumplings (Leberknödel)
Ingredients  
1 1/2

cups

bread cubes

1/2

cup

milk

3/4

cup

pureed beef liver

1

egg

1

garlic clove

minced

1/2

teaspoon

salt

dash pepper

3/4

cup

flour

1

small onion

chopped

2

tablespoons

parsley

chopped

1/2

teaspoon

dried marjoram

or basil or thyme
Instructions 
In medium bowl soak bread cubes in milk.

In a food processor add liver, bread cubes, egg, garlic, salt and pepper and blend well. Pour mixture into a medium bowl; stir in flour, onion, parsley and marjoram, stirring until well blended.

Drop mixture by teaspoonfuls into boiling chicken soup. Cook for 5 minutes or until dumplings rise to the top of the liquid.
Read the entire The Liver Experiment series:
Week 1: Chicken Liver Pate and Absinthe
Week 2: Liver & bacon sauté with potatoes & parsley
Tip: to freeze liver wrap well individual portions and freeze. Only defrost what you need at a time. If you want to add liver to your diet 'inconspicuously', fill an ice cube tray with pureed liver. You can toss a couple of liver cubes to any recipe to get the health benefits.