This week for the 4th instalment of The Liver Experiment where I will try to acquire a taste for liver. Over a 10 week period I will cook, consume and post my experience once a week about trying to appreciate my food nemesis. If you want to know why I am doing this in the first place please read my Week 1 post. Again, thank you all for your comments and support. I am really enjoying the exchange with my readers with this series all over the social medias and comments. I hope my experiment will inspire you to try the same with your own personal food nemesis. And even if you are determined to hate liver for life I hope you will follow along throughout the whole series.
This week I prepared a most fantastic Indian Liver Curry with a recipe given to me straight from India!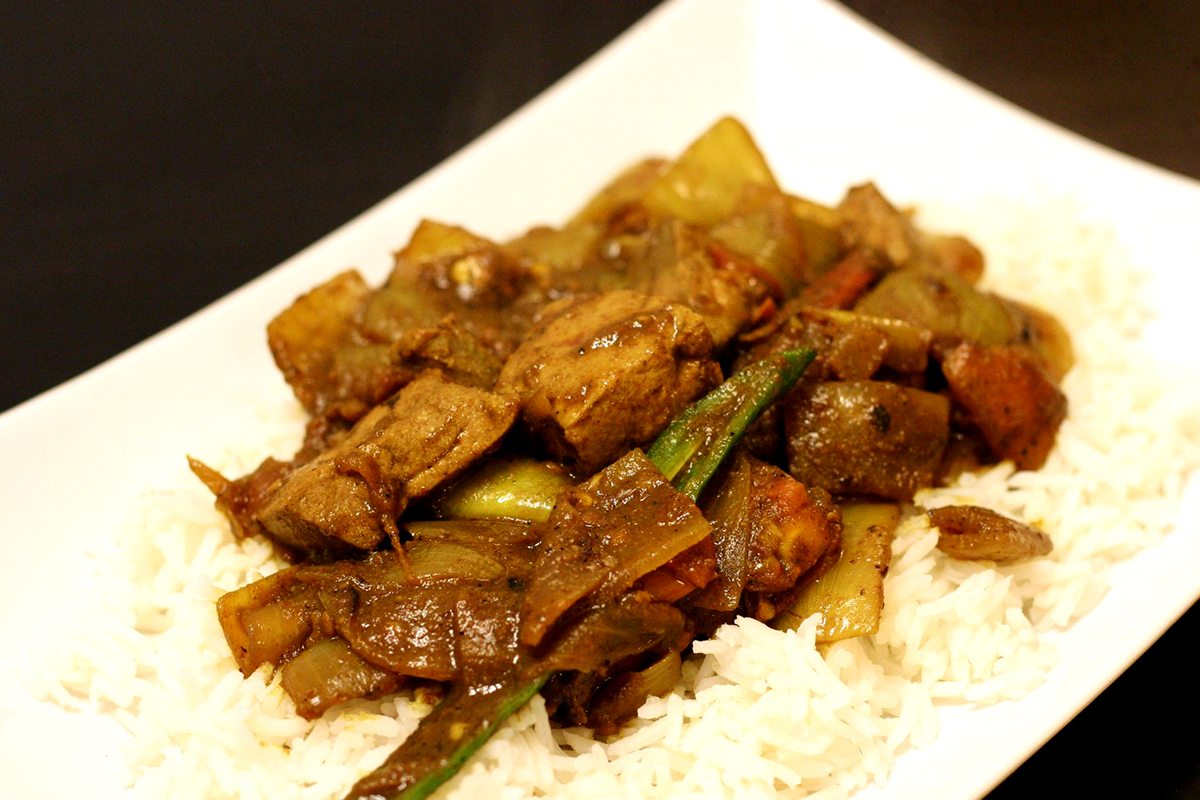 I got a great comment from Easyfoodsmith, she wrote: We Indians can't help cooking everything in curry! Goes without saying that I make liver curry. Well what do you think I did next? I wrote to her immediately and asked if she would be kind enough to give me her Liver Curry recipe. I had actually been searching for one online but could not find anything appealing. I was thrilled when I got a quick response back with her recipe. Thank you so much T xoxo. If you have been looking for a gorgeous blog filled with amazing Indian recipes then look no further and visit Easyfoodsmith.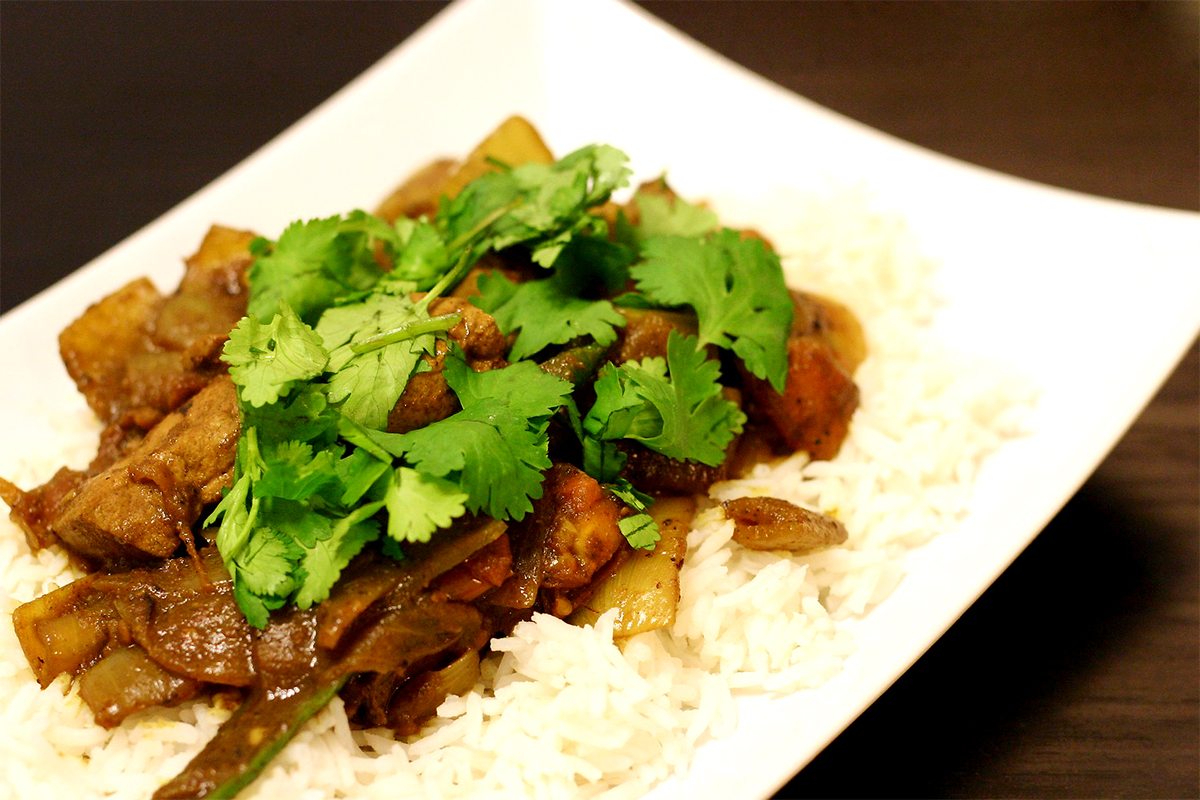 Although the recipe calls for lamb or goat liver I went with my fail safe for now and used veal liver again. This recipe came together very quick. I highly suggest you prepare all your ingredients ahead of time because once you get going things go fast. Once you are ready, boil your water for the rice and once you throw your rice in start making the curry. EFS did mention all ingredients are a rough estimate so I did a bit of research and these quantities worked for me.
As you prepare the curry you will be amazed by how fragrant it becomes (salivating over stove). As far as your heat tolerance, be careful with how much red chili powder and green chillies you want to add. With these quantities you will be good if you already enjoy a nice lingering heat. In the 2 times I made this recipe I had 2 guests try it. One thought it was perfect while the other broke into a panicked sweat lol.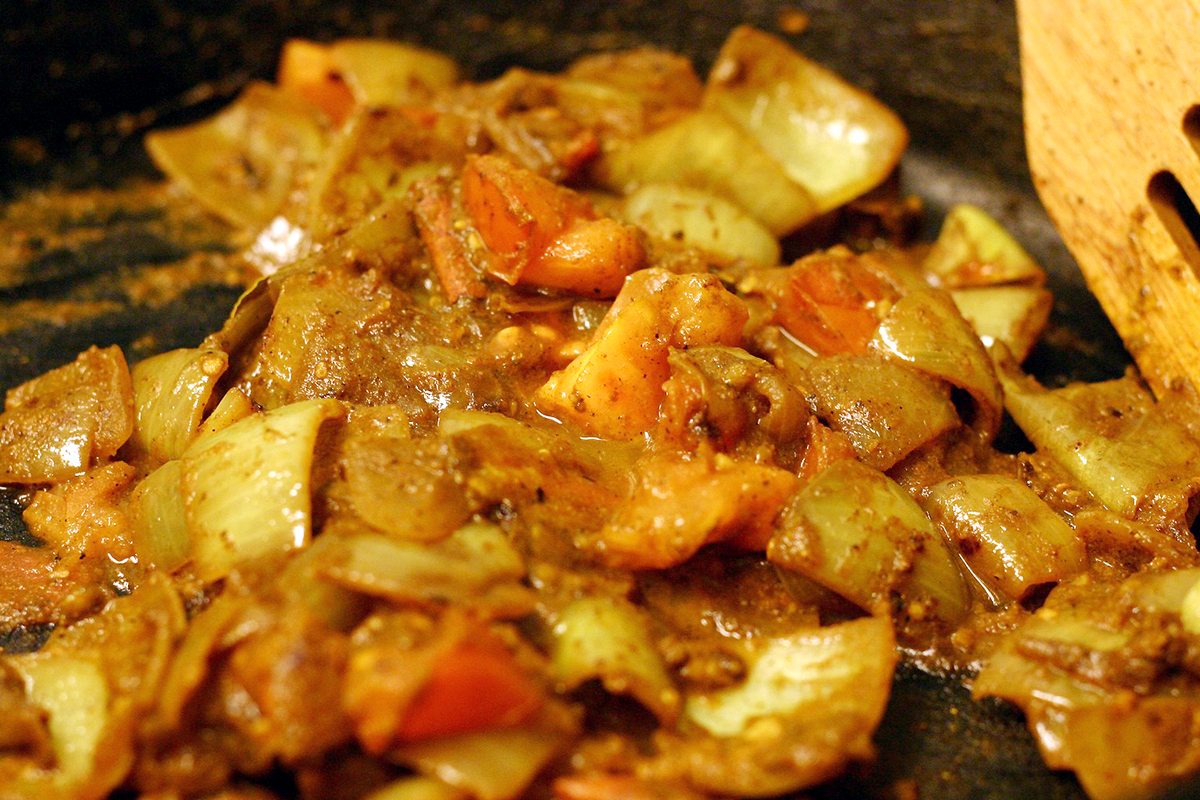 Educational notes of the week:
EFS gave me a great tip to help in getting rid of that "liver" smell and taste. She suggested to toss the cubes liver in boiling water for 1 minute and then plunge in cold water to stop the cooking process. A few other sites suggested an acidic water bath: soak the cut up liver which has been placed in a bowl, then just cover with water and add the juice of a lemon or 1 to 2  tablespoons of vinegar.
The final tip is do not overcook your liver, it must remain just a tad pink inside. Liver cooks pretty fast so keep an eye on it. Every once in a while I cut a piece open with a knife. At first it will look raw inside (like seared tuna) but be attentive as it will turn opaque really fast inside.
So my final say on this recipe: BEST CURRY EVER even with liver in it. This was a definite thumbs up liver experience. I have been trying to find a good basic and authentic curry recipe for years and this is the best. I just love it. I made it again the same week but with chicken breast. Do not shy away from this curry because of the liver, use any meat you want, or tofu or more veggies. Just skip the boiling step and quickly brown your meat instead and set aside. The curry is amazing!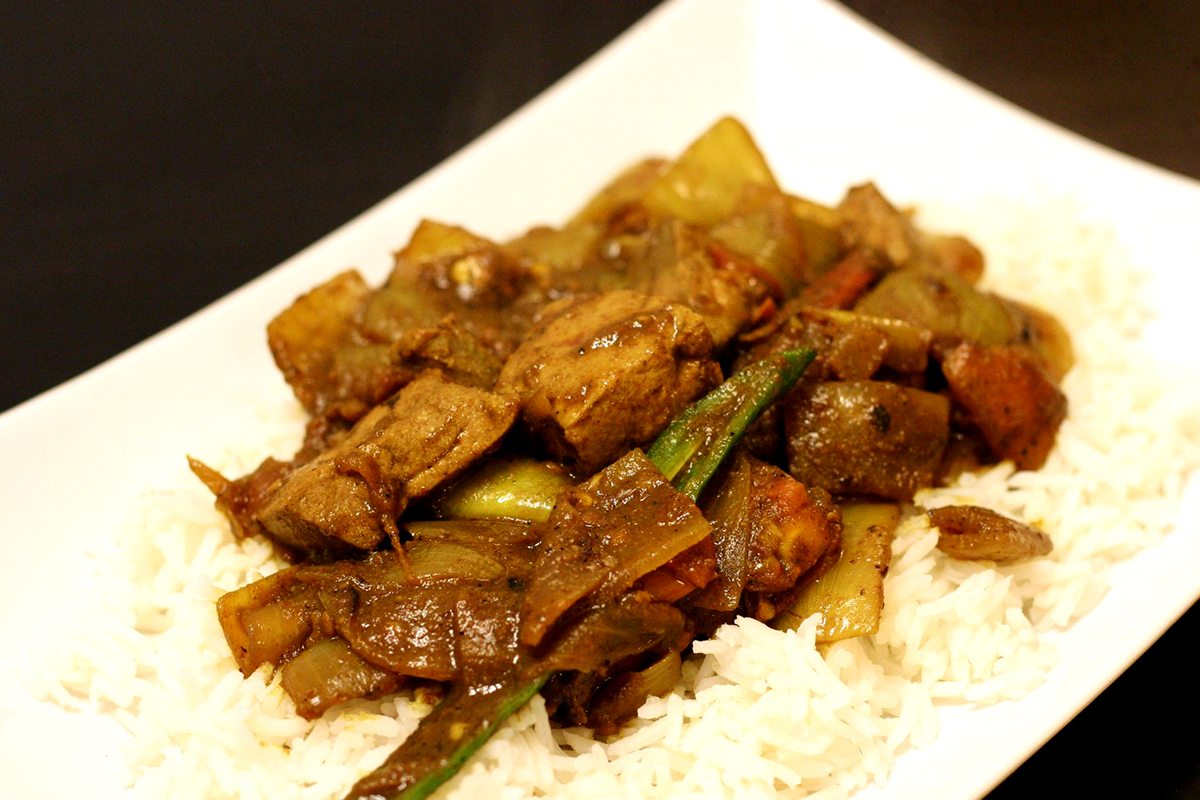 Indian Liver Curry
Ingredients  
350

gr

liver

lamb, mutton or calf

3-4

tbsp

oil

1/2

tsp

garam masala

2

large onions

1

tsp

generous ginger garlic paste

1

large bay leaf

1

inch

cinnamon stick

1/4

tsp

ground cloves

1/2

tsp

cumin seeds

2 to

matoes

salt to taste

1

tsp

coriander powder

1/2

tsp

red chili powder

1

tsp

turmeric powder

two green chillies

whole

rice

fresh cilantro
Instructions 
Boil water and add diced (small size- an inch and a half to max two inch) liver. Cook for approx a minute and then drain water and wash with fresh water. Keep aside.

Heat oil and the garam masala, it will become fragrant. Then add onions and fry till they become golden brown. After add half a cup of water, the ginger garlic paste, bay leaf, cinnamon, cloves and cumin seeds. Cook till water evaporates and the masala turns aromatic and some what brownish in color. Add tomatoes and salt to taste, coriander powder, red chili powder, turmeric powder, and cook till tomatoes become mushed and release oil at the edges of the masala.

Add liver, two green chillies, whole, and water. Cook till liver is done. Sprinkle a little garam masala once the curry is done and serve with rice or roti. Adjust the amount and thickness of curry by adding more water if required.
Read the entire The Liver Experiment series:
Week 1: Chicken Liver Pate and Absinthe
Week 2: Liver & bacon sauté with potatoes & parsley
Week 3: Austrian Liver Dumplings (Leberknödel)