Welcome to the 6th installment of The Liver Experiment, a 10-week study on how to conquer foods you hate, with spiced Chicken Liver Tacos with mole sauce. I hope my experiment will inspire you to try the same with your own personal food nemesis.
I seem to have assumed a second challenge too. When you search online for 'liver recipes', overall the results are not pretty. So it has been a challenge to find varied and visually appetizing recipes. So far I have made French, Indian, Austrian and Middle-Eastern prettier recipes. This week is no exception with a Mexican dish: Spiced Chicken Liver Tacos with Mole Sauce. Doesn't a pretty taco look more appealing than a blob of plain cooked liver strips in a plate?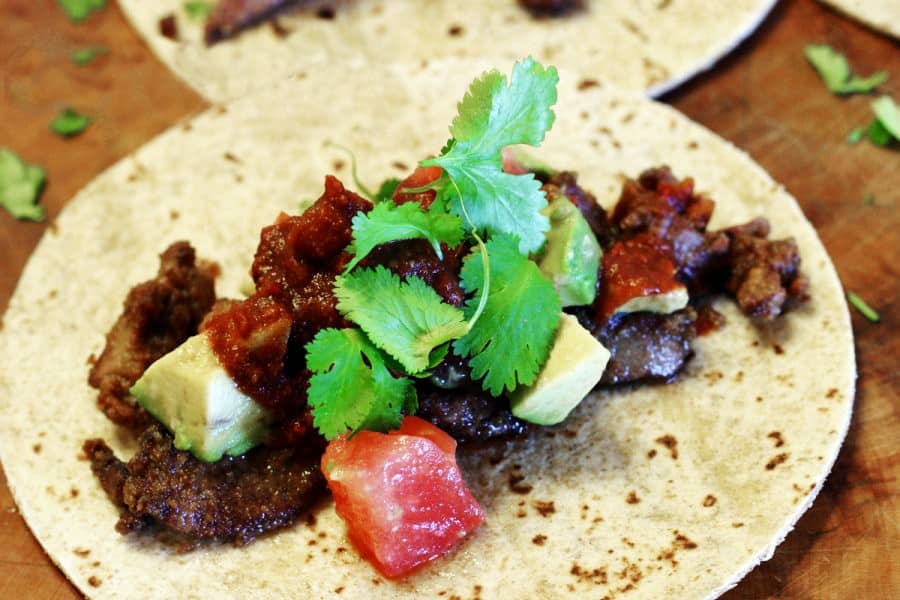 Up here in Canada, we do enjoy the occasional Mexican or Tex-Mex dish. It is however not a cuisine I cook often. So I am doing my best with my skills to make it taste and look as authentic as possible. I loved the idea of a liver filling for tacos. It's different, unexpected, and you can cover the taste of the liver .. if need be .. with all sorts of flavorful condiments. With this adapted recipe, we have a nice spicy note, salsa, coriander, and a Mole sauce. And it was really quick to prepare.
On a nonauthentic note, I found a great cheat for a Mole sauce. I know the real deal is a fabulous but long recipe. I just needed a bit of sauce for 4 tacos. Please forgive Mole Sauce purists! Here is what you do: buy a bottle of good quality salsa with a good spicy kick. Add to the bottle 1 teaspoon of cumin, 1 teaspoon of dried coriander and 1 tablespoon of unsweetened cocoa powder. Put the lid back on and mix it up very well. Voilà a Mole sauce cheat!
Educational notes of the week
Let's pretend that we are all back in Biology class. Last week I threw off a few readers when I was discussing the lobes of my lamb liver. No, I was not discussing ear lobes ha ha. Here is a quick lesson in animal liver anatomy.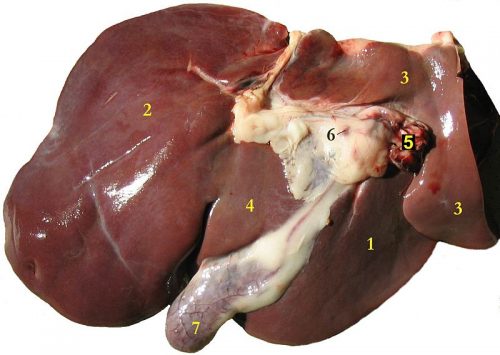 (1) right lobe, (2) left lobe, (3) caudate lobe, (4) quadrate lobe,
(5) hepatic artery and portal vein, (6) hepatic lymph nodes, (7) gall bladder.
The liver is a reddish brown vital organ with 4 lobes of varying sizes (humans have only 2 lobes). A lobe is a clear anatomical division or extension of an organ. It is the largest single internal organ, and it has a metabolic and secretory function. The main ones are related to digestion and blood detoxification. If you look at last week's post you will see I had the left lobe of the lamb liver. A little note: if you ever buy a liver with the gall bladder attached do not consume it. Toss it.
Spiced Chicken Liver Tacos with Mole Sauce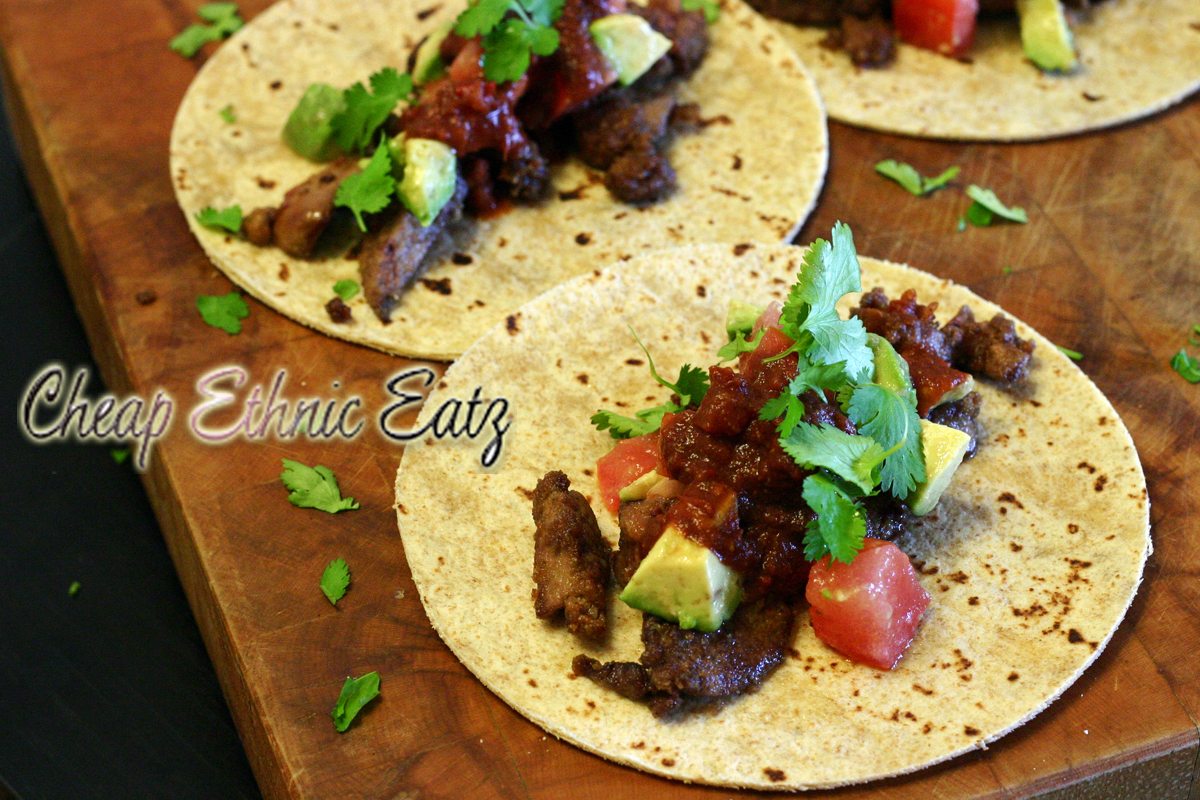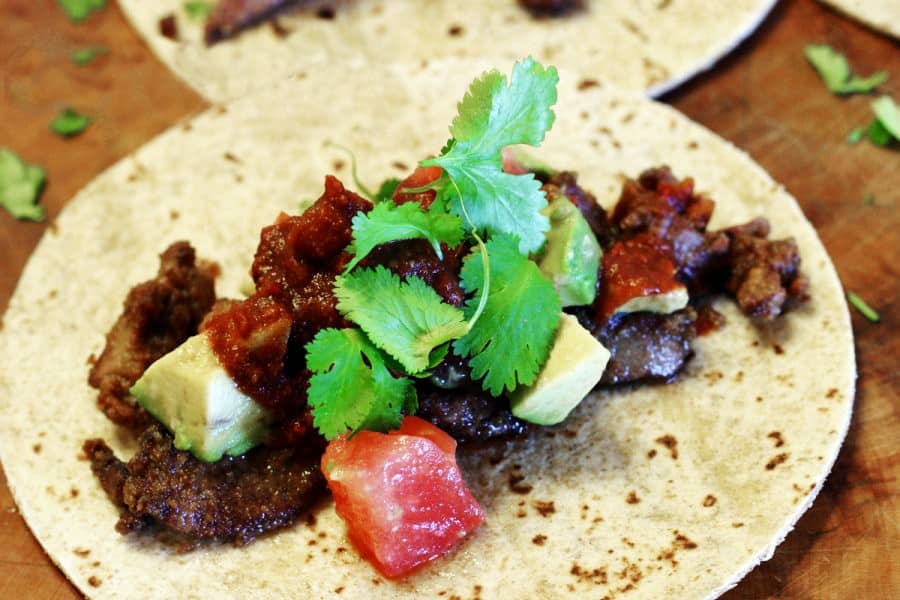 Spiced Chicken Liver Tacos with Mole Sauce
Welcome to the 6th installment of The Liver Experiment, a 10 week study on how to conquer foods you hate, with spiced Chicken Liver Tacos with mole sauce.
Ingredients  
250

gr

1/2 lb chicken livers

Salt and pepper

1/4

tsp

cayenne pepper

1/2

cup

cake flour

1/3

cup

frying oil

1

avocado

1 to

mato

1

tbsp

olive oil

1

tsp

white vinegar

4 to

rtillas

1

cup

Mole sauce

coriander
Instructions 
Clean the livers by cutting off any fat or stringy bits. Cut into bite size strips. Season with salt, pepper and cayenne pepper. Coat in flour, shake off excess flour and fry in oil (should still be a tad pink in the middle).

Cube the avocado and tomato. Mix together and add olive oil and vinegar.

Take a tortilla, place 1/4 of the liver mixture in a line down the middle, top with the avocado salsa. Pour a bit if the Mole sauce on top and garnish with coriander.
I have to say I was very pleased with the results again this week. This was a really nice recipe and a great way to eat liver. I only used chicken liver during the 1st installment in a paté so I had yet to really taste it more on its own. At this point, I will still claim lamb liver is my favorite. But fried in bite sizes with a flour coating and lost of oil made the chicken livers lovely and crunchy. The taste was pretty good too.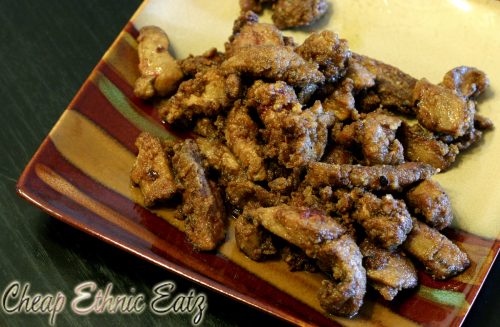 I will admit I am still working overall on the texture but small sizes make it easier. I went with a mole sauce instead of a plain salsa for a simple reason: I thought the earthiness (mostly from the cocoa powder) of a mole was a better match for this type of protein. It really was a great paring. So who want tacos tonight?
Read the entire The Liver Experiment series:
Week 1: Chicken Liver Pate and Absinthe
Week 2: Liver & bacon sauté with potatoes & parsley
Week 3: Austrian Liver Dumplings (Leberknödel)
Week 4: Indian Liver Curry
Week 5: Stuffed vine leaves with liver and apple