Welcome to the 5th instalment of The Liver Experiment where I will try to acquire a taste for liver. Over a 10 week period I will cook, consume and post my experience once a week about trying to appreciate my food nemesis. I am really enjoying the exchange with my readers with this series all over the social medias and comments. I hope my experiment will inspire you to try the same with your own personal food nemesis. And even if you are determined to hate liver for life I hope you will follow along throughout the whole series.
This is the halfway mark of this experiment already. It feels like it has so gone fast. A friend of mine said jokingly that my exercise motto should be: All we are saying is give liver a chance! At the 5 post mark we have 3 successes, one tolerable recipe and 1 which I found awful. This week is a definite success and quite an unusual one with Stuffed vine leaves with liver and apple.
Stuffed vine leaves, or dolmades (plurial of dolma), is a very common dish in the Middle East and Mediterranean countries. The word dolma has Turkish roots from the verb dolmak, meaning 'to be stuffed'. They can be vegetarian or meat based and usually also have rice. I adapted this recipe from Yotam Ottolenghi's column and it is the only dolma recipe I found with liver in it…so this is a very unique recipe.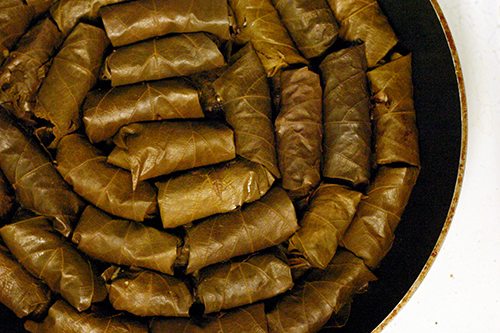 Yotam Ottolenghi is my absolute favorite 'celebrity' chef. He is an Israeli-born chef with several restaurants in London. His cooking is "a distinctive mix of Middle Eastern flavours – Syrian, Turkish, Lebanese, Iranian, Israeli and Armenian – with western twist". He is a magician in the kitchen. I have done several of his recipes and they have always been outstanding.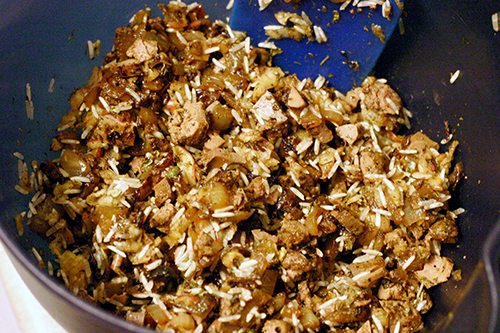 Tips on working with vine leaves:
The easiest ones to work with are sold in jars and a preserved in a brine. Just rinse the leaves well and blanch them in boiling water 2 to 3 minutes, thus making them more pliable. Once your vine leaves are rolled, line the bottom of you sauté pan with vine leaves and place your rolls on top, tightly packed. Lastly, if the rolls float in the liquid just place an inverted heatproof plate on top of the rolls to keep them down.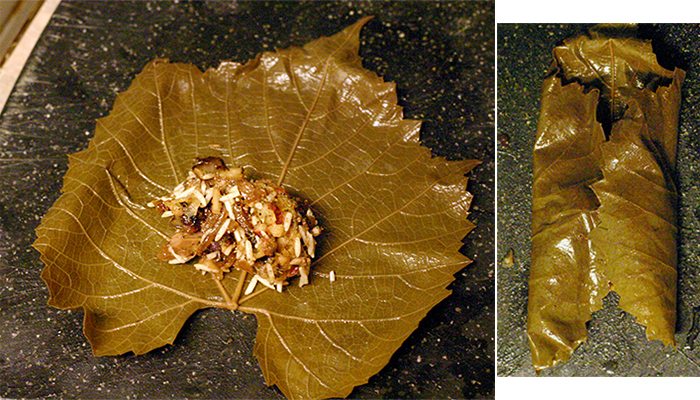 Educational notes of the week:
The original recipe called for chicken liver but I finally got my hands on some lamb liver, the last one I wanted to try. Chicken, calf and beef liver is pretty easy to find but lamb was a challenge. The first one I spotted was at the Middle Eastern grocery store a few blocks from where I live. The only problem was that they only sold it whole. That is when I realized the calf and beef packages you see in stores are sold as thin slices from the actual organ. Only the chicken liver is sold unsliced. Well finally I found another store that sold half a full lamb liver. So I got curious about the average weight of a liver of each animal. Beef is 10 to 12 lb, a calf is about 6 lb, a lamb is close to 1.5 lb and the average chicken liver weights about 2.5 ounce. By the way a human liver is around 3.5 lb.
OK so now that I finally did taste the lamb liver I can say it is my favorite one, even better then calf in my taste. The meat is a touch firmer but the taste is quite delicate. I did eat a few small pieces before chopping the liver up for the recipe so I could really savour it as is. And the dolmades turned out to be quite wonderful. Again the liver taste is very subtle here and since it is well chopped up you don't get that odd texture. I am sure most people would find this recipe a hit, I was really delighted with it.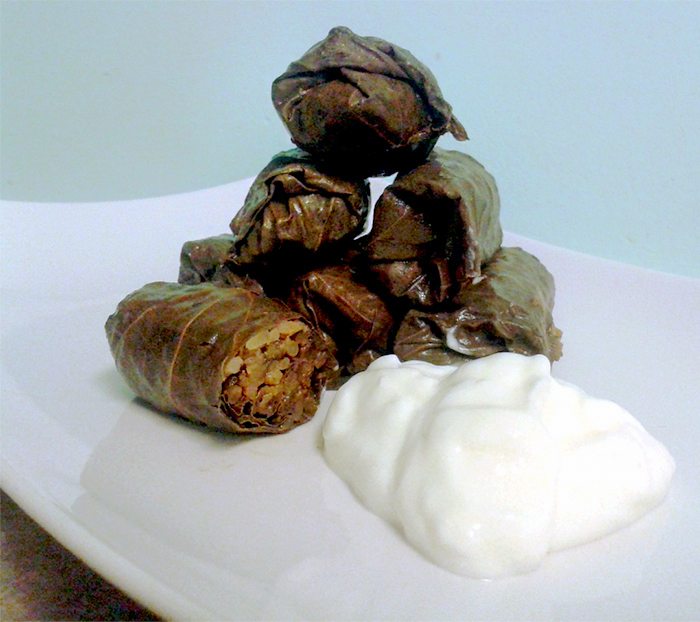 Stuffed vine leaves with liver and apple
adapted from Yotam Ottolenghi
Ingredients  
65

ml

olive oil

2

medium onions

peeled and chopped

3/4

teaspoon

salt

black pepper

2

garlic cloves

peeled and very finely chopped

200

g

lamb livers

cleaned

80

g

white rice

1

small cox apple

coarsely grated

1 1/2

tablespoon

dill

1

tablespoon

basil

125

g

medium vine leaves

blanched for 2 minutes, drained and dried.

3

tbsp

lemon juice

120

g

Greek yoghurt
Instructions 
Put a tablespoon and a half of the oil, the onion, the salt and some black pepper in a sauté pan which has a lid. Cook for 5 minutes on a medium-high heat, add the garlic and cook for 3 minutes, stirring from time to time. Add the lamb liver and sauté for 5 minutes, until the liver is almost cooked through. Cool and finely chop the liver. Transfer to a large bowl and add the rice, apple, dill and basil. Stir well.

Lay a vine leaf flat on a work surface, with its stem pointing towards you and the shiny side facing down. Cut the stem off. Spoon a tablespoon of the mixture into the centre-bottom part of the leaf. Fold the two sides of the leaf inwards and then roll towards the top of the leaf. Repeat until you have used all the mixture, about 30 rolls. Arrange the stuffed leaves tightly packed inside the sauté pan.

Mix the remaining olive oil with the lemon juice and 1 1/4 cup of water, and pour over the vine leaves. Cover the pan with a lid, bring the liquid to a boil, and lower to a gentle simmer for about 40 minutes, until the rice is cooked and most of the liquid has been absorbed. Remove from the heat and leave the dolmas to cool for 30 minutes. Serve warm or at room temperature, with the yoghurt on the side.
Read the entire The Liver Experiment series:
Week 1: Chicken Liver Pate and Absinthe
Week 2: Liver & bacon sauté with potatoes & parsley
Week 3: Austrian Liver Dumplings (Leberknödel)
Week 4: Indian Liver Curry