Here we are at the 7th installment of The Liver Experiment where I will try to acquire a taste for liver. Over a 10 week period I will cook, consume and post my experience once a week about trying to appreciate my food nemesis. I hope my experiment will inspire you to try the same with your own personal food nemesis. And even if you are determined to hate liver for life I hope you will follow along throughout the whole series.
It seems like all the recipes I have made so far all have a hearty edge to them. Not this week as we are going green with a Lamb Liver Raspberries and Hazelnut Salad.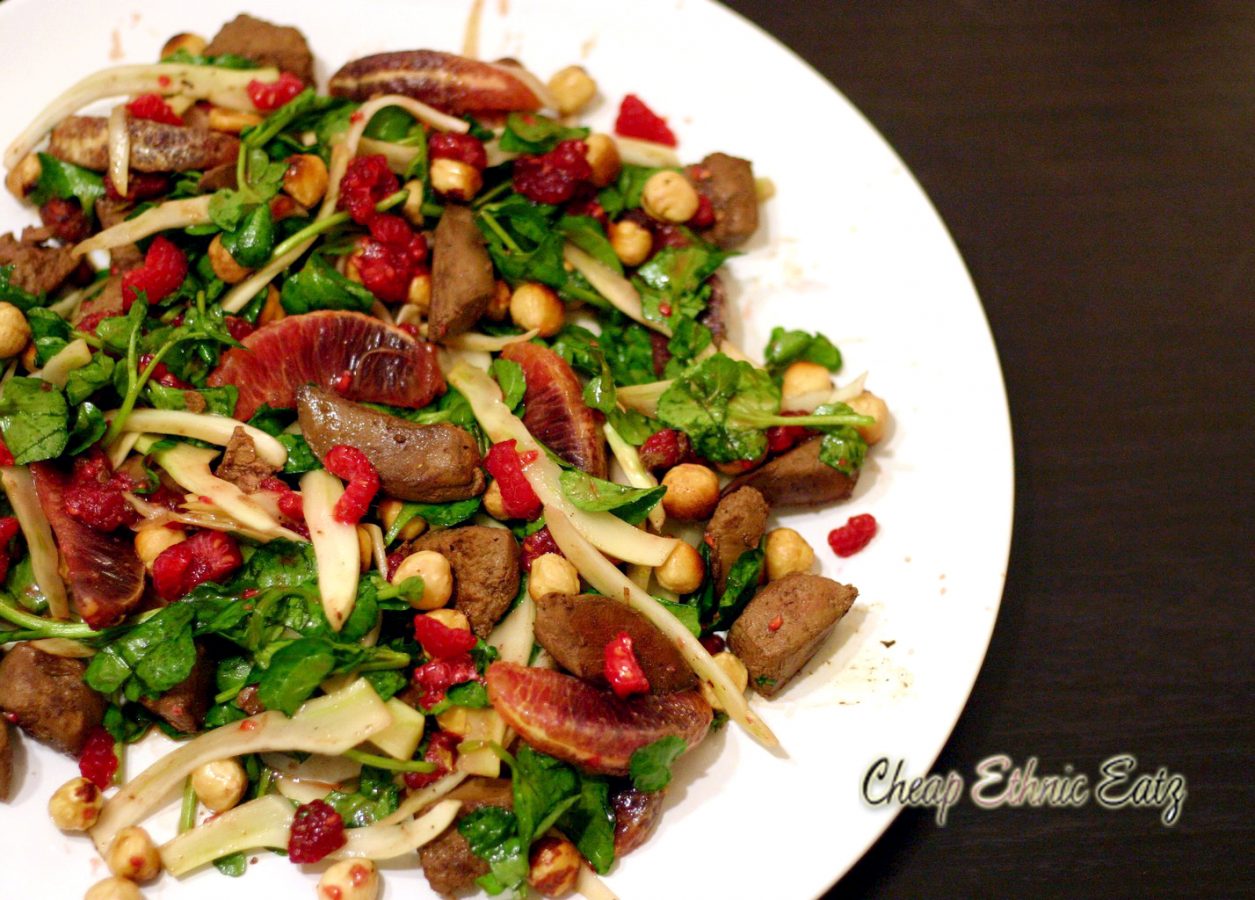 This is no boring plain salad as you can see from the name of the recipe. Here you fill find a few exotic and unexpected touches such as a blood orange, raspberries, fennel, watercress and toasted hazelnuts. The original recipe called for chicken livers but I have so much lamb liver in the freezer since it is sold in a big chunk … and so far it has been my favorite one. Lamb goes well with the Mediterranean flair of this salad better anyway I think.
This will be a more challenging dish to eat because the liver is simply fried and tossed in, no heavy seasoning to camouflage here. That is why I am giving the acidic bath trick a try. It is suppose to help remove some of the 'ick factor' of smell and texture.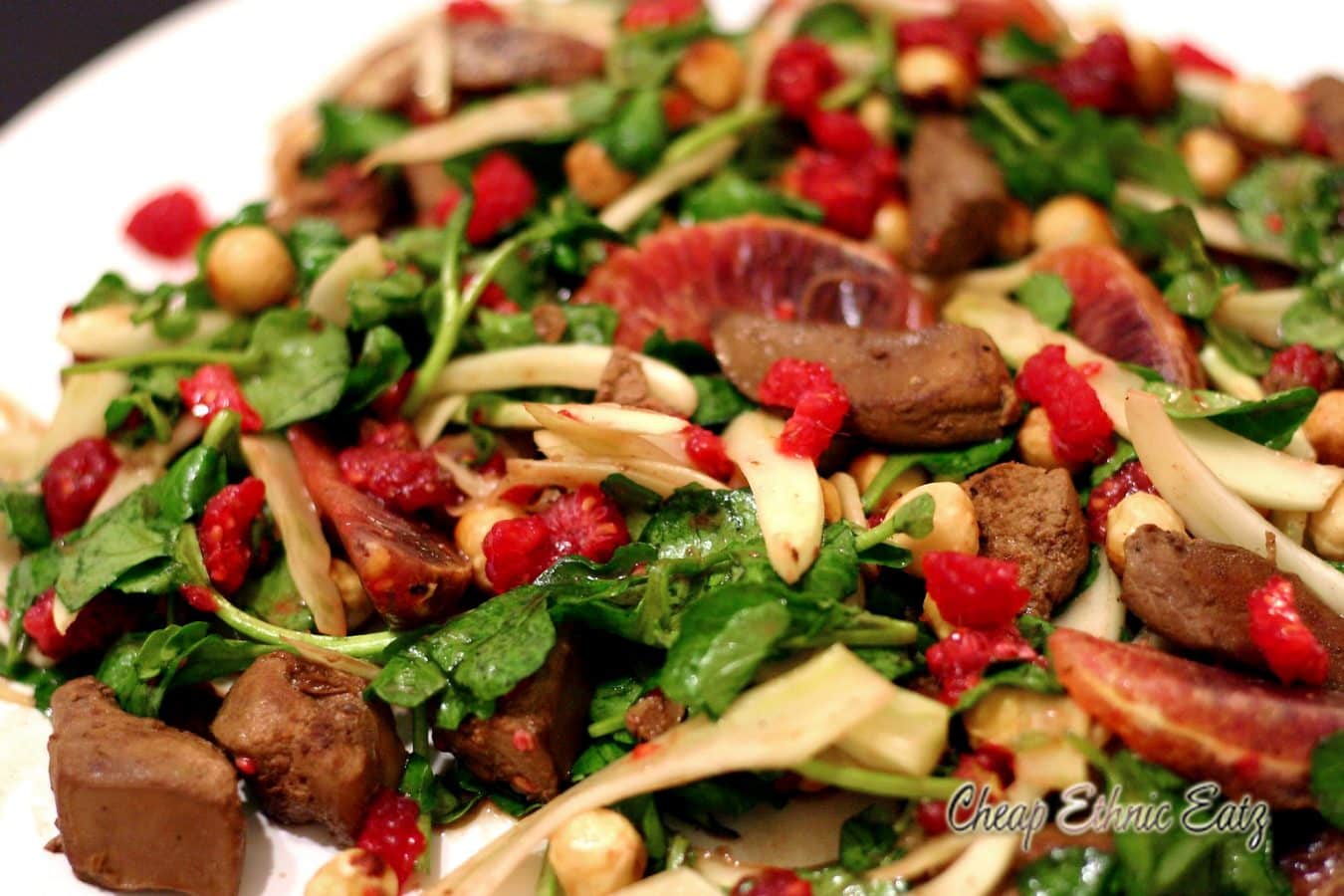 Educational notes of the week:
I mentioned in an earlier post that I was excluding Foie Gras from this liver experiment. The first reason is quite simple: I have always loved fois gras. But there is actually a difference between liver and foie gras. In culinary terms foie gras is the liver of a duck or goose that has been enlarged through a special feeding technique, called gavage. Foie gras is silky, smooth, buttery and rich. It is then used in recipes like terrines, pates and mousses; or it can be eaten hot if roasted, sauteed, pan-seared or grilled.
There has been much controversy over the gavage technique as it is technically force feeding. Whether one thinks this is acceptable or not is for each person to decide. I just thought I would share a few facts. Did you know that this technique was developed around 2500 BC by the Egyptians? And did you know that these birds have expansive throats allowing them to store large amounts of food, like a python that would swallow a pray whole, which can be slowly digested at a later time. Wild ducks will often fatten themselves up in autumn in preparation for winter by doubling their weight. Although the techniques used seem abusive there are a few more 'humane' alternatives being tried out for mass production. But these too have been questionable, both in technique and results. The only thing we can say in the end is that geese and duck are physiologically made for intake of large amounts of food.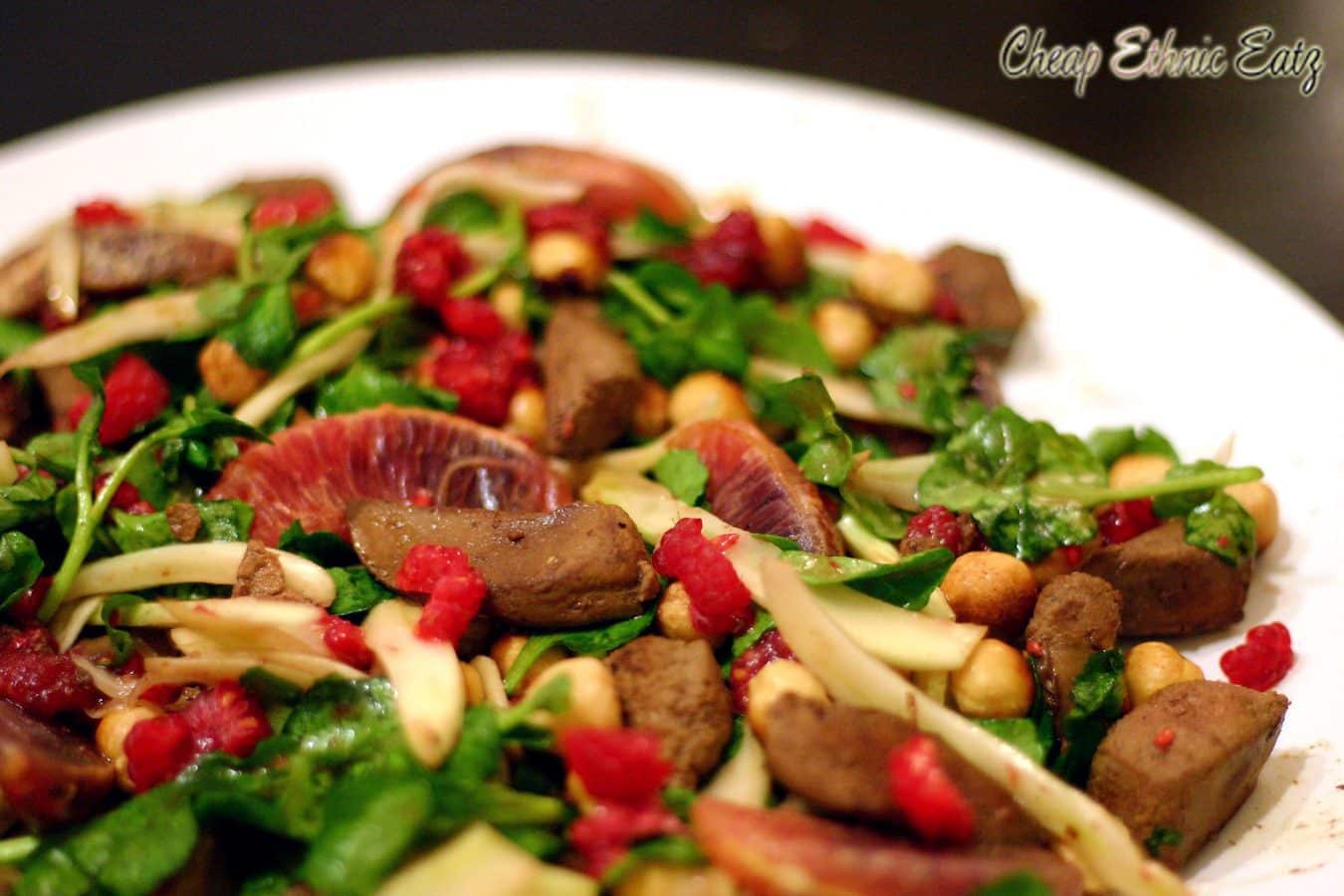 And now for the tasting of the salad. Fruits with liver? Yes it did work. It's unusual but the combination worked well. So did the hazelnuts. I really like the dressing too. Would I make this recipe again? The salad itself is fabulous but no I would not make it with liver again because the pieces of liver are quite 'straight-up' in taste. Maybe the chicken liver would have been better. Actually just plain chicken breast would be awesome. But if you are a fan of liver than I believe this salad could be a big hit for you.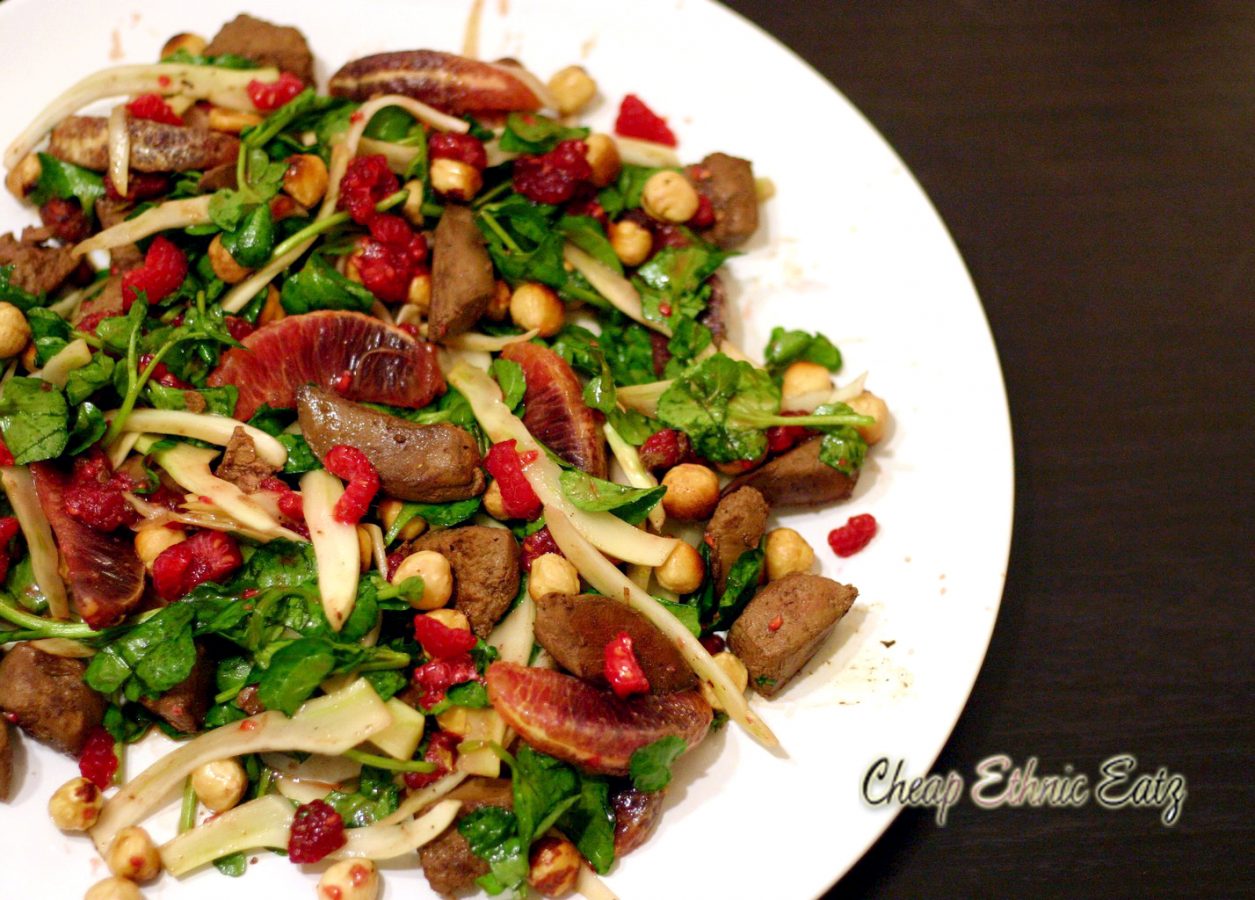 Lamb Liver Raspberries and Hazelnut Salad
Ingredients  
2

blood oranges

2

bunches watercress

sprigs picked

1

baby fennel

very thinly sliced

1

cup

hazelnuts

toasted, chopped

1

cup

Raspberries

chopped

3

tablespoons

pomegranate molasses

2

tablespoons

extra virgin olive oil

40

g

unsalted butter

500

g

lamb liver

cleaned, trimmed
Instructions 
Place the cut up liver in a bowl, just cover with water and 1 to 2 tablespoons of vinegar, Leave to soak for about 1 hour.

Remove the peel and white pith of the blood oranges, and separate into segments. Place a small bowl under to catch any juice that falls.Toss watercress, blood orange segments, fennel and nuts in a large bowl . Remove the Raspberries and put into the salad.

Whisk molasses, caught juice and oil. Season to taste with salt and pepper.

Melt butter in a frying pan over medium-high heat. Season livers with salt and pepper, and cook until browned but still pink in the centre. Toss with salad and pomegranate dressing.
Read the entire The Liver Experiment series:
Week 1: Chicken Liver Pate and Absinthe
Week 2: Liver & bacon sauté with potatoes & parsley
Week 3: Austrian Liver Dumplings (Leberknödel)
Week 4: Indian Liver Curry
Week 5: Stuffed vine leaves with liver and apple
Week 6: Spiced Chicken Liver Tacos with Mole Sauce