This Attack of the Killer Squashed Tomatoes Baguette is a fun take on the classic Caprese Italian combo of sliced fresh mozzarella, tomatoes, herbs, flavored with balsamic vinegar and olive oil.
Welcome to a very special edition for Food 'n Flix because this month we are celebrating the 5th anniversary of this wonderful movie/food group. And we were allowed to revisit any movie from the past 5 years for September. I chose a movie that was played prior to my arrival, one that I knew was ultra silly but sounded like fun. The flic?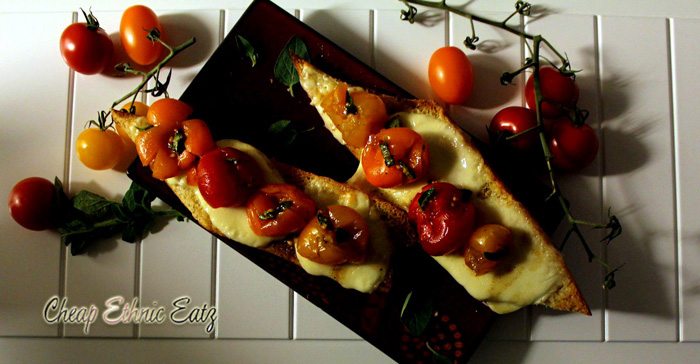 Attack of the Killer Tomatoes, and I just survived the viewing by squashing some tomatoes to make a delectable Attack of the Killer Squashed Tomatoes Baguette. Sound like fun? Then join our group. Every month we watch a movie with food in it and we prepare a dish inspired by the movie.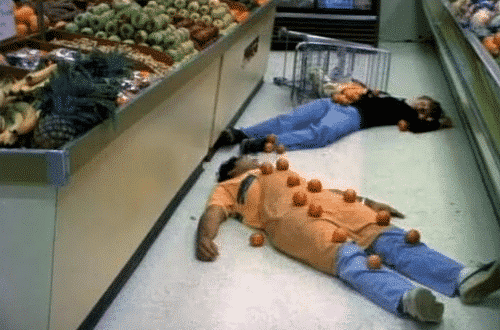 I first joined Food 'n Flix back in May 2013 and I made a Duck Prosciutto for the movie Delicatessen (which I just so happen to see again this weekend). AMAZING group! I never looked back after that first experience and I looked forward to the movie of each following month.
I have also had the honor of hosting 5 times so far as well with the movies Bridget Jones's Diary, Butter, Bridesmaids, The Terminal and Who is Killing the Great Chefs of Europe?. But for today let's move on with the tomato massacre!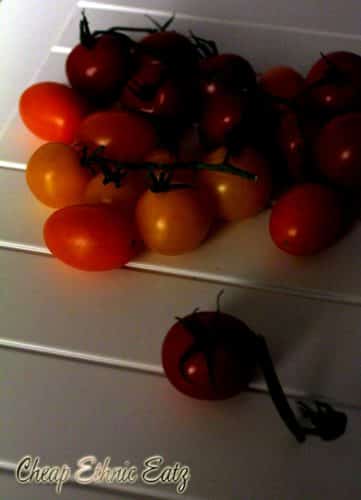 After you see this movie you will never feel safe when you spot an innocent bunch of tomatoes on your countertop again. The Attack of the Killer Tomatoes is a 1978 comedy horror movie that is absolutely as corny as…well..the 70s. Besides the tomatoes one of the scariest things in those movie is the hair and clothes hi hi. But seriously, this film never meant to take itself seriously. OK that was a cheesy sentence too!
The story basically involves tomatoes becoming soldiers by unknown means and revolting against humanity. A series of attacks perpetrated by tomatoes occur … we only see the outcome of attacks so no gore and the tomatoes usually roll on their sides to move around. The president puts together a team of specialists to stop the tomatoes. Eventually someone figures out the tomatoes leave when a song called "Puberty Love" is played. The tomatoes are then cornered in a stadium and the song is played over the loudspeaker, causing the tomatoes to shrink and allowing the various people at the stadium to squash them by stomping on them repeatedly.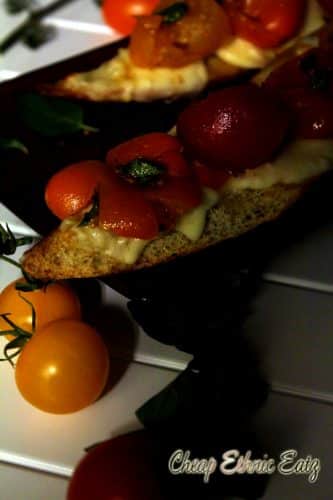 The list of foods or recipes in this movie is short but did include tomatoes of course, tomato juice, ketchup, and a BLT sandwich. I knew my recipe would involve squashing me some tomatoes! I hope you like the somber scary look I tried to achieve in my photos.
With today's selections in stores I had to go with a tri-color presentation with yellow, orange and red cherry tomatoes. And I had a messy blast squashing my tomatoes in my hands…very therapeutic. The open sandwich has a definitely Italian tone to it with fresh oregano, olive oil and balsamic coated tomatoes, all topping a garlic butter soaked bread and thick melted mozzarella slices. A delicious dinner!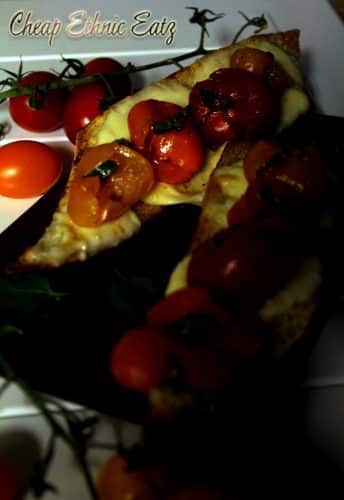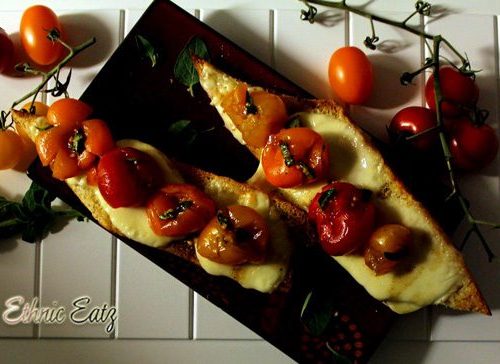 Squashed Tomatoes Baguette
Ingredients  
8 to 12

cherry tomatoes

1

tablespoon

extra virgin olive oil

a drizzle of balsamic vinegar

2

teaspoons

fresh oregano

chopped

sea salt and freshly ground black pepper

1/2

loaf french bread or baguette

horizontally cut in half

1/4

cup

butter

softened

2

cloves

garlic

minced or pressed

6

ounces

fresh mozzarella cheese

sliced
Instructions 
Squash and squeeze the cherry tomatoes using your hands into a tall and narrow bowl to avoid as much splatter as possible. Drizzle the tomatoes with the olive oil and balsamic vinegar, then add the oregano, salt and pepper. Toss and set aside.

Preheat oven to 400F. Mix together butter and garlic. Spread evenly over bread halves. Place breads on large baking sheet cut side up. Line bread with mozzarella cheese slices and bake in oven for 5-10 minutes or until cheese is melted.

Remove bread from oven and spoon tomatoes on the bread slices. Serve whole or cut into 3-inch slices for appetizers.
Notes
© Copyright. All images & content are the sole property of Cheap Ethnic Eatz. Please obtain permission prior to using images, and kindly link back to this post and re-write the instructions in your own words if you wish to re-publish.
Want more fun appetizers?