I do enjoy a nice occasional taco. But I have to say it is not something I grew up with so I often do not think of making or ordering tacos. In Montreal, there are not tons of Mexican restaurants and the ones we do have tend to be fancier than faster(er) food fare. So why would I order a taco if I can try something elaborate? This was the thought process that went on in my head after reading July's Creative Cooking Crew challenge: Tacos, make it your own … take it someplace it's never been!
I wanted to make something that was not a taco in a traditional meal setting and I was fine if it did not contain all the usual standard ingredients. But I did want to play with a taco concept and highlight a few typical Mexican ingredients. After a lot of brainstorming, I settled on this Savory Truffle Mini Taco Shooter creation.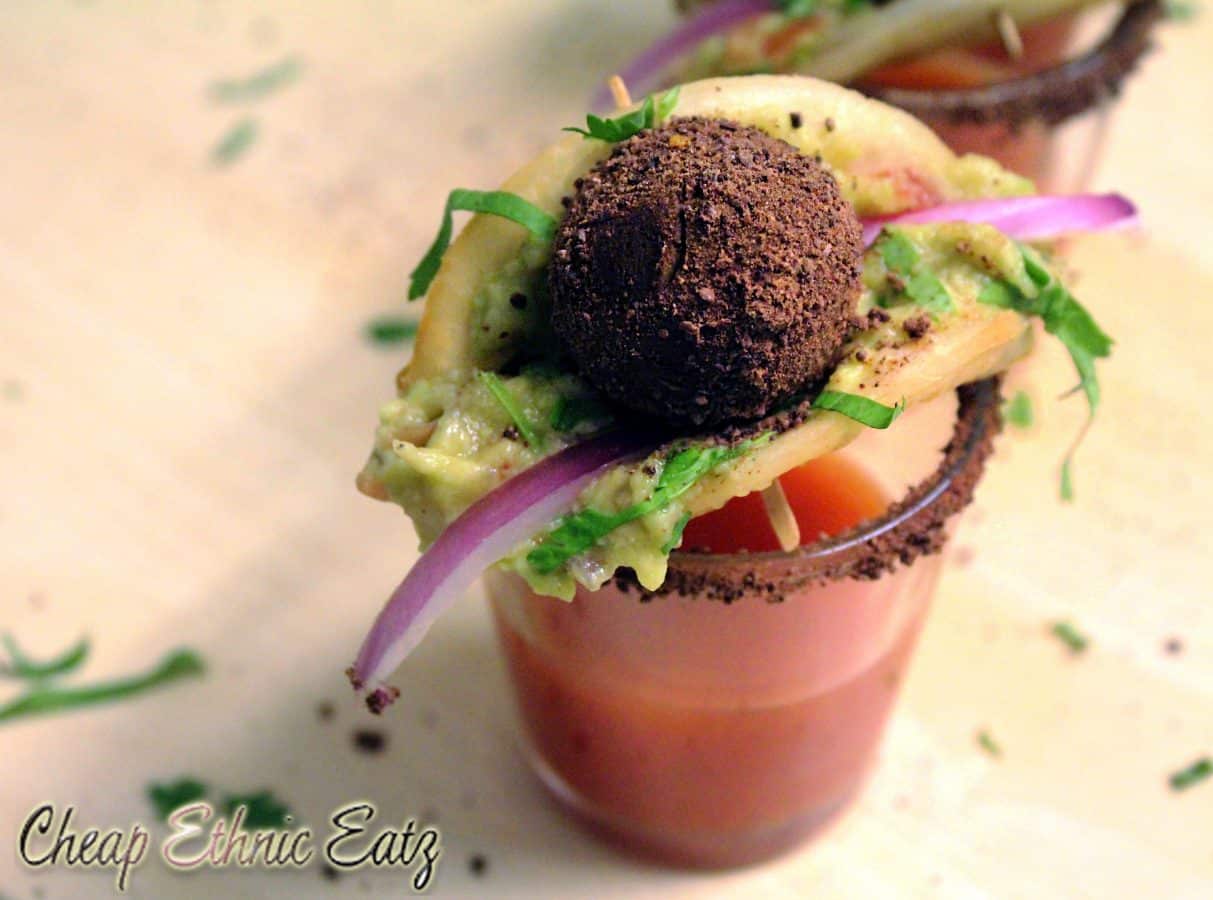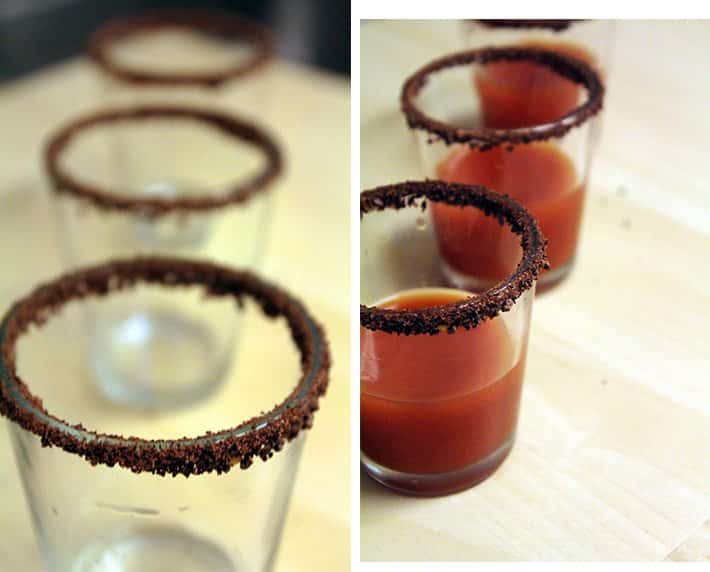 The concept was inspired by the one bite taco shrimp cocktail appetizer I found here and I ran with it adding my own personal touch. My focus here is on two underused ingredients: cocoa in a savory context and mezcal.
Mezcal is a distilled alcoholic beverage made from the maguey plant (a form of agave) native to Mexico. The word mezcal comes from Nahuatl mexcalli and ixcalli which means "oven-cooked agave". Mezcal is generally consumed straight and has a strong smoky flavor.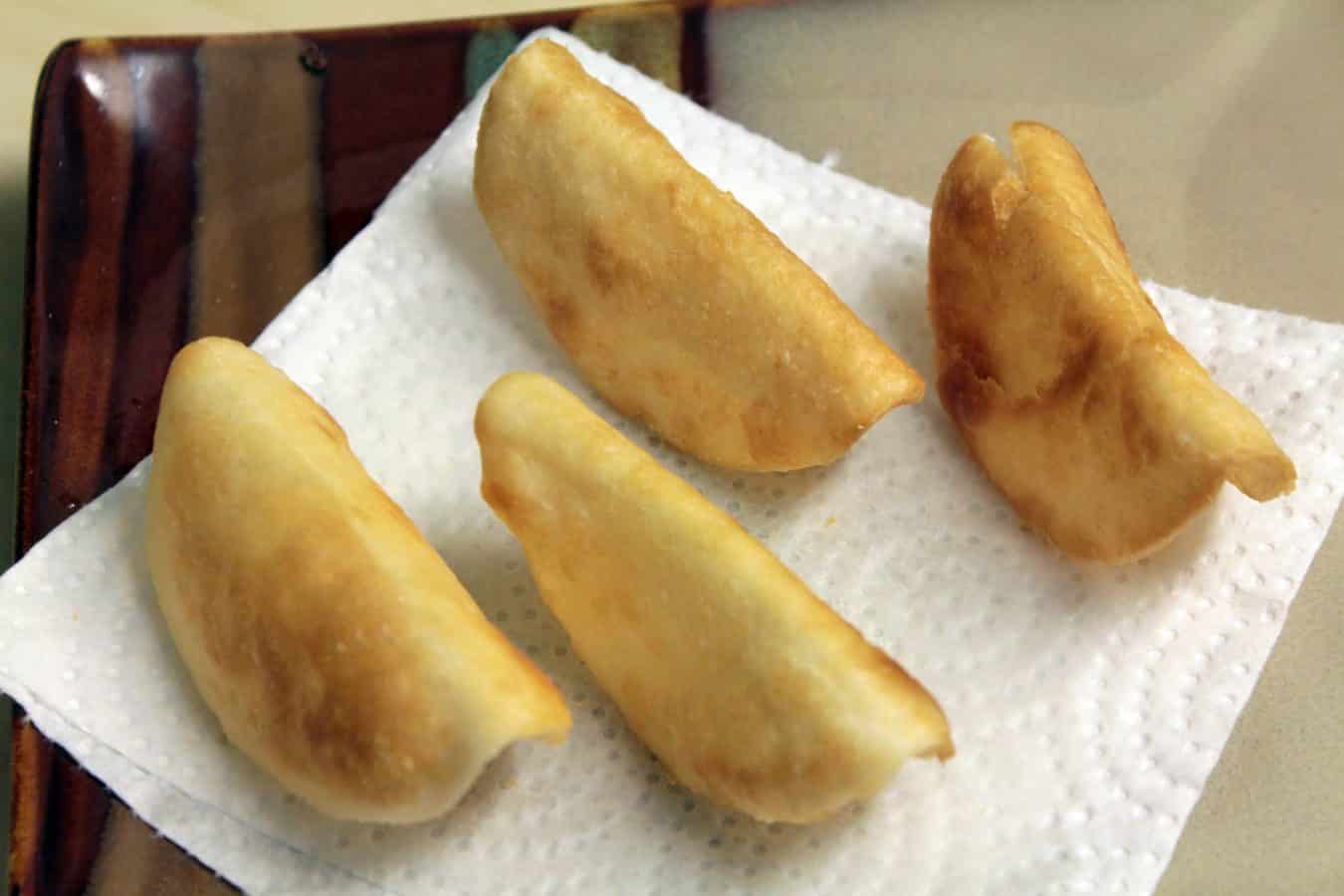 There are a few Mexican dishes that use the cocoa bean as a savory component, such as mole sauce and tejate. Usually the dried and fully fermented fatty bean is used to extract cocoa solids and cocoa butter. In the recipe, we find cocoa nibs, small piece of the roasted bean; and dark chocolate which is mostly made of cocoa butter, sugar, and cocoa.
I am adept at trying unusual mixes and recipes. This one does require an open mind when sampling but it does work. I was really taken by surprise by the various flavors my brain was trying to process. The truffles, even if savory, kind of thrown your tastebuds off when mixed with flavors like mezcal, coriander, and tomatoes. But if you give it a chance it makes for a most wonderful and intriguing appetizer.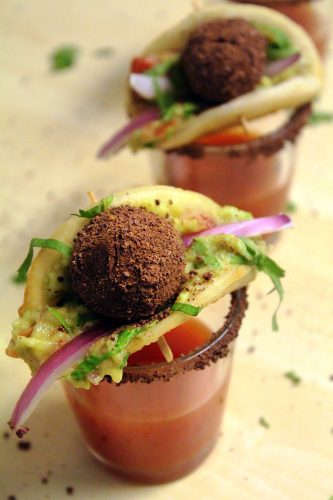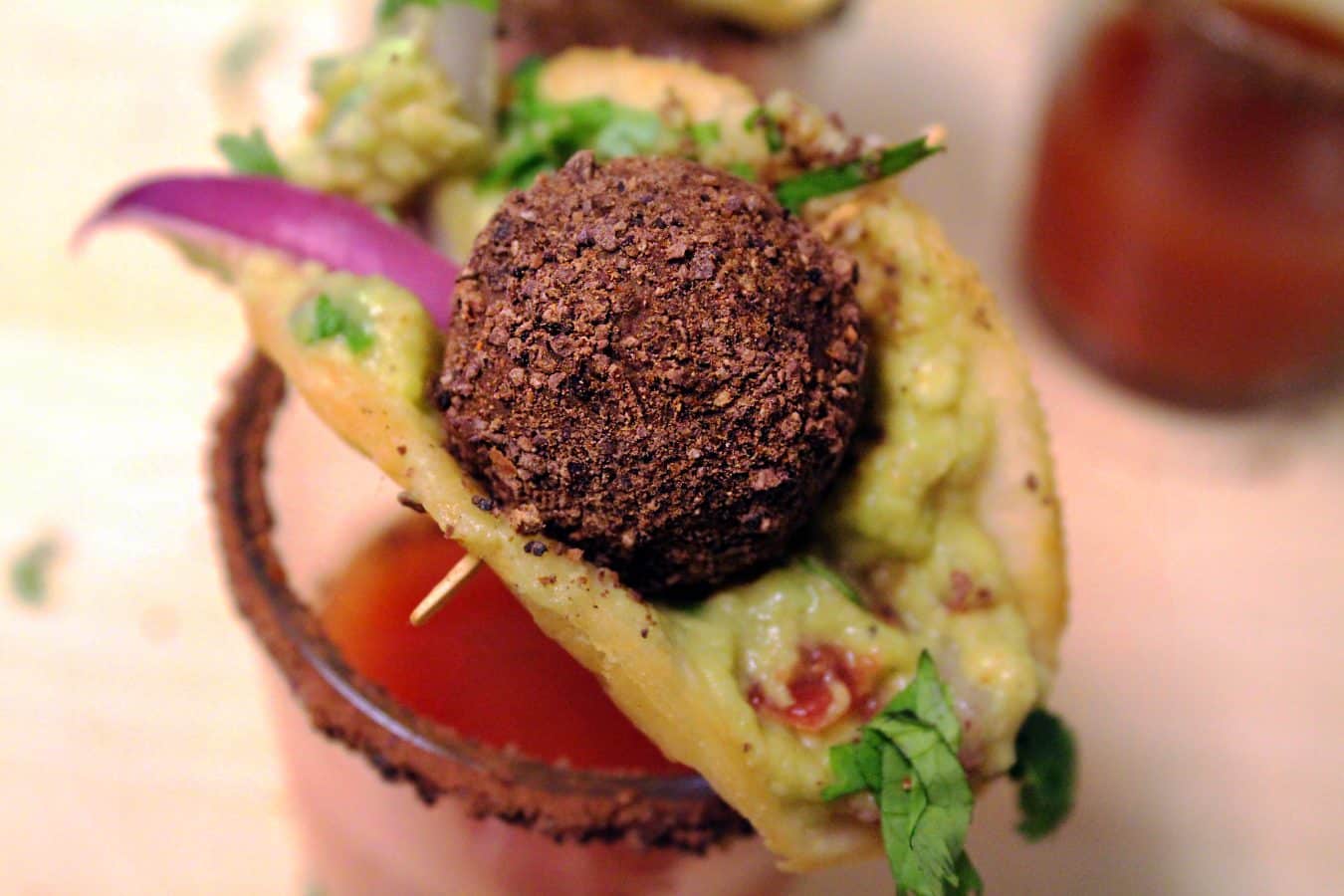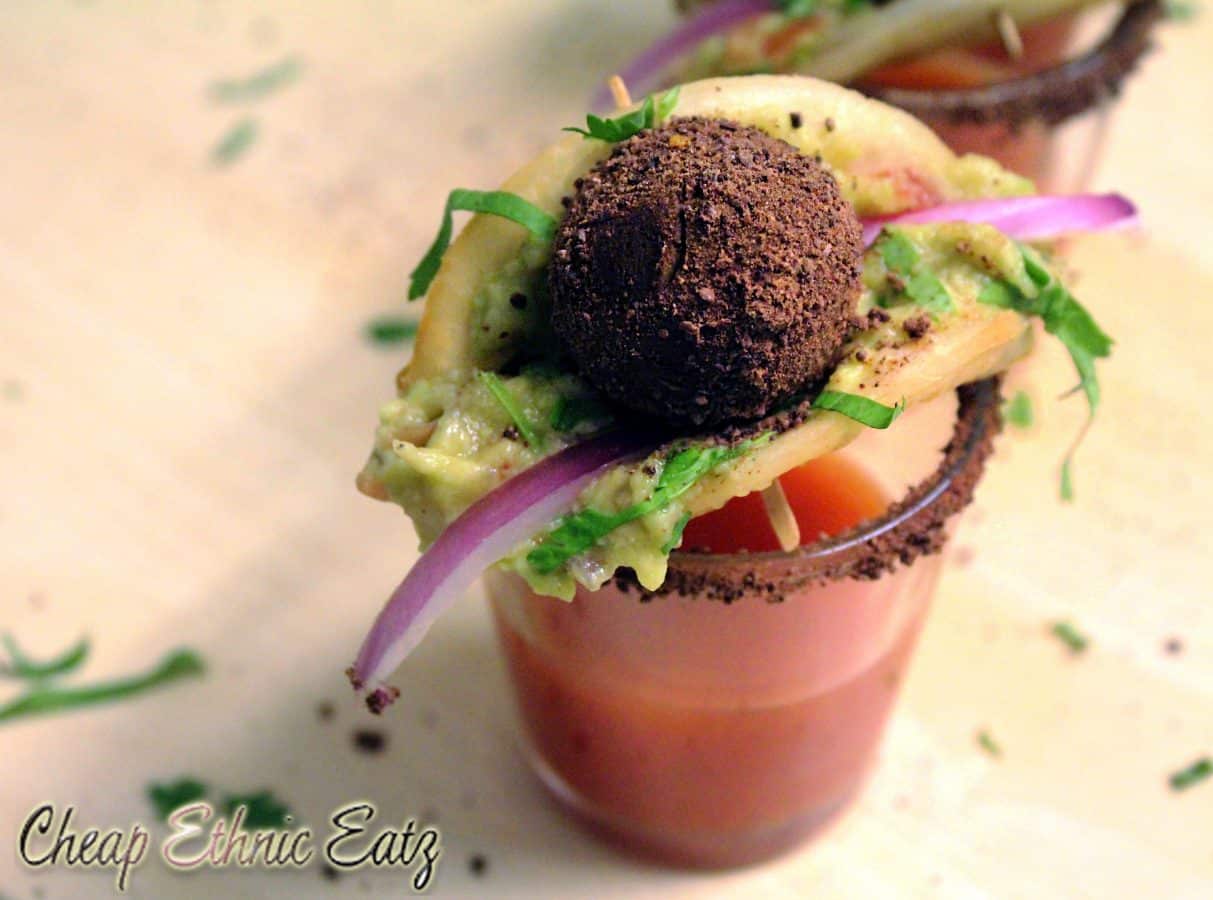 Savory Truffle Mini Taco Shooter
Ingredients  
3

oz

cream cheese

3

oz

dark chocolate

cocoa nibs

coarsely ground

ground chili pepper

to taste

4

corn tortillas

oil for frying

lime juice

12

oz

cup tomato/vegetable juice

6

oz

mezcal

or tequila

1/3

cup

guacamole

1/4

cup

minced cilantro

6

red onion

julienned to get 3 inch pieces
Instructions 
Bring cream cheese to room temperature. Melt chocolate in the microwave or in a double boiler. With a fork mix cream cheese and melted chocolate together until smooth. Place in the fridge for a bout 15 minutes if the mixture is to warm to roll. Roll the mixture into 12 truffles.

Mix cocoa nib and chili powders together. Roll the truffles in the powder mix, and refrigerate for 15 minutes. Put powder mix aside.

Heat oil in a small skillet over med-high heat. Cut tortillas in a circle slightly bigger than the top of your shot glasses. Fry tortillas, folded in half and keeping the shape with a fork by pressing down, in oil for about 20 seconds per side until firm a bit. Press with paper towels to remove excess oil.

Wet the shot glass rim with lemon juice and dip the rim of the shot glass in the remaining powder mix.

Mix mezcal and tomato juice together. Pour 1.5 oz of the mix into each glass. Set aside

For each tortilla spread guacamole on top, add an onion stick, then a truffle, and sprinkle with cilantro.

Place topped tortilla on top of each filled glass. Serve. Makes 12 appetizers.
Want more fun appetizers?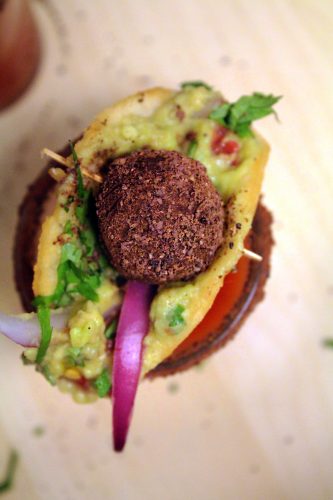 Want more awesome Mexican food ideas? Check out these recipes: