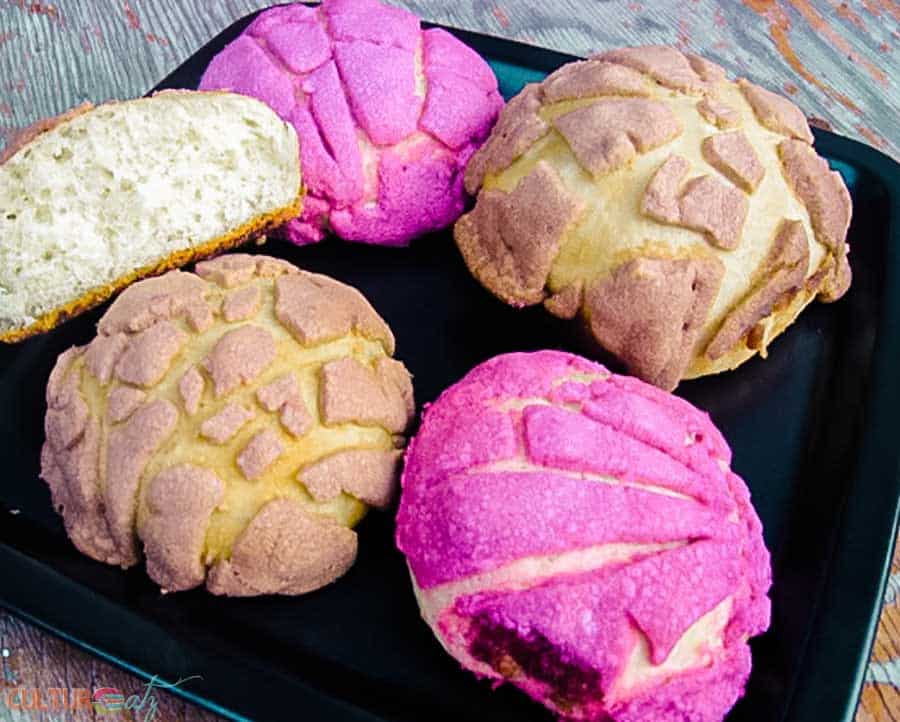 This beautiful and brightly colored Mexican Conchas recipe is one of the many popular pan dulce recipes, or sweet bread, that you can find during popular celebrations in Mexico like the on the Day of the Dead or for Cinco de Mayo.
So May is right around the corner. How did that happen? And were is spring weather? I definitely need a little Mexican food to lighten my spirits. Good thing this month's Food N' Flix film selection is Coco, a fabulous animated series set in Mexico. For this film, I decided to prepare on Cultureatz a Mexican Conchas Recipe which is a Mexican sweet bread recipe that is part of the pan dulce bread family.
You are probably wondering what is a concha? The concha Mexican bread recipe is a sweet chewy bread often decorated with a gorgeous seashell-like pattern made with a concha topping. These are sold year round but they are especially popular during holiday festivities such as Cinco de Mayo.
PIN IT FOR LATER! https://www.pinterest.ca/pin/266275396703351889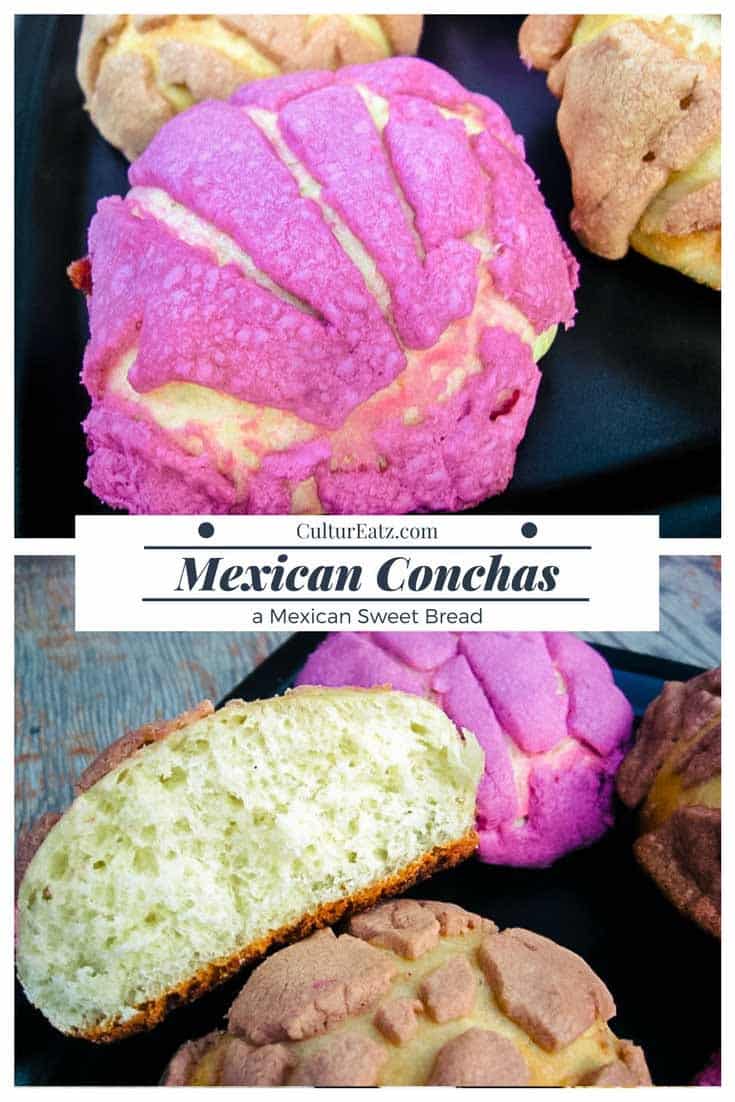 Coco, the movie
Coco is a 2017 animated movie by Pixar. It features an impressive all-Latino voice cast and it was a massive success. Some people say it beats Toy Story. Twelve-year-old Miguel Rivera has had enough of family traditions and obligations. The only person he likes is his great-grandmother, Coco. All he wants to do is play music (a big no-no in his family) and be his own person.
He has no interest in spending the day with his family for el Dia de Los Muertos. His rebellious behavior accidentally transports him to the land of the dead and he gets cursed. The only way back is to get a blessing from a dead family relative before sunrise. In a series of events, Miguel makes ancestral discoveries and saves a dead family member from completely vanishing. But does he make it back to the land of the living? Watch the movie Coco to find out click here to see the movie!
So I really loved the movie. It is really well made, entertaining, I think respectful of the Mexican culture, and it has a good message. I totally recommend it.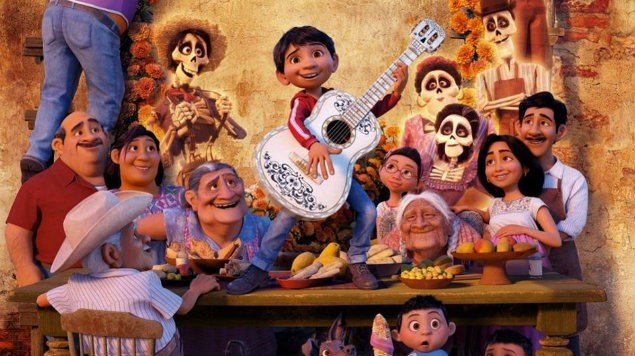 I have a FREE PRINTABLE for you
Surprise! I have prepared a Cheat Sheet that includes 41 Cooking and Baking Ingredient Substitutions that are commonly found in a kitchen. Click here to get your FREE Ingredient Substitutions Cheat Sheet right now!

Famous Mexican Holidays
The movie is centered around El Dia de Los Muertos, or the Day of the Dead, a huge holiday celebrated in Mexico which begins in October 31st and ends on November 2nd. It is a day when families gather to remember their ancestors that have passed away. Families will go to cemeteries to clean the grave and create altars containing filled with flowers, pictures, and memorabilia of the diseased, as well as their favorite foods and beverages. Of course, there is a touch of sadness but it can be a happy event when surrounded by loved ones and the decorations are so colorful.
Cinco de Mayo is an annual celebration held every May 5th and it is the day chosen to commemorate the Mexican Army's unexpected victory over the French Empire at the Battle of Puebla in 1862. Many countries, like the US, with a large population of Mexican descendants or immigrants host Cinco de Mayo festivities. These events highlight Mexican culture with festivals, parades, dancing, music, and lots of traditional Mexican food!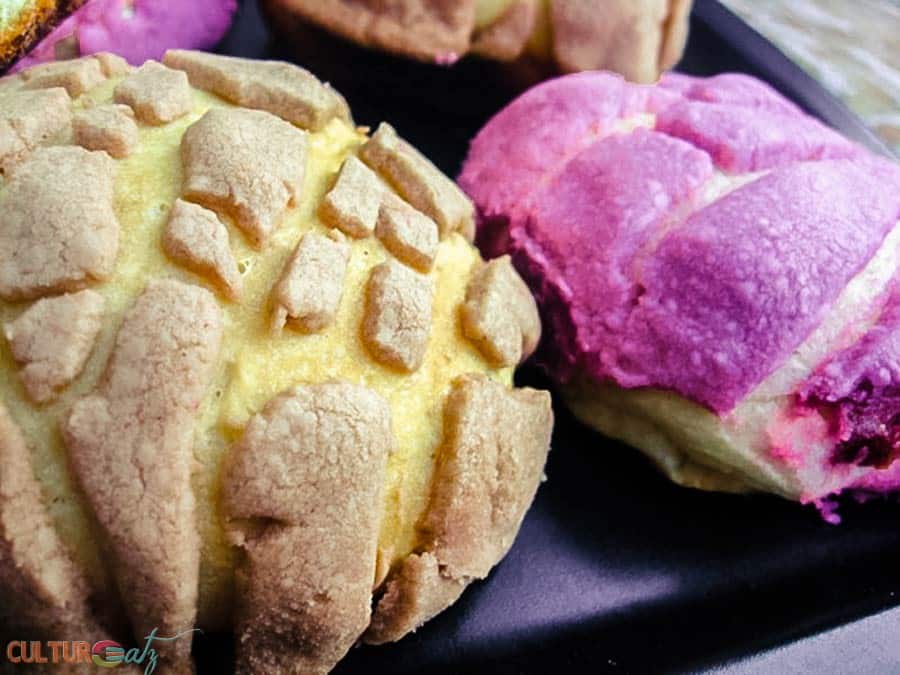 Food sightings in this movie
So I have a confession: I do not have a listing of food sightings like I normally do. I saw the movie one month before I realized it was the next movie for the group. I did not feel like watching it again so soon. So instead let me tempt you with classic Mexican dishes often served on holidays. One could make pan de muerto, mole negro, tamales, sugar skulls, Mexican hot chocolate, fruits, flan, calabaza en tacha, posole, atole, or anything made to look like a skeleton. And make sure you surround your dishes with marigolds.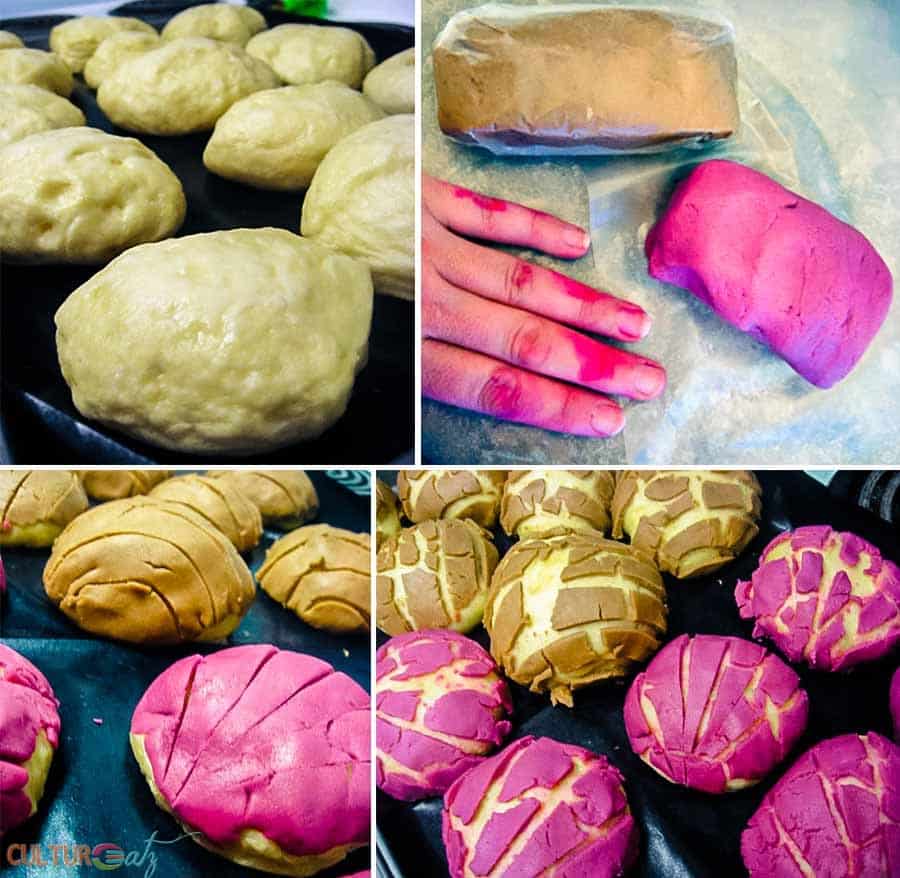 How to Make Mexican Conchas Recipe
The conchas pan recipe is one of the many types of Mexican sweet bread recipe. Now even if this is a classic Mexican pastry, did you know that the concha pastry has French influences? France is known for crispy bread rolls, baguettes, and sweet pastries. And the Mexican concha bread rolls was the result of a revamped recipe during Mexico's French occupation in the 1800s. Think baguette, now think Mexican bread rolls with a  crunchy sweet crust. And that is how the Mexican conchas recipe was born.
Year-round people in Mexico line up at their local pan Mexican bread store, called panaderia, in the morning and in the evening for this inexpensive breakfast or late supper treat. I love how elaborate the topping design looks but it is so simple to make this concha bread recipe.
It is a regular bread recipe topped with a sweet topping that is made separately. Just place it on top and score it a few times. Now you will leave the bread to rise one more time before baking. As the bread rises, the topping breaks and gives the Mexican conchas recipe its distinctive seashell pattern. So cool, right?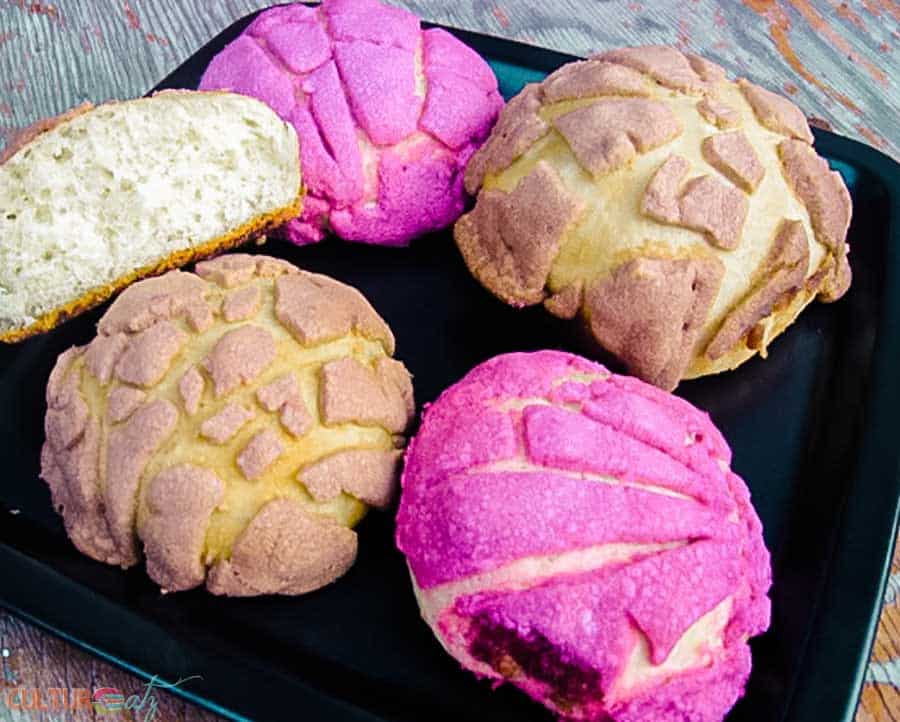 Mexican Conchas, a Mexican Sweet Bread
This beautiful and brightly colored Mexican Conchas recipe is one of the many popular pan dulce recipes, or sweet bread, that you can find during popular celebrations in Mexico like the on the Day of the Dead or for Cinco de Mayo.
Ingredients  
1

tablespoon

dry yeast

1

tablespoon

sugar

1/4

cup

warm water

3 2/3

cups

white bread flour

1

teaspoon

salt

1/3

cup

sugar

2

tablespoons

shortening

5

large eggs

beaten

1/4

cup

unsalted butter

1/4

cup

shortening

1

cup

powdered sugar

1

cup

all-purpose flour

1

teaspoon

vanilla extract

1

tablespoon

cocoa

1/8

teaspoon

cinnamon
Instructions 
Dissolve the yeast with 1 tablespoon of sugar in the warm water in a small bowl. Set aside for 6-8 minutes.

Mix well 3 cups bread flour, salt, sugar, and shortening in a large bowl. Stir in very well the yeast mixture and 2 eggs. Then add the remaining eggs. Add the remaining flour and mix until you get a soft and elastic ball of dough. You want it to be a little sticky but shapable. Cover and leave to rise for 45 minutes.

Divide dough into 16 pieces and shape into a ball. Place them 2 inches apart on a  greased cookie sheet. Press each ball slightly to flatten. Cover and leave to rise for 1 hour.

In the meantime, place the butter, shortening, powdered sugar, flour and vanilla in a food processor and process until smooth. Divide equality into however many colors you will make.

Mix in any food coloring very well, shape into a log, wrap in wax paper. For a little flavor, to one portion add the cocoa and cinnamon in. Chill the logs until ready to use.

When the bread has risen a second time, divide your toping balls into a total of 16 pieces, about 2 tablespoons per bread. Flatten each topping ball with palms into a circle. Place the circle on top of the bread, making sure it completely covers the dough. Use a sharp knife, slash just the topping. this is where the topping will crack.

Leave to rise for about 1 to 1 1/2 hours, uncovered. Bake in a preheated oven at 350 F for 12- 15 minutes, or until lightly browned.
Food 'n Flix is hosted this month by my friend Camilla at Culinary Adventures with Camilla! In this monthly group, a host picks a movie of their choice that pertains to food. Everyone watches the movie and then makes a recipe which the film inspired. It can be any recipe you want. Join us!
Want more awesome Mexican food ideas? Check out these recipes: