Traditional prepared in Mexico for the Day of the Dead, Calabaza en Tacha or candied pumpkin is the perfect fall season treat. Pumpkin slices are slowly simmer in a caramelized dark sugar syrup.
It's Food 'n Flix time again! In this monthly group a host picks a movie of their choice that pertains to food. Everyone watches the movie and then makes a recipe which the film inspired. It can be any recipe you want. This month's pick is hosted by Debra at Eliot's Eats and she took us on an artistic trip for the senses with the movie Frida! In honor of Frida for the upcoming Dia de Los Muertos, and just as perfect for a Halloween treat, I made Candied Pumpkin slices.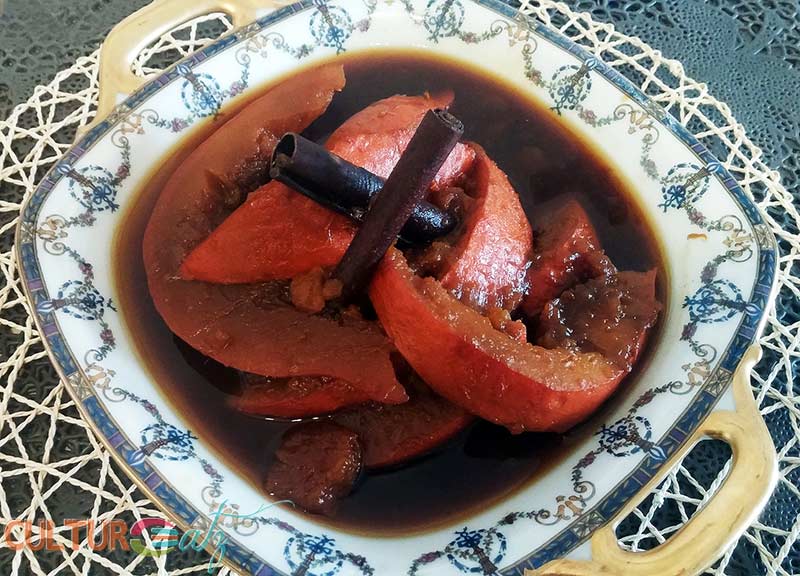 The 2002 biopic film Frida is based on the life of the powerhouse of a woman, Mexican painter Frida Kahlo (1907 – 1954). Firda is portrayed by the amazing Salma Hayek, and Frida's husband,  Diego Rivera, is played by Alfred Molina. Frida knew a childhood of sickness and social isolation. When 18 she survived a traumatic bus accident leaving her with a broken pelvis and multiple fractures. The doctors said she would never walk again.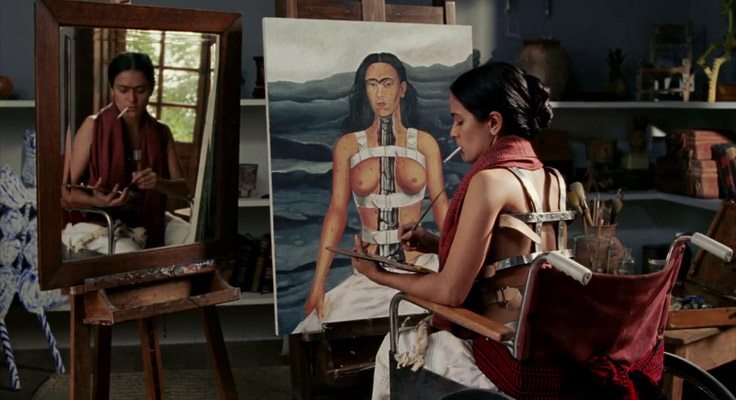 The real Frida
Well, defiant Frida did walk again…right into the arms of the famous painter Diego Rivera. He was at least 20 years older, a good 200 pounds heavier, and an infamous womanizer. Being ahead of her times, she accepted the proposal eyes wide open. There 25 year marriage was volatile at best but they knew great moments of passion. Both enjoyed also intense love affairs, Frida with both men and women. They truly lived torturous artist's lives filled with strong temperaments, hard-partying nights, active communist views and artistic genius. I really enjoyed the film: it was intense, beautiful, colorful, painful and elevating.
Frida also knew one thing very well, intimately: pain. She suffered physically for most of her entire life. At the end, she was addicted to painkillers and was suicidal. She wrote: "they have given me centuries of torture and at moments I almost lost my reason. I keep on wanting to kill myself. Diego is what keeps me from it through my vain idea that he would miss me. … But never in my life have I suffered more. I will wait a while…" She was found dead one morning in bed. No autopsy was performed, the cause of death pulmonary embolism. But it is widely believed she did end her life herself.
She left a huge imprint on Mexican culture, celebrating women and Mexican folk culture. She is best known for unibrow self-portraits.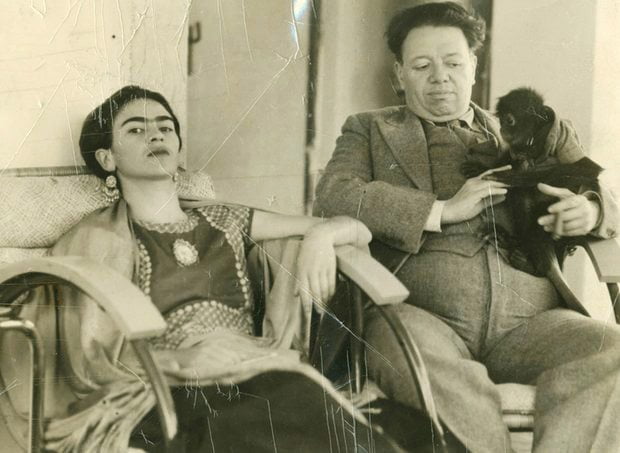 Strange inspirations
This is not a foodie movie per say but there are tons of food sittings. Debra prepared an exhaustive food list on her Frida post if curious, many are guesses. Normally I also compile a list of foods spotted in the movie of the month.
But this time the only things I wrote down were offbeat inspirations, potential food idea, the unusual: mirrored food, tango, chiles, eyebrows, communists, singing, posole, teeth instrument, Mexico, corn, tequila, big necklaces, the day of the dead, colorful clothes, pain and sufferance.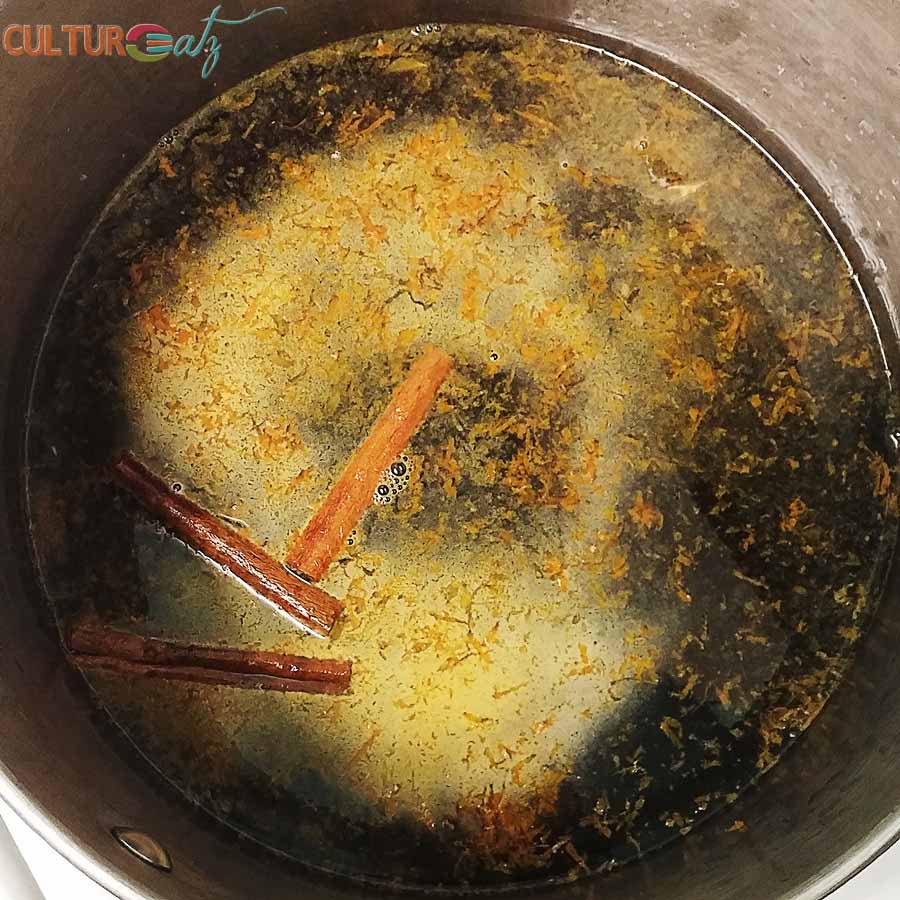 For the Day of the Dead or Halloween!
Calabaza en Tacha, or candied pumpkin, fell on my radar after catching an excerpt of a cookbook called Frida's Fiestas. Pumpkin in syrup was one of the listed recipes. I also just happen to have 20 pounds worth of squash on my balcony after what is becoming a seasonal pilgrimage to a squash farm outside of Montreal. It is squash and pumpkin season after all and I think this candied pumpkin is a perfect grown-up Halloween treat!
Candied pumpkin is an authentic Mexican recipe prepared in the fall, particularly for the celebrations of the day of the dead. It's so authentic that you have probably never heard of it. Outside Mexico, we only think of Tex-Mex as Mexican food. Real Mexican food is completely different and it is very regional, like for example the wonderfully unique flavors of the Yucatan Peninsula.
It is a day when family members gather and honor their dearly departed ones. Often picnics will be held day or night by the family grave in cemeteries. There is such a scene actually in the movie Frida. Day of the dead, skeletons, pumpkins, the recipe choice fit like a glove.
Click here for another Mexican/Thai Halloween inspired recipe!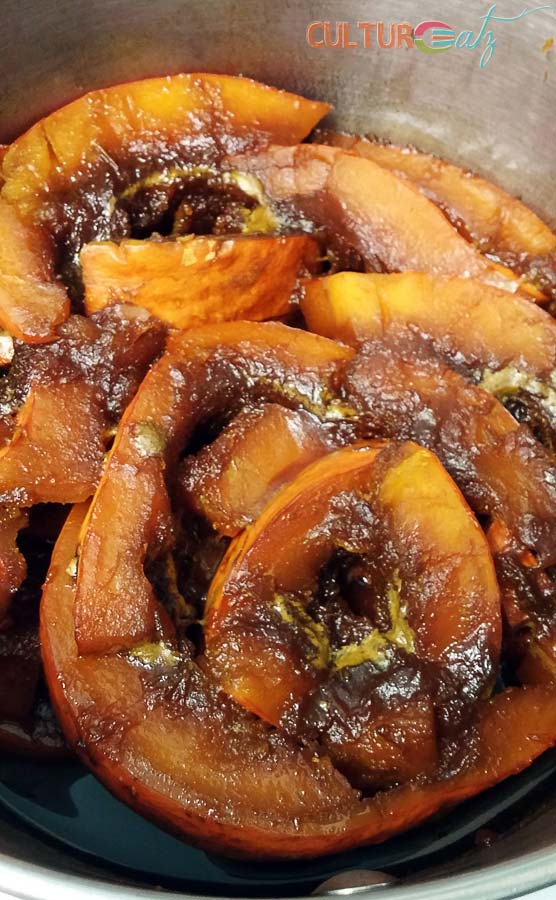 Two notes one the recipe
Cannot source piloncillo? Piloncillo is made from pure, unrefined sugar that is pressed into a cone shape of roughly 8 ounces. The good news is that there is a really easy substitute: for every 8-ounce cone use instead 1 cup brown sugar + 1 Tbsp of molasses.
It's not really a pumpkin one should use. Calabaza de Castilla is the ideal choice, a hard-shelled winter squash native to the Caribbean. the flesh is firmer and less watery than our pumpkins. I used a North American cousin called a red kabocha.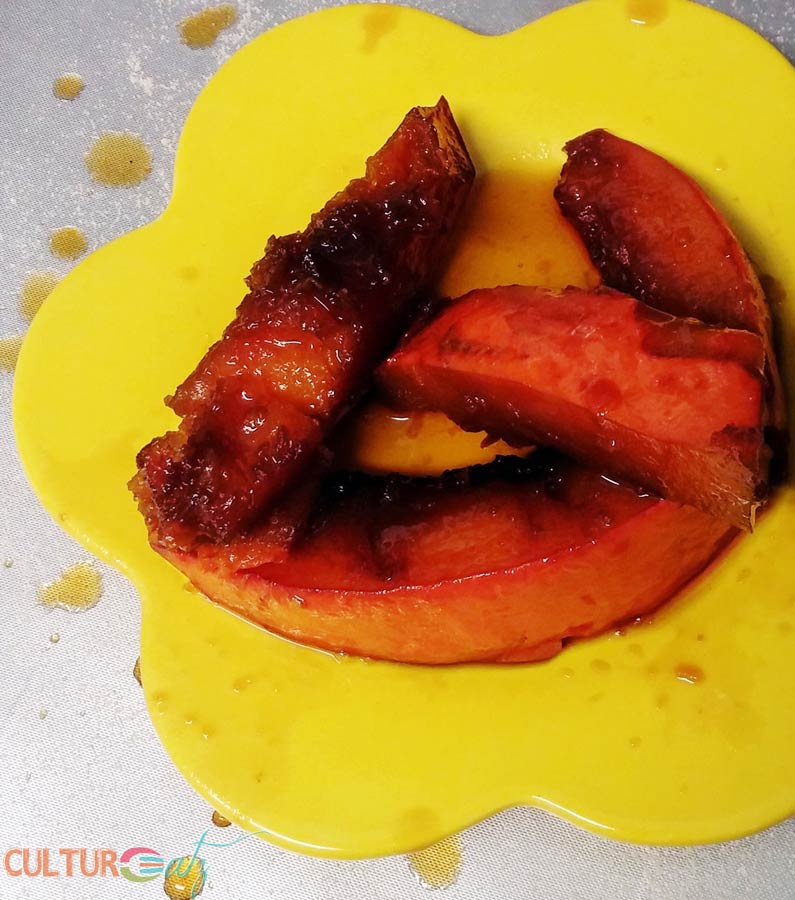 The candied pumpkin is a great dessert indeed! It is not the easiest dish to plate. Mine fell apart after 30 min of simmering but that is because the red kabocha has a thin edible skin. I still left it to simmer for 2 hours to reduce my syrup. Once cooled the pieces were a bit easier to handle. The taste is wonderful and surprisingly not too sweet considering how much sugar is in there. But who cares, it is a vegetable so I can eat as much as I want ha ha!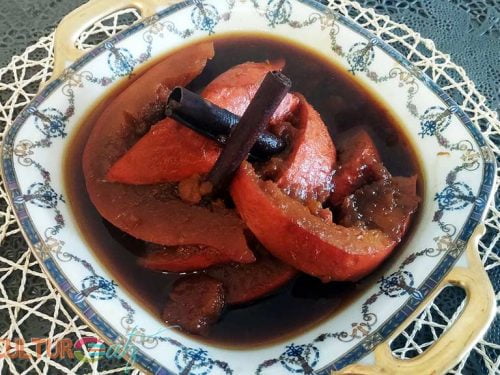 Calabaza En Tacha (Mexican Candied Pumpkin)
Ingredients  
1

pumpkin or similar squash

about 5 pounds

4

cups

of water

4 8

oz-piloncillo cones

or 4 cups brown sugar + 4 Tbsp molasses

3

cinnamon sticks

1

orange

zest and juice
Instructions 
Remove any stem. Cut the pumpkin in half and clean out the innards. Cut the pumpkin in 1.5-inch slices.

In a large saucepan add the water, piloncillo, cinnamon sticks, and orange zest and juice. bring to a boil.

Carefully place the pumpkin slies in the saucepan and reduce heat to low. Cover partially and simmer for one to 2 hours, until pumpkin is tender and the liquid has reduced.

Remove from heat and leave to cool. Serve at room temperature on its own, with pepitas, ice cream, or a bit of mlik.