How do you get everyone running to the buffet table? Serve a piping hot cheesy garlic party bread laden with fresh mozzarella, minced garlic, butter, and parsley.
Are you hosting parties at home, Thanksgiving, a Super Bowl party, maybe  Christmas, New Year's Eve and insert-your-local-holiday-here? It is that time of year to start prepping your menu plan and finding the perfect party recipes. You can never start too soon! And to be the star of the buffet table, you should definitely make this cheesy garlic party bread. next time I should make it with my own sourdough bread!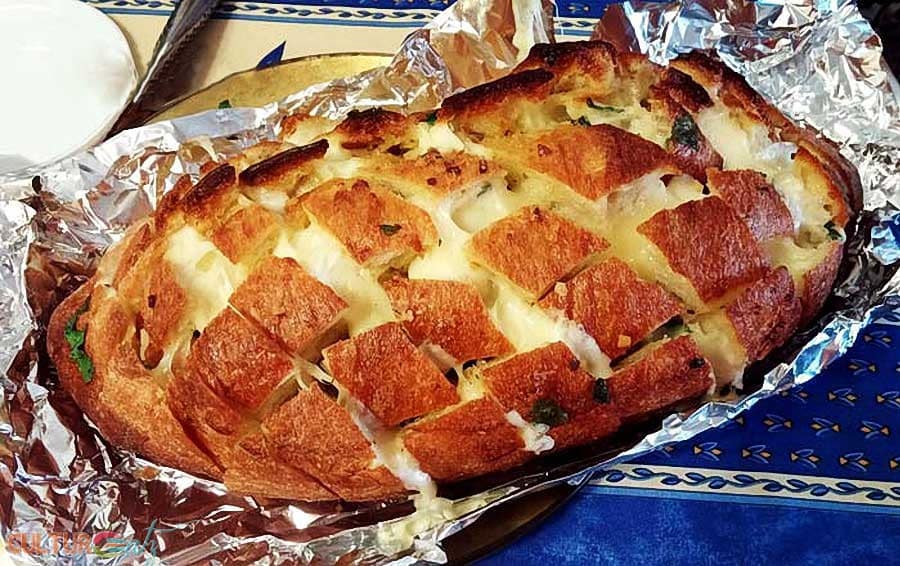 The perfect party food is like an appetizer, one that requires a small number of ingredients, and one that is easy and quick to prepare…like the favorite easy layered nacho dip. Other key points is a recipe that you can preferably prepare ahead of time. And that once you put it in the oven your guest are swooning over the smells coming from the kitchen. This cheesy garlic party bread absolutely checked all these boxes. It truly was the ideal contribution to my 5th Food Film Marathon which took place a couple of weekends ago.
The Food Film Marathon
Five years have passed already since I had a fun idea for a party. I planed a showing of movies related to food in some way during a whole day and asked everyone that would attend to bring food for a day-long on-going potluck. We had so much fun that this year was a milestone – it was the 5th edition of the Food Film Marathon. I have perfected the formula over the years and plan nice socializing breaks in between the movies. I often get asked if the guest actually watch the movies.  Yes, we do!  I never enforced this but overall people are quiet and really pay attention. In 5 years we have screened 22 movies! And what did we see this year?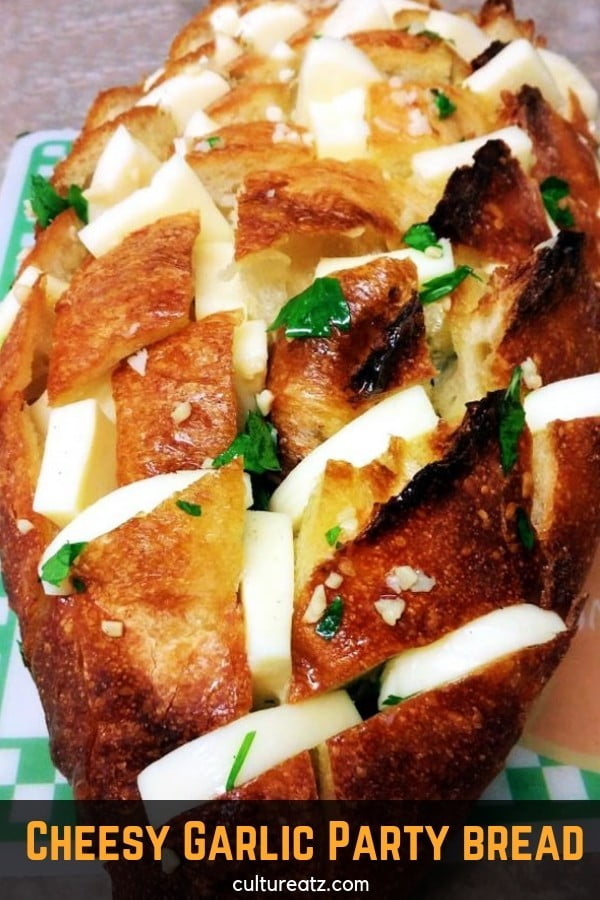 The 2015 Playbill
Kung Fu Panda, 2008 – In the Valley of Peace, Po the Panda finds himself chosen as the Dragon Warrior despite the fact that he is obese and a complete novice at martial arts. Animated noodle and dumpling porn by Dreamworks.
Delicatessen, 1991 – a Post-apocalyptic surrealist black comedy about the landlord of an apartment building who occasionally prepares a delicacy for his odd tenants. A real gem this film, not to be missed!!!
Short Feast: A dog named Winston loves eating until his owner feeds him vegetables. We played it twice the guests love it so much!
The Hundred-Foot Journey, 2014 – The Kadam family leaves India for France where they open a restaurant directly across the road from Madame Mallory's Michelin-starred eatery. One of last year's big hit food movie.
Bottle Shock, 2008 – The story of the early days of California wine making featuring the now infamous, blind Paris wine tasting of 1976 that has come to be known as "Judgment of Paris". Also ladies, 2 words: Chris Pine.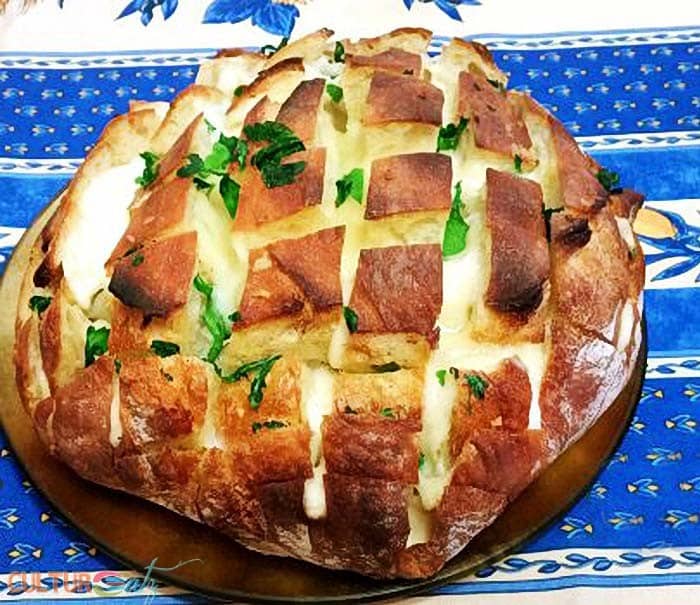 Cheesy Garlic Party Bread
Since people come and go during the day and there is more than one eat-&-socialize session, I decided to prepare 2 cheesy garlic party bread so no one would miss out. I found the recipe over at Little Spice Jar. As soon as I saw the pics I was sold. A real no-fuss recipe, I prepared both breads ahead of time and wrapped them in foil.
Each time I popped on in the oven people were asking what was that heavenly smell. Even if the bread was just on the table half consumed, new arrivals inquired immediately what was being served. I could not have been happier with the results.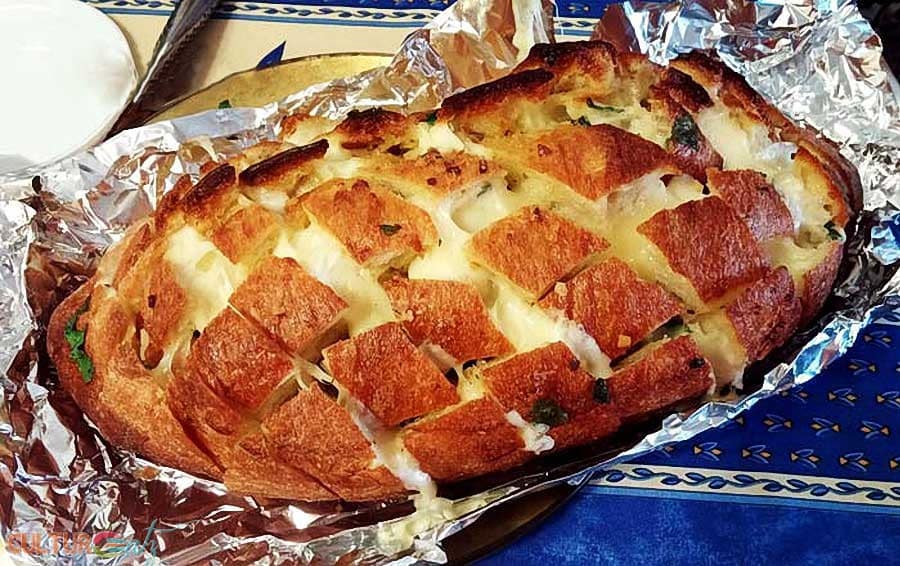 Cheesy Garlic Party Bread
Ingredients  
5

cloves

garlic

1/3

cup

parsley

2

tablespoons

olive oil

1

small loaf country or sour dough bread

3

tablespoons

butter

salt to taste

4

ounces

mozzarella

sliced or shredded
Instructions 
Preheat the oven to 375F and place rack in the center of the oven.

In a food processor or blender, throw in the garlic cloves, parsley, and olive oil and pulse until you get small pieces.

Melt butter over medium heat and add the garlic mix with a pinch of salt. Cook for 2 minutes while stirring. Set aside.

Cut the bread on a diagonal into 1" diamonds without cutting the bread all the way through. Pry the cuts open and use a spoon to drizzle the garlic butter into each cut of the bread. Stuff the bread cuts with cheese. Drizzle any remaining butter over the crust and add a bit of chopped parsley.

Wrap bottom and sides of bread with foil. Cover the top with a second piece of foil and bake for 10 minutes. Take off top foil and bake for 10 minutes, or until the cheese is melted. Serve immediately.
Notes
If you're using sliced mozzarella, stack 2 cheese slices and cut into 1" squares.
To make ahead, wrap with foil and place in a plastic bag. Store in fridge overnight. If you plan on freezing to store for longer, wrap with cling wrap as well after the foil. To bake, thaw and follow recipe instructions.
PIN IT FOR LATER! https://www.pinterest.ca/pin/266275396704507149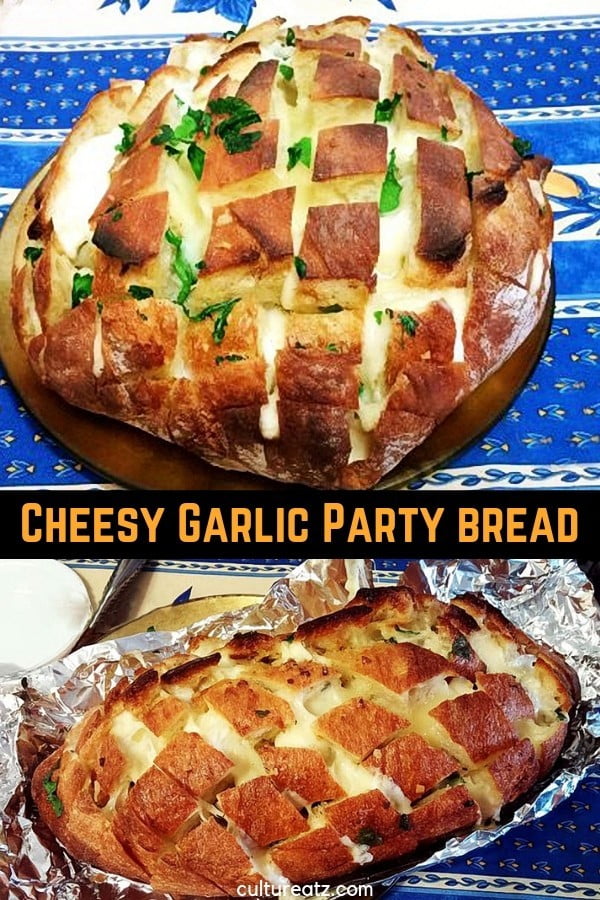 Want more fun appetizers?