Did you know that sourdough bread is part of the fermentation craze? The sour taste comes from the addition of a starter, a fermented mixture of flour, water and naturally occurring wild yeast.
Is there anything more comforting than the smell of freshly baked bread coming out of the oven? I just adore making a basic food item like this, as all our ancestors have been doing for centuries. Lately I have being playing around with a sourdough starter given to me by my friend Karyn this fall to make sourdough bread. Here is my basic recipe.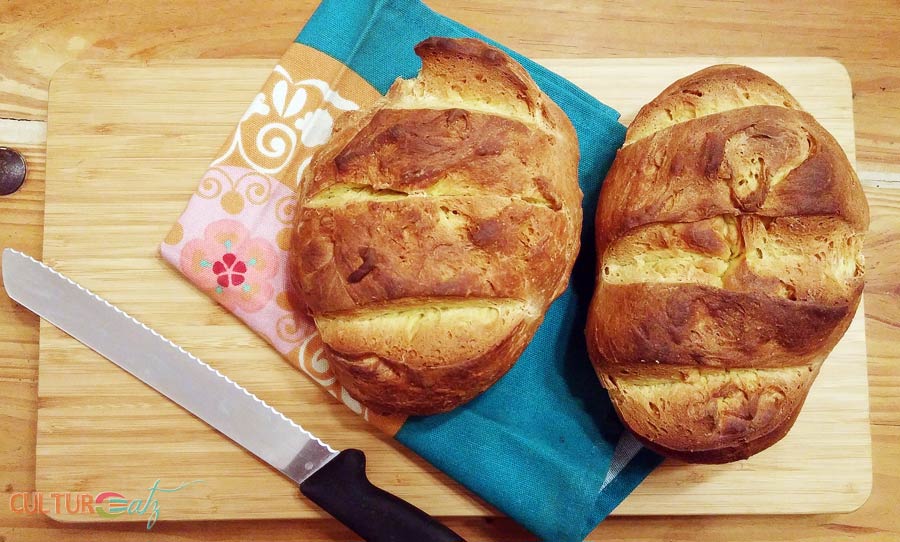 The timing was perfect to get this gift of a sourdough starter. I really miss the now closed  bread group I belonged to. We made so many wonderful breads. Thanks again Karyn!
Now this is what I like to call a shortcut sourdough bread. It is not the strongest sourdough starter so I add yeast to my recipe, but the starter gives a lovely sour taste to the bread. Also, since I add yeast, I do not have to wait hours on end for a natural yeast to rise the dough. But making it one day without any yeast is on my bucket list!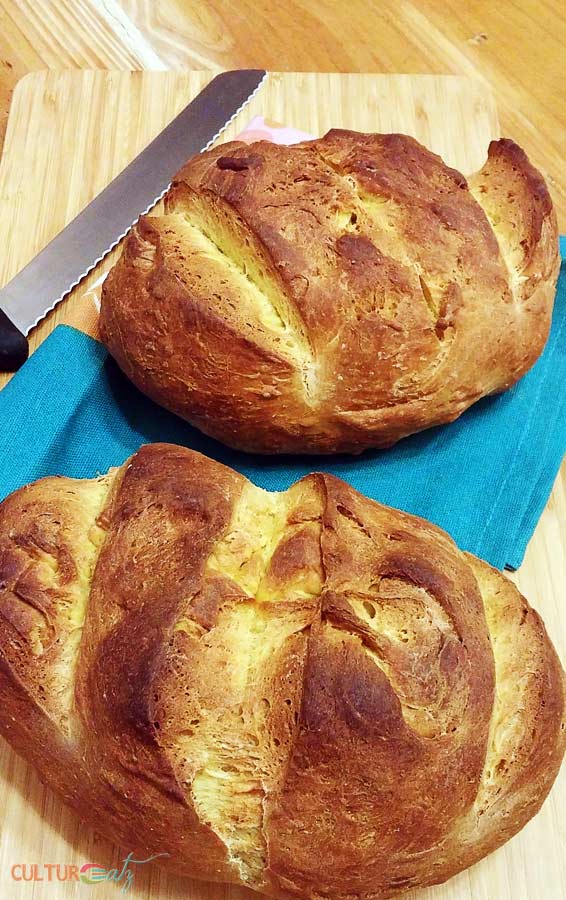 I do not bake bread every week, I bake it maybe every 3 weeks. And I keep my stater in the fridge so I only have to refresh it (feed it) once a week. In my next post I will go more into detail about how to maintain a starter and what to do with extra starter. In all honesty I am so proud to have not killed it yet and keep it going lol. Maybe one day I will name it, as is tradition.
Bread Making in Action!
I have a prepared a video for you where I show how to make the bread from start to finish. If you like the video make sure to subscribe to my channel!
Bread kneading dough tip: you know it has been kneaded properly when the dough is very elastic and can be stretched to form a thin film without breaking, called the window pane test.
Yeah so as I mentioned in the video, the bread is not normally this yellow. If you remember, I recently blogged about Golden Milk, a very healthy hot beverage made with a turmeric paste. Instead of a plain cup of milk I used a cup of turmeric milk. It really gave the bread a nice little kick of flavor.
Bread storage tip: I usually slice one bread and freeze it in a large zip-lock bag. And I keep one bread on the counter wrapped in a plastic bag, cut side down. I am not sure if that is the right way but it works!
Feel free to play with this bread. Make a round bead, a baguette, an oblong shape, a braid. Also you can add herbs, cheese, nuts, fruits, chocolate chips….what ever you like. Have fun with it.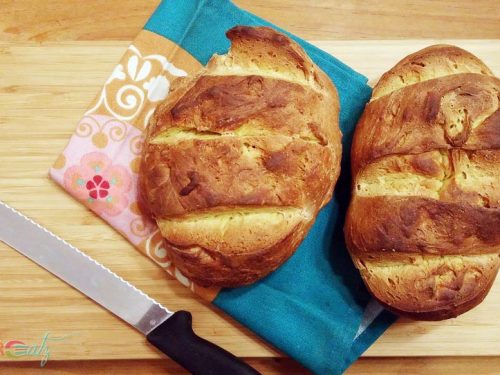 Homemade Sourdough Bread
Now this is what I like to call a shortcut sourdough bread. It is not the strongest sourdough starter so I add yeast to my recipe, but the starter gives a lovely sour taste to the bread. This trick also cuts the rise time!
Ingredients  
3 to 4

cups

bread flour

1 1/2

tablespoons

sugar

2

teaspoons

salt

2 1/4

teaspoons

1 package active dry yeast

1

cup

warm milk

100 to 110 F

2

tablespoons

butter

margarine or olive oil

1 1/2

cups

sourdough starter
Instructions 
Combine 1 cup flour, sugar, and dry yeast in the bowl of a stand mixer with the bread hook.

Add warmed milk and fat to bowl, mix well. Mix in the sourdough starter.

Add the salt and flour, a little bit at a time, until you get a slightly sticky ball of dough that sticks together. The quantity of flour will depend on the humidity of your climate.

Knead the dough for 8 to 10 minutes, by hand or in the mixer. It should be elastic.

Oil the mixing bowl and place the dough in it, turning it once to oil the dough. Cover with a damp cloth and rise for 1 hour, or until doubled in volume.

Punch down gently and leave to rest for 15 minutes.

Divide dough in two and shape into 2 loaves. Place on a greased baking sheet and leave to rise, covered, for 1 hour or until doubled in volume.

Lightly slash the bread with a razor blade or sharp knife. Bake in a preheated oven at 375 F for 30-35 minutes, or until a thermometer inserted inside reads 210 F.

Cool for 1 hour on a wire rack before slicing.