Here we are at the 8th installment of The Liver Experiment where I will try to acquire a taste for liver. Over a 10 week period I will cook, consume and post my experience once a week about trying to appreciate my food nemesis. I hope my experiment will inspire you to try the same with your own personal food nemesis. And even if you are determined to hate liver for life I hope you will follow along throughout the whole series.
And for a second time I am so happy to be able to combine Week 8 with this month's Creative Cooking Crew. This month our theme was rice. I decided to combine the old and the new in this Moorish and Louisiana fusion dish named Stuffed Baby Eggplants in a Dirty Rice Pilaf.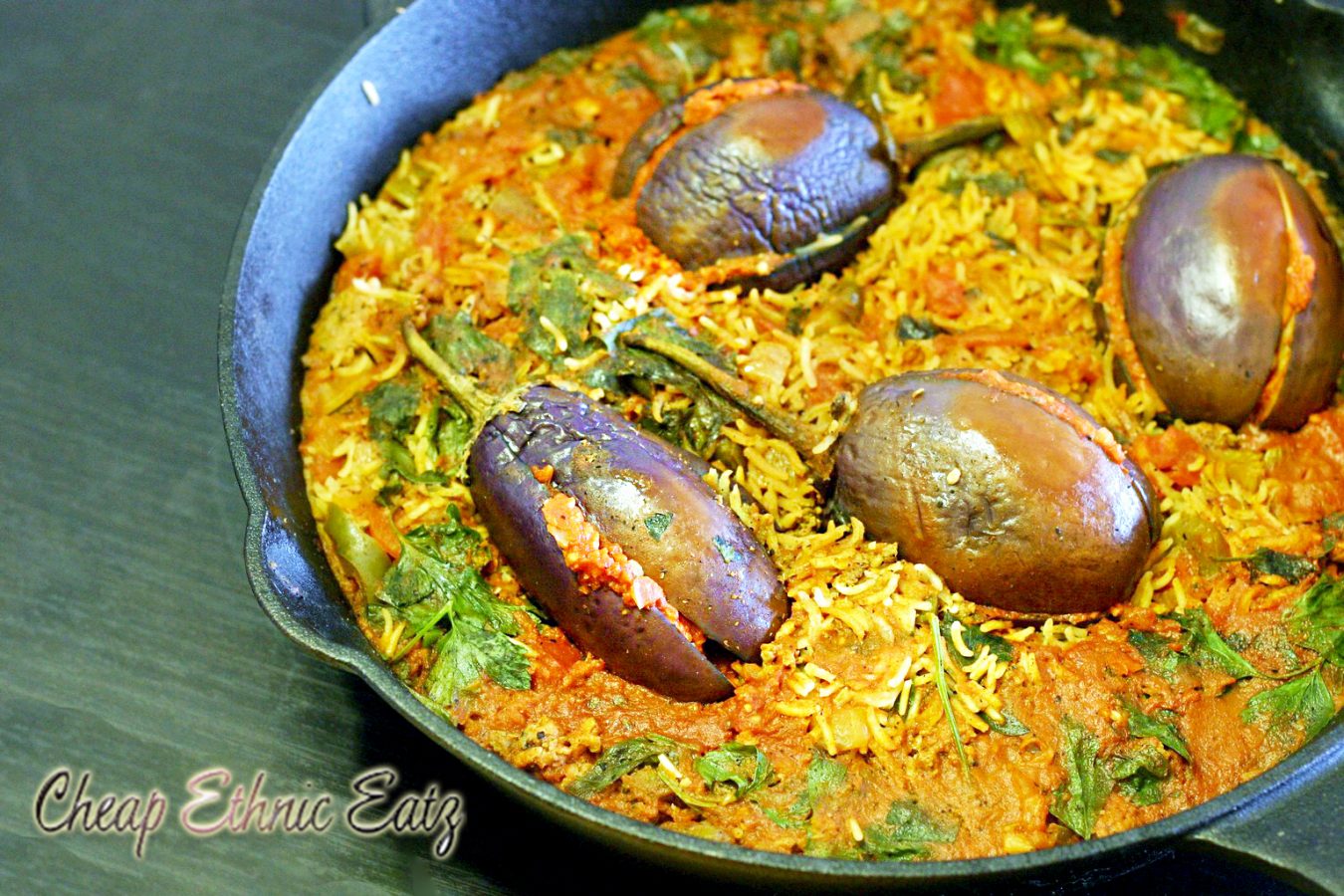 Although rice is not the biggest crop in the world, it is the most widely consumed food item on earth and rice is believed to have been cultivated for possibly up to 13,000 years ago. Since we find rice in so many parts of the world, we can find hundreds of thousands of ways to prepare it. A very popular recipe which has been prepared for centuries in more than half the countries in the world is Pilaf. Pilaf is described as a dish where the rice is cooked in a seasoned broth. Often the rice take on shades of colors from the from being stirred with bits of cooked vegetables or a mix of spices. To make a complete meal one can add meat, fish and vegetables.
Dirty rice is a type of pilaf made with chopped chicken livers and other bits that one can add. It's not the most intense liver dish of the series but it is quite time appropriate as I am counting down the next 7 days before my trip to New Orleans for a holiday! I am so excited and I cannot wait to eat all the food over there.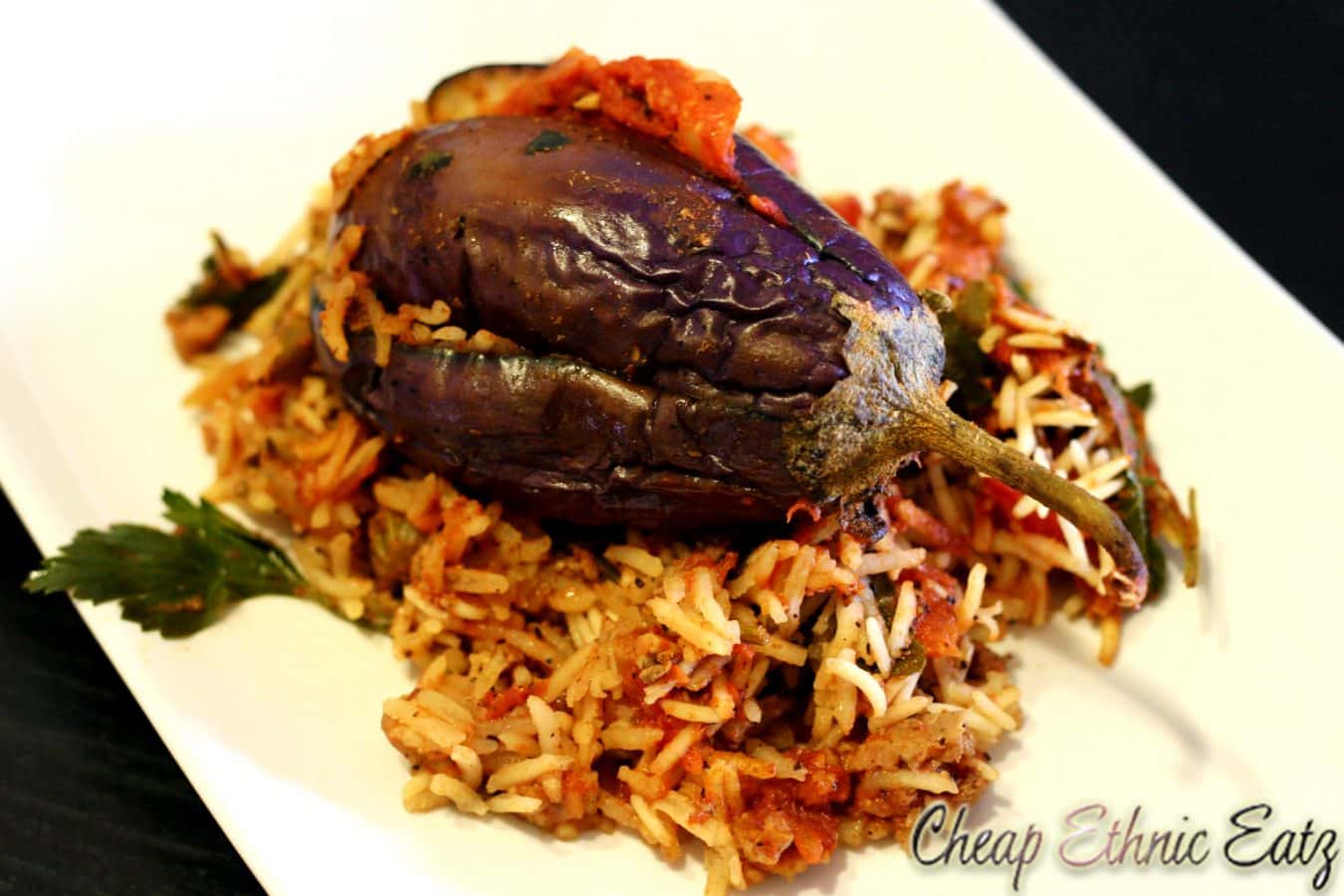 Of course I had to play around with the basic recipe and put a Middle Eastern touch to it. I saw these gorgeous baby eggplants nestled into a pilaf pan in a picture online with gorgeous notes of exotic spices like sumac and cumin. I had found my fusion combination.
Educational notes of the week:
Dirty rice is a traditional Cajun dish from southern Louisiana with perhaps not the most appealing name. The name comes from the fact that the white rice develops a dirty color from being cooked with small pieces of chicken livers, hearts, gizzards or giblets, as well as from the cooked green bell pepper, celery, onion (called the Holy triniy in Cajun cuisine), and spices like cayenne and black pepper.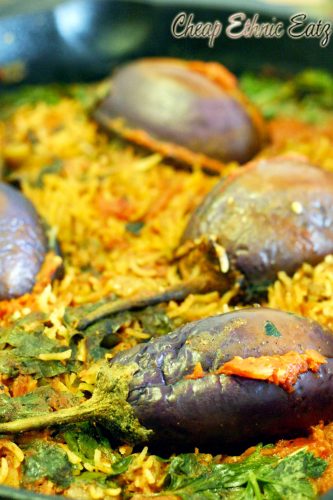 I am so thrilled with how this dish turned out. First I think it is just a gorgeous presentation. I loved the mix of spices, tomatoes, the pork meat and the chicken livers I used. Every bite bursts with flavor. If there is one dish you should try where you will not even know there is liver in it, this is the one. The stuffed eggplants are the delicious crowning jewels as well. Week 8 is a total winner in my books.
Thank you Lazaro Cooks and Foodalogue for this month's fun challenge. Check out what the other members have created on our Pinterest board by clicking on the banner below.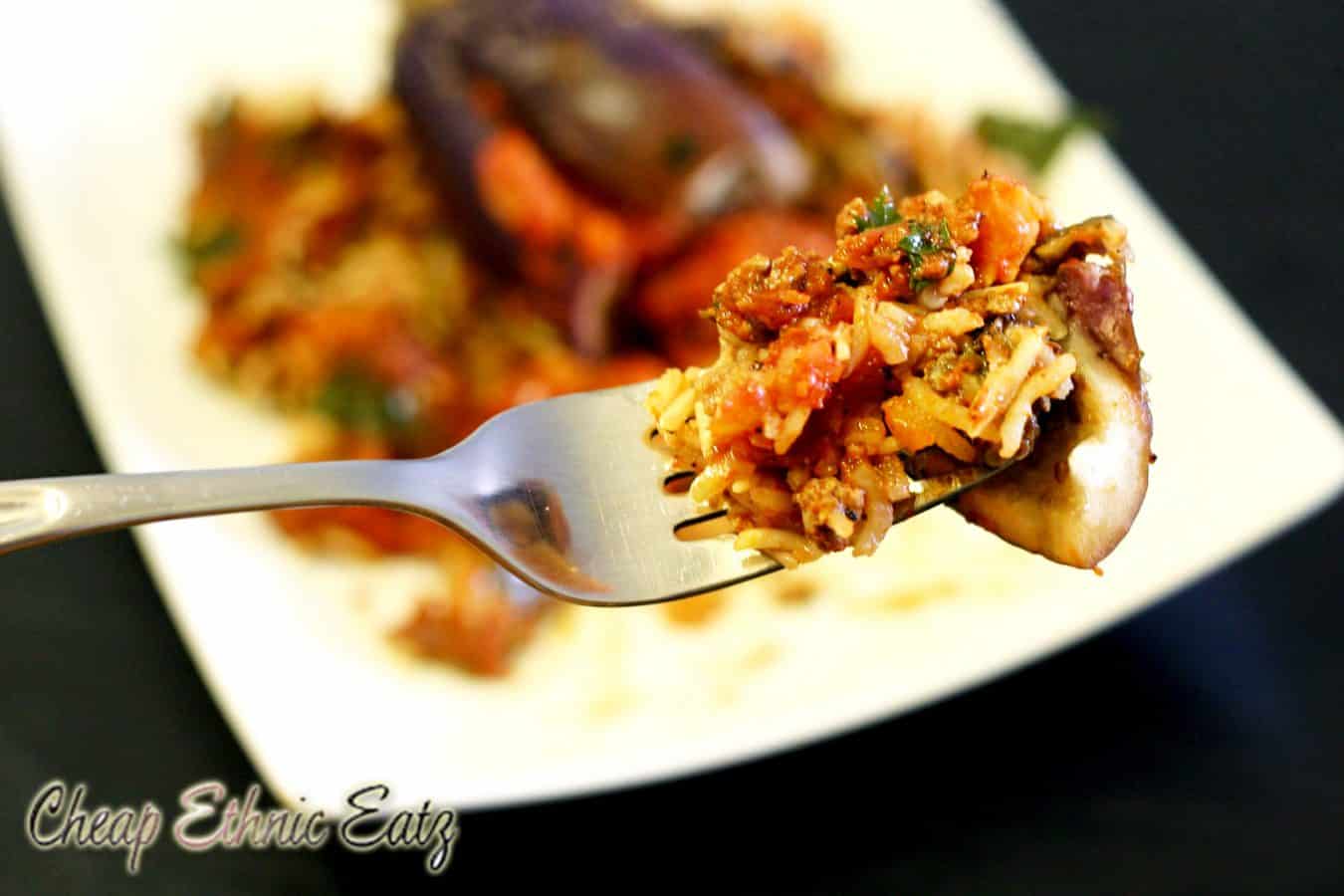 Yields 4 servings
Stuffed Baby Eggplants in a Dirty Rice Pilaf
Ingredients
2 tbsp bacon fat
1/2 onion, chopped
2 celery stalks, chopped
1/2 green bell pepper, chopped
2 cloves of garlic, crushed
1/4 pound ground pork
1/2 cup chicken livers and/or hearts, chopped fine
7 oz can of diced tomatoes
salt and pepper to taste
1/2 tbsp sumac
1/2 tbsp cumin powder
1/2 tsp hot chili powder
1 cup basmati rice
1 cup fresh parsley
2 1/2 cups chicken broth
4 baby stuffed eggplants (see below)
Instructions
Prepare the baby eggplant as described in the other recipe.
Heat a heavy pan and melt the fat. Once hot add the onions, celery and bell pepper and cook until a little translucent. Add the garlic and pork and cook till pork is done. Add the liver and stir until cooked.
Add the tomatoes and sprinkle the salt, pepper and spices, and stir well. Add the rice and stir it evenly in the pan. Add the parsley in a single layer.
Nestle stuffed little eggplant into the pan add the broth. Bring to a boil, cover with a lid and lower to a gentle simmer for 15 minutes, or until the eggplants are tender and all the water is absorbed.
Remove the pan from the heat. Take the lid off, cover with a tea towel and put the lid back on to allow it to steam for about 10 minutes.
7.8.1.2
424
https://cultureatz.com/the-liver-experiment-week-8-stuffed-baby-eggplants-in-a-dirty-rice-pilaf/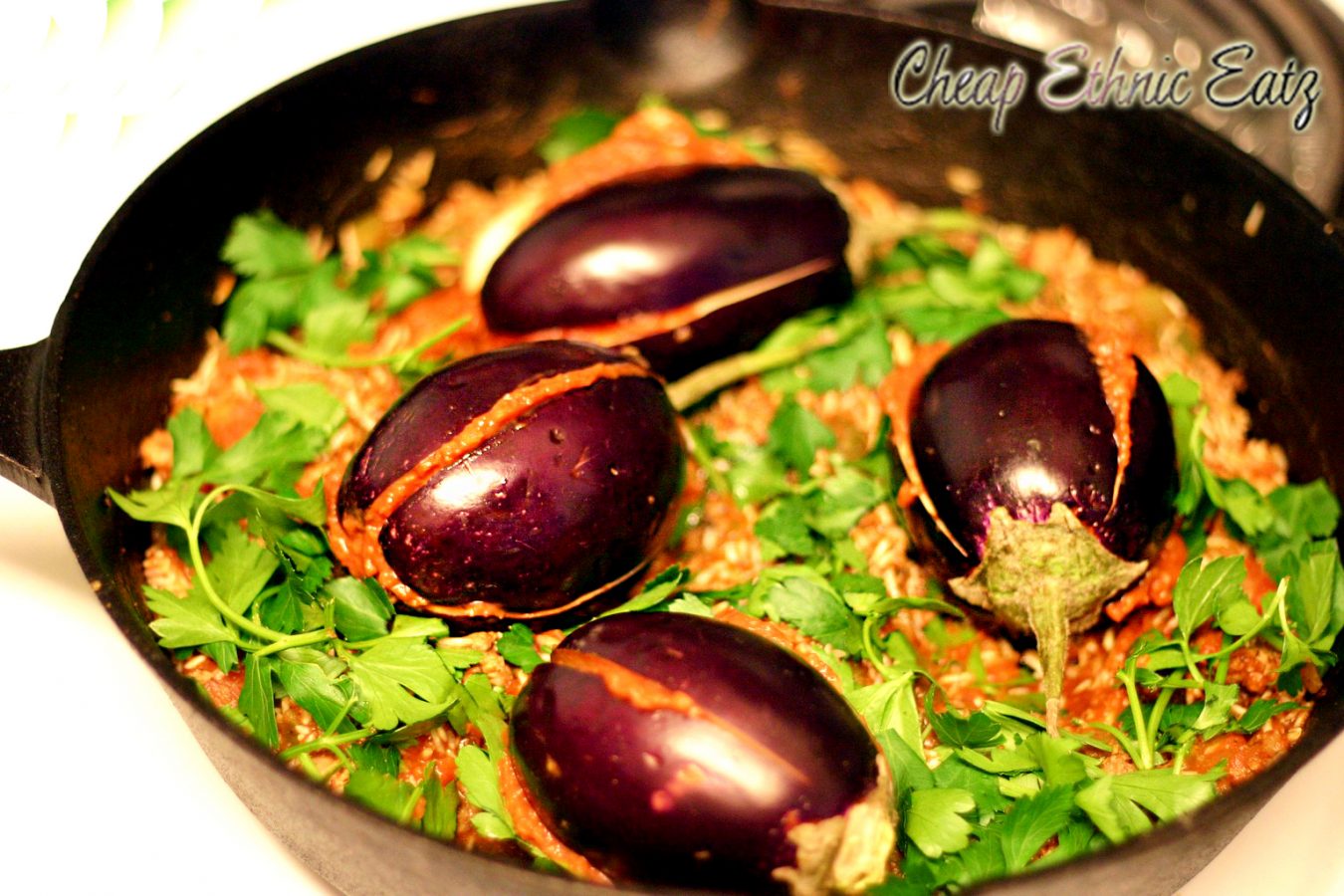 Yields 4 portions
Stuffed Baby Eggplants
Ingredients
1 garlic clove
1/2 onion, chopped
1/4 cup Tomato paste
1 tbsp oil
pinch of salt
4 baby eggplants
Instructions
In a blender combine all the ingredients except the eggplants and blend to a paste.
Gently cut the eggplants from the base to the stem in quarters, leaving a 1/4 inch of the flesh uncut.
Delicately press on the eggplant to separate one of the cuts, spread a tablespoon of the paste in the cut, then do the same by turning the eggplant with the other cut. Work gently so that the eggplant does not break apart.
7.8.1.2
96
https://cultureatz.com/the-liver-experiment-week-8-stuffed-baby-eggplants-in-a-dirty-rice-pilaf/
Read the entire The Liver Experiment series:
Week 1: Chicken Liver Pate and Absinthe
Week 2: Liver & bacon sauté with potatoes & parsley
Week 3: Austrian Liver Dumplings (Leberknödel)
Week 4: Indian Liver Curry
Week 5: Stuffed vine leaves with liver and apple
Week 6: Spiced Chicken Liver Tacos with Mole Sauce
Week 7: Lamb Liver Raspberries and Hazelnut Salad