I am amazed to write this next sentence. Here we are at the 10th installment, the last recipe, of The Liver Experiment where I have tried to acquire a taste for liver. Over a 10 week period I have cooked, consumed and posted my experience once a week about trying to appreciate my food nemesis. I will have one final round-up post next week and I will dwelve more into what is was like, my challenges, victories and final thoughts. Today we stick with just the last recipe.
I had the hardest time settling on this last dish. I felt my online search for good liver recipes had been exhausted. I wanted this last post to be memorable but was loosing hope. Then I found THE recipe. I present you with a Liver on Polenta with a Ginger-Onion Confit, a masterpiece!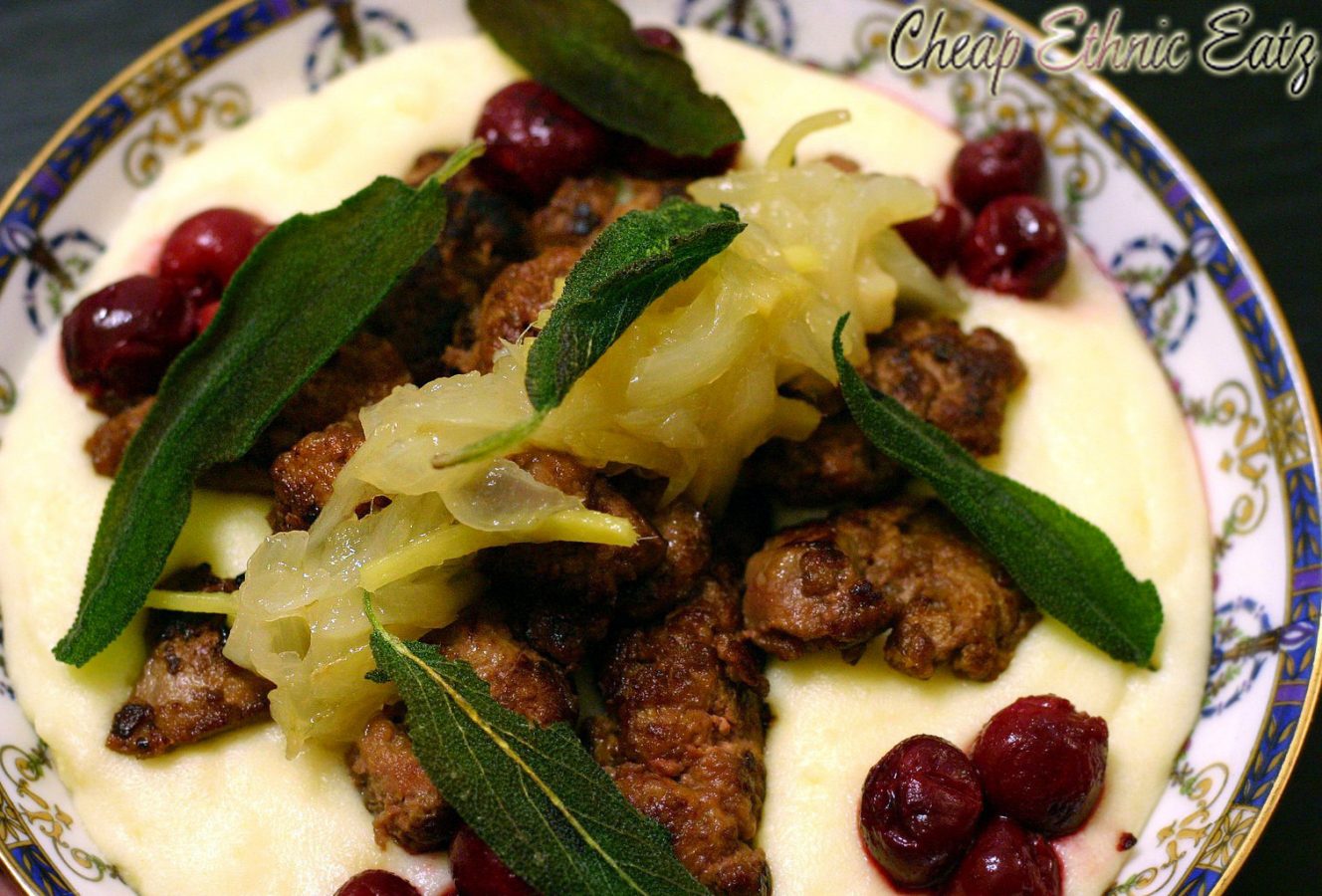 I pretty much kept this recipe as is, except for a few minor changes, because it was simply perfect. Rhubarb was impossible to find in the middle of winter so I substituted with sour cherries, an essential acidic component to the dish. And I went with a lamb liver rather than a calf one. I tried to find other recipes with liver and polenta, and there are quite a few, but the balance, aesthetics and composition of this one, there are no other like it.

If you do attempt this dish please follow the steps exactly as outlined. It is not a hard recipe to make but things must be prepared in a specific order so items are ready and still fresh as you make your final plating.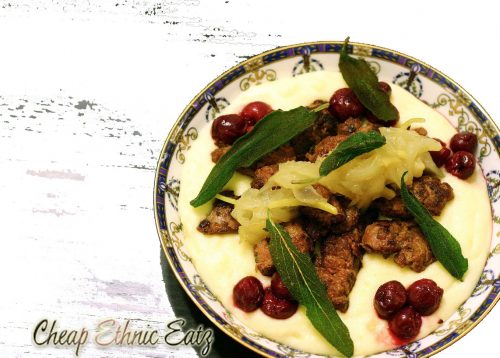 Educational notes of the week:
Keeping the best and most intense for last. Did you know that some cultures prefer eating their liver almost or completely raw? It is believed that some African hunting tribes consider liver so sacred that they never touched it with their hands, but solely with their spears. Also some farmers all over the world will eat the liver freshly warm from the animal. They just very lightly cook it. Some cultures prepare traditional raw liver recipes, like the Japanese liver sashimi, the Korean yukhoe, or the Lebanese asbeh nayeh dish. That said, the number one rule for eating raw liver (or any raw meat) is that is must come from a reputable source and be as fresh as possible.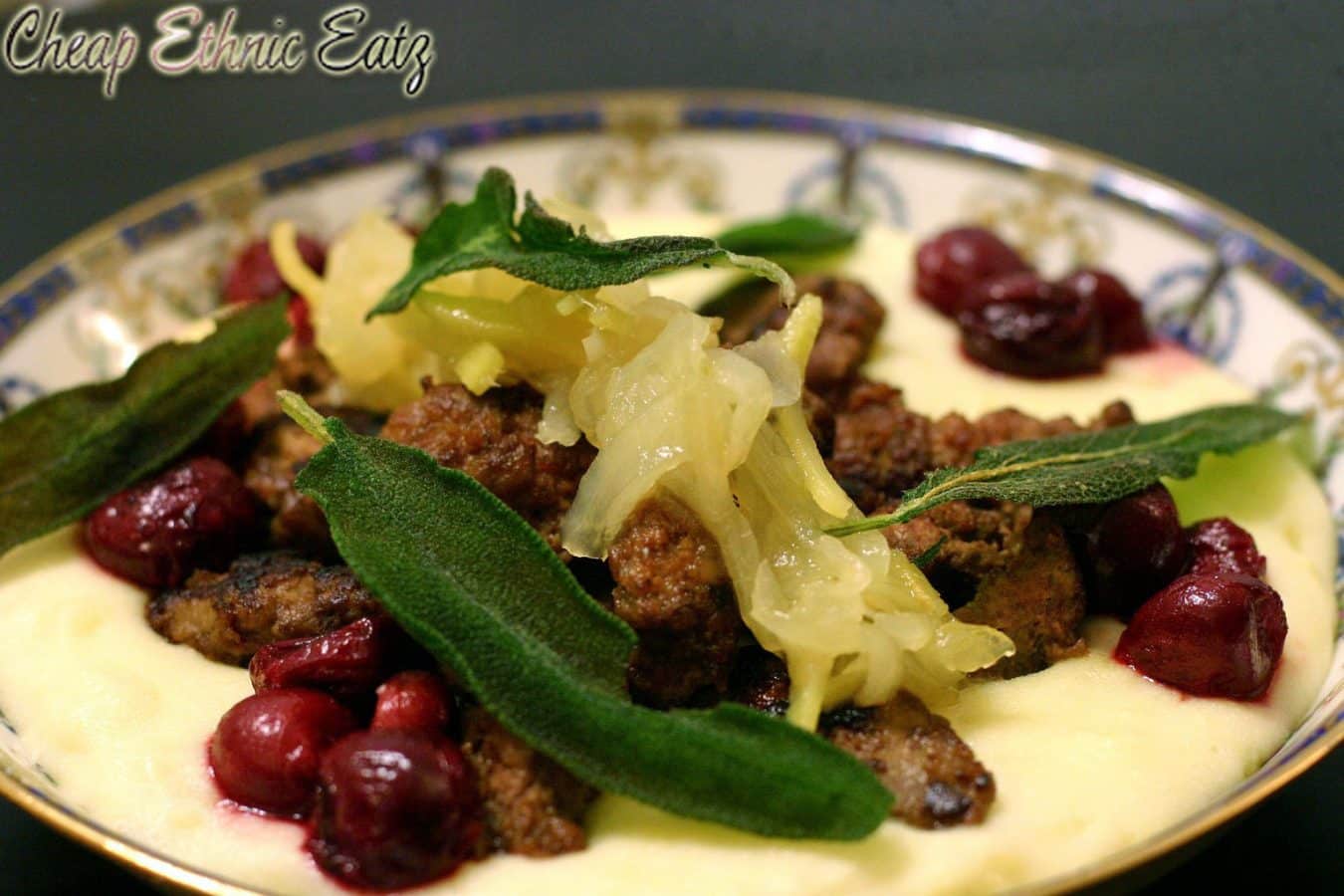 This dish was just simply phenomenal. It was perfect and sublime. It was top notch gourmet. It would hold a strong place on any high ranked restaurant's menu. I just cannot rave about this recipe enough. First off if I had not know it was liver I may not have guessed. OK so maybe I have at this point really acquired a taste for some liver recipes. And I still stick to my claim that lamb liver is my favorite.
Imagine a forkful of every component – the creamy polenta, the crispy liver, the tartness of the fruit, the refreshing exotic taste of the confit and a crowning crispy sage leaf – it is just simply heaven. I could not be more pleased with this last recipe of this series.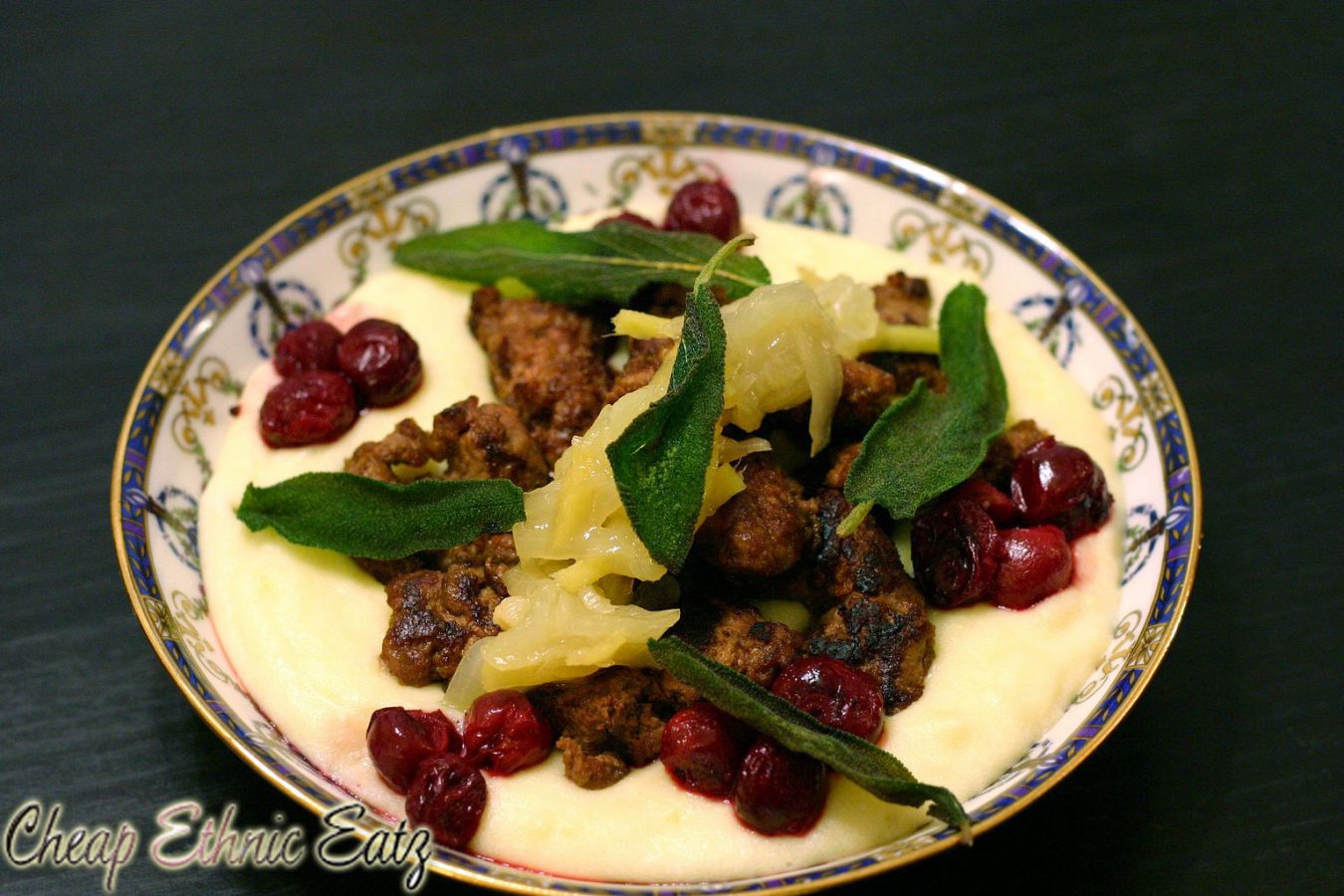 Liver on Polenta with a Ginger-Onion Confit
Ingredients  
400

g

lamb

or calf liver

1

large onion

3

cm

1.25 inch fresh ginger

150

ml

white wine

1/2

tsp

thyme

1

clove

garlic

250

ml

milk

100

g

polenta

corn meal

25

g

parmesan

1

rhubarb stalk

or 30 sour cherries, 30 cranberries or a tart apple

4

sprigs sage

flour

sugar

pepper

salt

oil

butter
Instructions 
For the ginger-onion confit
Peel the onion and ginger. Cut into thin matchsticks. In a small pot put the onions and ginger with 2 tbsp water and a pinch of salt. Cook covered over a low heat until soft for about 30 minutes. You do not want it to brown. Add 100 ml of white wine, bring to a boil and lower heat to a simmer for 30 minutes uncovered, stirring regularly, or until almost all the liquid as evaporated. Season confit with a good pinch of salt and 2 tbsp of sugar. Mix well and set aside. Note: you can move on to the other components of this recipe when you start your 2nd simmer.
For the crispy sage
Pick 14 nice leaves from the sprigs. Heat a bit of oil in a pan, once the oil is hot fry the leaves until completely crispy but not too browned. They are ready when the leave have gone all dark green. Drain on paper towels and set aside.
For the liver
Cut the liver into thin slices and season with salt and pepper. Heat 1 tbsp of butter in the same pan you fried the sage in. Drench the liver slices in flour and roast in the pan until cooked put still pink inside. Place the liver on an oven-safe plate and keep warm in the oven set at 160 F.
For the rhubarb (or other tart fruit)
Cut rhubarb into slices and add it very shortly to the pan where the liver was roasted in. You just want to soften a bit, no more. Season with a pinch sugar, remove from the heat and set aside.
For the polenta
Place the crushed garlic and thyme in a cheesecloth and tie with string or a rubber band, cut of extra material. Bring 250 ml water, 250 ml milk, the remaining 50 ml white wine, the garlic and thyme package, and a large pinch of salt to a boil. Lower heat to low and discard the cheesecloth package. While stirring constantly and vigorously, add the polenta to the pot and cook until thickened. If the polenta is thick add more milk, you want a silky and malleable polenta. Add 1 tbsp butter and the grated parmesan and mix. Season with salt to taste.
Assembly
Ladle polenta into two bowls and top with liver slices. Spoon onion confit on the liver, garnish with rhubarb and crispy sage. Serve immediately while still warm.
Read the entire The Liver Experiment series:
Week 1: Chicken Liver Pate and Absinthe
Week 2: Liver & bacon sauté with potatoes & parsley
Week 3: Austrian Liver Dumplings (Leberknödel)
Week 4: Indian Liver Curry
Week 5: Stuffed vine leaves with liver and apple
Week 6: Spiced Chicken Liver Tacos with Mole Sauce
Week 7: Lamb Liver Raspberries and Hazelnut Salad
Week 8: Stuffed Baby Eggplants in a Dirty Rice Pilaf
Week 9: Beef and Liver Chili