Turkish Simit Rings make for a wonderful breakfast option, a bit like our bagel. Each twisted circular bread is dipped in sweet water and then encrusted with sesame or other various seeds before baking.
How many spices can you name off the top of your head? Even better, how many spices do you own? If new spices where on my shopping list I would love to make sure to find a store like the one Vassilis owns in the movie A Touch of Spice, in beautiful Istanbul. But for this Turkish Simit Rings recipe, I would rather ask for his very best sesame seeds.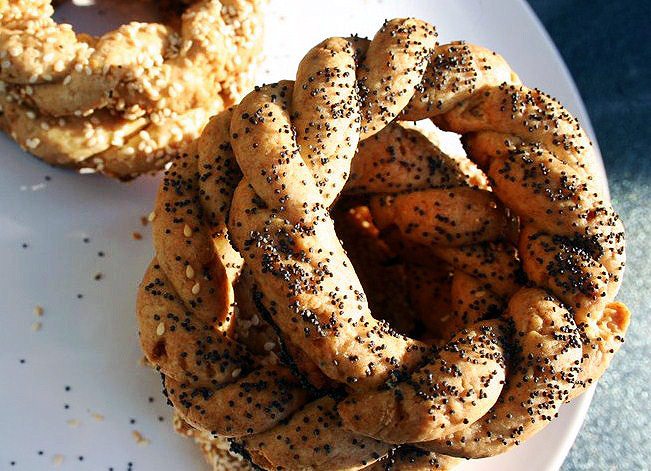 A Touch of Spice is a 2003 Greek movie, yes we had the subtitles this month. Thankfully because as much as I love the hear Greek…it all sounds like Greek to me 😉 But seriously, I do apparently remember a word here and there from a trip, I took there a decade or so ago. Back to the movie, it is beautifully filmed and conceived, a bit like a fable or a poem. It is filled with families, a taste for life, sadness, separation, lost and found loves. We again go down a sad time in history when Turkey knew pogroms and deportation of there Greek citizens. These wounds have yet to heal today.
Fanis grew up in his grandfather's spice shop in Istanbul. And his grandpa Vassilis incorporated his spice lessons with a touch of astronomy. No wonder Fanis becomes an astronomer! But is his choice also influenced by him trying to find his way, his way back to his grandfather after his parents are forced to leave Istanbul, back to the lost cuisine of his childhood with his toy kitchen in hand, back to reconnecting with the Turkish girl he once loved, back to find that little touch of spice missing in his life.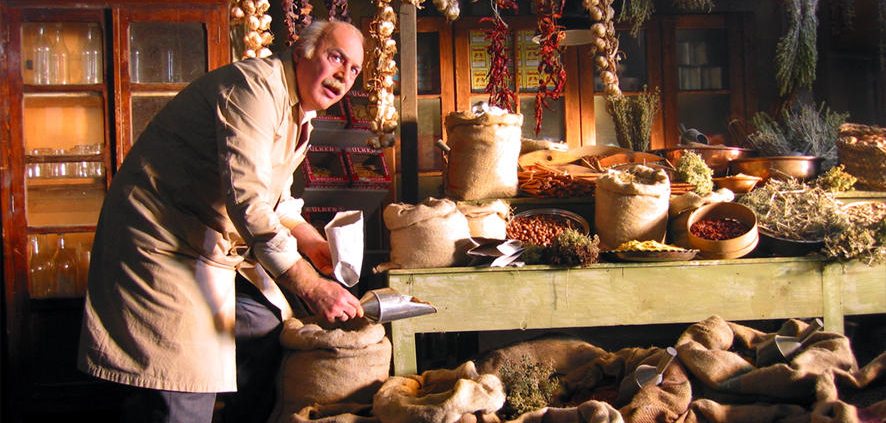 Under Pressure
There is so much food in this movie, I don't even know where to begin…so I won't lol. Watch the movie! Not related to spices but one of my favorite moments in the movie is when a cousin brings 'the brand new pressure gadget' as a gift to Fanis' mother. You see her at a family gathering freaking out as this thing is about to blow. Apparently, it did not come with instructions. She gets her husband to help and, in fear, throws his jacket over it. Obviously, the jacket does not stop the impending explosion.
It brought back a story I have been told many times, a family comedic tragedy with a pressure cooker. An uncle of mine apparently made spaghetti sauce in a pressure cooker once and forgot it. Well, it exploded. Spaghetti sauce everywhere, they had to repaint the entire kitchen, ceiling included! I am so glad I have a new modern version that cannot explode.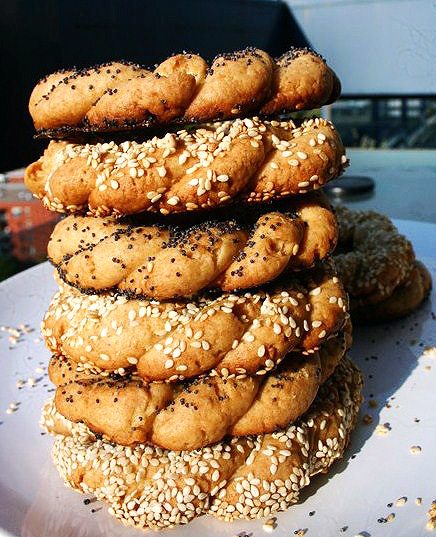 A Greek and Turkish Feast!
Food 'n Flix is hosted this month by Culinary Adventures with Camilla ! In this monthly group a host picks a movie of their choice that pertains to food. Everyone watches the movie and then makes a recipe which the film inspired. It can be any recipe you want. Join us!
A very long list of Food sightings in A Touch of Spice: milk and sugar, Coke, eggplant, artichokes, vine leaves, Ouzo, simit rings, garlic pepper garlands, herbs, mackerel, cumin, meatballs, dolmades, cinnamon, pepper, hot peppers, salt, dumplings, dünstest, germander, heart, lard, oregano, nutmeg, mussels, walnuts, olives, sausage, bread, onions, cloves, roses, thyme, okra, steamed clams, spanakopita, bonito, white bean salad, imam bayildi, hünkar, sauces, beef, souvlaki, stuffed tomatoes and peppers, lemon chicken, sweets, cake, pink peppercorns….. and  many unrecognizable dishes at several dinner tables.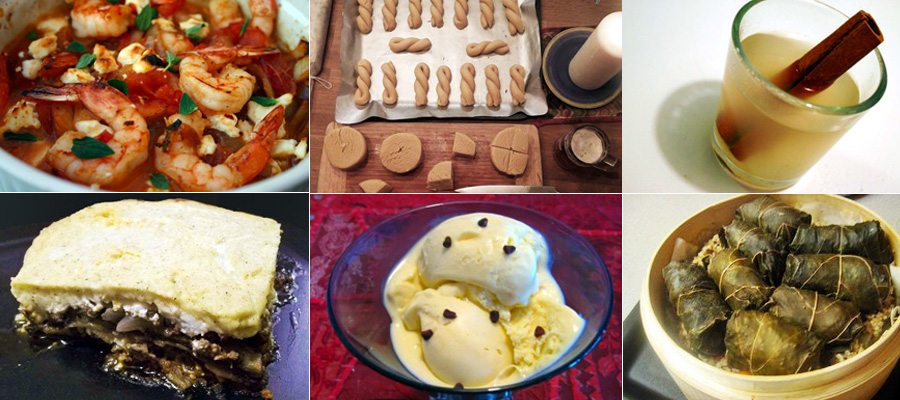 I checked my Greek and Turkish recipe inventory and I realized I have covered quite a bit of ground already. Some recipes are featured in the movie, others are just very traditional dishes found in these countries. Hence, I have listed a few of them, as well as the wonderful and aromatic spices used.
Simit Rings: the Turkish breakfast bagel
But I was just too attracted by the men with platters of twisted bread on that they carried on their heads for sale on the street. You won't find exotic spices in them (but they could be added) yet just the look of them will transport you to far away magical lands.
It is believed that simit rings hail from Istanbul but they can be found across the Ottoman Empire and the Middle East. And it is no wonder that they are considered one of the best street food in Europe.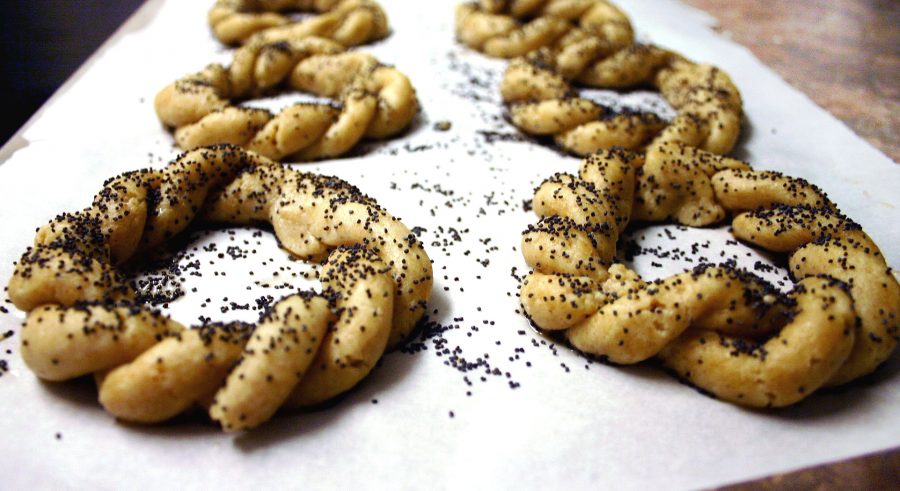 Most recipes use yeast but not this one so it takes less time to prepare. Yet the simit rings taste amazing and are so buttery. The dough is unusual and malleable but breaks easily. Be gentle while making your rings. Also, out of the oven they are brittle so let them cool down before you transfer them to a plate.
In Turkish simit rings are called gevrek and in Greek they are name koulouri. Where you find them, enjoy them served with a glass of Turkish Tea and perhaps some jelly and cheese.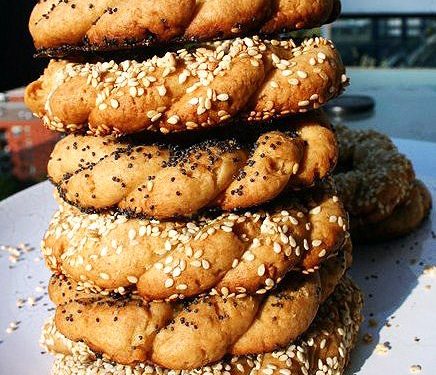 Simit Rings: the Turkish breakfast bagel
Turkish Simit Rings make for a wonderful breakfast option. Each twsited circular bread is dipped in a sweet water and then encrusted with sesame or other various seeds before baking.
Ingredients  
3

cups

flour

1

egg yolk

1/2

cup

yoghurt

1/2

cup

olive oil

1/2

cup

butter at room temperature

3/4

tsp

salt

1

tsp

baking powder

1

tsp

sugar

2

tbsp

vinegar

2

tablespoon

molasses

1

cup

warm water

sesame and/or poppy seeds
Instructions 
Put the flour in a large bowl and make a hole in the middle. Into this hole pour the next 8 ingredients. Stirring from the outside into the middle gradually mix all the liquids into the flour until it forms into a dough.

Divide into 24 equal pieces. Dissolve the molasses in 1 cup water in a bowl. Put the sesame and poppy seeds in other bowls and set it next to the molasses water.

Roll each ball into a 12 inch long rope. Take two ropes, hold down one end of the ropes and twist them together like a spiral. Then form this twisted rope into ring, pressing and rolling the overlapping ends together on the work surface to seal.

Dip each ring in molasses water first, place on a baking sheet and sprinkle heavily with sesame or poppy seeds.

Bake for 30-40 minutes in a 350 F oven for approx.